While in Las Vegas for the PCA 2021 Trade Show, I decided that I wanted to visit a cigar lounge before the show started. I arrived a day early and decided to see what Vegas had to offer. Instead of hitting up the usual suspects on the Vegas Strip, I decided to drive a few minutes south to Henderson, Nevada to see if I could find a good cigar lounge. That's not a knock against the lounges on the Strip, but anyone can find those. While they have the advantage of convenience, they're just not what I was looking for.
There are times when you walk into a cigar lounge and things just click. This happens if you hit it off with the staff, or make friends with the regulars; maybe you just love the "feel" of the lounge, or dig what they have in their humidor. Rarely does a lounge hit two or three of these markers. It is almost unheard of for a lounge to check every box you have on your list. En Fuego Cigars in Henderson did just that for me. It was the perfect storm for a great experience.
ADDRESS:   790 Coronado Center Dr #150, Henderson, NV 89052
PHONE #:   (702) 823-2223
HOURS:   Monday – Thursday 10AM-12AM
                  Friday & Saturday 10AM-1AM
                  Sunday 10AM – 9PM
BOOZE AVAILABLE:   N
DRINKS AVAILABLE:   N
FOOD AVAILABLE:   N
SMOKING LOUNGE:   Y 
WALK-IN HUMIDOR:   Y
SPONSORED LOUNGE:   N
OUTDOOR SMOKING AREA:   N
MEMBERSHIPS AVAILABLE:   Y
En Fuego in Henderson is the only cigar lounge in Las Vegas that offers 24hr access for its members.
Only a short 20 minutes from the Strip.
A second location is located on the Vegas Strip.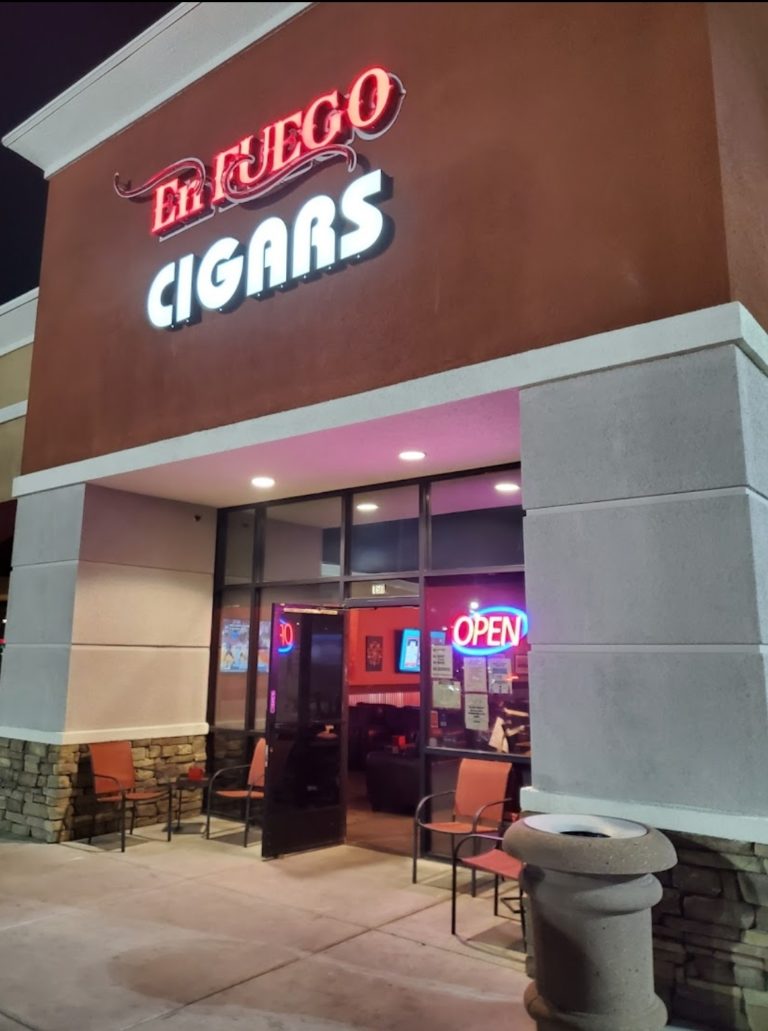 I found En Fuego Cigars tucked away in, yet another, strip mall. There are a lot of cigar lounges in across America that happen to be in strip malls…and this was exactly what I was looking for. A spot, just far enough away from the glitz and glamour of the Vegas Strip. Yes En Fuego Cigars has another location on the Vegas Strip, but their Henderson location is much different. It's a bit more slowed down and relaxed. It has the charm and character that you typically find in lounges across much of America, and none of the gimmicks found in some locations on the Strip. 
It was easy enough to find using Google Maps, and even the traffic wasn't bad as I made my way from The Venetian to Henderson. The strip mall is in a nice area and everything looks fresh and well taken care of.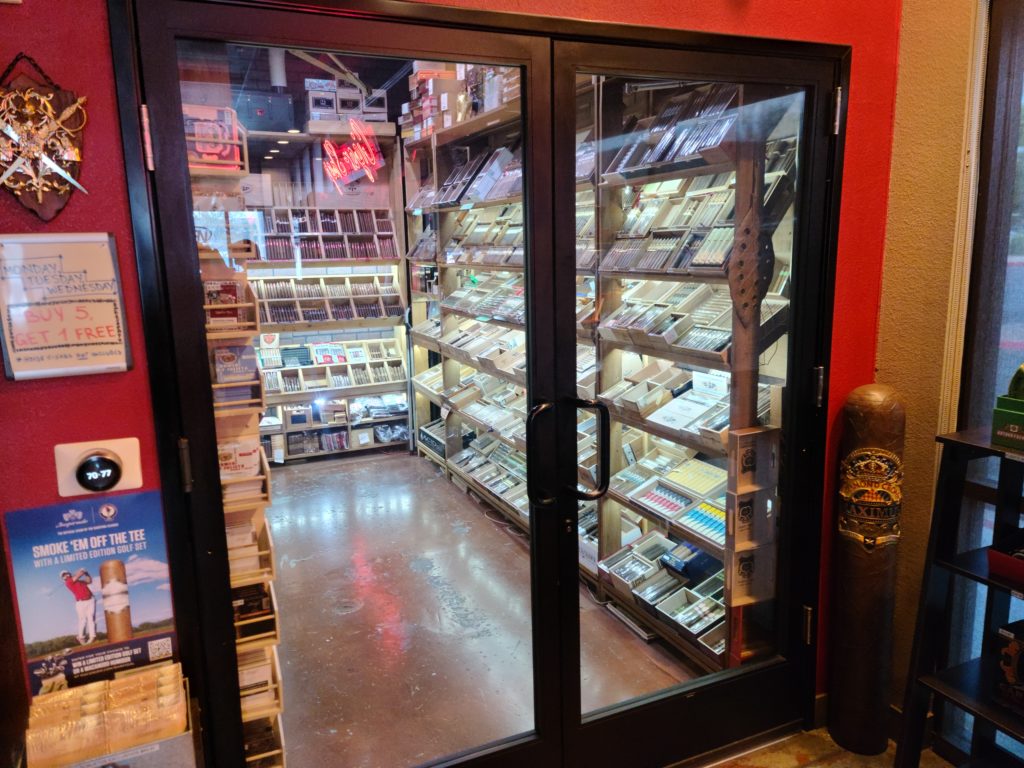 SELECTION/HUMIDOR SIZE
The walk-in humidor at En Fuego in Henderson is not the largest humidor I've been in. It's not even that large compared to other places in the Las Vegas area. However, what it lacks in size it more than makes up for in selection. There is a very nice mix of the "usual suspects" (General Cigars, Arturo Fuente, Alec Bradley, My Father, etc…) and boutique cigars (Roma Craft, Tatuaje, Drew Estate, Aladino, etc…). What they also have are the "boutique as fuck" (as Jeremy Casdagli would say) cigar companies. Brands like J. London, Casdagli Cigars, and Big Sky Cigars fit that unique description.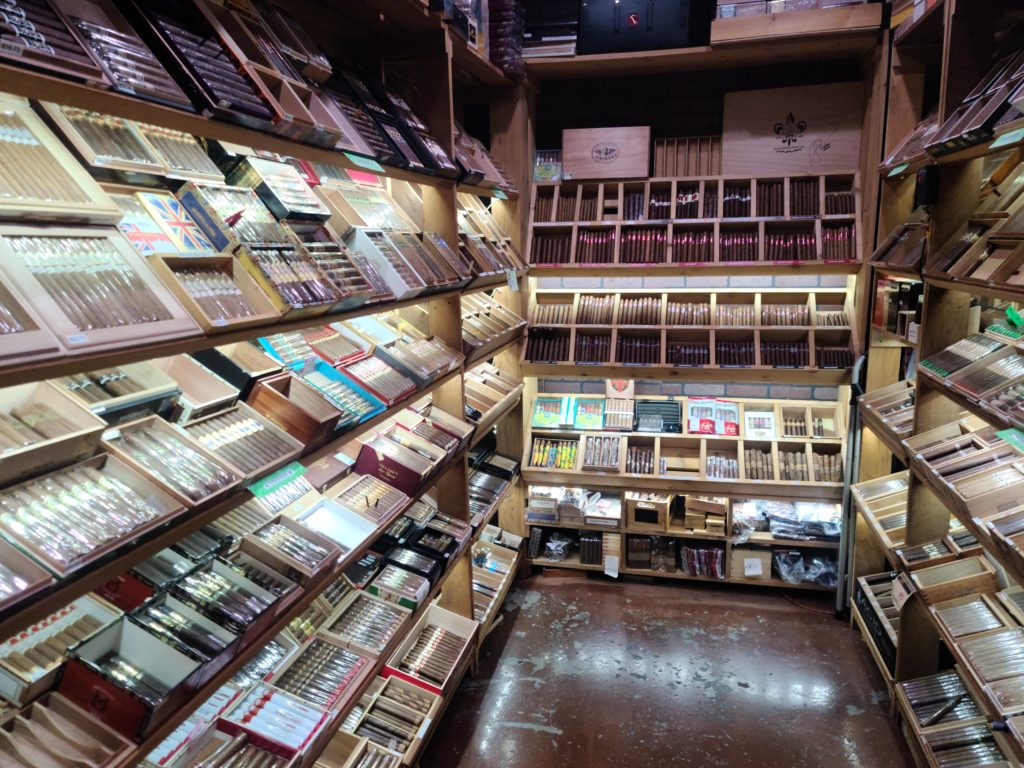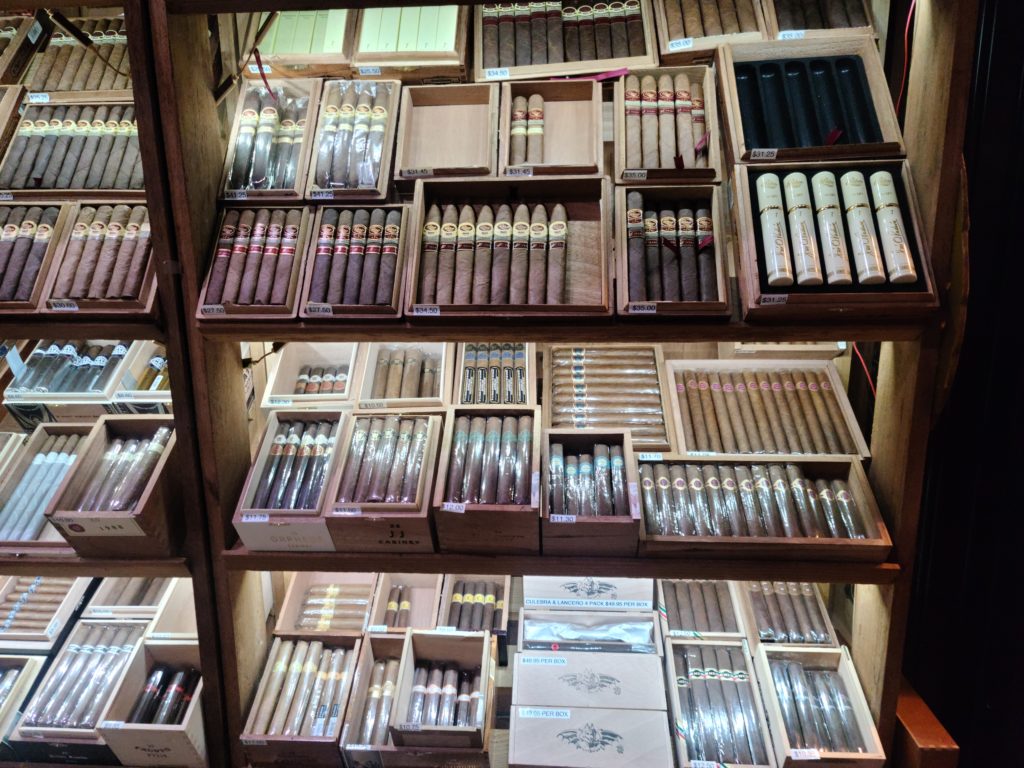 HUMIDOR MAINTENANCE
The humidor at En Fuego Cigars in Henderson, NV is one of the most well-organized humidors I've been in. Everything is in its place, there is no clutter on the floors, and the boxes of cigars stored at the top of the humidor are neatly stacked. There were no signs of mold on any of the cigars, the humidifier(s) were inconspicuous, and every cigar I purchased there (of which there were several) smoked like a dream. This is one of my favorite humidors that I've been in. It is up there with the humidor from the Vintage in Charlotte.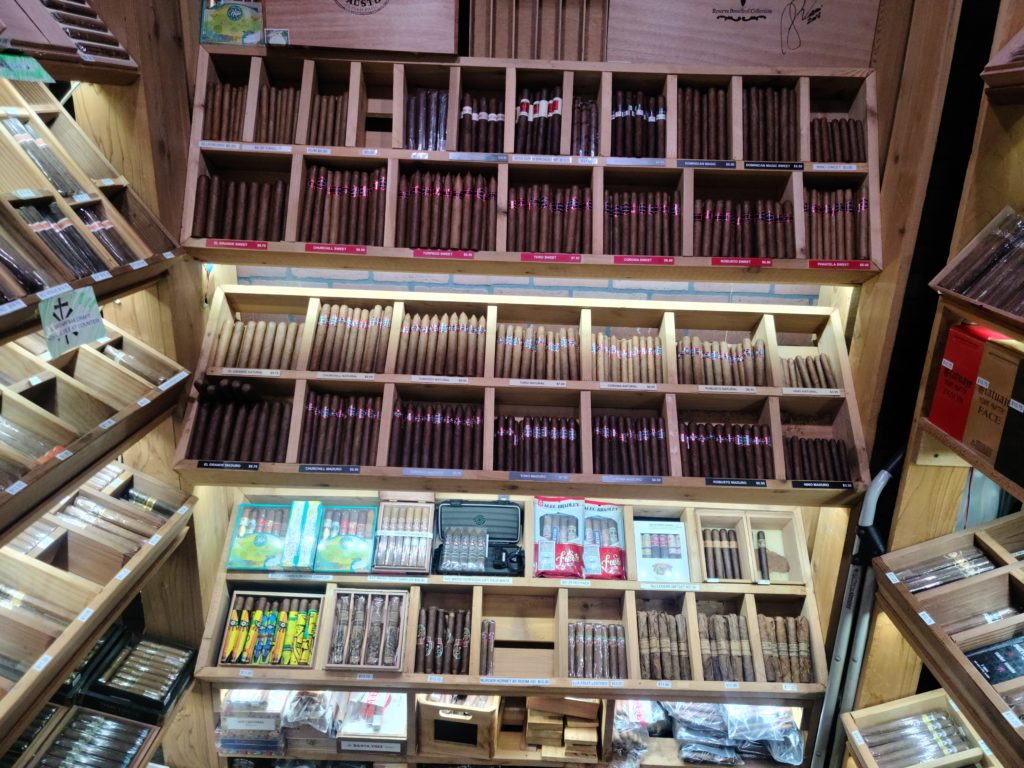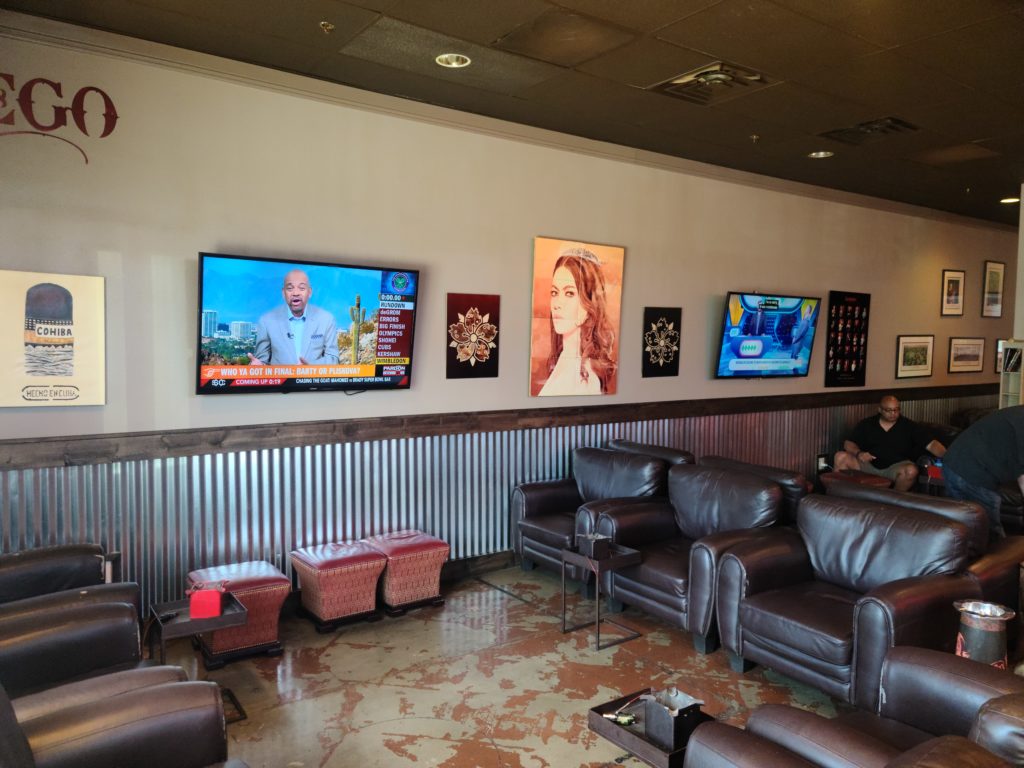 CUSTOMER SERVICE/STAFF KNOWLEDGE
I've said this before but, this is where a lot of lounges just fall apart. That is certainly not the case for En Fuego Cigars in Henderson. In fact, this is where En Fuego separates itself from its competition. From the moment I walked in, I felt like comfortable and welcomed. The GM, Andy, was more than friendly. He asked if I needed help and, when I politely declined, let me peruse their humidor without hovering. I paid for my cigar and sat down. Again, Andy went above and beyond by engaging me in conversation and making me feel like part of the group of regulars that he was conversing with prior to my arrival. The cherry on top is that through regular conversation, Andy found out that I liked boutique cigars, and made two outstanding recommendations: a J. London Gold Series and a Big Sky Cigars Mad Minnow. I was blown away by both of these cigars (look for a Mad Minnow review soon). Andy knows hist stuff.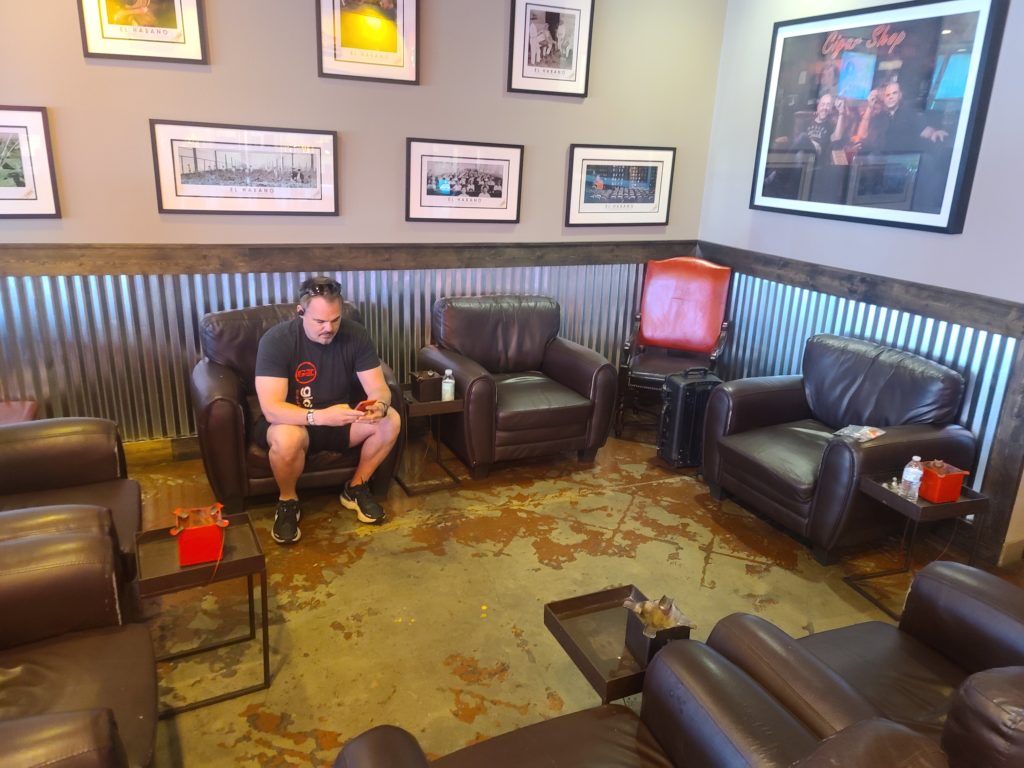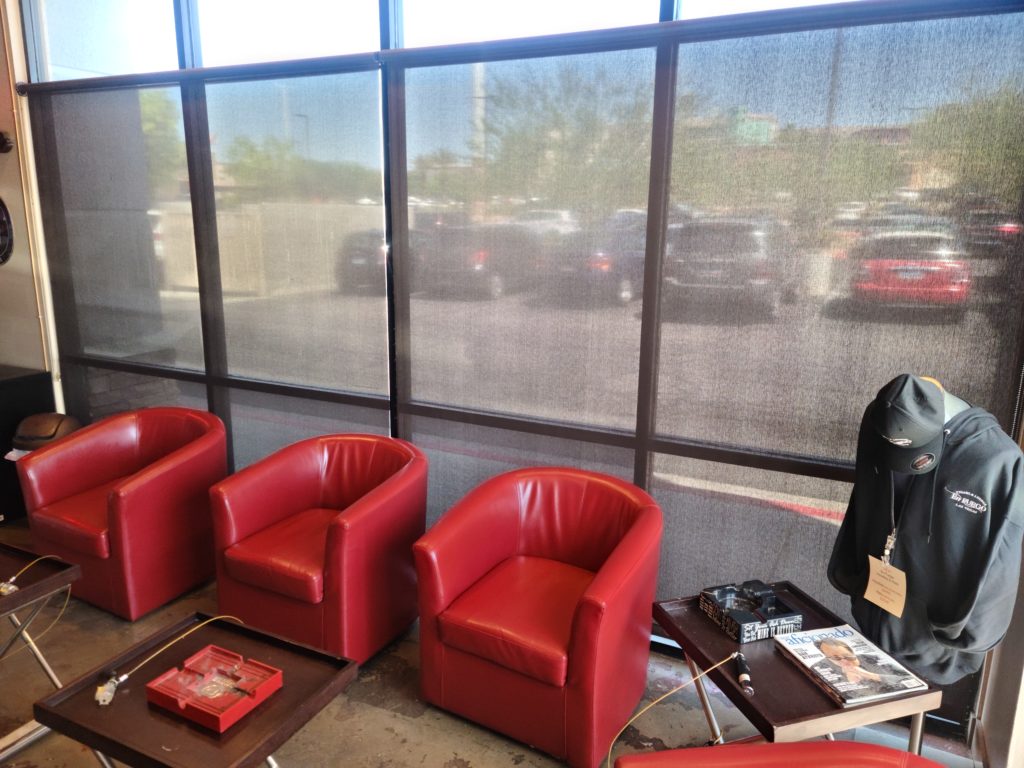 LOUNGE SIZE
En Fuego Cigars in Henderson has a large public lounge that has four separate seating areas throughout the lounge. Each area has 4 to 8 chairs that will accomodate both small and large groups. Two large screen tv's are in the public lounge so that you can watch the game or movie while relaxing with your cigar. En Fuego Cigars in Henderson isn't where I would bring a large group of friends to watch a game; instead, I'd bring a large group of friends to celebrate or just get ready for a night out. The lounge is too laid back to get rowdy during a game. 
The Members Only Lounge (pictured below) is just as spacious, with plenty of televisions, a large conference table, lockers, kitchenette, and 24hr access for members. If you live near Las Vegas, this is the place to get a membership.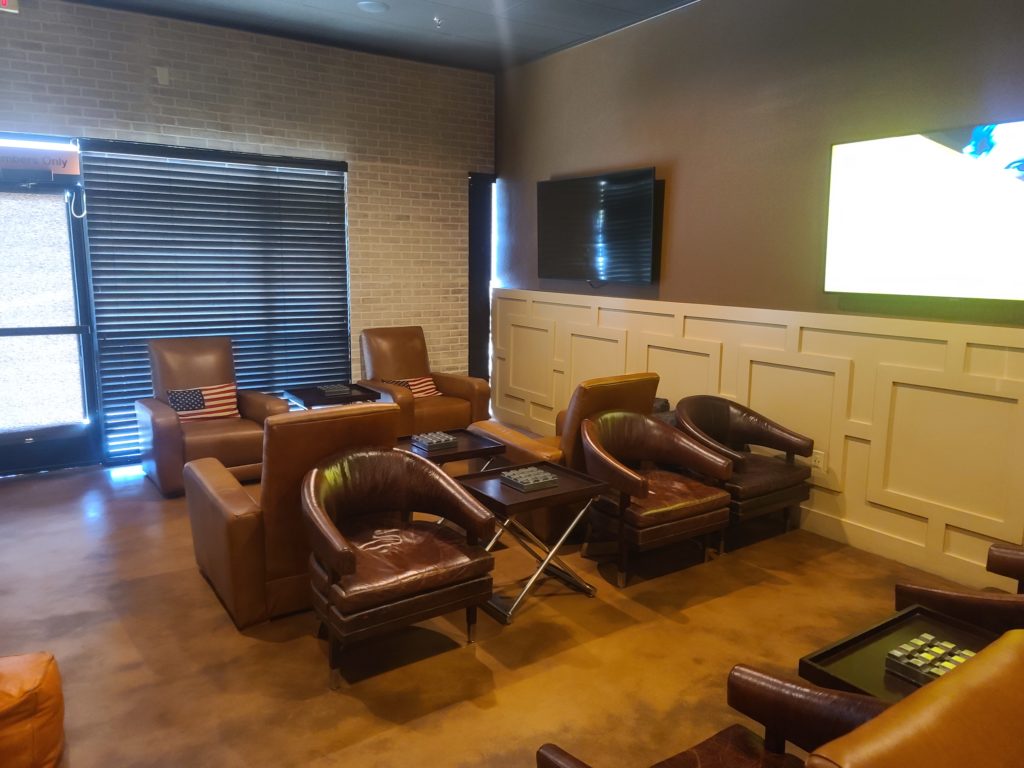 AMBIANCE
Ambiance is another area where En Fuego Cigars nailed it. Their location in Henderson has a great laid back and welcoming vibe to it. There are plenty of comfortable chairs available, in what feels like a converted warehouse vibe. The cement floors add a touch of character, while also being easy to clean. The chairs are large and comfortable, and look fairly new. The walls have some great artwork and pictures up that tie everything together. It isn't too "uptight" or "upscale." I'd describe En Fuego Cigars in Henderson as casual and very approachable.
HUMIDOR EXPERIENCE
This was one of my better experiences in the humidor. Finding and keeping a staff that is knowledgeable about boutique cigars is a struggle for most cigar lounge owners. En Fuego Cigars in Henderson has a staff that is passionate about what they carry and love sharing their knowledge with their customers. The humidor was immaculate, well-stocked, and well-organized.
LOUNGE EXPERIENCE
This is what I look for in a lounge. The music and televisions were not too loud, there were regulars carrying on conversations, customers were coming and going, and everyone was having a great time. I was promptly greeted, asked if I needed help, and invited to join the conversation. The General Manager was friendly and, most importantly, knowledgeable. 
RATING BREAKDOWN
3.00 / 3.00 … Customer Service/Staff Knowledge
2.50 / 3.00 … Selection/Humidor Size/Humidor Maintenance
3.45 / 3.50 … Ambiance
0.45 / 0.50 … Lounge Size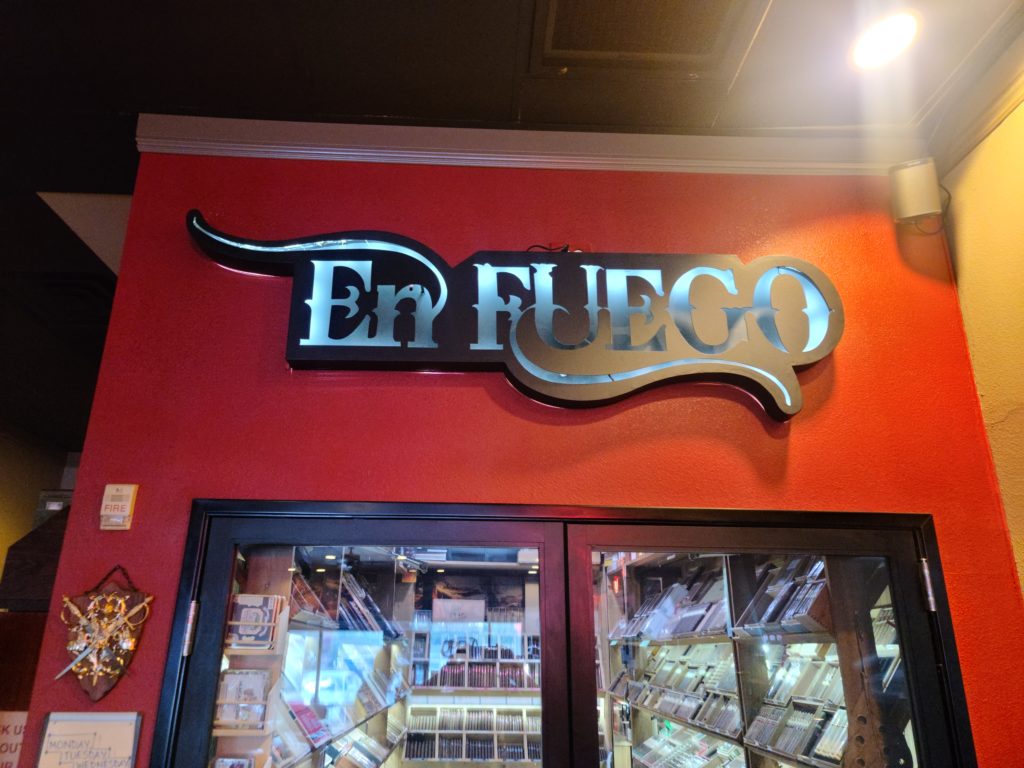 FORGET THE STRIP.
When you visit Las Vegas, my suggestion is to forget the glitz and glamour of the Strip. While that's great when you're wanting to party, sometimes you just want a good place to go and relax. En Fuego Cigars in Henderson, Nevada is that place. This isn't a party spot. This is a spot for cigar enthusiasts and aficionados to come together and have a great cigar experience. Just like the shop, the humidor inside En Fuego Cigars in Henderson offers something different than the mass appeal and cookie cutter glam found on the Strip; namely, a great selection of boutique cigar brands and a knowledgeable staff. If you want a great cigar experience, then visit En Fuego Cigars on your next trip to Las Vegas. You won't be disappointed.
SIMPLY STOGIES RATING:  9.4 / 10.0