One of the great things about driving to the PCA Trade Show, was being able to stop at cigar lounges throughout my trip. When I got to Albuquerque, New Mexico, I wasn't sure what I would find. Honestly, Albuquerque isn't known for its cigar culture…but maybe it should be? Monte's has been in Albuquerque since 1976. It is located a short drive from the interstate and in a stand-alone building. Hailing from the Midwest, I love the southwestern architecture found throughout New Mexico, and Monte's Cigar Shop is no different. While the exterior is nice, the inside is where the magic lies.
Just like lounges such as Cedar Room, Capital Cigars, Safari Cigars, or the Vintage, Monte's Cigar Shop is exactly what I picture when I close my eyes and think of a cigar lounge in the Southwest. Comfortable chairs, large tables to promote gatherings, lots of Southwest décor, and one of the largest humidors I've seen outside of the state of Florida. I was in for a treat.
ADDRESS:   3636 San Mateo Blvd NE, Albuquerque, NM
PHONE #:   (505) 881-7999
HOURS:   Monday – Friday 9AM-6PM
                  Saturday 9AM-5PM
                  Sunday 12pm-4PM
BOOZE AVAILABLE:   N
DRINKS AVAILABLE:   Water & Coffee
FOOD AVAILABLE:   N
SMOKING LOUNGE:   Y
WALK-IN HUMIDOR:   Y 
SPONSORED LOUNGE:   N
OUTDOOR SMOKING AREA:   N
MEMBERSHIPS AVAILABLE:   Y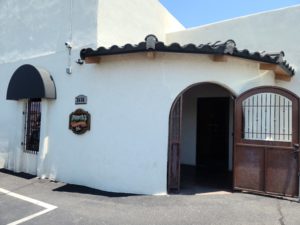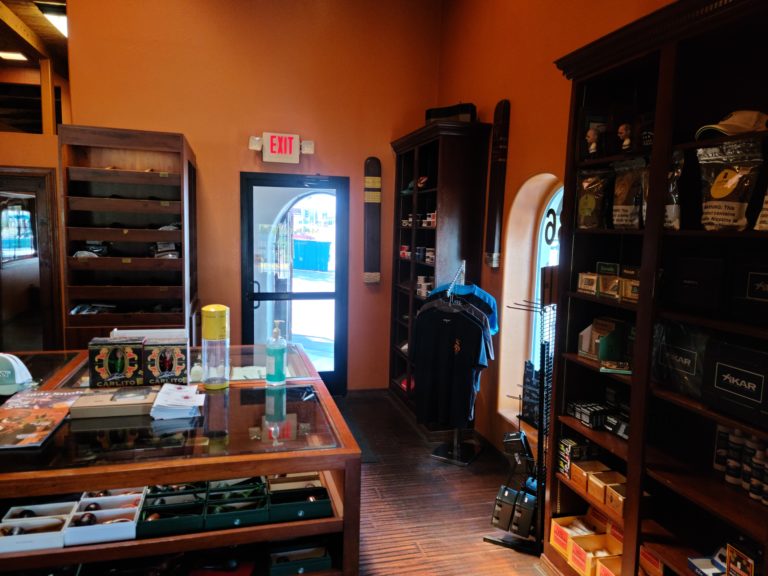 Monte's Cigar Shop is located in a building that was once a dentist's office. The building itself is spacious and can handle large crowds or intimate gatherings. When you first walk in to Monte's, it might feel like you're stepping back in time just a bit. If not for the modern POS, you might think you're standing in a throwback to the old tobacconist shops that could be found on every main street in America. The room is separated from the lounge areas by a glass door, and you can see into the humidor via large bay windows. A huge selection of pipes and pipe tobacco fill the sales room, along with Monte's branded swag and various cigar and pipe accessories.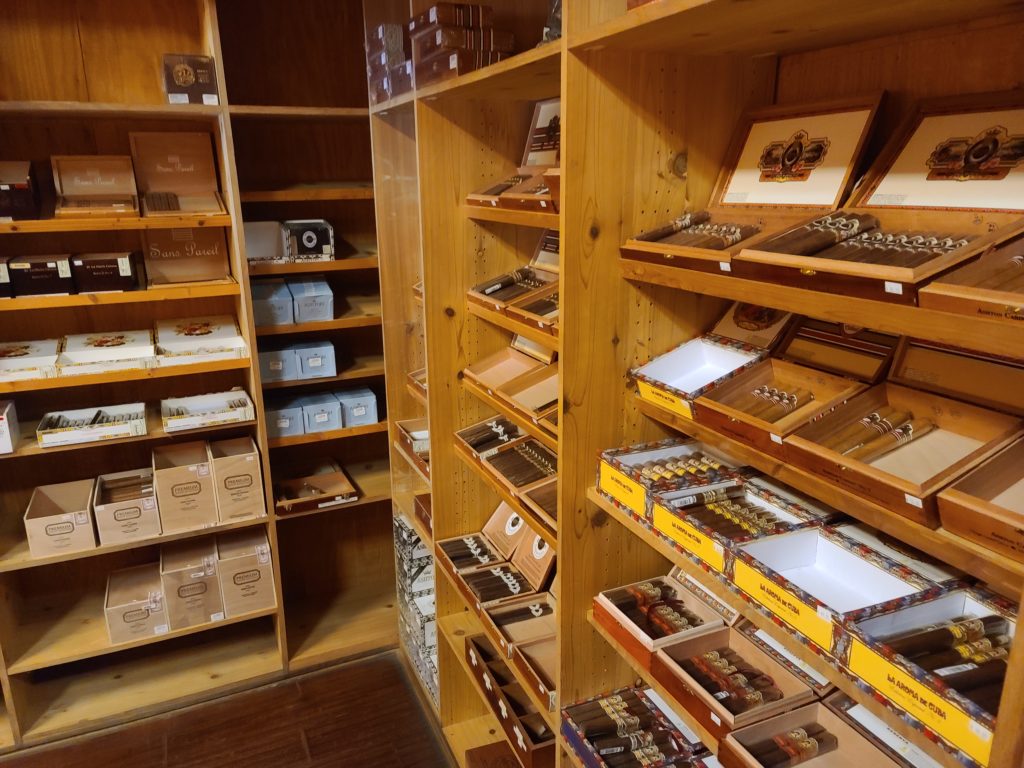 SELECTION/HUMIDOR SIZE
Monte's Cigar Shop has one of the largest humidors I've ever seen. In fact, at this point in my trip it was the largest humidor I've seen outside of ones I've found in Florida; and they have everything! According to their website, Monte's Cigar Shop humidor is "over 1100 sq. feet" of cigar heaven. They have space for almost every brand you could think of, and probably carry it. Brands like AVO, My Father, Plasencia, Drew Estate, Montecristo, Cohiba, Ashton, and others can be found. Along with ultra-premium brands like Davidoff and Padron. You can even find boutique brands such as Patina, Caldwell, Dunbarton Tobacco and Trust, and others throughout the large space. Simply put, Monte's Cigar Shop humidor is pure cigar heaven.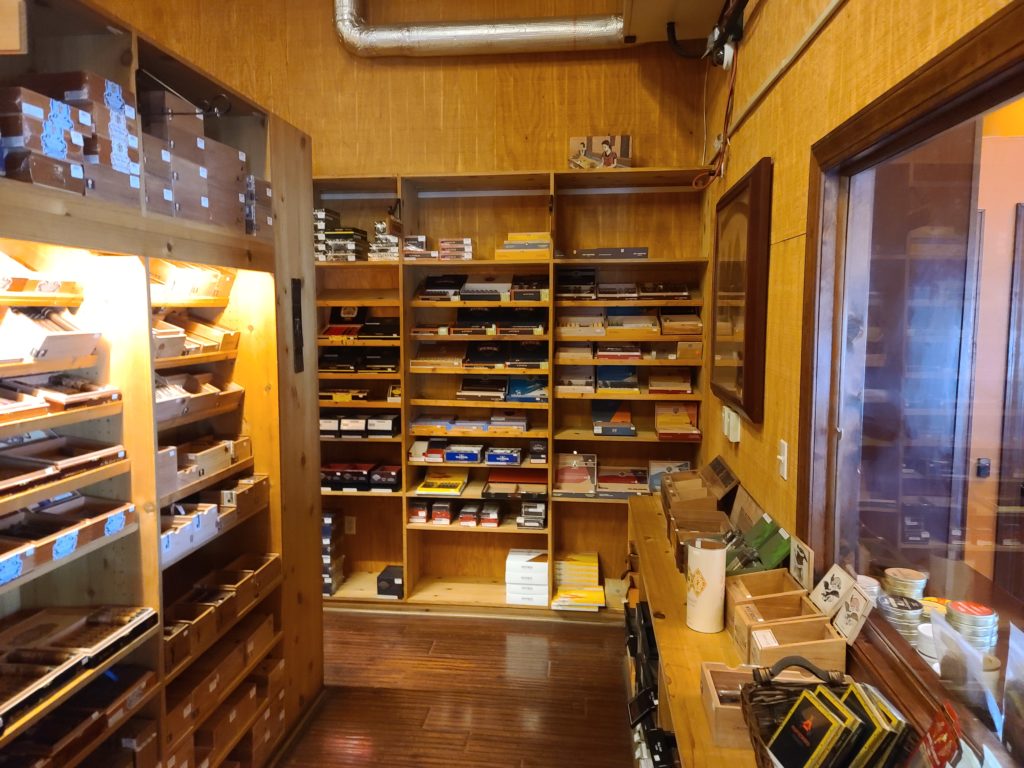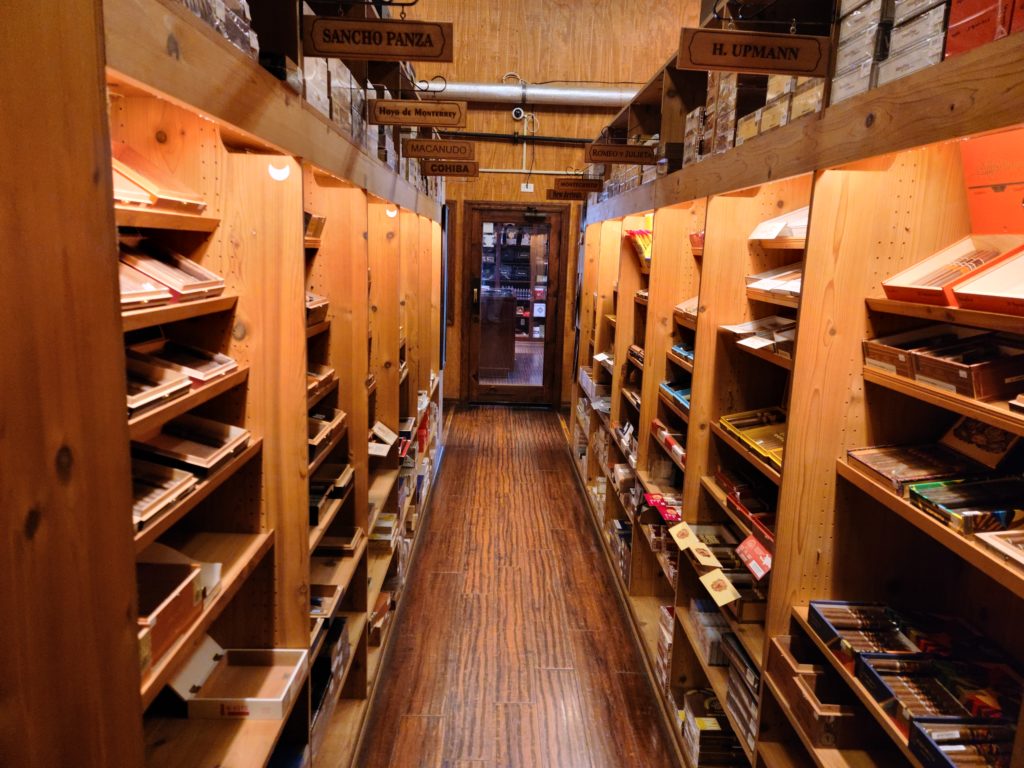 HUMIDOR MAINTENANCE
The large space is kept in immaculate condition. The overstock fills the top and bottom shelves; nothing is kept on the floor. Above each section, you will find a beautiful wood placard that is labeled with the brand you're looking for. There was no dust on the product or the shelves, and the floor looked freshly cleaned. I smoked Drew Estate Undercrown 10 while there and it smoked like a dream, which told me that their humidification system (which was out of sight) was working as intended.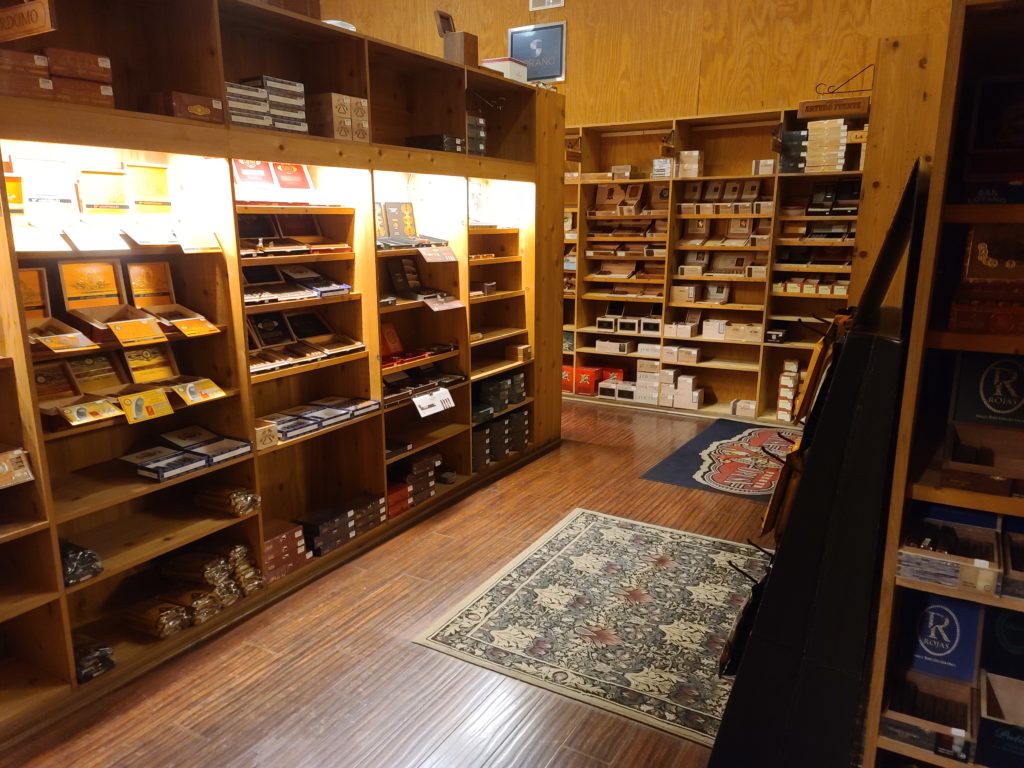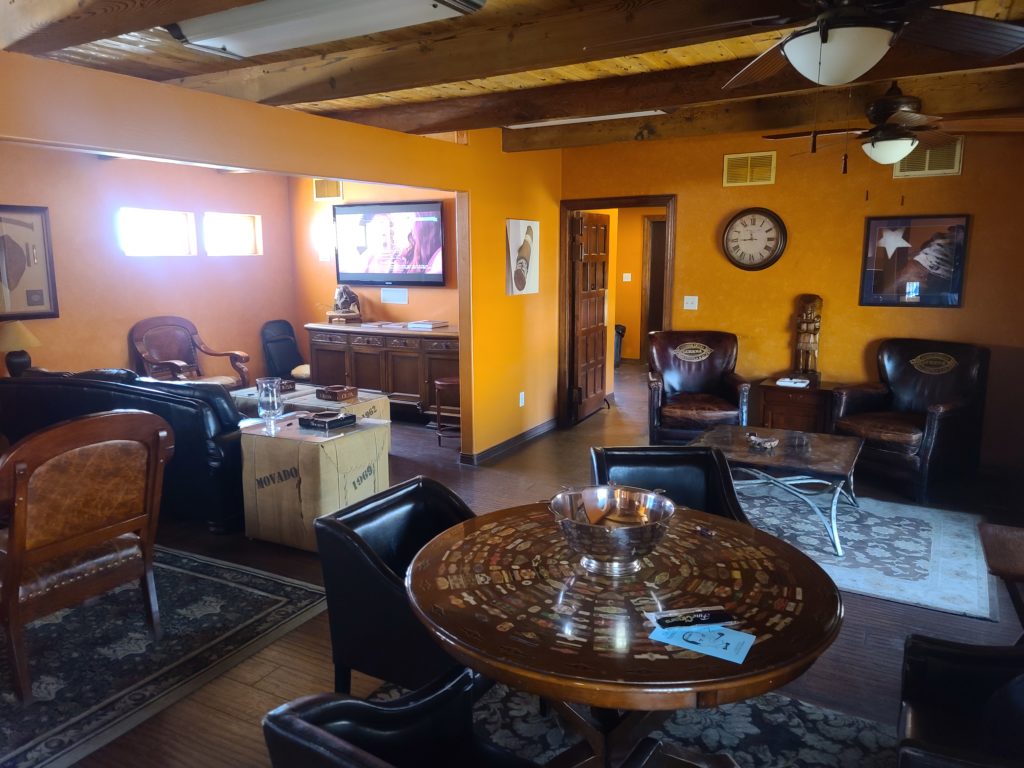 CUSTOMER SERVICE/STAFF KNOWLEDGE
When you've been in business for 45yrs some things can slip. It's only natural, after all, to become accustomed to your regular customers and become wary of new customers. However, none of that happened at Monte's Cigar Shop. The older gentlemen behind the counter was very nice when I explained why I had stopped in, and was more than accommodating when I asked to take pictures. He knew the product and explained that the lounge was "members only" but was open to anyone who purchased a day pass or an equal amount of cigars. He answered every question I had, and even entertained my fascination with their "Learn to Smoke A Pipe: A How to for Novice Pipe Smokers" pamphlet. While I sat in the lounge, I chatted with owner Matthew Monte. He was extremely personable and chatted with me about the cigar and tobacco culture in Albuquerque, tobacco politics, and being in business for 45 years.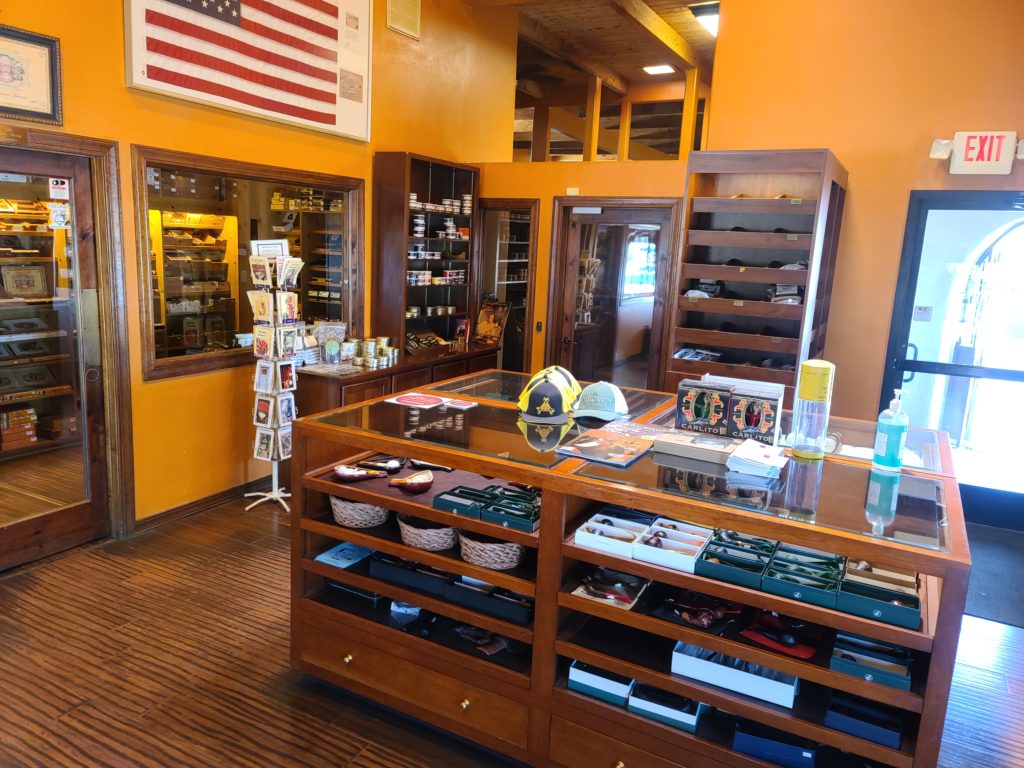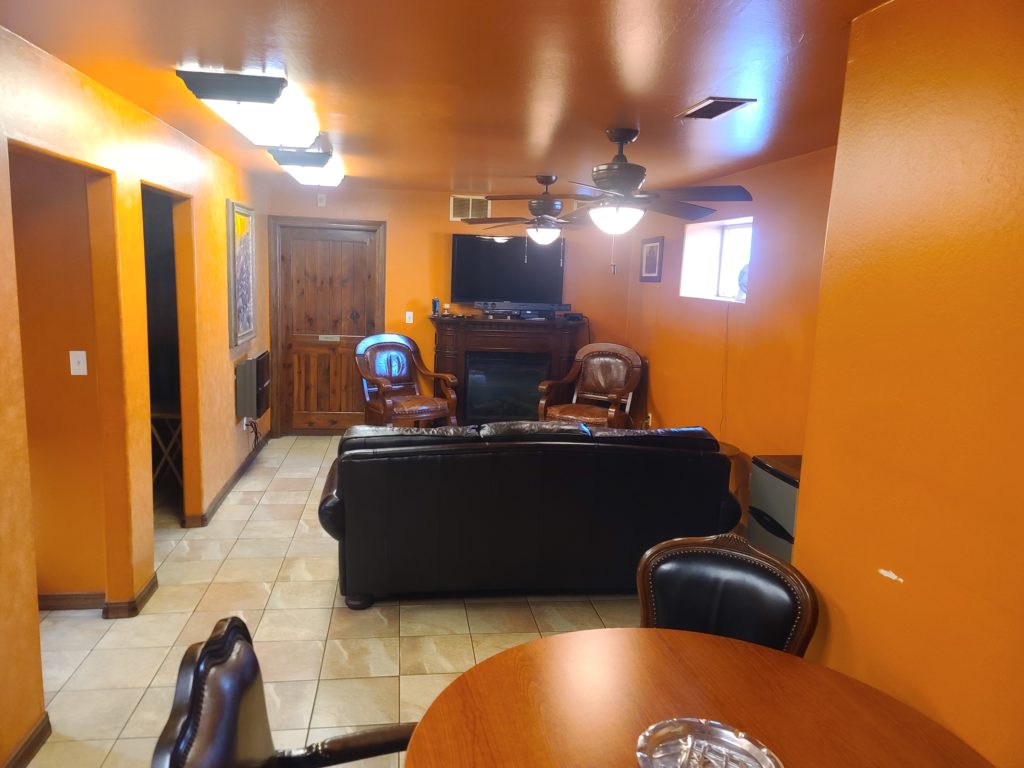 LOUNGE SIZE
The size of the lounge at Monte's Cigar Shop is almost as impressive as the size of their humidor. With two floors and several rooms to choose from, Monte's has something for everyone. The larger room is great for large gatherings or networking with fellow BOTLs or SOTLs over a cigar or pipe. As mentioned, there are are several rooms that serve different purposes. One room has a television with several seats for optimum viewing, while another sports office furniture for the tobacco enthusiast who wants to work while smoking, while yet another has a kitchen area for members to make a drink or store a snack.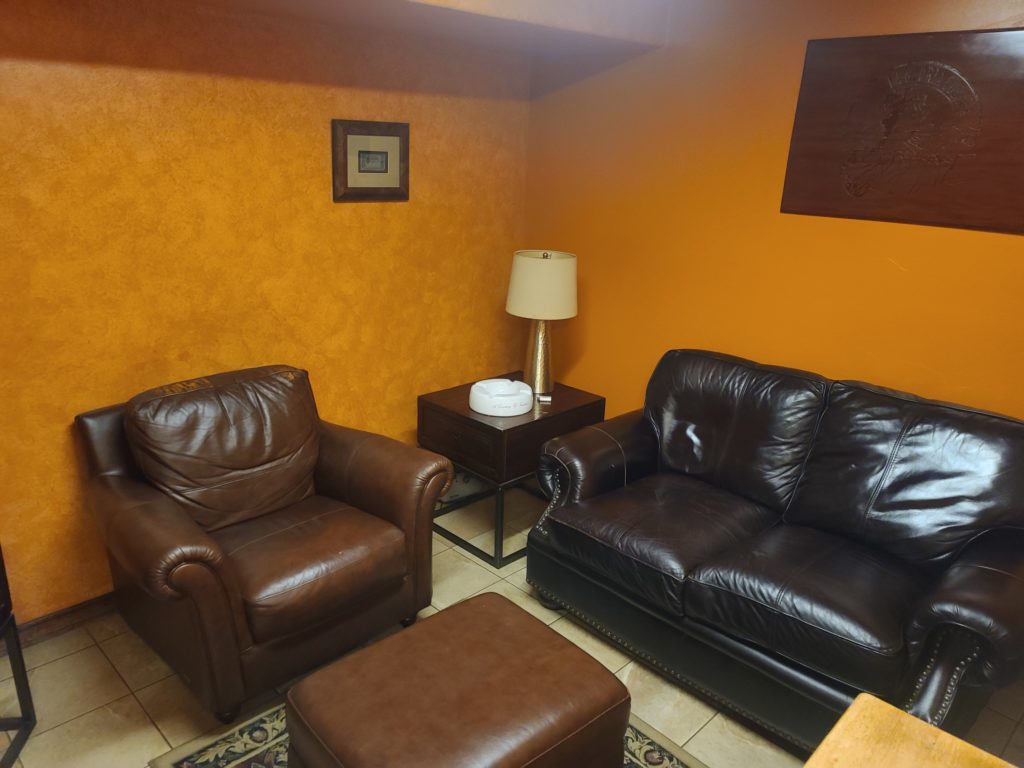 AMBIANCE
One might think that having so many different rooms would make it impossible to create a cohesive theme or ambiance, but Monte's seems to have done the impossible. Sticking with the Southwestern motif, each room flows seamlessly into the other. The chairs and sofas are comfortable and fit with the overall décor. The walls are adorned with cigar pictures and tell the story of Monte's Cigar Shop. There are two taxidermized animal heads on the wall in the area just before the large room, that just add something special to the overall feel of the space. 
My lone complaint, if you can even call it a complaint, is the lack of televisions. Personally, I don't mind this as it promotes engaging others who share the passion of thee leaf. However, I also see the need for televisions for sporting events or an old fashioned movie night.
HUMIDOR EXPERIENCE
Does it get better than this? The short answer is a resounding "NO!" Mainstream, ultra-premium, and boutique are all and fits represented in a humidor that is second-to-none in the area. I can think of only one other humidor, outside of Florida, that is the large and boasts the selection that Monte's Cigar Shop does. The humidor is clean, organized, and bright. If you can't find what you're looking for here, I'd be shocked.
LOUNGE EXPERIENCE
Monte's Cigar Shop is the embodiment of an old fashioned tobacconist's shop. Any lounge that can boast 40+ years of business is doing something right, and Monte's is certainly doing that. Matthew has his fingers on the pulse of the industry and local tobacco politics. Their staff is well-trained, friendly, and more than willing to go the extra mile to make sure that you have a great time during your visit.
RATING BREAKDOWN
2.90 / 3.00 … Customer Service/Staff Knowledge
3.00 / 3.00 … Selection/Humidor Size/Humidor Maintenance
3.25 / 3.50 … Ambiance
0.50 / 0.50 … Lounge Size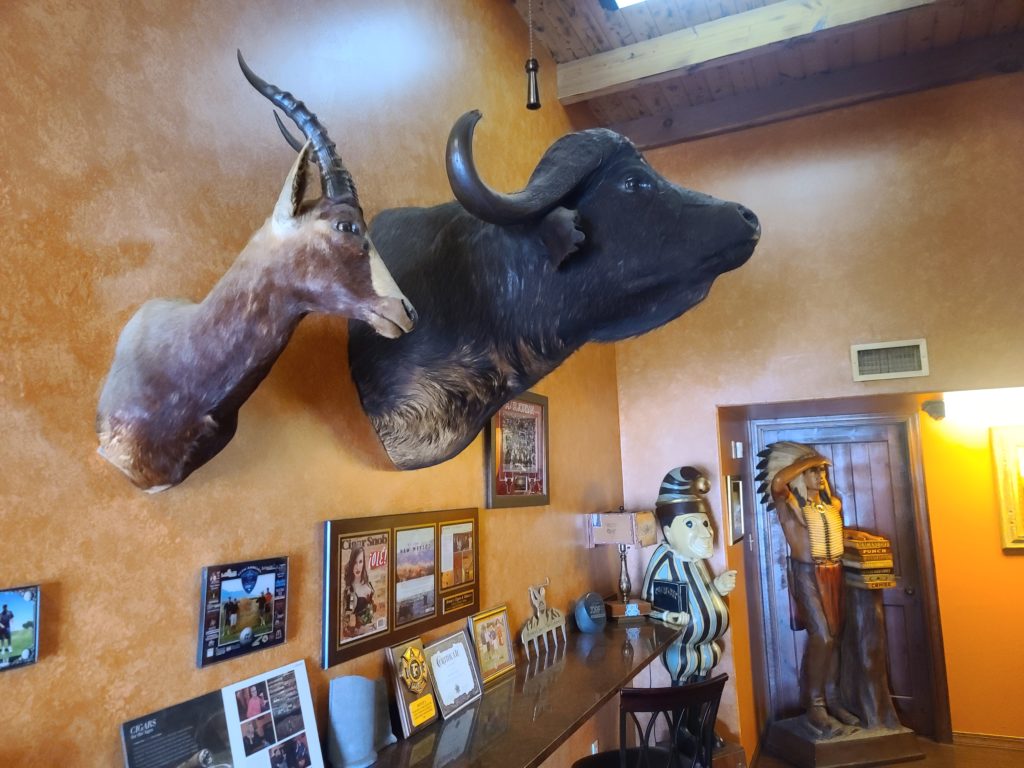 Monte's Cigar Shop is Where Old School Meets New School.
There are very few shops that check all of the boxes: selection, size, knowledge, ambiance, and customer service. Monte's does all of this at a very high level. You could visit Monte's Cigar Shop regularly and still find something new. While New Mexico may not be known for their cigar culture, Monte's has been quietly leading the way for 45 years, and there is no sign that they'll be slowing down anytime soon. I often say that a cigar shop is a "destination" shop when you're visiting a particular city, but Monte's is the definition of "destination spot." This shop should be on the bucket list of every cigar enthusiast and aficionado in the country.
SIMPLY STOGIES RATING:  9.65 / 10.0