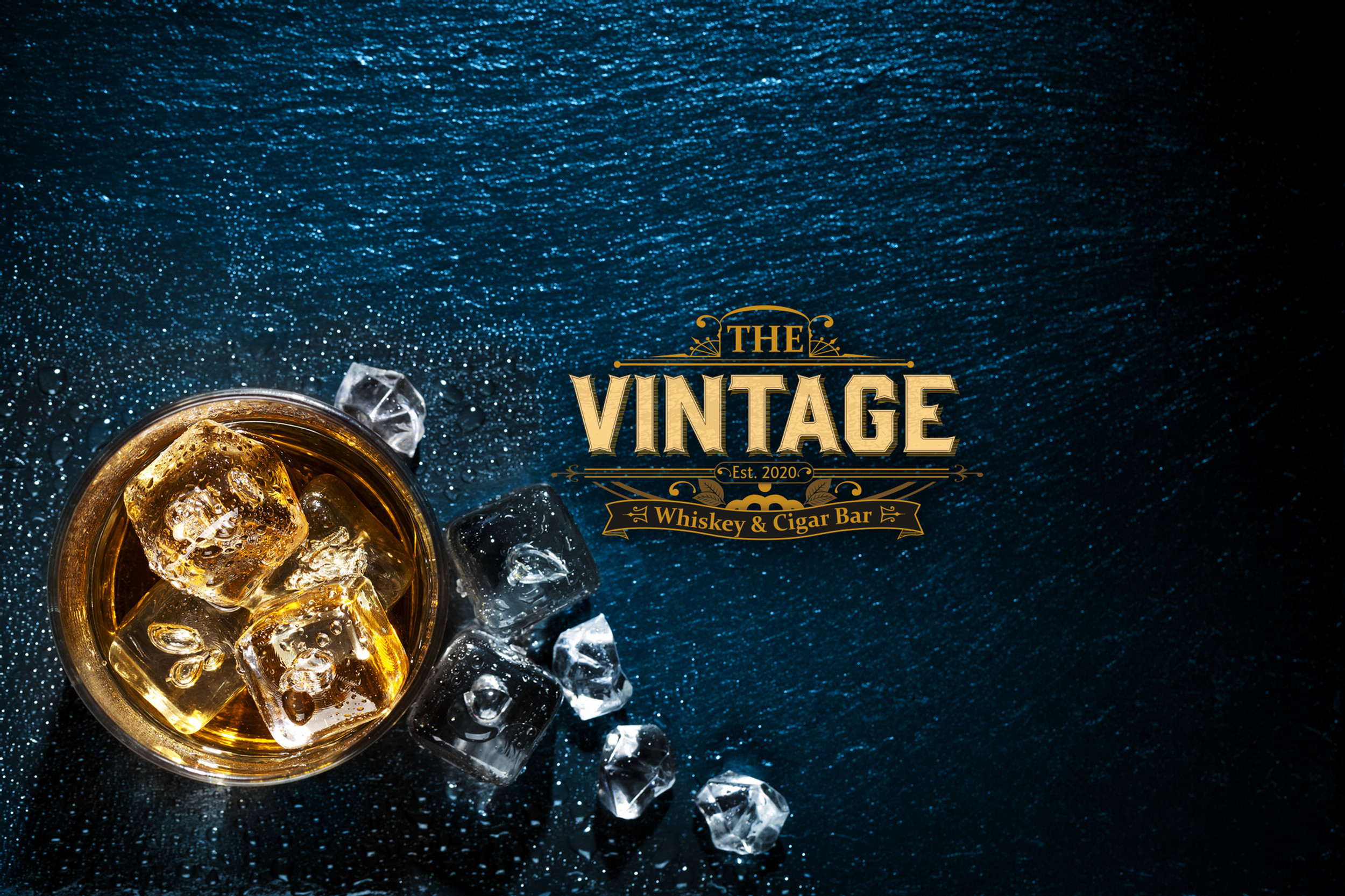 Back in May, myself and a friend of the show (Randy Carmichael) took a trip to Charlotte, North Carolina to attend the inaugural Queen City Cigar Fest.  Randy was told by Master Blender Nick Syris of LH Cigars, that we should check out a newer cigar lounge named The Vintage while we were in Charlotte.  During the second day of the five day cigar fest, Randy and I made our way to the Vintage to check it out. We were so impressed with what we saw, that it immediately became our go-to lounge for the rest of our stay in Charlotte. 
The staff was extremely friendly and welcoming. The atmosphere was more subdued and quiet than the cigar fest locations, and the humidor was second to none in the area. Giannis Koutsoupias, the Director of Business Development for the Vintage, introduced us to Scott Weeks, owner of Recluse Cigars and Iconic Cigar Leaf Co., and treated us as long lost friends. It also happens to be the first place that I had an opportunity to chat with Anya Ramirez, of Don Fausto Cigars. Honestly, my visits to the Vintage Whiskey and Cigar Bar are some of my favorite cigar related experiences to date. 
ADDRESS:   215 E Worthington Ave, Charlotte, North Carolina, 28203
PHONE #:   (704) 931-3636
HOURS:   Monday – Thursday 11AM-11PM
                  Friday & Saturday 11AM-12AM
                  Sunday 1PM-9PM
BOOZE AVAILABLE:   Y
DRINKS AVAILABLE:   Whiskey, Wine, Port, Coffee (featuring Enderly Coffee), and assorted non-alcoholic beverages.
FOOD AVAILABLE:   Y (menu)
SMOKING LOUNGE:   Y
WALK-IN HUMIDOR:   Y
SPONSORED LOUNGE:   N
OUTDOOR SMOKING AREA:   Y 
MEMBERSHIPS AVAILABLE:   Y
You can listen to some of how the Vintage came to be as part of my interview with Giannis Koutsoupias here.
The Vintage opened during the global pandemic.
Their house blend is blended by Master Blender Nick Syris.
The Vintage is a private club that requires membership (as do most cigar lounges in the Charlotte area. Day passes can be purchased for $25.
Their motto is "Cut…Light…Connect."
They have two garage doors that can be opened to make the patio space and indoor lounge feel more connected.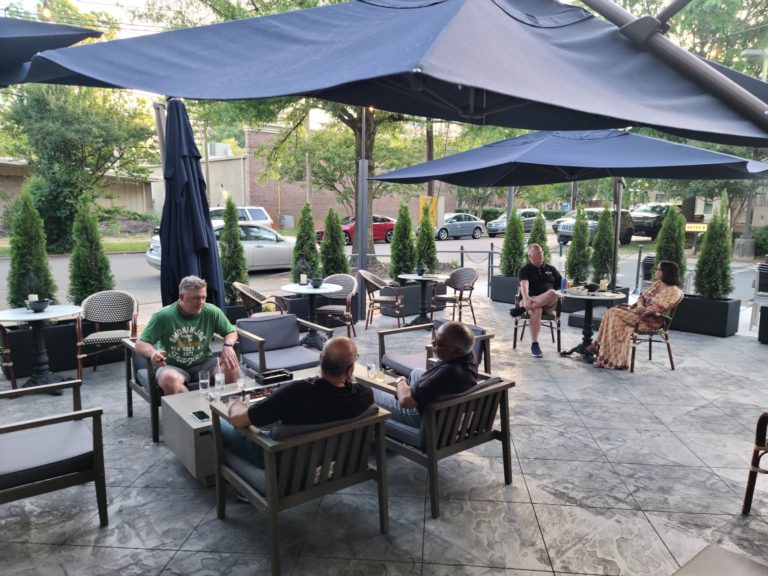 The Vintage is located in South End Charlotte and near a main thoroughfare, making getting to the Vintage Whiskey and Cigar Bar pretty painless. The space is large enough to have a large Members Only lounge (complete with conference room), a spacious bar area, indoor smoking lounge, and a very large patio area with ample seating for everyone. My lone complaint about the space would be the size of the indoor "common area." Their private lounge for middle tier and above members is a bit more spacious. However, I believe that North Carolina (or maybe it's just Charlotte) requires cigar lounges to be private clubs. If that's the case, then it makes sense. From a business perspective, you would want your members to feel like they're getting what they paid for…and they do. The members area is large and set apart from the indoor and patio areas. The conference room is behind glass doors for privacy and the main area of the private area has plenty of seating.
Non-members will never know what they're missing, unless they ask for a tour. The Vintage's patio area more than makes up for any perceived "coziness" on the inside; and with their two garage doors open, the Vintage is a very large lounge with room for large events. In fact, we attended a large event at the Vintage on our last night in Charlotte, forgoing the cigar fest's festivities. I stand behind that decision.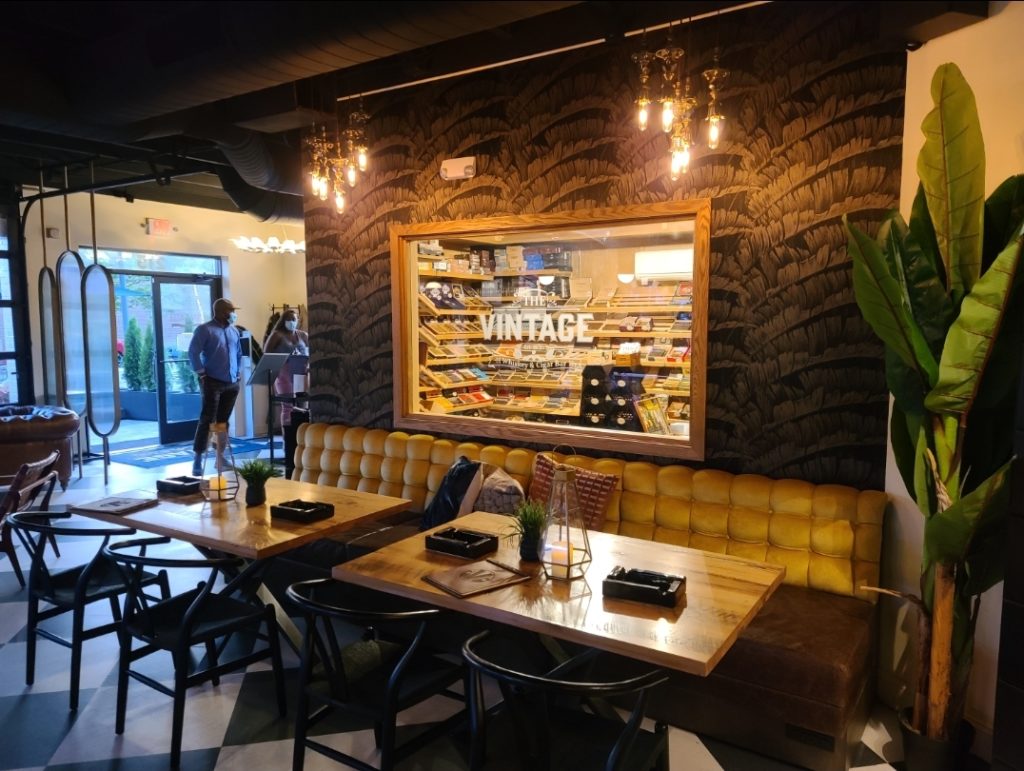 SELECTION/HUMIDOR SIZE
The humidor is where the Vintage Whiskey and Cigar bar shines…at least for us non-drinkers. The walk-in humidor at the Vintage Whiskey and Cigar Bar has something for everyone. Big brands and boutiques alike adorn the shelves of their humidor. The Vintage has the most well curated selection of any lounge in the area. Brands like Padron, Drew Estate, AJ Fernandez, Ashton, Diesel, and Montecristo sit next to more boutique brands like Recluse, LH Cigars, and HVC. Even their house cigar is made by Nick Syris of LH Cigars. When looking at their selection with a critical eye, I was somewhat disappointed that their selection did not include a lot of what I would consider higher end boutiques. For a lounge of this size and the clientele they serve, I felt like there were some brands conspicuously absent. However, they have a wide variety available for every palate.
The size of the walk-in humidor is in-line with the size of the lounge. It isn't overly large, but it has ample room for six to eight patrons to comfortable choose their cigars. The humidor is conveniently located at the front of the lounge and right next to the check-in desk, where one of their friendly staff waits to greet you, open your tab, and (if you need) help you find the cigar you're looking for. If you do not require assistance, they will happily let you in and let you peruse their offerings. 
HUMIDOR MAINTENANCE
The walk-in humidor at the Vintage is well maintained. There was no mold on any cigars and every cigar we smoked from their humidor (which numbered over 10) burned perfectly. This was proof enough that they kept their humidor well-maintained. Beyond how the cigars burned, their humidor was immaculate. Clean shelves and clean floors to match. There were no boxes of extra inventory stacked up on the floor. There were no nooks and crannies for cigars to hide. What you saw was what you got, and what you got was a very well curated and maintained selection of premium hand rolled cigars.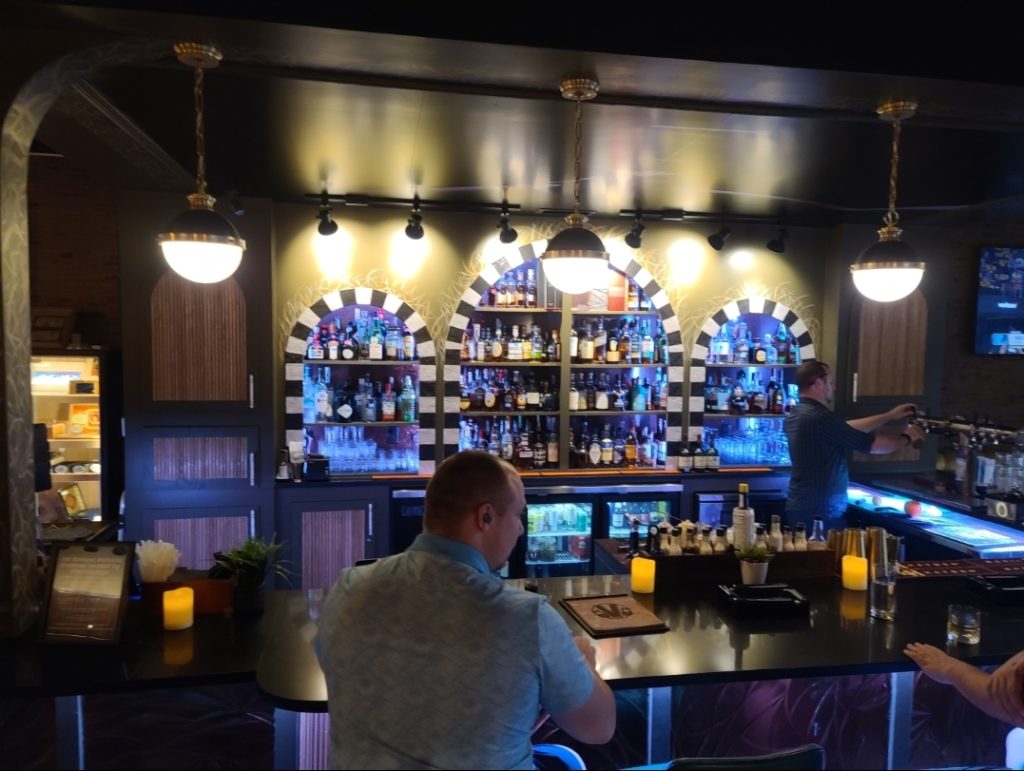 CUSTOMER SERVICE/STAFF KNOWLEDGE
This is another area where the Vintage Whiskey and Cigar Bar outshines their competition. Their staff was, hands down, the friendliest out of all of the lounges that we visited in the Charlotte area. Their bartenders know their stuff (another big shoutout to Marshall). While I'm not a drinker, they have a wide selection of whiskeys, wines, and ports that will make any liquor aficionado happy; and they are actively trying to expand on their current selection. Away from the bar, the staff knows their cigars, too. They can help any novice choose a cigar that will give them a great cigar experience. They do not hover when you enter the humidor, though they will engage you with small talk while you choose your cigar. This puts you at ease as you peruse their selection. The wait staff is extremely friendly and are very attentive. During their busy event they made sure that ashtrays were emptied, drinks refilled, and plates taken away in a timely manner. I cannot say enough good things about the level of customer service we received and witnessed at the Vintage. Daniel (the owner), Ben (the GM), and Giannis have done a fantastic job training their staff.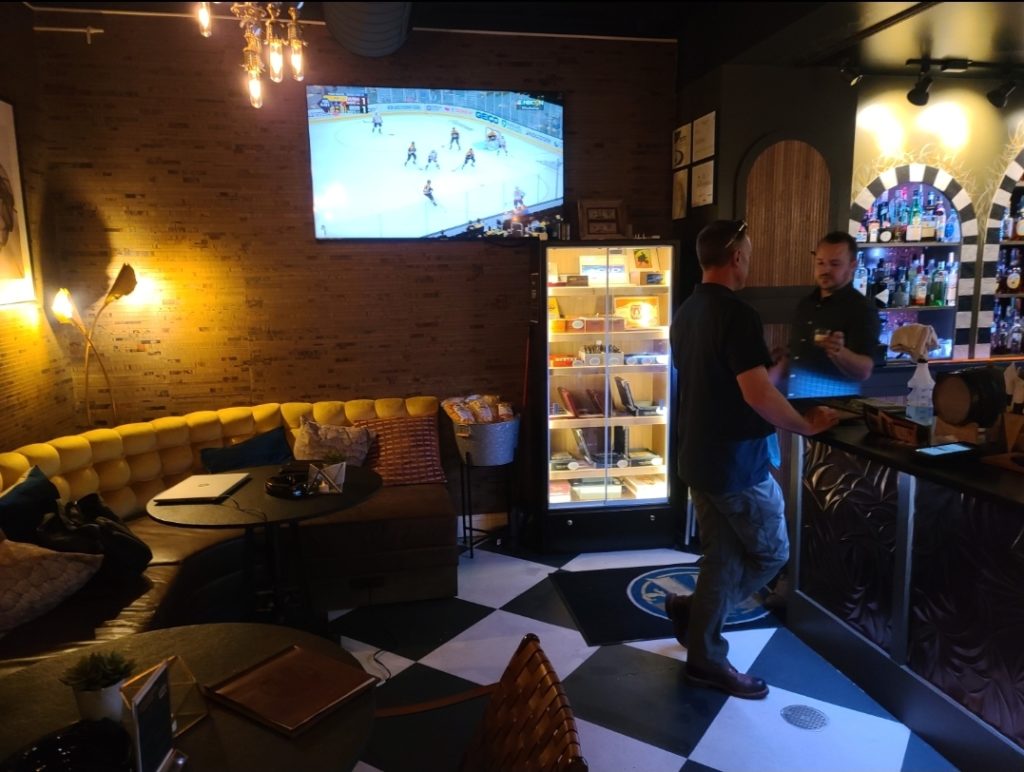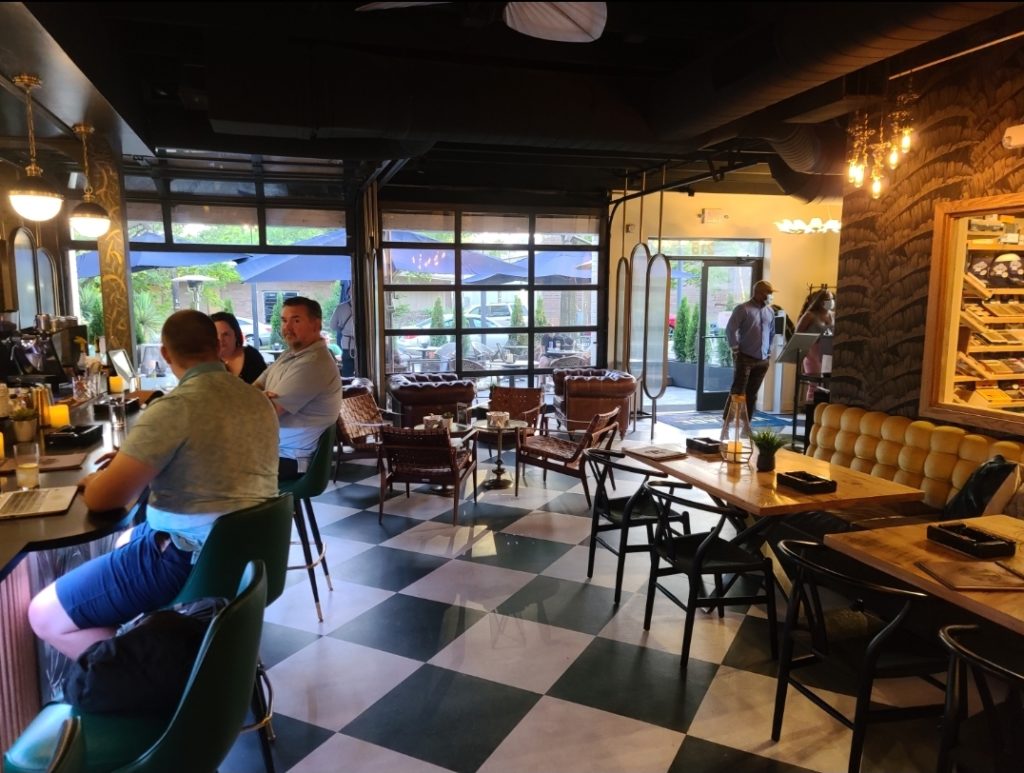 LOUNGE SIZE
As I've said, the lounge size is my lone complaint; though in all honesty, it isn't much of one. There is lots of room for intimate conversations with friends or colleagues and ample space for large parties to gather. The patio space is nice with comfortable outdoor furniture that you could spend the entire day in…which may have done on a couple of occasions.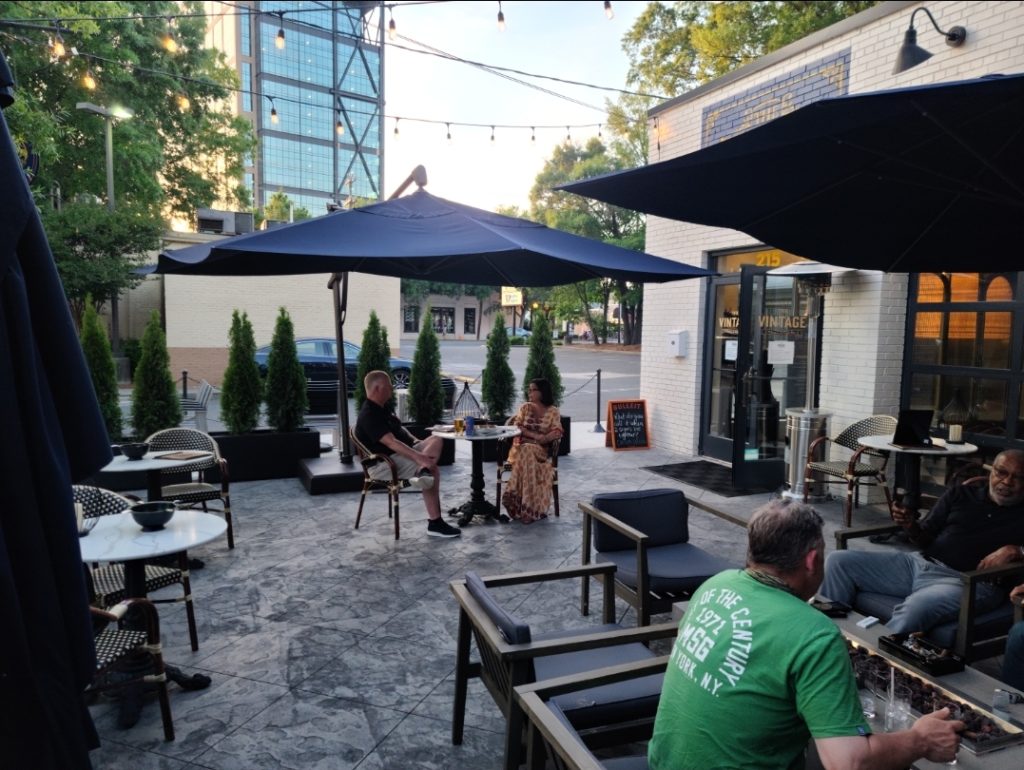 AMBIANCE
This is yet another gold star for the Vintage Whiskey and Cigar Bar. The best way to describe the experience at the Vintage is "luxurious yet approachable." This isn't the spot to gather and watch the game with friends, as they only have two televisions. Instead, this is a spot to come, unwind with a nice drink, light up a good cigar, and connect with your friends. That goes to their motto of "Cut…Light…Connect." This was a huge draw for us as what we experienced elsewhere was more of a party vibe. The Vintage wants you to slow down, put down your phone, enjoy your cigars and drinks, and be in the moment with your friends. Everything is designed to have you engage with others while there. 
The Vintage also has a dress code. From their website: "Flip-flops, ball-caps, tank tops, sports apparel and work boots are not allowed. Clean, high-quality sneakers combined with complementary attire are acceptable. No excessively frayed or torn clothing. No bandannas worn as headwear. No clothing with vulgar or sexually explicit language/graphics. No clothing that is excessively revealing or exposed undergarments." The experience at the Vintage is supposed to be classy and approachable. While this may be a turn off for some, it goes to the type of clientele they serve and the culture they are cultivating. Consider me a fan. 
HUMIDOR EXPERIENCE
Their humidor is nothing short of fantastic. Sure, brands like Davidoff, Foundation, Casdagli, Epic, and others would be great additions; but they have a very large selection that caters to their regional preferences. They have some great boutiques to give their customers new things to try, while still giving them some of the higher end big brands. The staff know what they carry and are knowledgeable enough to offer assistance and well-trained enough to know when not to.
LOUNGE EXPERIENCE
Our lounge experience can be summed with three words: Second. To. None. From their drink and food selections, to the comfortable seating, to their dress code, to the high level of customer service, and to the culture they are creating, the Vintage has the best lounge in the Charlotte area. Period. 
RATING BREAKDOWN
3.00 / 3.00 … Customer Service/Staff Knowledge
2.80 / 3.00 … Selection/Humidor Size/Humidor Maintenance
3.50 / 3.50 … Ambiance
0.30 / 0.50 … Lounge Size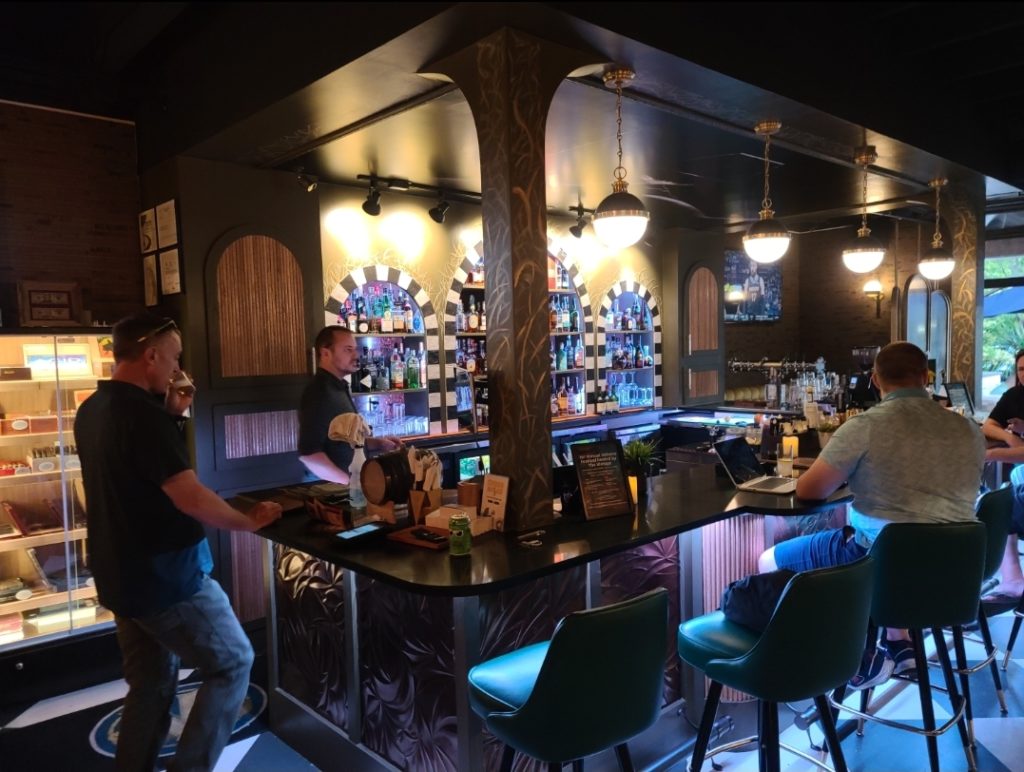 A DESERVED HIGH SCORE.
When I start taking points off because you just don't carry what I like…you're doing something right. The Vintage Whiskey and Cigar Bar is doing something right. They have a great selection of coffee, whiskey, wine, and port to compliment their selection of cigars. I've called several lounges "destination" lounges for their areas, and the Vintage is the definition of "destination lounge." The space screams class yet, I felt right at home in jeans and a Hawaiian shirt. I also felt at home in a guayabera, slacks, and fedora. The staff puts you at ease and makes you part of their family. Their high level of customer service and knowledge, combined with their selection and ambiance makes them THE cigar lounge to go to when in Charlotte.
SIMPLY STOGIES RATING:  9.6 / 10.0