For his sixth review at simplystogies.com Michael goes over a holiday themed blend, C&D's Corncob Pipe and Button Nose. Originally released just for the 2016 season, it found such a good reception that it has now become a perennial blend.
Michael gives an overview of the tobacco, describes the leaf quality and moisture, waxes lyrical about the tin art, speaks about the aroma of the blend in the tin and while being smoked, gives detailed tasting notes from two different corncob pipes. After a discussion of how this blend develops in the bowl, he makes comparisons with similar blends, he gives a rating breakdown and ultimate score for Corn Cob Pipe and a Button Nose.
BULK or TIN:   Tin
SIZE:   50g
ORIGIN:   USA
BLENDING HOUSE/PRODUCER:   Cornell and Diehl
BLENDING COMPONENTS:   Burley, Cavendish, Virginia

STRENGTH:   2/7
SOURCE:   smokingpipes.com
WHERE:   
Pennsylvanian Foothills
WHEN:   
December 2020
DRINKS:   
None
WEATHER:   
It's beginning to feel a lot like Christmas — Cold, occasional snowflakes
WHAT'S ON:   
The stillness of late autumn
RELEASE TYPE  available
ORIGINAL RELEASE DATE  Mid 2016
SPECIAL RELEASE  Yes and no
AVAILABILITY BREAKDOWN  
o  Tin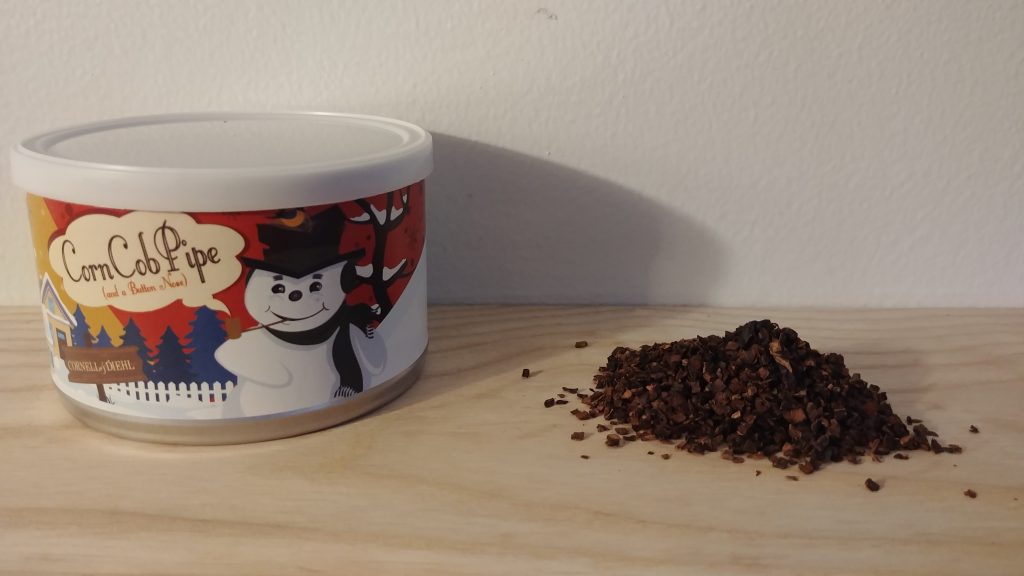 RESEARCH & BACKGROUND INFO
Originally released as a one time Holiday Blend for 2016
Became regularly available due to popular demand
The name is lifted from the song 'Frosty the Snowman'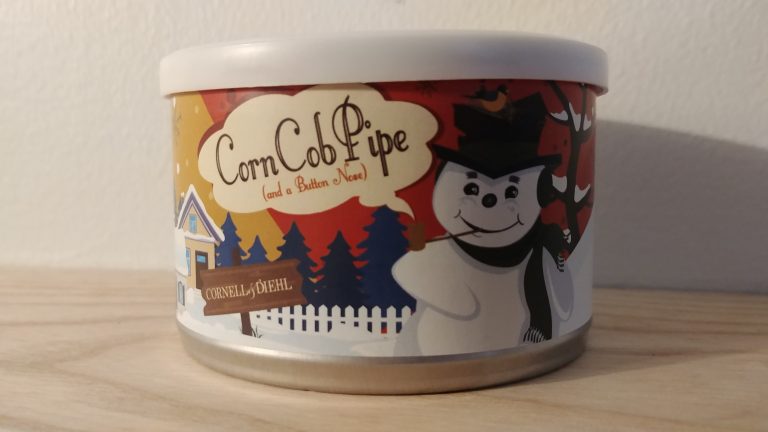 Few pipe tobacco tin designs go for Adorable as their design motif, but as you can see above, Corn Cob Pipe and a Button Nose leans into the cuteness of its name with a homey nouveau-traditional print. It's something you'd not find out of place on a Hallmark card. That is, if Hallmark had cards to help pipe smokers celebrate the Holidays.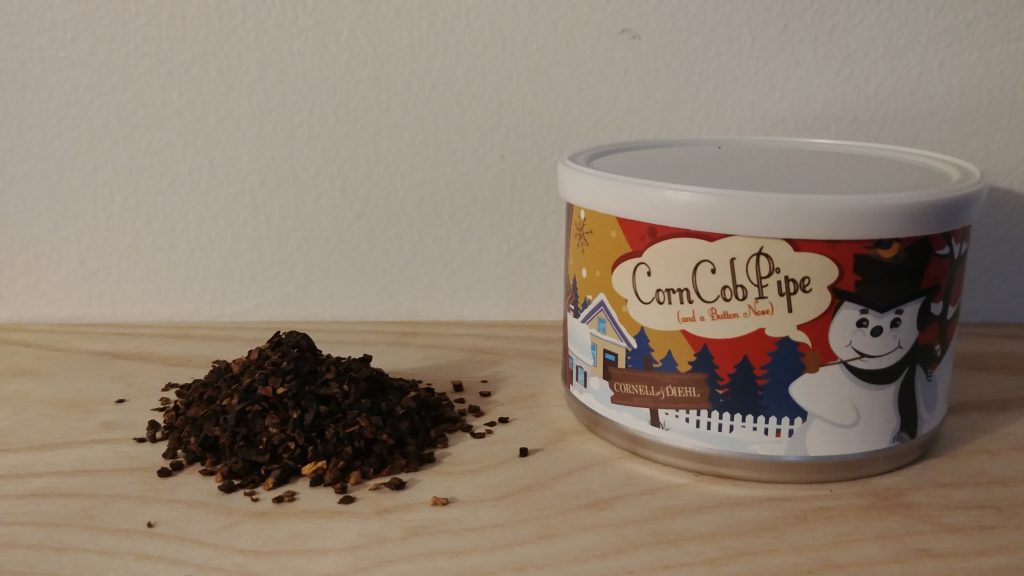 LOOK & FEEL OF THE LEAF
The cuteness of the tobacco doesn't end when you pop the tin. The blend itself is a tiny cube cut — is a pebble cut a thing? It's dry to the touch. Packing and lighting this is sure to be a cinch.
TIN AROMA
This is fantastic, you can nose this tin like a scotch. Hershey's chocolate, red wine, raisins, marshmallow, graham cracker, sugary, toasted hazelnuts, amaretto. The wife says it smells like honeyed raisin brown bread.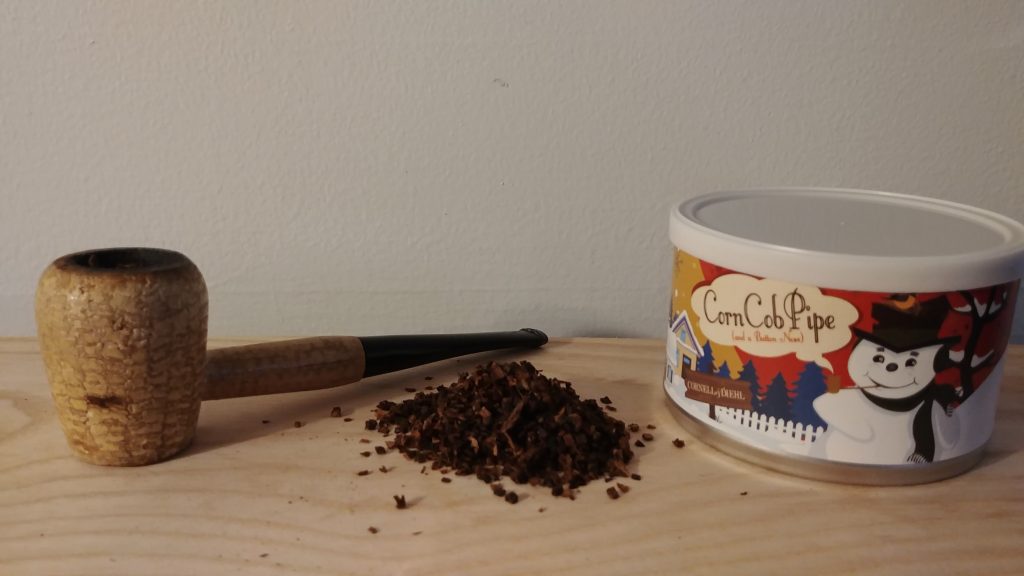 LIGHT & DRAW
Packing Style:  Codger scoop and gravity feed
Fire:  Bic
SMOKE & ROOM NOTE
The smoke is fairly thin, but certainly flavorful as you will see below. It has an oily mouthfeel which is not typical of aromatics.
The side stream aroma is a lovely cocoa-nutty-vanilla.
FIRST BOWL
>> MM Cobbit, Codger Scoop, no dry time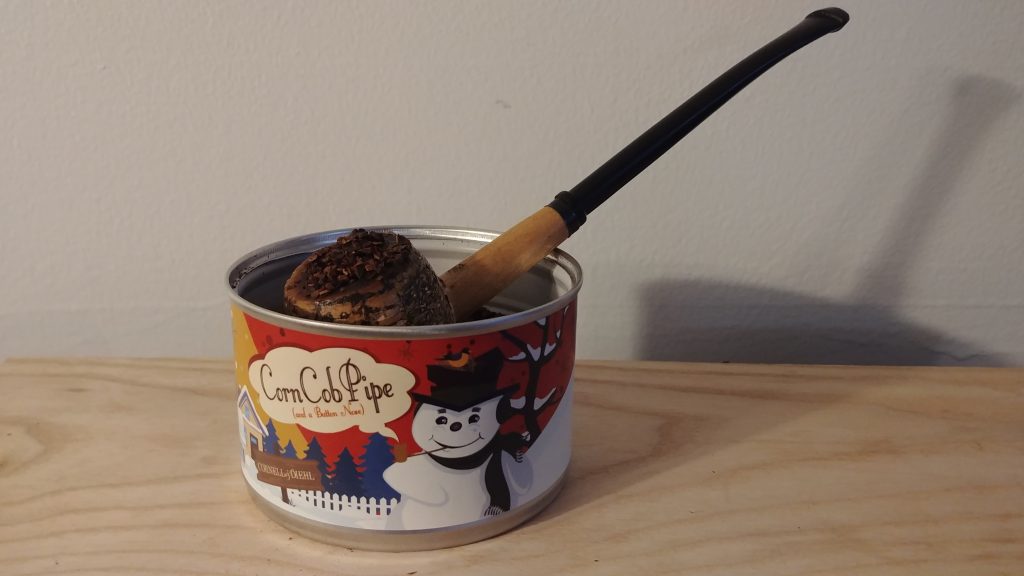 Sweet liqueur. Chocolate and Virginia sweetness expressed in hay and fruit. Sour cream. The fruitiness resolves into cherries and raspberries. This is surprisingly Virginia forward. Peppery too which was also unexpected. Cream. Baking spices. Oily. This is pretty intense stuff. Vinegar. Cinnamon and sour cream for a good stretch of the bowl. A rotten fruit taste comes towards the end of it which is unpleasant.
SECOND BOWL
>> MM Washington Cob, gravity feed, no dry time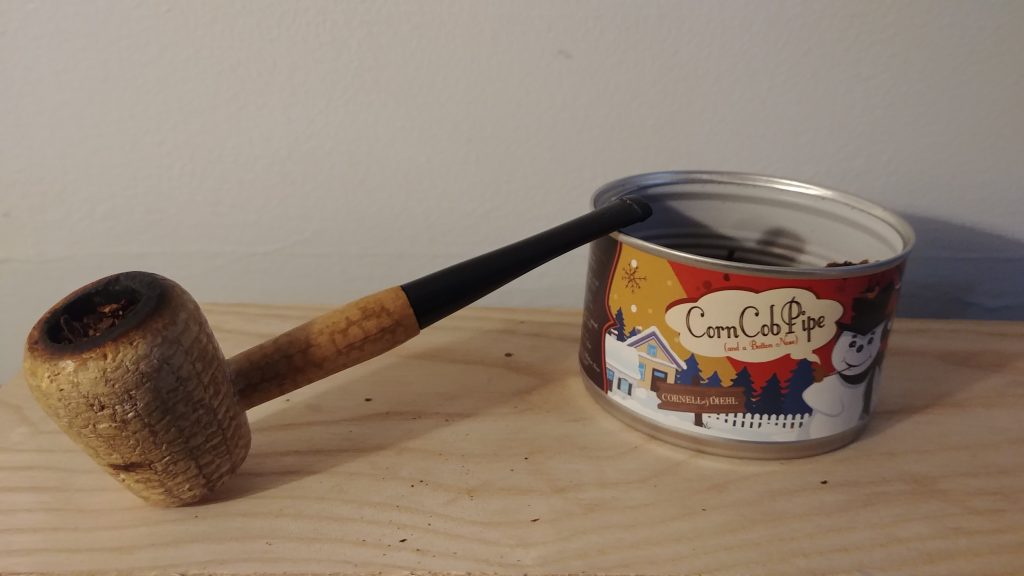 Fruit and nut liqueur. Sour cream. A nutty burley taste not unlike Prince Albert. Sour cream dominates the start of this bowl. Salt and vinegar. Oily smoke. That rotten fruit taste found in the 1st bowl shows up earlier and more often here. Baking spices. Salty, nutty, and some pepper. Cinnamon, buttermilk, and cayenne pepper. They are clearing out the pantry on this one. For an aromatic it's surprising this has just an edge of sweetness. The nutty base also offers up some soft cocoa. Which doesn't pair well with the growing vinegar. This bowl has been quite spicy, and with a bit of fruit makes this come off as a strong vaburper though there's no perique noted in this blend. I got some metallic twangs as the bowl came to its end.
THIRD BOWL
>> MM cobbit, gravity feed, one hour dry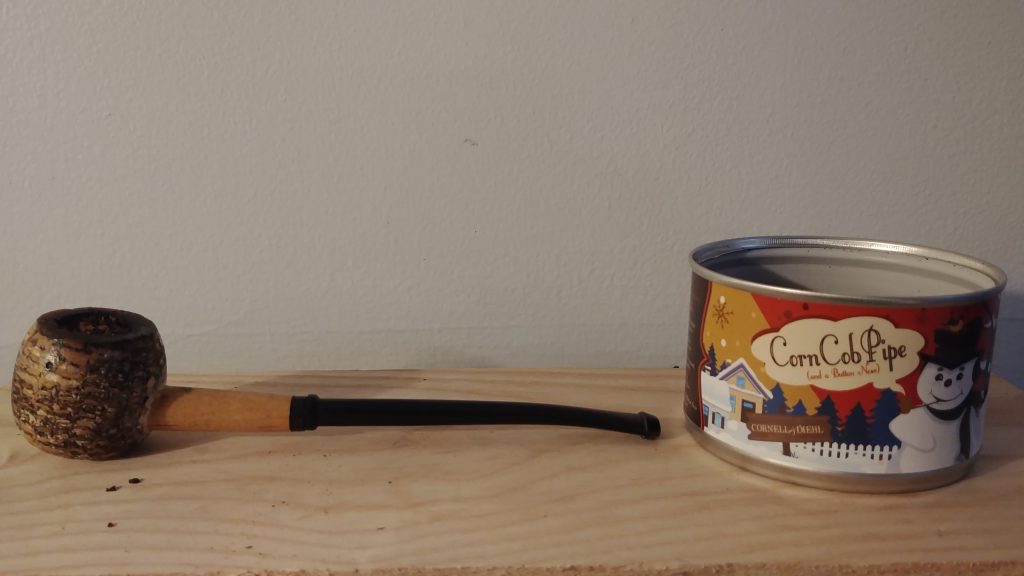 Starts off chemically and metallic. Something woodsy-smoky here makes me think of Dark Fired. Nutty, and with that liqeur taste again makes me think of amaretto. It's fruit too. There is that strong pepper blast I'm not prepared for. Marshmallow and cayenne pepper. Red Virginia fruits, apple peel, and sour cream. There is a persistent medium level spice in this bowl. Vinegar, red wine vinegar specifically. Woodsy, nutty, and coca. Cinnamon and rotten fruit. Apple peel and cocoa which is not a good combination, particularly with the white vinegar sourness coming on. Stays awhile floating in the cocoa-cinnamon-vinegar-sour cream-apple peel-hazelnuts flavor onslaught. It's very flavorful, but I'm not a fan of this set of tastes together. Peanuts and vinegar – are pickled peanuts a thing? They shouldn't be. 
FLAVOR PROGRESSION
Unlike other blends I've reviewed here I've not noticed any improvement drying this tobacco blend.
The flavor progression starts with fruity-nutty liqueur, adds in the nutty-cocoa flavors, picks up some pepper and baking spices which build through the rest of the bowl.
BURN EXPERIENCE

Corn Cob Pipe and Button Nose is a joy to pack using an effortless gravity feed or scoop. This also leads to an effortless light and even, consistent burn that requires few to no relights to get through the bowl. After you are done smoking though it's likely you'll be left with a minor tongue bite no matter how slowly you smoke this blend.
SIMILAR BLENDS
At its best this reminds me a bit of Semois, with that burley based peanut-hazelnut-cocoa taste, but that's just one component of a complex smoke. It's more akin to sweetened burley like Sir Walter Raleigh, many of the Borkum Riff blends, or C&D Bourbon Bleu. The off notes and heavy cinnamon flavor makes me want to make a heavy comparison to C&D Mad Fiddler Flake.
RATING BREAKDOWN
0.50 / 0.45 … Craft & Aesthetic
0.50 / 0.40 … Tin Aroma
0.50 / 0.50 … Lighting Process
8.00 / 3.00 … Smoking Experience
0.50 / 0.00 … Personal Enjoyment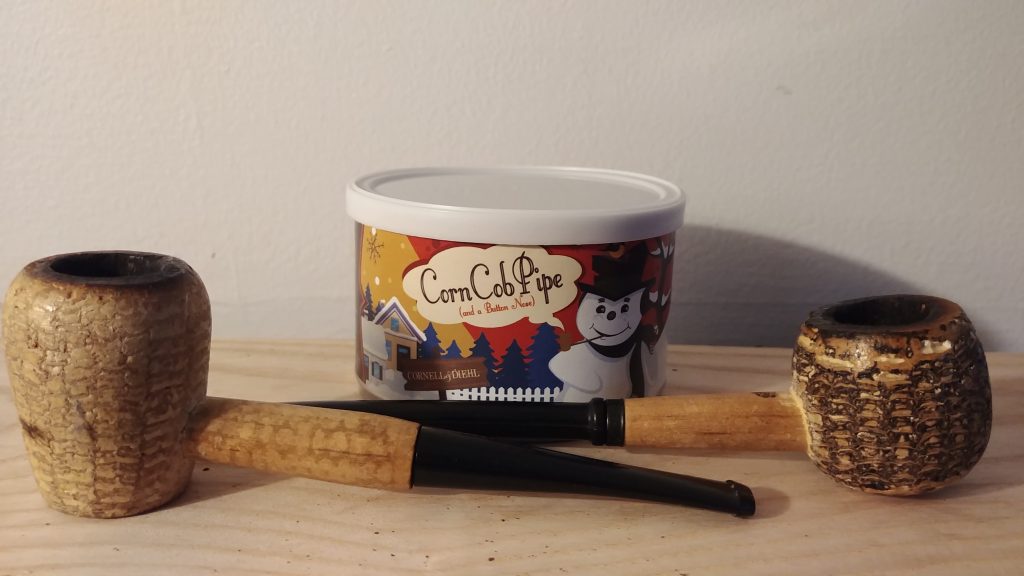 Go ahead and melt away.
Corn Cob Pipe and a Button Nose is a mediocre to poor tobacco in a fun cut, amazing packaging, and a great tin. It's sadly the kind of thing that seems put together by marketing first, then put in front of production to make it real. It smells great. Unlike the usual complaint about aromatics, it certainly does not lack for flavor. But those flavors are wrong together. Then you are left with tongue bite. This is not a good use of a magic hat. 
SIMPLY STOGIES RATING:  4.35/ 10.0
I love reading other reviewers' thoughts on the blends I'm smoke – it helps to show that no one review is perfect and there's always different opinions and tastes out there.  Here's how my review stacks up with reviews around the web.