When McClelland closed its doors in 2017, there were numerous blends that became objects of veneration, from their annual Christmas Cheer release to the Frog Morton line, to their incomparable oriental blends. What was lost with little fanfare was their bulk blend #2015, Virginia-Perqiue, aka VaPer Flake. This humble offering combined the illustrious McClelland Virginias with just the right amount of spicy perique. While there are multitudinous offerings which are called VaPer flake, you'd be hard pressed to pull out any spice from the likes of Peter Stokkebye's or Newminster's Navy 'VaPer' flakes. Just recently Erik Stokkebye's 4th Generation brand released a trio of bulk offerings, one of which was Evening Flake, a VaPer. Let's see if this helps fill in one of the larger gaps left in the market.
BULK or TIN:   Bulk
SIZE:   1-16 oz
ORIGIN:   Denmark
BLENDING HOUSE/PRODUCER:   Scandinavian Tobacco Group
BLENDING COMPONENTS:   Virginia, Perique

STRENGTH:   5/7
SOURCE:   watchcitycigar.com
WHERE:   Mid-Appalachia 
WHEN:   July-September 2021
DRINKS:   water
WEATHER:   Hot & sticky
WHAT'S ON:   Buzzing lawnmowers
RELEASE TYPE:  Available
ORIGINAL RELEASE DATE:  Fall 2020
SPECIAL RELEASE:  N
AVAILABILITY BREAKDOWN:
o  Bulk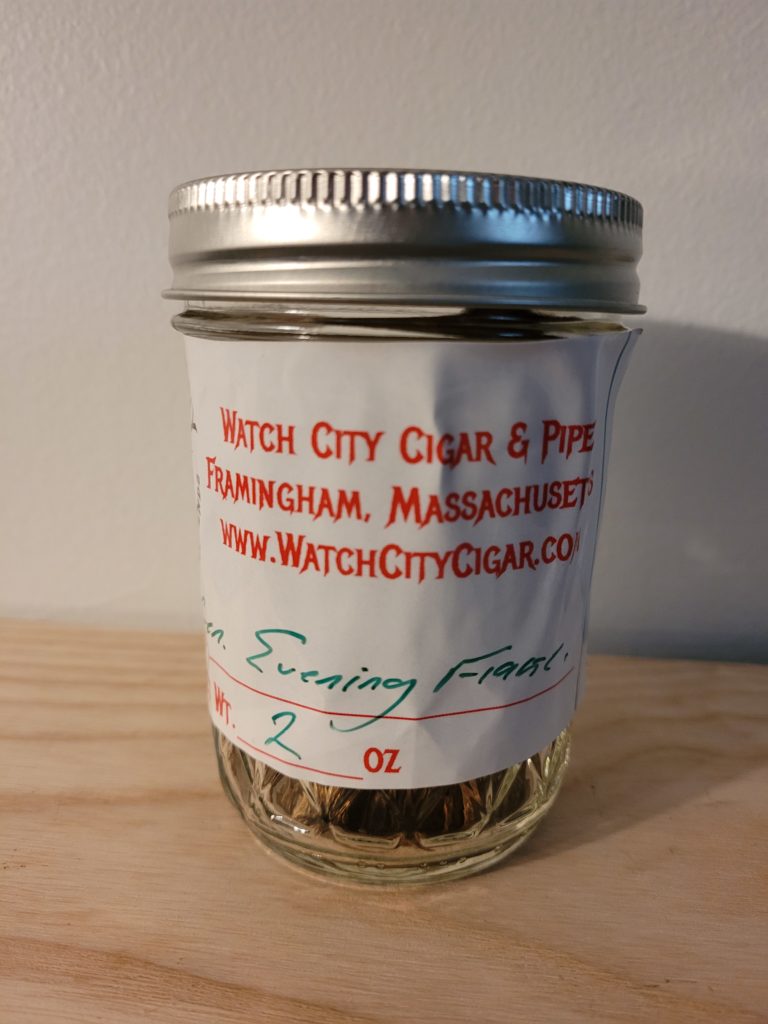 RESEARCH & BACKGROUND INFO
Part of the bulk expansion of the Erik Stokkebye Line
Erik Stokkebye tobaccos are the premium offerings from the traditional bulk Peter Stokkebye blending house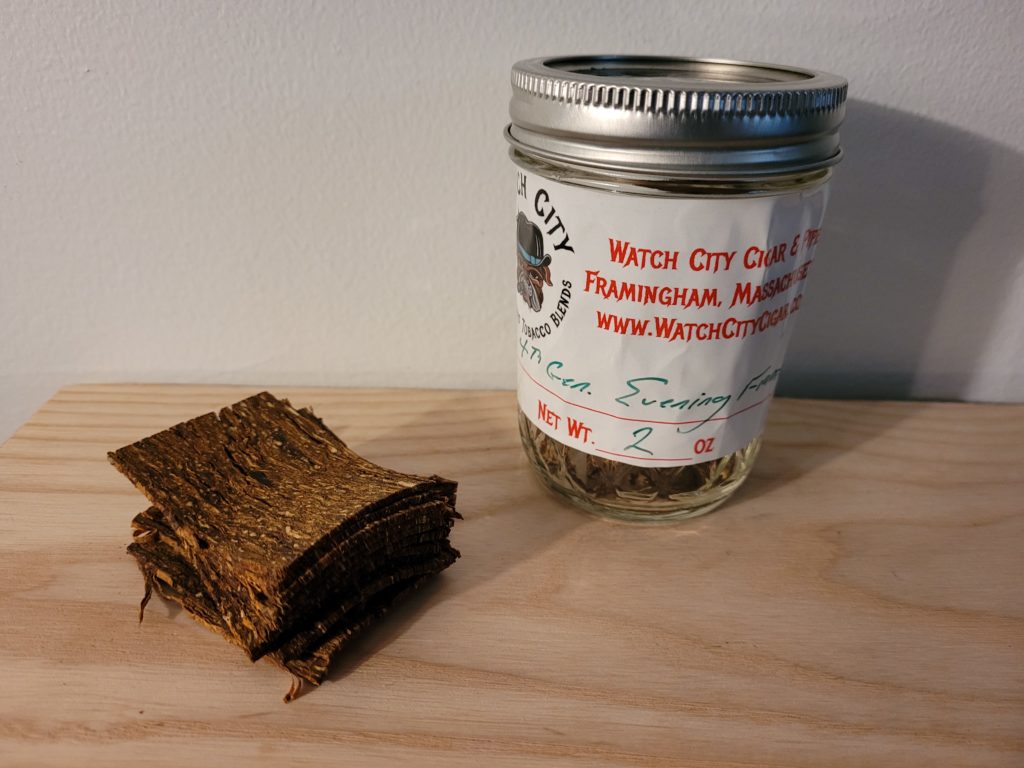 LOOK & FEEL OF THE LEAF
Evening Flake is one of those beautiful, regularly cut Euro flakes, with a pleasing brassy-yellow hue among the more chestnut brown base.
TIN AROMA
Raisins, hay, Hershey's chocolate, barley, malt balls
LIGHT & DRAW
Packing Style:  Cannonball
Fire:  Trusty Bic
Evening Flake has little apparent moisture but it needs some drying time. Even with a proper dry, it has some difficulty catching flame and staying lit. If you went with a more aggressive rubbing, you could probably alleviate some of those problems, but you would lose the character of the flake format.
SMOKE & ROOM NOTE
Like most Virginia based blends, Evening Flake issues a thin, light smoke. The smoke though has a surprisingly pleasant aroma, with some sweetness and toast
FIRST BOWL
>> Brigham 147 Voyageur,  fresh from the jar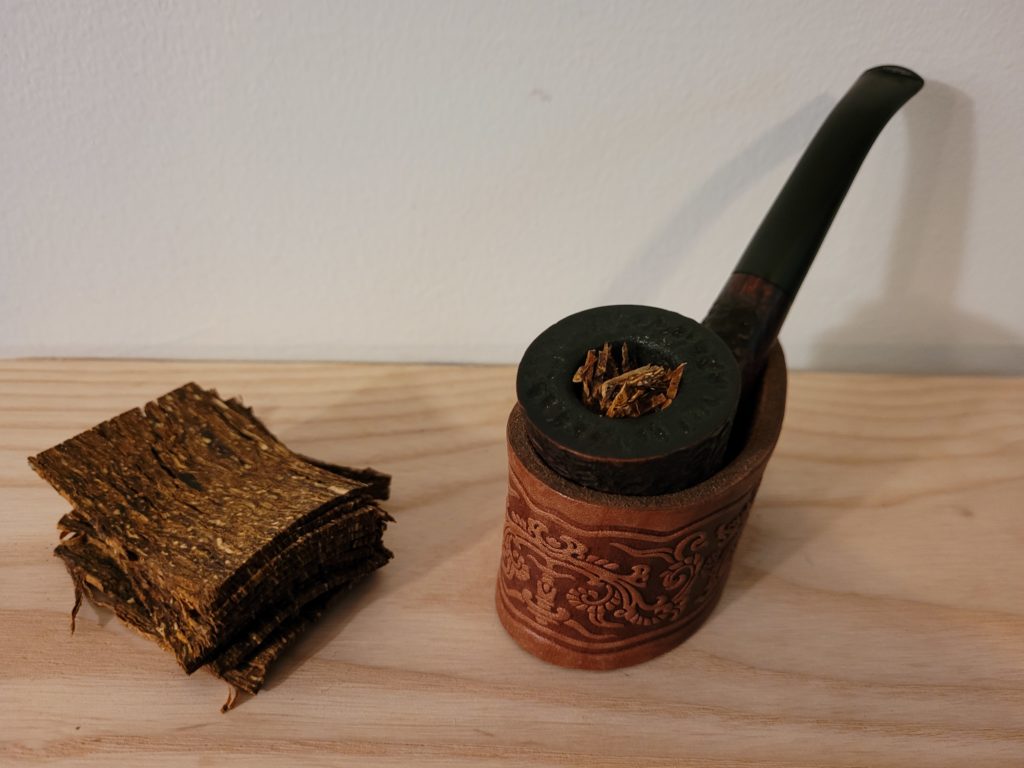 Hay and sweetness. Oil and pepper. Vague fruits. Diluted anise and cinnamon. Lime zest. Waxy, but not in that soapy-perfumey way of Lakeland tobacco, but a purer beeswax. The pepper grows and some vinegar jumps in. Shredded wheat. The pepper is very cayenne and Sichuan pepper like, with an accompanying punch of prunes figs. Grows even oilier. The hay and pepper has now subsumed beneath the waves of dried fruits and lime.  The steady sweetness finally fades as it grows oaky and salty. Towards the very end of the bowl, the pepper returns, along with that light anise and cinnamon note from the initial light.
Wow. This has some real character. This is high quality Virginia with a good dose of perique. It is quite promising.
SECOND BOWL
>> Brigham 147 Voyageur, one hour dry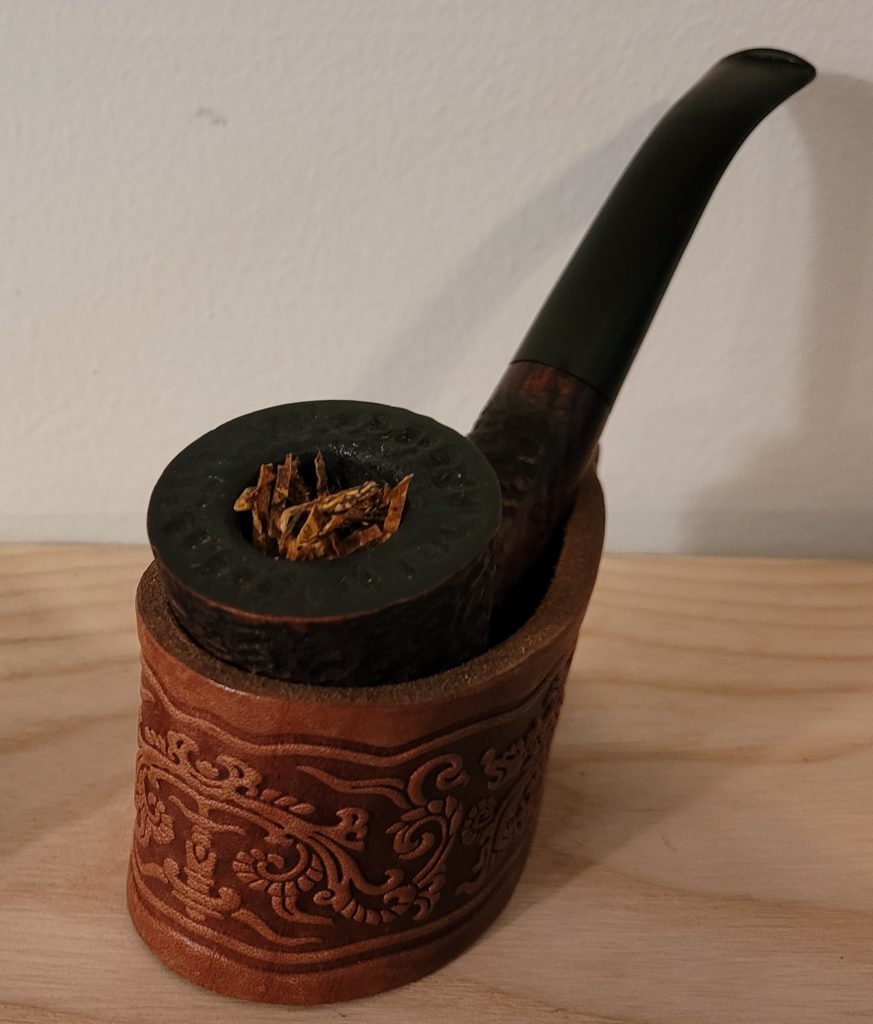 Malty-buttery. Brown sugar and lime. Malted wheat bread. This is sweeter than the undried leaf. The smoke grows oily. Lime zest and a tingle of pepper. Apple Cider Vinegar. It's quite sugary It stabilizes quickly. About one third in some strawberry joins the lime zest along with some salt. Midway through it grows even sweeter, and the spice revs up to a cayenne level. In the final third returns to form with malt, wheat bread, lime, and brown sugar. Again finishes oaky, with sweet prunes and raisins.
With a bit of drying time, this is even better. The pepper comes down some for most of the bowl, and the sweetness is much more pronounced.
THIRD BOWL
>> Brigham 147 Voyageur, one day dry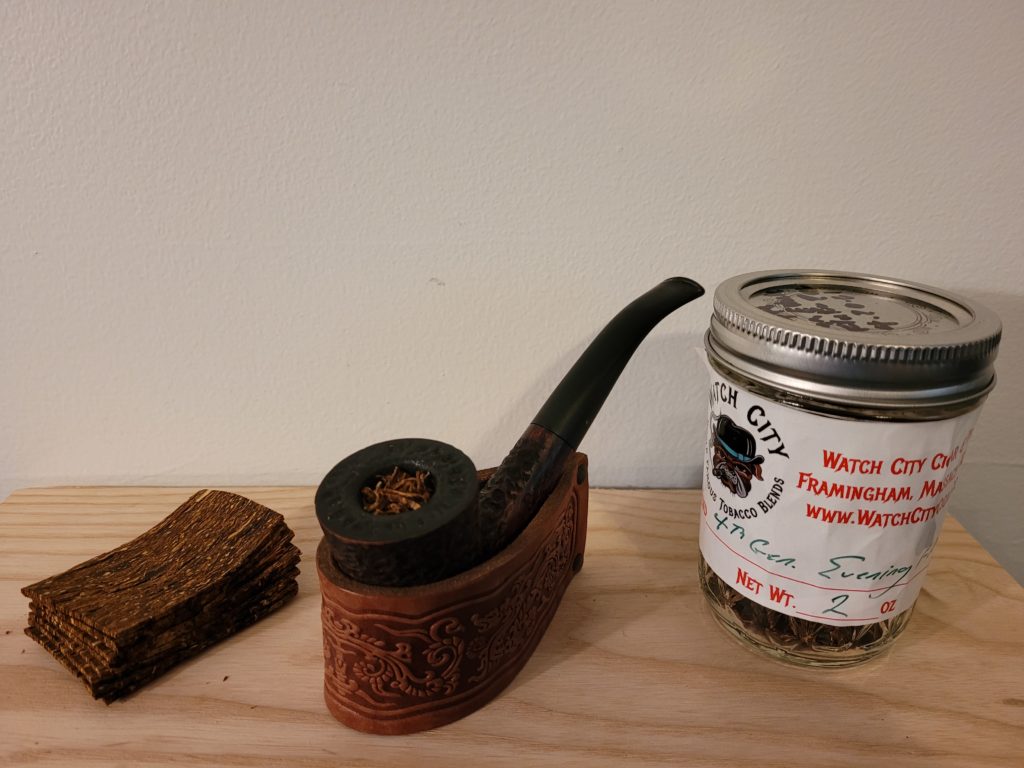 Brown sugar, lime, and wax. Salt, malt, and cream. A hint of Worcestershire sauce. Vinegar and cream. Quick vinegary. And a wave of salt. Cayenne and white pepper pops up. Oh, this is quick spicy. Malt, butter, hay, and lime zest poke through. There's just a hint of sweetness throughout. Finishes consistently with prunes and raisins. 
More drying was a mistake. The sweetness almost entirely faded and the perique pepper took the entire bowl over.
FLAVOR PROGRESSION
Evening Flake starts sugary, malt, and limey. Gets peppery in the middle which continues to the end. Ends with oak and dried fruits.
BURN EXPERIENCE
Even with excessive drying times it takes a bit to light and it will require more than a few relights. However it never bites.
SIMILAR BLENDS
It's far less woody than the beloved 2015 VaPer Flake, but it matches the level of pepper dead on, neither being too much nor too little. More than anything this makes me think of what MacBaren HH Pure Virginia would be like with a hefty dose of perique.
RATING BREAKDOWN
0.45 / 0.50 … Craft & Aesthetic
0.25 / 0.50 … Tin Aroma
0.10 / 0.50 … Lighting Process
7.00 / 8.00 … Smoking Experience
0.40 / 0.50 … Personal Enjoyment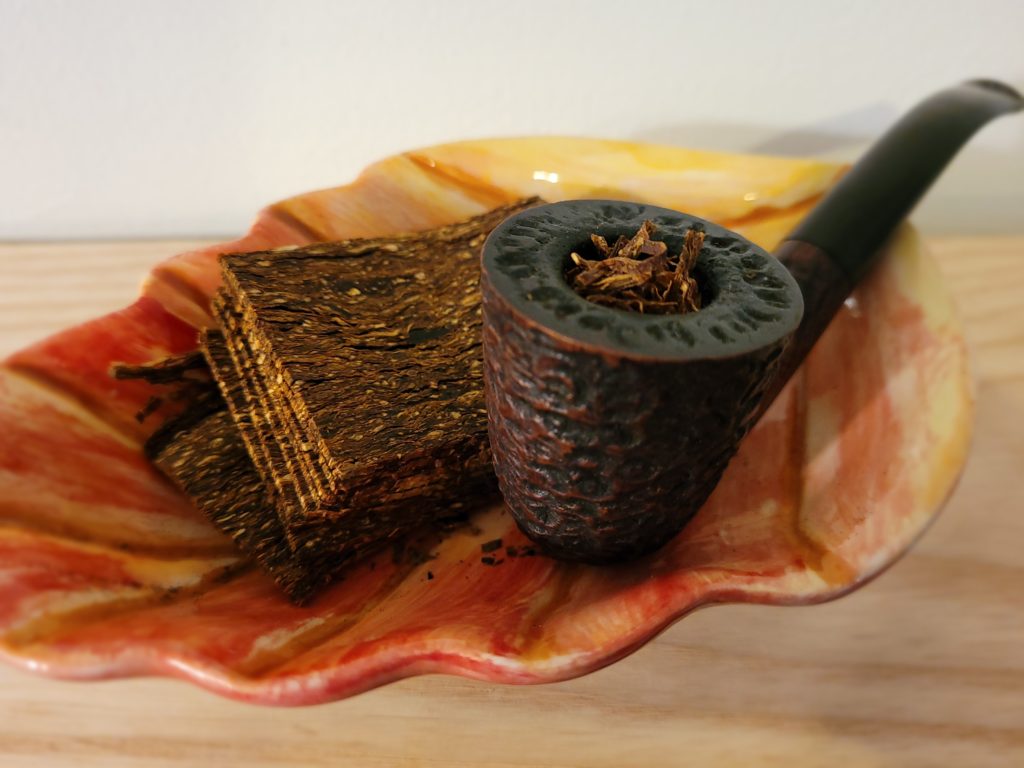 GOOD EVENING.
After a four year hiatus there is now a proper bulk Virginia Perique flake. The Virginias from Erik Stokkebye do not have that ancient twang that the bygone 2015 Flake had, but there is no dearth of flavor. While the other supposed VaPers on the market maybe hint at the perique content with a whiff of pepper and some jamminess, Evening Flake delivers consistent, but never overwhelming spice. Moreover while those VaPers are great with some months or years of age, Evening Flake is great even factory fresh, and I can almost promise you, has excellent aging potential.
 
SIMPLY STOGIES RATING:  8.2/ 10.0
I love reading other reviewers' thoughts on the blends I smoke – it helps to show that no one review is perfect and there's always different opinions and tastes out there.  Here's how my review stacks up with reviews around the web.