Despite their image as what pipe tobacco is in popular culture, aromatic blends are among the most troublesome and divisive categories of blends. The primary issue is the inconsistency between smell and taste. These tobaccos smell rich and sweet, infused with the aromas of confectionery. But for most smokers, in most pipes, most aromatics taste far duller than what those around the smoker smell emanating from the pipe. Many pipe enthusiasts try a handful of aros, as they are referred to, early on in their careers and then set them aside as the 'taste' is more akin to sucking hot air. However, as the saying goes, this is a feature, not a bug. Aromatics are called just that as they are supposed to smell pleasant, not taste great. Many of the  longstanding blends we have today from Captain Black and Borkum Riff, as well as small blenders across the world, were made for a time where a pipe was a fixture, to be smoked anywhere at any time. They were designed to be inoffensive to those around the smoker, and light on taste, to be easy on the smoker's tongue. Unfortunately, these grandfatherly blends do not meet the expectations of today's more casual smoker.
A new era of aromatics has begun. This started at the periphery decades ago, with small blending operations like Boswell's Pipes and The Country Squire, but has come into the main in the past few years. Lane's Cult series has been perhaps at the forefront, with parallel ventures by most of the tobacco conglomerates.
Which brings us to Exotic Orange, aka Exotic Passion. Issuing from the venerable blending house of Rattray's, this has become a fairly sought after tobacco as it promises to deliver both the flavor of the tobacco and the fruity toppings. We'll see in this review if those promises are met or if this is just going to be more hot air.
BULK or TIN:   Tin
SIZE:   100g
ORIGIN:   Germany
BLENDING HOUSE/PRODUCER:   Rattray's
BLENDING COMPONENTS:   Virginia, Burley, Black Cavendish

STRENGTH:   2/7
SOURCE:   Watch City Cigars
WHERE:   
Nowhere, PA
WHEN:   
June 2020-August 2021
DRINKS:   
water
WEATHER:   
For the most part, warm to sweltering
WHAT'S ON:   
The buzz of lawnmowers and the thumpity-thump of pickup basketball
RELEASE TYPE  available
ORIGINAL RELEASE DATE  2016
SPECIAL RELEASE  N
AVAILABILITY BREAKDOWN
o  Tin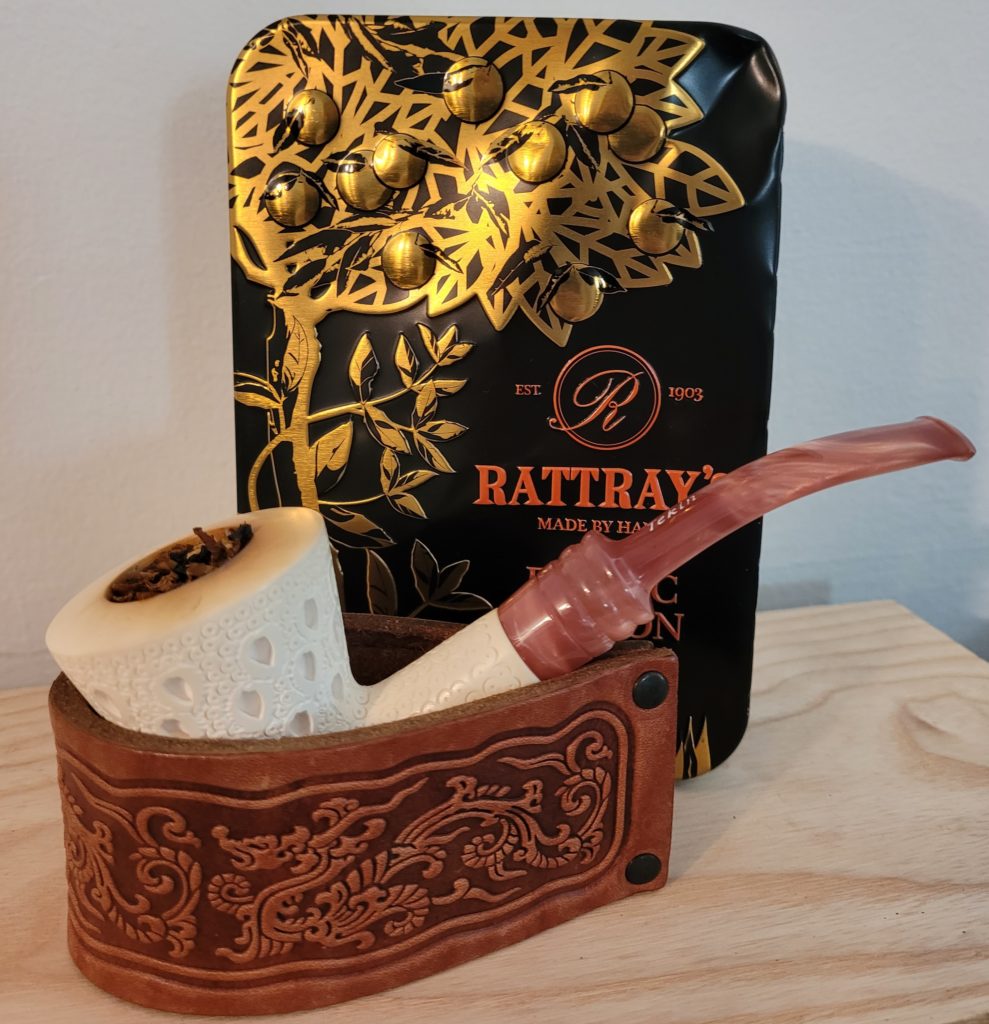 RESEARCH & BACKGROUND INFO
Comes under the Artist Collection from Rattray's
Tin names the flavorings as orange, mango, passion fruit, and maple syrup
The same blend is called Exotic Passion in the EU due to a change in tobacco naming regulations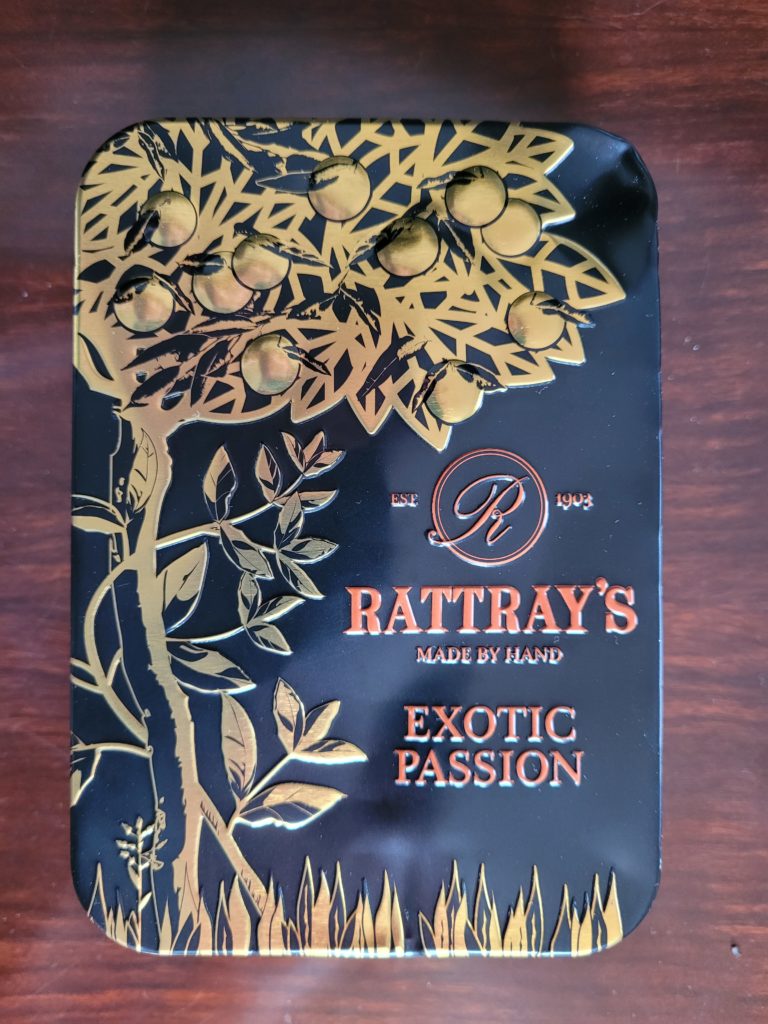 I have never owned a more boldly stylistic tobacco tin. It's quite large, roughly 6″ x 4″ (150 mm x 100 mm). The golden foliage superimposed upon the the black matte brings to mind Japanned cabinetry of the 18th century. Not only is the artwork a warm shiny gold hue, it's raised, with the golden oranges popping up in the third dimension. Finally orange lettering, also raised, holds the promise of the Orange, er, in my case, Passion, held within.
Inside, things are not so grand. The tobacco itself is held in a thin plastic. This packaging, combined with the square tin which cannot form an airtight seal, makes dried tobacco a real concern. As soon as I opened this, I removed the tobacco to thick double side mylar bags, which fit back into the tin just so.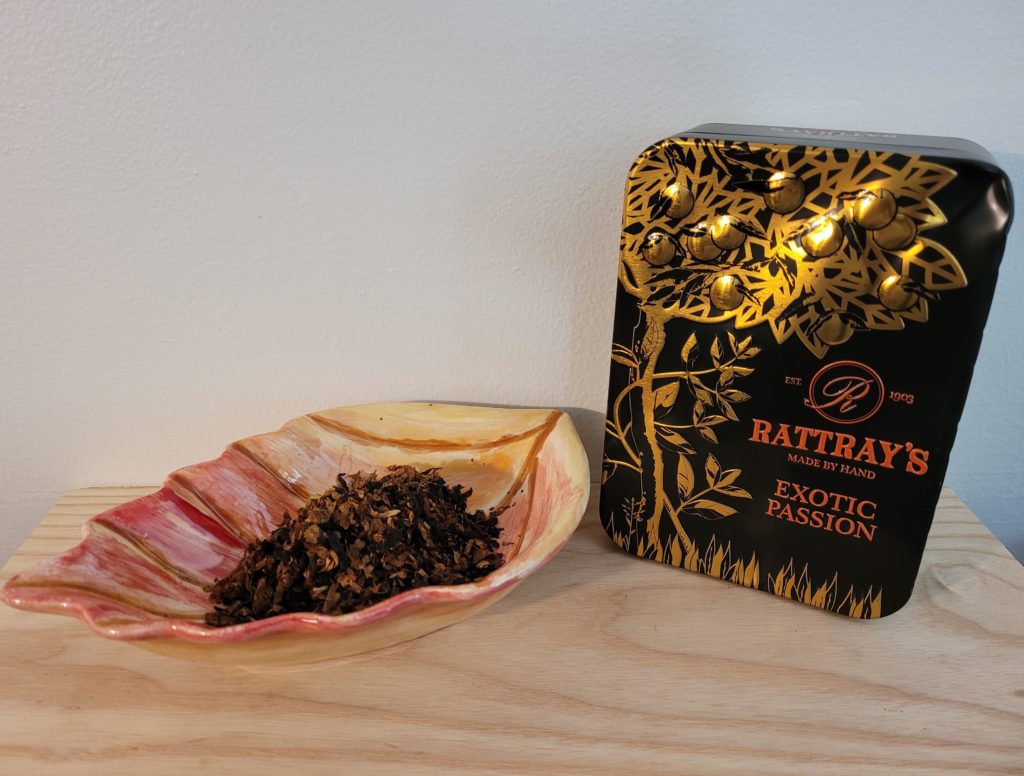 LOOK & FEEL OF THE LEAF
My concerns about the tobacco being dry were premature. If anything this stuff is far too wet thanks to the overabundance of that mainstay of aromatic and drugstore tobacco, Propylene Glycol. As discussed below, this level of moisture led to some significant drying times.
Visually, Exotic Orange is non-descript, consisting of tan, chestnut, and black ribbon, all quite short, but ranging from a bit thin to a bit wide.
TIN AROMA
Be wary opening this up in delicate company or small spaces. You will be nearly overwhelmed with the fragrant onslaught of vanilla candlewax, cherry chocolates, candied orange slices, dried mango, lime zest, and amaretto. It makes my head spin. Leaving it out to dry will act as a strong potpourri.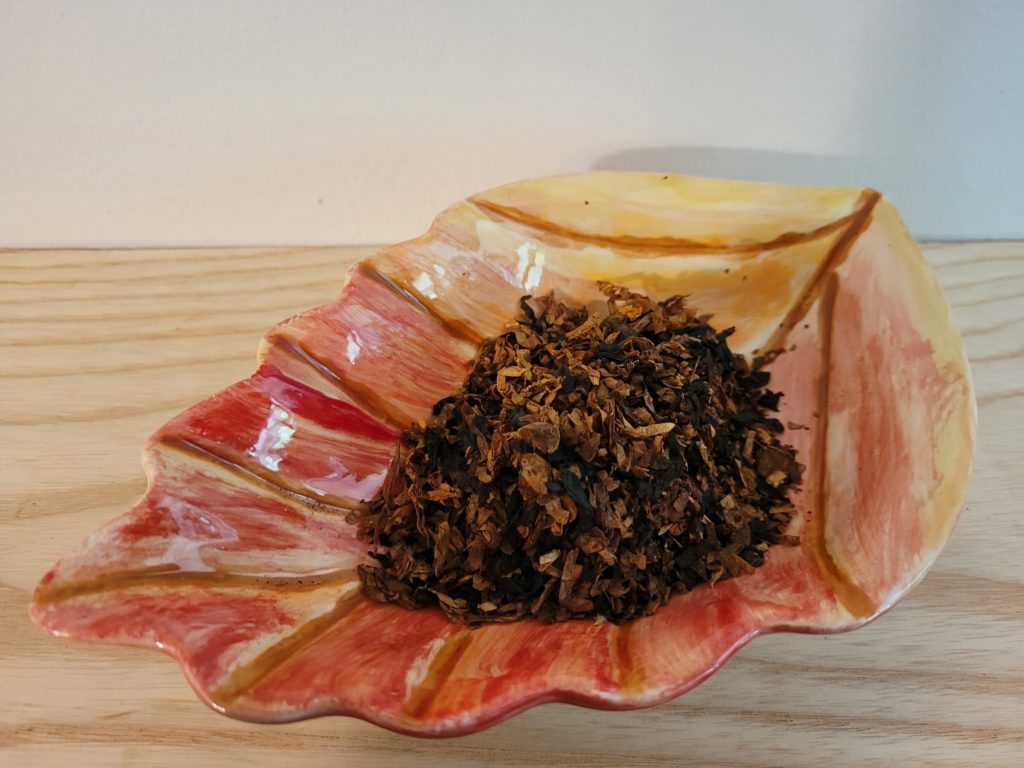 LIGHT & DRAW
Packing Style:  Exotic Orange's cut makes it insensitive to packing style differences, working well with the Frank, 1 pinch, and 2 pinch methods.
Fire:  A variety of multicolor bic lighters in the main, but I used matches to light this when the wind allowed, which I think gives it a bit sweeter beginning.
SMOKE & ROOM NOTE
The smoke, like many blends with a good bit of cavendish, is rich and plumey, but somehow also thin, or really weightless.
The aroma coming from the bowl is intoxicating, full of vanilla, orange, raspberry, dark chocolate, caramel, and cotton candy. It smells like you are about to take a sip of an Orange Julius while standing next to a cotton candy stand in the middle of a county fair.
FIRST BOWL
>> No Dry Tekin AKB Meerschaum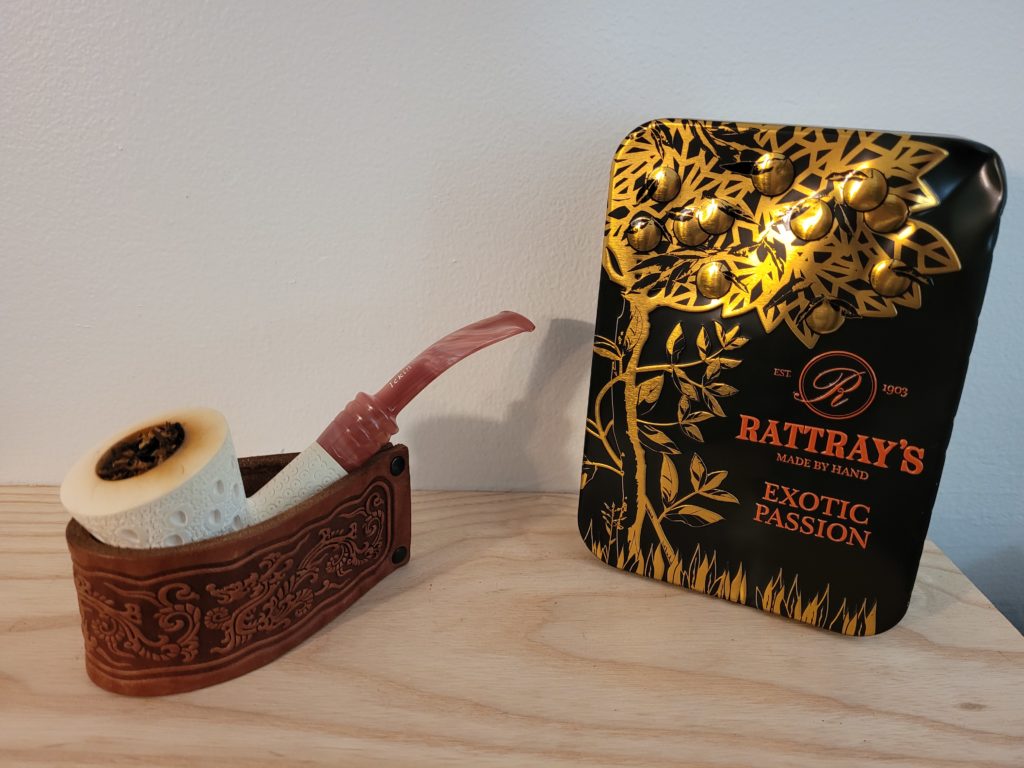 Waxy. Hot air for several minutes. A hint of sweetness comes through. A bit of salt and butter. It has a watery quality, the kind I associate with cavendish heavy blends. White vinegar and orange juice. Mango juice. It grows sweeter. Now we are getting somewhere. The cavendish is noticeable, it tastes like buttery toast and diluted caramel. Orange candy, caramel, vanilla, and vinegar. Now it is very sweet. It stays on this course with little blips of watery cavendish to break up the flavor. Coheres into watery-buttery orange, vanilla, cavendish towards the end. It gets a bit bite-y down at the base.
This starts like a traditional aromatic – flavorless and weak. But it warms up into something certainly better than average. But it's far too wet I believe to be it's best self.
SECOND BOWL
>> 3 hour dry, AKB Calabash Meerschaum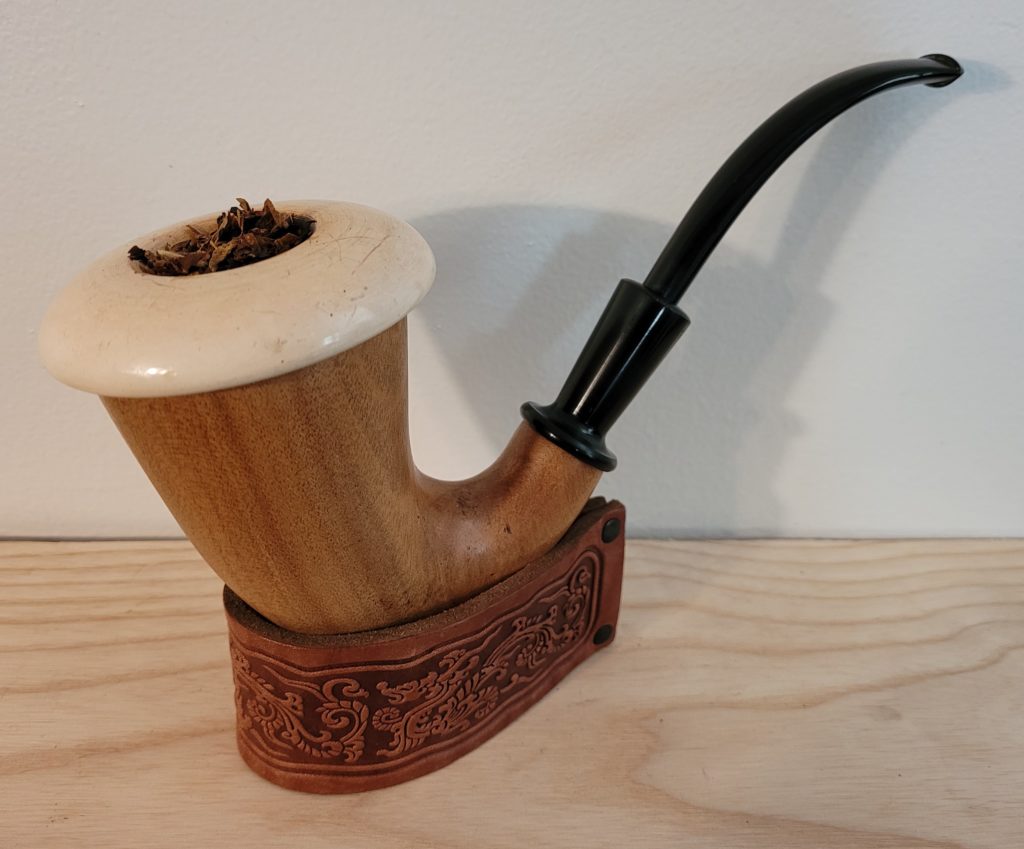 Starts just barely sweet. The orange comes through fast and strong. It's not a natural orange, but the kind you'd find in jelly candy or soda pop. Wax and a hint of vanilla. Salty. A white vinegar sharpness balances the sugar well and gives it a pop like mouthfeel. Grows substantially sweet. The orange is now joined by raspberry, and the whole experience becomes softer, more coherent. It's a waxy vanilla, vinegar, orange candy, salt, berries, and cream for a good stretch. A little hay and raisins come through eventually. Then just a few blips of mild black pepper. Hmm, coconut. As I enter the last quarter some cocoa notes appear, the vanilla fades, but the wax stays on. It has a feeling of cherry starbursts with the taste of red fruit and wax. The vinegar, salt, and candied orange continue on strong. It tastes like it's continuing to get sweeter through the whole bowl, ending on a sweetness scale of about 4/5. 
This bowl, despite the 3 hour dry, still was discernably wet to the touch which I packed it. The result of the 3 hour dry though was quite successful, shedding all the watery, weak cavendish flavors. At this point I'd say this is one of the best bowls of aromatic I've ever smoked.
THIRD BOWL
>> 48 hour dry, Frank Pack, Tekin Meerschaum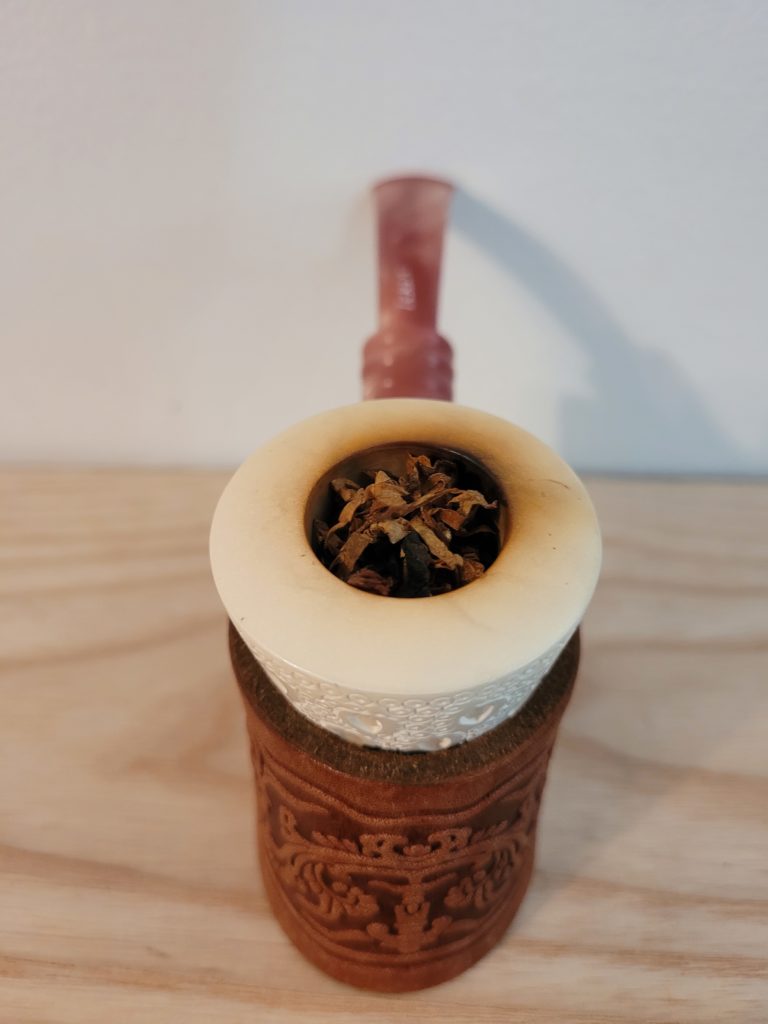 Virginia hay, tea, and orange marmalade. Vanilla and waxy. This starts off quite a bit sweeter than the previous bowls. There is a dash of salt and now it's a creamy candied-orange-vanilla confection. I can finally taste the mango and the orange resolves more like orange sherbet than anything else. Some more Virginia flavors poke through, with some strong hay, kiwi, and sour cream. Another sudden burst of white vinegar to liven the bowl up comes as no surprise. Movie theatre buttered popcorn with a strong waft of coconut. Some pepper creeps in. Interestingly the smoke now has a development, with a strong sugary-orange-vanilla arrival that fades into a hay-tea-sour cream finish. The vinegar and pepper linger but never overwhelm the experience. Once all the pieces are set, the flavor remains extremely consistent, strong, and delicious for the heart of the bowl. Entering the last quarter the vanilla finally fades while the hay grows more prominent, but the rest of the creamy-orange sherbet flavor profile doesn't change.
Finally getting dry to the touch, extending the dry time to ludicrous levels we find Exotic Orange can express some of the character of the base tobaccos. While this is certainly a strong aromatic, there's enough Virginia presence to remind you that this is pipe tobacco and also ensures this blend has some aging potential. I imagine with time the flavorings will fade, but that high quality Rattray's Virginia leaf should take up the slack as the years sweeten it up.
Moreover, this bowl should reassure anyone who finds a dusty tin of this stuff out in the wild that even if the leaf inside is dried to a crisp, it will still hold onto enough of the flavorings to wow your tastebuds.
FLAVOR PROGRESSION
When burning a bowl of Exotic Orange it comes into itself pretty quickly, attaining a consistent flavor a minute or two into the bowl. Drying this tobacco is much more dynamic. It starts watery and weak, but after a good aggressive dry, becomes full flavored from first light to last puff. 
BURN EXPERIENCE
While this burns quite well in any state, fresh from the tin you will take a few extra passes to get this lit and have a few more relights, but it's nothing to complain about. However, fresh, it is a bit bitey. Well dried it is mechanically perfect.
SIMILAR BLENDS
After smoking 200 or different pipe tobaccos most blends remind me of a dozen or more things I've had before. Exotic Orange however, is off by itself. I suppose it reminds me of the sweet orange flavor from Comoy's Cask No 4, the vanilla from Molto Dolce, the Coconut from Peter Stokkebye's Luxury Twist Flake, and the hay-citrus of MacBaren's HH Pure Virginia. But for a single similar blend, nothing comes readily to mind.
RATING BREAKDOWN
0.40 / 0.50 … Craft & Aesthetic
0.50 / 0.50 … Tin Aroma
0.30 / 0.50 … Lighting Process
7.50 / 8.00 … Smoking Experience
0.50 / 0.50 … Personal Enjoyment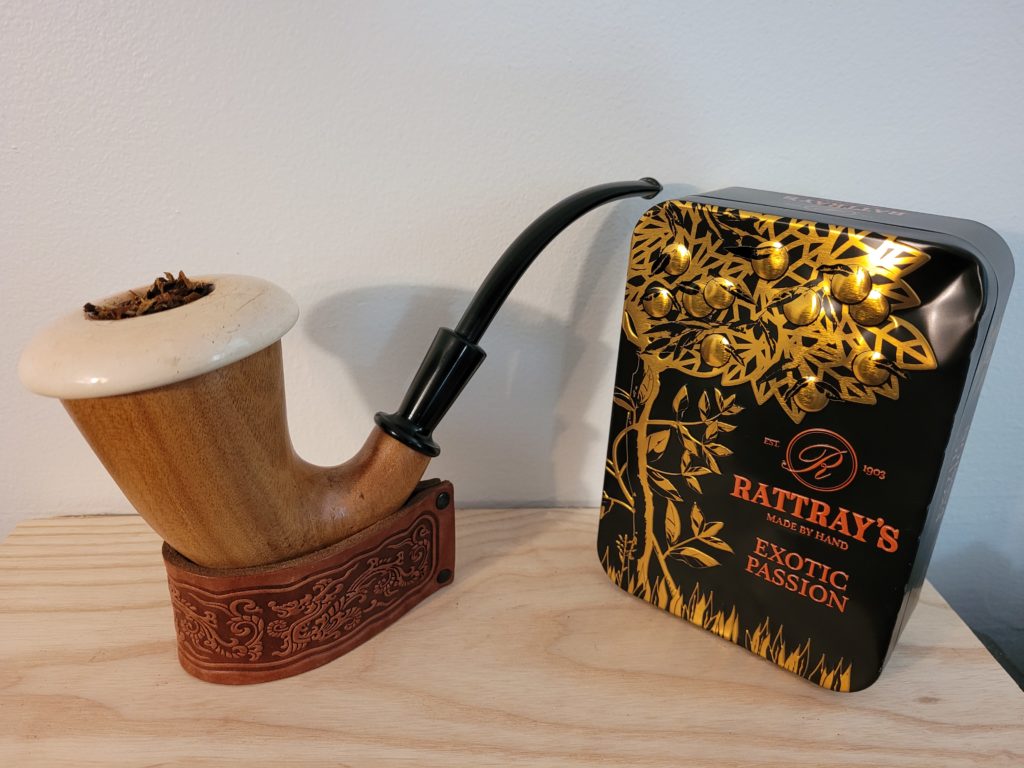 Passionate About Orange.
Exotic Orange delivers on the promise broken by so many aromatics. So many pouches and tins of tobacco deliver but a smidgen of taste compared to the enticing smell emanating from the bowl. Not only does Exotic Orange capture all the flavor of the room note, it tastes better than it's aroma. It needs some preparation to get it to its ideal state, but when you do it starts to make up for all those mediocre bowls of hot air you wasted so much time and money on over the years.  
SIMPLY STOGIES RATING:  9.2/ 10.0
I love reading other reviewers' thoughts on the blends I smoke – it helps to show that no one review is perfect and there's always different opinions and tastes out there.  Here's how my review stacks up with reviews around the web.