With a less than inspiring name like 'J4' you can safely assume that Sutliff had little intention of selling this directly to the public when they added it to their catalogue. Instead, J4, like much of Sutliff bulk tobacco, was marketed as a blending tobacco. Or possibly something a Brick and Mortar retailer would repackage with whatever name they chose to evoke whatever imagery that would entice their local clientele. But in the modern age of pipe tobacco the entire range of Sutliff bulks are available online, and as I've found before, they are typically, but not always, quite smokable, no blending required. Let's see if this lightly flavored bulk burley can stand on its own.
BULK or TIN:   Bulk
ORIGIN:   USA
BLENDING HOUSE/PRODUCER:   Sutliff
BLENDING COMPONENTS:   Burley, Dark Fired Kentucky. That's the official list, but I swear there is lemon Virginia in here.

STRENGTH:   2/7
SOURCE:   tobaccopipes.com
WHERE:   
Middle of nowhere PA
WHEN:   
September 2022-February 2023
DRINKS:   
Water
WEATHER:   
Dissappointingly  moderate for this climate
WHAT'S ON:   
The gentle scream of the occasional J brake from the highway
RELEASE TYPE  available
SPECIAL RELEASE  N
AVAILABILITY BREAKDOWN  
o Bulk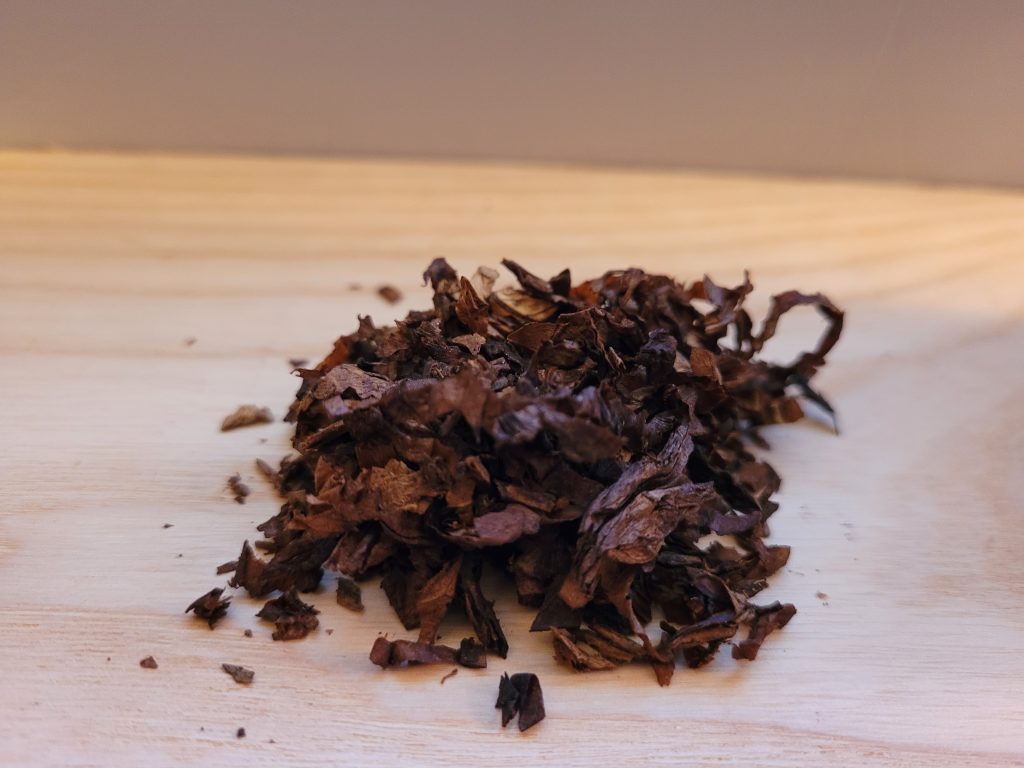 RESEARCH & BACKGROUND INFO
It's cased and vanilla topped
The J series from Sutliff are all burley based semi-aromatics
This is not the kind of blend with a pedigreed history or interesting backstory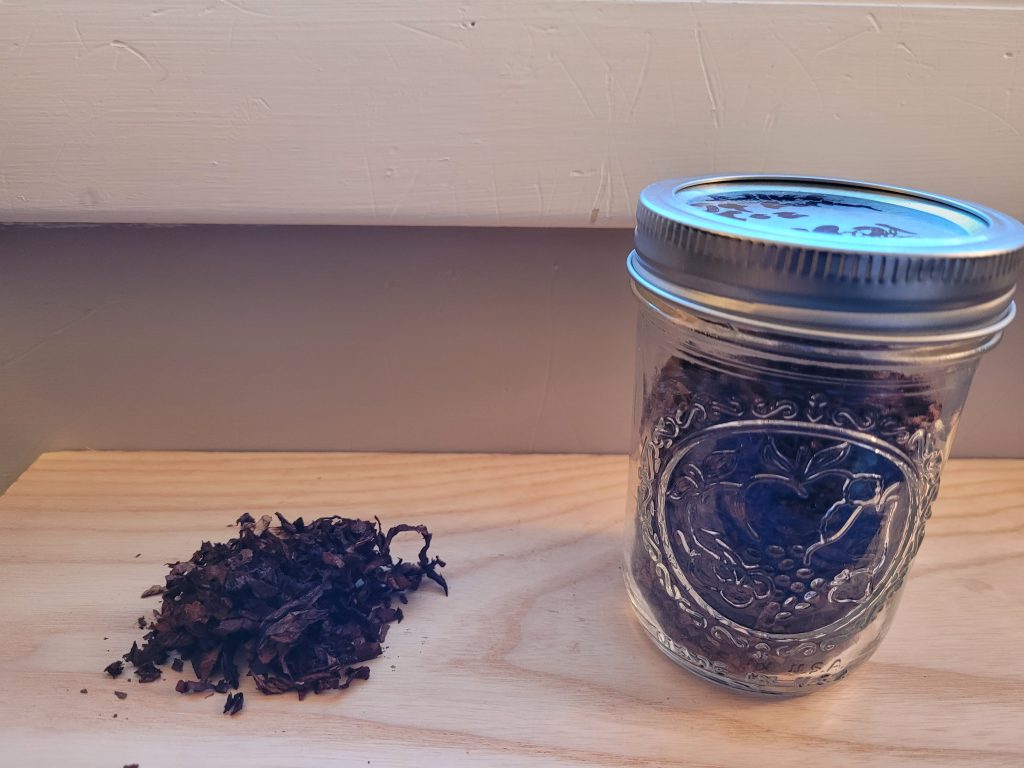 LOOK & FEEL OF THE LEAF
J4 looks quite a bit like any of the other bulk Sutliff burley blends I have smoked, short ribbon of various lengths and widths. It is mostly a milk chocolate brown with some beige strands and some darker browns. However unlike the rest it is quite damp to the touch, which makes me immediately want to dry this out a bit.
TIN AROMA
Chocolate, raisins, molasses, cinnamon, vanilla. Very much like a chocolate fruitcake – which might not be a thing? It's enchanting nonetheless, I have a hard time pulling my nose back out of the jar.
LIGHT & DRAW
Packing Style:  The Frank, 2 Pinch, Codger. It packs and burns easily so most any method works.
Fire:  Pickle bic!
SMOKE & ROOM NOTE
The smoke off of J4 is moderately creamy and satisfying. 
The smoke emits a smell of warm tobacco, something like cinnamon, and vanilla.
My wife nuzzled into my beard extra hard after I smoked this, so take that as a recommendation on the after aroma.
FIRST BOWL
>> 30 minute dry, Briarworks Buckeye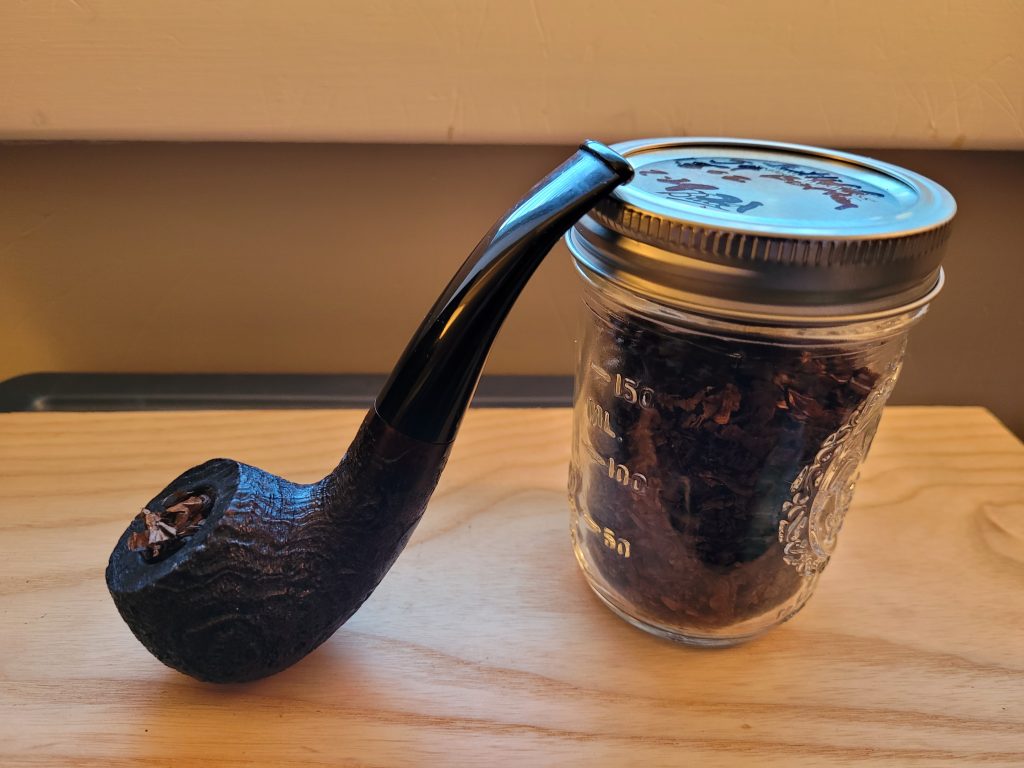 Sweet, nutty, a hint of cinnamon, and marshmallow to start. Macadamia nuts, mild earth, salt, with a vinegar tang. Quite sugary. Settles onto a flavor plateau of sugar coated macadamias and vanilla with a vinegar and salt finish. I'm surprised how much Virginia tobacco flavor comes through. This is easily the sweetest burley blend I have ever smoked. The retrohale becomes pepper. Cumin sneaks in. A lemon flavor folds into the sugar. The cinnamon returns adding warmth the vanilla. It's still rather salty. The traditional burley flavors of cocoa and coffee come in very late. Lands on saccharine vanilla, cinnamon, macadamias, with vinegar-salt.
It is amazing that these bulk blends can be outwardly identical but when you smoke them their differences are astounding. Unlike most VaBurs which marry creamy, bready Virginias with burley, J4 brings lemony, vinegary, bright Va together with DFK laced burley, heavily topped with Vanilla. Interesting. Let's see what additional drying time brings.
SECOND BOWL
>> Two hour dry, Frank Pack in the Buckeye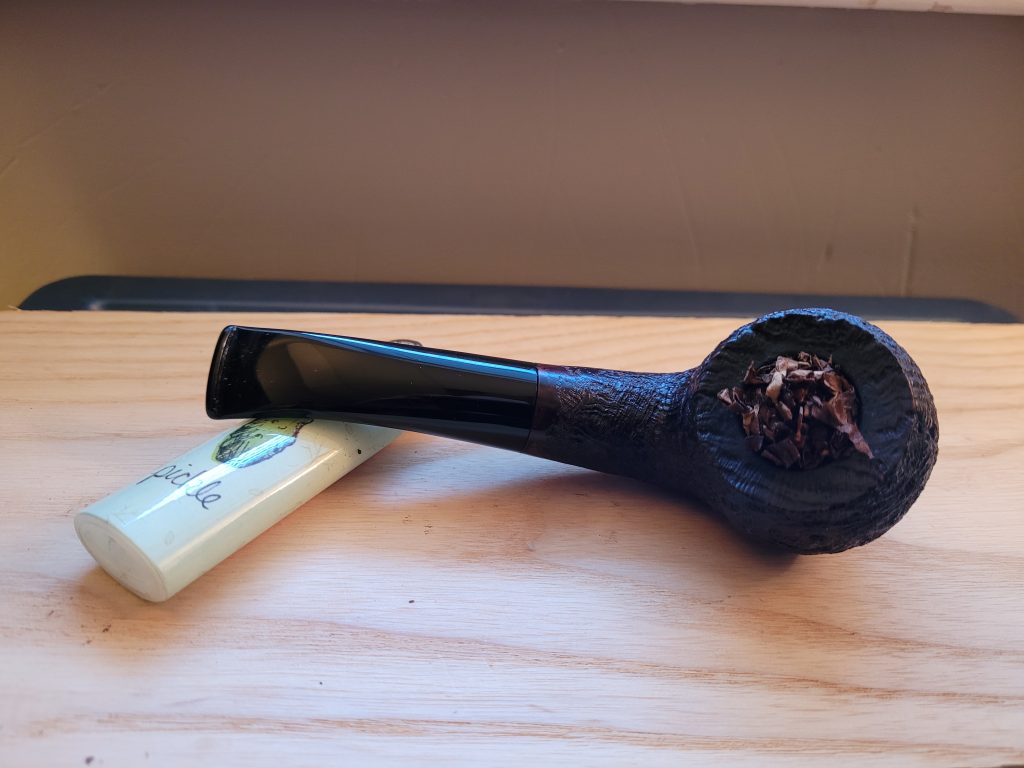 Musty, light vanilla, a hint of nuts. A touch of vinegar, lemon, and salt, with a bit of hay. There's sweetness here from both the burley and the unlisted Virginia. And the vanilla topping I bet. Cinnamon – which I am guessing is how the dark fired Kentucky presents itself in this blend, comes with some hazelnuts, cigar, earthiness, and leather. The smoke has turned oily as well, and less sweet. The VaBur finds a compromise at hazelnuts, hay, vinegar, and salt. Sugary lemon surges out. A touch of molasses is mixed in And that distinct marshmallow note comes through. Stays that way for a good while. Slowly grows more rich and oilier. The salt picks up with a hint of gasoline, cumin, and burnt oregano. Earthy and vinegary. Salted hazelnuts. Just a whiff of black pepper and some cocoa. Then the cocoa just grows and grows, with coffee, cinnamon, vanilla, and wood char.
With the additional drying time, and I suspect the longer, cooler burning bowl from the Frank pack, J4 opened up another host of flavors. The vanilla was dialed back but the natural tobacco was able to sing much more clearly, with stronger hay presence from the VA, cocoa-hazelnuts from the burley, and earth, leather, and cinnamon from the dark fired.
I wonder how additional drying time and a different pipe will change this experience further.
THIRD BOWL
>> Three hour dry, two pinch pack, AKB Tekin signed bent Dublin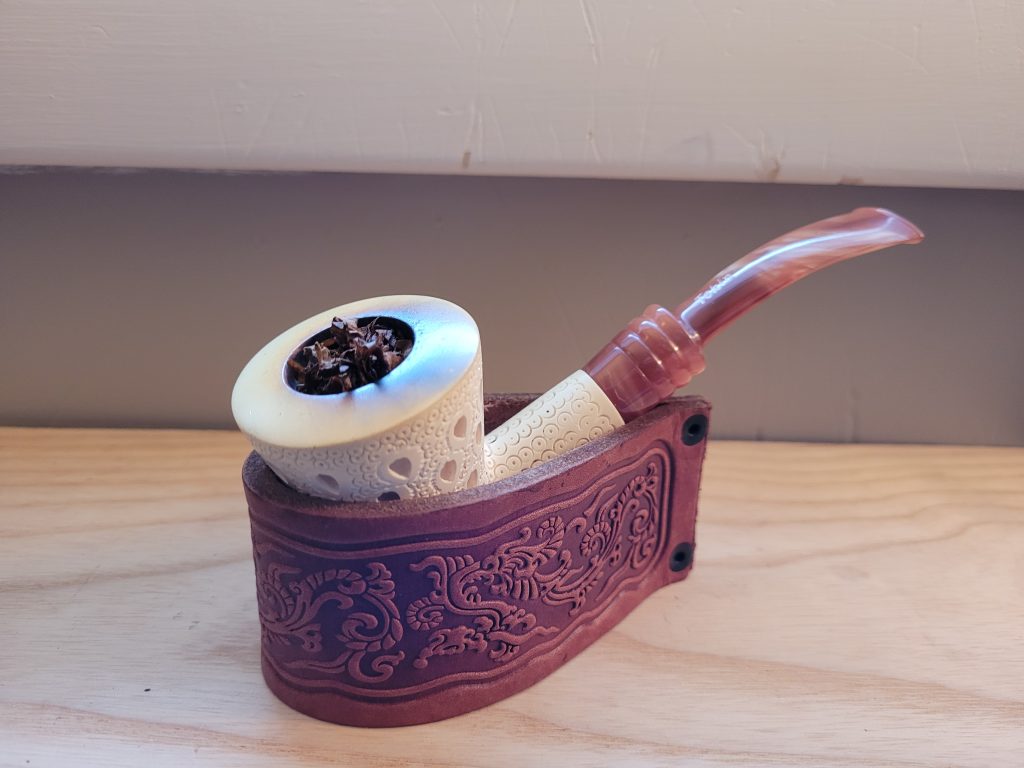 Sugary hay, light lemon, with a hint of cocoa, and a heavy dousing of vanilla. It's musty and also warm – cinnamon again. Have I mentioned how this burns like a dream? It's very lemony-cinnamony which is a weird combination, but it works. Grows oily and nutty, with just a touch of salt. Pepper comes through now, earlier than in the other bowls. The vanilla has ebbed but it's not gone. Cumin. It's less sweet and much saltier. Then the lemon-hay-sugar bomb returns. Vinegar, then cocoa come in. This is much less cohesive of a smoke compared to shorter drying times. Vanilla lemon hay sugar. The burley flavors disappear altogether for a long while.
Eventually hazelnuts and cinnamon creep in, along with a new earthiness. The sugary lemon vanilla dominates still though. Oats. Finally a hint of mesquite from the dark fired, along with growing pepper and cinnamon. It's sugary to the last puff.
FLAVOR PROGRESSION
At each drying time J4 has an arc starting more burley oriented and vanilla heavy , shifting towards brighter lemon, vinegar, and salt flavors in the middle, then deepening again with even heavier burley flavor – more earth, cocoa, and coffee. Drying time seems to accentuate the brighter flavors.
BURN EXPERIENCE
I found this did not burn that well straight from the jar, it is far too wet, but even with just 30 minutes of drying time it lights easily and stays lit very well. At times I found myself puffing a little too fast but it never bit my tongue.
SIMILAR BLENDS
There's a basic similarity to some of the other Sutliff burleys as you'd expect. The cocoa-coffee-hazelnut speaks of Sutliff Medium Burley, and the lightly sweetened vabur style is spiritually similar to Sutliff 212, though J4 leans much more towards lemony VAs (assuming those are actually in there). The vinegary-burley combo is a bit like PS 41 Cube Cut, but J4 is much more lemony-vinegar, and has the vanilla topping – and is much easier to smoke. That cocoa-marshmallow combination is akin to C&D's Corncob Pipe and a Button Nose, but J4 is more of a burley, and less of an aromatic, and just all around better. It's vaguely similar to other medium burley blends like LJP's Cuban Mixture and MacBaren's London Blend. On the other end of the spectrum those who taste the vanilla lemon in this burley blend might find it very reminiscent of Captain Black Gold
RATING BREAKDOWN
0.40 / 0.50 … Craft & Aesthetic
0.50 / 0.50 … Tin Aroma
0.50 / 0.50 … Lighting Process
7.00 / 8.00 … Smoking Experience
0.40 / 0.50 … Personal Enjoyment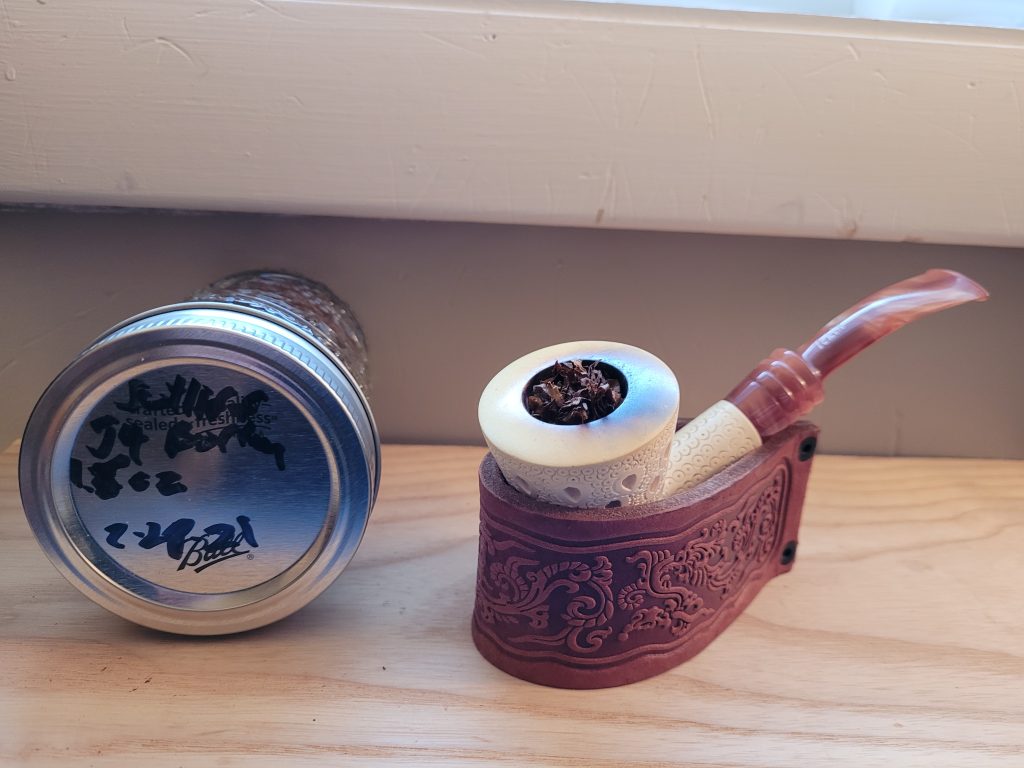 REVIEW BOT #844 APPROVED.
For a blend with such a generic, industrial sounding name, J4 is a stand out burley blend with a taste profile deviating from the norm. On paper J4 should fall into the masses of lightly aromatic burley blends like Sir Walter Raleigh and Lane Limited Ready Rubbed. However the lemon-hay flavor, wherever it comes from, gives it depth and balance. A caveat – my palate is extremely attuned to Virginia type flavors and a casual perusal of existing review on J4 don't seem to show this is something other folks pick up on. But even without that, J4's sugary cocoa-coffee-hazelnut flavor, laced with real vanilla flavor is lovely, it's wonderfully compliant when it comes to smoking, and the aroma it emits is fantastic enough that I will continue to smoke this for years to come.
SIMPLY STOGIES RATING:  8.8/ 10.0