The cigar industry sees little innovation when it comes to the actual cigar. It is, after all, nothing more than the rolling of dead leaves. Yes, that is a very simplistic way of looking at what cigars are, but it is essentially the truth. However, the accoutrement that cigar enthusiasts and aficionados use while enjoying their hobby is always changing. That's why I refer to collecting and curating these various trinkets as the "hobby within the hobby." There's always something new or different that comes along that piques the interest of cigar smokers. There has always been a sense of style and fashion that goes into collecting these baubles, but Les Fines Lames has taken that to the next level.
Les Fines Lames was founded in 2015 by French cigar and cutlery enthusiast Pierre Jourdan. They are known for their 2-in-1 cigar knife. Something that I plan on reviewing soon. Earlier this year, Les Fines Lames came out with a Kickstarter campaign for something new and unique, a cigar Punch Bracelet®. The Punch Bracelet® capitalizes on the latest trend in men's and ladies' fashion with a bracelet made with stylish beads that come in 8 different colors and types. It seamlessly blends fashion and necessity for the discerning aficionado or enthusiast. But, how does it hold up?
PRODUCT: Punch Bracelet®
MANUFACTURER: Les Fines Lames
PRODUCT TYPE: Cigar Punch
ORIGINALLY RELEASED: Nov 2021
STILL IN PRODUCTION: Yes
CLAIM/GIMMICK BREAKDOWN:
    o  Fashion Accessory
    o  Cigar Punch
    o  Water Resistant
     o  Go through security checks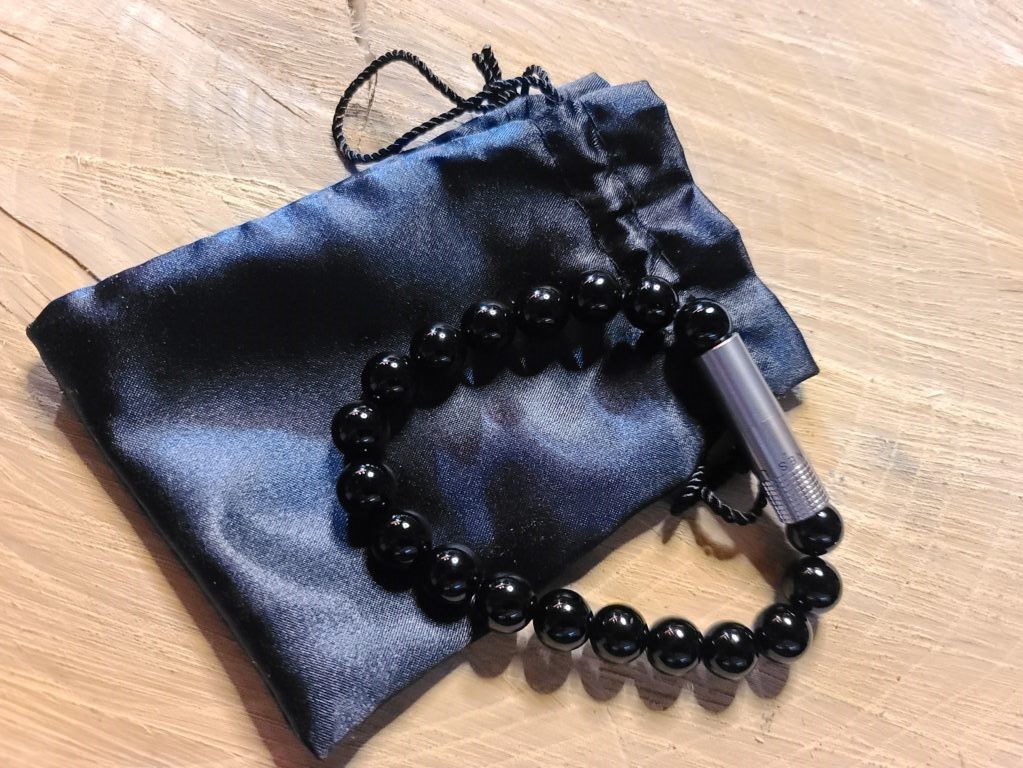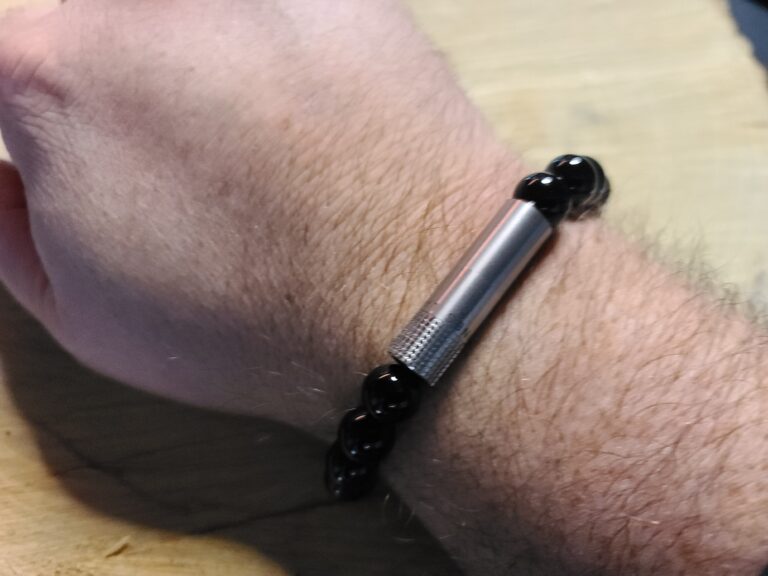 The design of the Punch Bracelet® is fairly genius, as it truly embodies the phrase "where form meets function." The punch acts as part of the bracelet (pictured above…please note that the punch is meant to be worn on the underside of the wrist but makes for a terrible photograph). The punch untwists in the middle, but can not be used as a "clasp." Instead, you slip the Punch Bracelet® over your hand, then untwist the punch to reveal the cutter. Once you've punched your cigar, you twist the punch together and slip back over your hand.
The Punch Bracelet®, according to their website, is made for wrist sizes between 5.9in and 8.3in. The Punch Bracelet® is available in either small, medium, or large sizes. The beads come in an wide variety of styles and colors to accommodate your personal style. Besides the difference in colors and styles, the onyx beads are 8mm, while the others offered by Les Fines Lames are 10mm. They also offer bracelets without the punch. The punch is also offered in either brass or 316L stainless steel.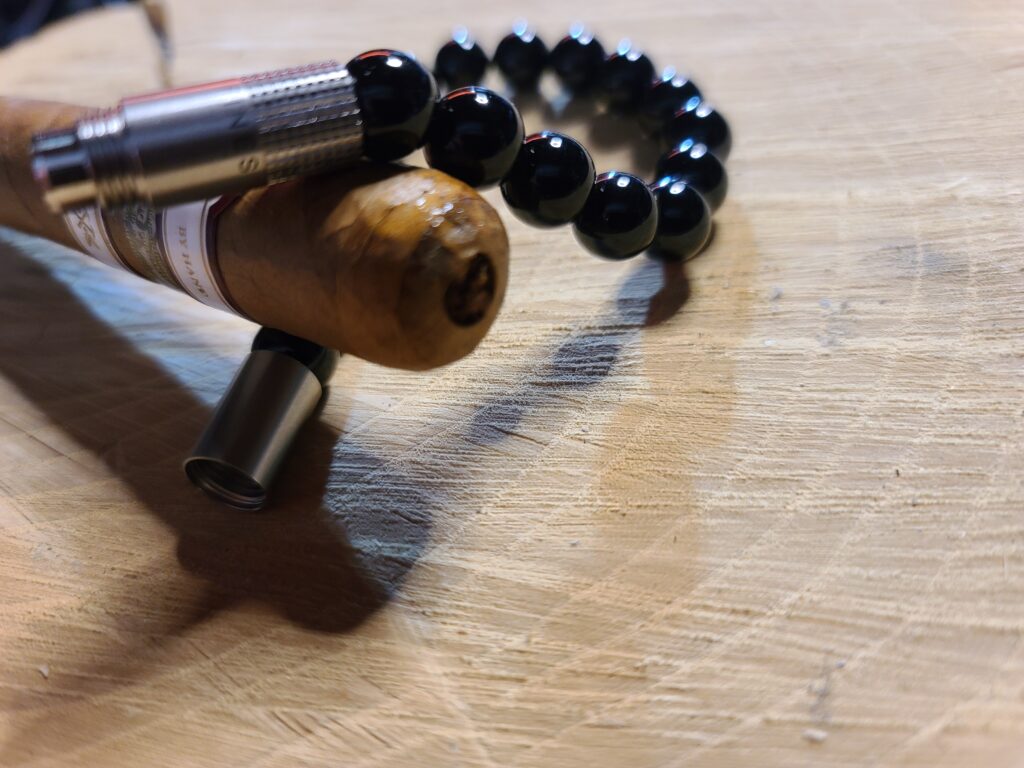 CONSTRUCTION
Les Fines Lames is known for their quality products. Which is why I was shocked when my order first arrived broken (see below). It appeared that the clear, plastic-esque elastic material snapped in transit. This gave me pause when my replacement arrived from the retailer. Should I put it on? How flimsy is this material? To be honest, I've been wearing the Punch Bracelet® every day for the last two weeks. I've been taking it off and putting it on, at least, twice a day and doing my best to put it through its paces. Each time I remove the bracelet, I'm afraid it's going to snap and send beads flying everywhere. That has yet to happen, thankfully.
What has happened is that each time I remove the bracelet, whether to use the punch or take it off for the day, the elastic material gets just a tad bit more loose. It's not hanging off my wrist by any stretch of the imagination, but it is noticeable as the beads are no longer set right next the punch. My fear is that this will only get worse the more I use it. Because the punch must be twisted to come apart, it is too difficult to untwist one-handed to use as a sort of clasp. If you were able to use the punch mechanism as a clasp, the elastic material could last much longer.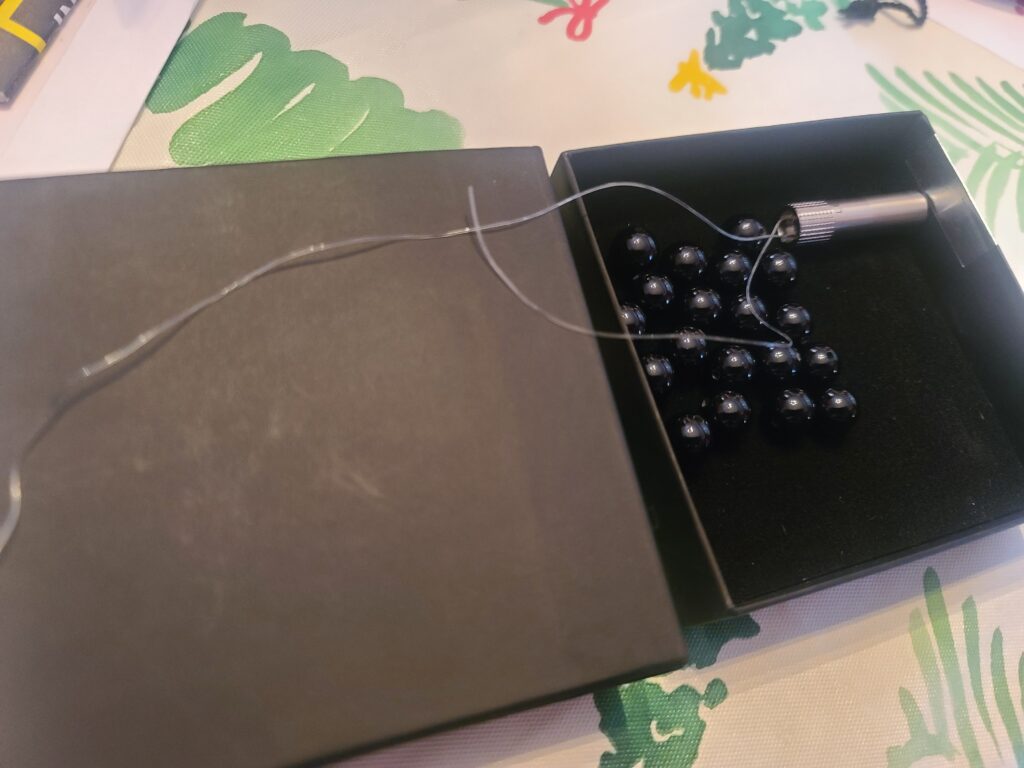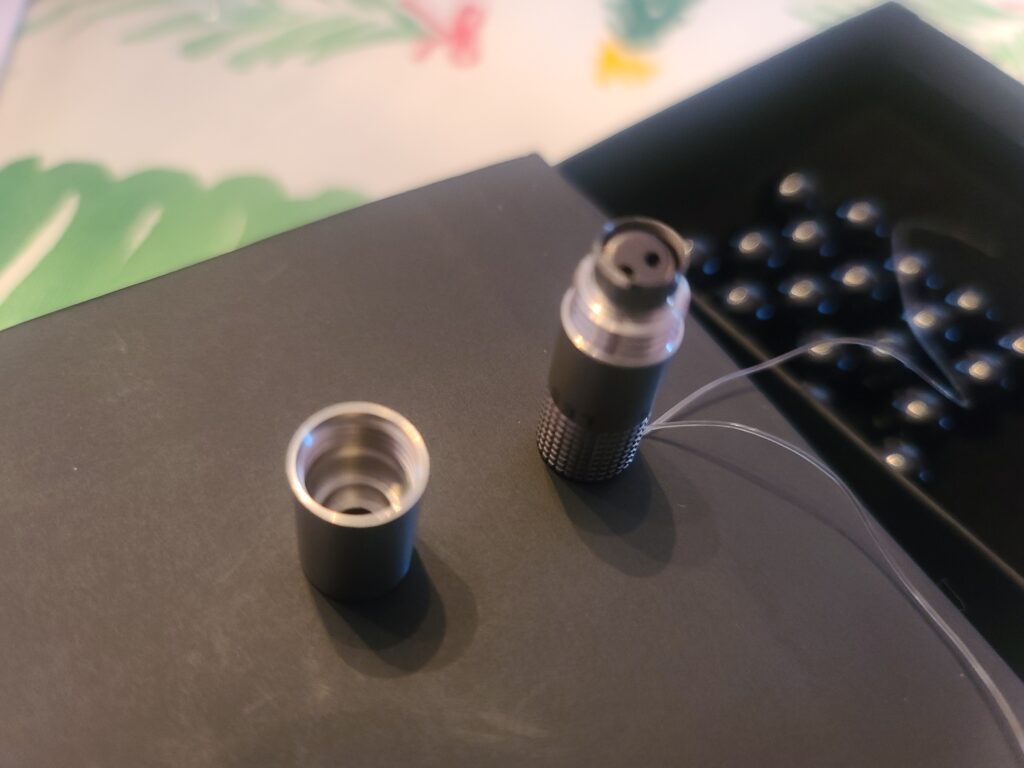 PUNCH
The punch on the Les Fines Lames Punch Bracelet® may be the best punch I've ever used. I have yet to crack the cap or a wrapper. As I've said, I've used the Punch Bracelet® for the past two weeks, on a conservative estimate of 28 cigars. I am more impressed with the punch each time I use it. The Punch Bracelet® takes just cap off and leaves a perfect circle that has yet to produce anything but an almost perfect draw. The drawback to any punch is tar build-up. I have had only two cigars produce tar at the cap, leaving me to believe that it is a cigar issue and not a cutting issue.
WATER RESISTANT
The instructions that come with the Les Fines Lames Punch Bracelet® claim that you can go swimming with the bracelet; however, if you swim in the ocean (salt water) you will need to rinse the bracelet thoroughly. While it's too cold to go swimming, I can attest that the Punch Bracelet® is, at the very least, water resistant. It has held up well to being submerged in water and run under the faucet as I wash my hands. I, however, own the 316L stainless steel version. I have heard that the brass version, worn by a friend, is already showing signs of patina, after only a few weeks of use. While the patina is to be expected after several months, it is a bit disconcerting to hear that it is starting to show in such a short amount of time.
WARANTY
Les Fines Lames offers a lifetime warranty on all of the products that they offer…except the Punch Bracelet®. In fact, you can not purchase the bracelet from their website. It was first offered through a Kickstarter campaign and is now only available through select retailers. I'm not sure why they wouldn't offer the warranty on the bracelet unless they knew the materials used have a finite lifespan. I find this extremely troubling from a company known for their high-end products.
PRODUCT PERFORMANCE
The Les Fines Lames Punch Bracelet® is stunning and practical for the fashion savvy aficionado or enthusiast. The punch is a beautifully made piece that will leave you wondering why you didn't use punches more often. The beads will turn heads and act as a wearable conversation piece, as well as a fashion statement.
REAL WORLD EXPERIENCE
The first bracelet arrived destroyed and unfixable. Luckily the retailer worked with Les Fines Lames to get me a replacement at no charge to me. The elastic, at times, seems sketchy and on the verge of breaking. The punch though, is absolutely amazing.
RATING BREAKDOWN
Product Design  …………………..  0.25 / 0.5
Product Usefulness  …………….  0.65 / 0.8
Setup Process  …………………….  0.50 / 0.5
Product Experience  …………….  6.00 / 7.7
Personal Enjoyment …………….  0.45 / 0.5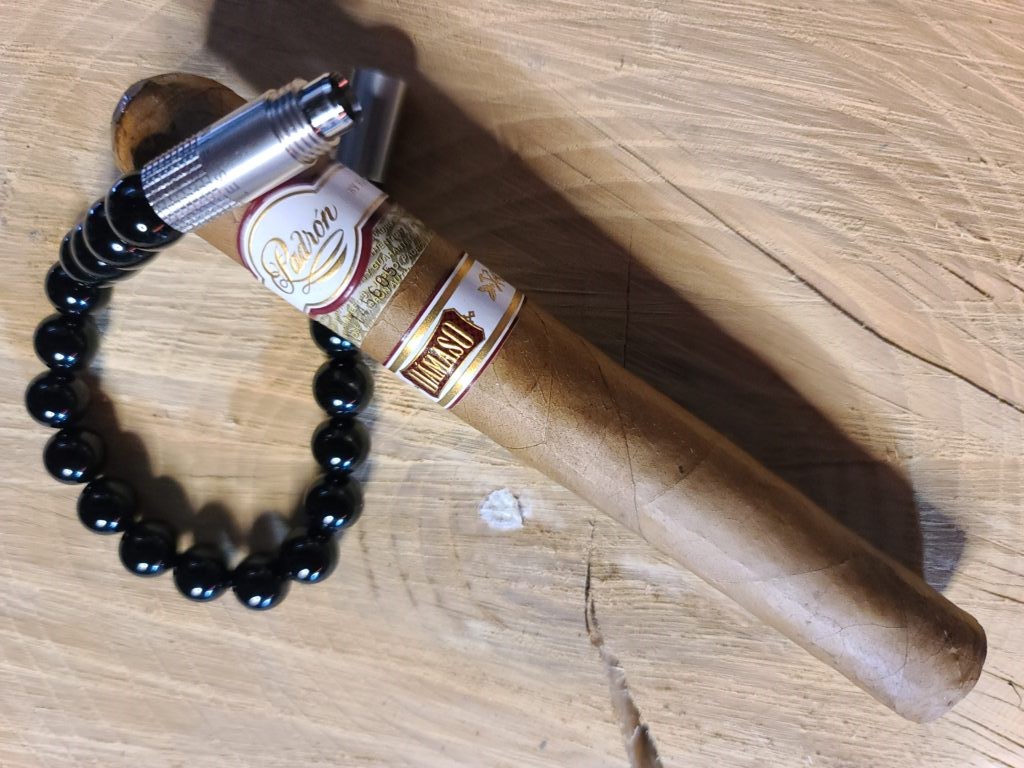 BRILLIANT. FASHIONABLE. CHINCY?
For a company with the pedigree and experience of Les Fines Lames the Punch Bracelet® should be a masterpiece of engineering and fashion. They for sure got the fashion right. The engineering on the punch is brilliant, too. The issue, for me, comes in how the plastic/elastic will hold up over time. With the lack of a lifetime warranty, my suspicion is that Les Fines Lames knows that it is only a matter of time before it fails. While I couldn't see myself wearing it everyday when I ordered it, I find that the Punch Bracelet® is now part of my every day carry. More than that, I now prefer a punch to a straight or v-cut. That says a lot about the product and its fashion forward thinking. What also says a lot is the lack of a lifetime warranty.
SIMPLY STOGIES RATING:  7.85 / 10.0