English pipe tobacco has an incredible depth and breadth. There are smoky Latakia-driven monsters like Esoterica's legendary Penzance, C&D Star of the East Flake, and Hearth & Home  10 to Midnight. There are tamer, more balanced blends like Presbyterian, Peterson 965, Samuel Gawith Squadron Leader, and Peter Stokkebye's Proper English. The spicy English is a form often lauded, with Peterson Nightcap, Hearth and Home's even bolder Cerberus, and the modern classic GLP Quiet Nights. But there are just a handful English blends that aim to be moderate, mild, and restrained. Samuel Gawith's Skiff Mixture is one such example. Let's see if it can be restrained but without falling into boring territory, like Peterson Early Morning PIpe.
BULK or TIN:   Tin and Bulk bags
SIZE:   50g and 250g bags
ORIGIN:   The UK
BLENDING HOUSE/PRODUCER:   Samuel Gawith
BLENDING COMPONENTS:   Latakia, Turkish, Virginia

STRENGTH:   4/7
SOURCE:   Private Sale, originally German in origin
WHERE:   
Looking at the Pennsylvania Mountains
WHEN:   
May-July 2021
DRINKS:   
Water
WEATHER:   
Hot and humid
WHAT'S ON:   
Chattering birds
RELEASE TYPE  Available
ORIGINAL RELEASE DATE  Dates  back to at least 1930s
SPECIAL RELEASE   N
AVAILABILITY BREAKDOWN
o  Bulk bag
o  Tin

RESEARCH & BACKGROUND INFO
The Gawith family has been making tobacco products since 1792

This company split in two in 1865, Samuel Gawith and Gawith & Hoggarth

The two Gawith houses, while keeping their portfolios separate, merged operations in 2015

Skiff mixture has been produced for a century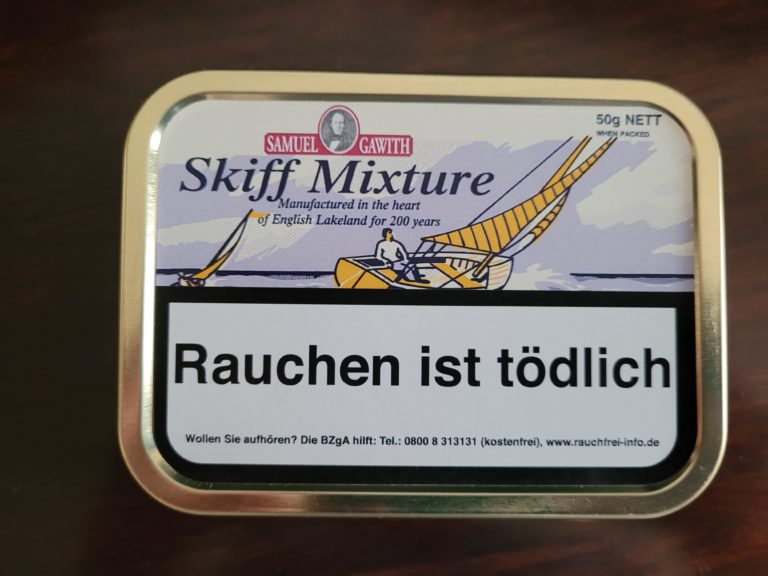 Like the whole of the Samuel Gawith line, the tin art of Skiff Mixture is elegant and restrained. With a couple of Skiffs on the label in an old fashioned cartoon style, the tin evokes an easy, relaxed, spring or summer vacation.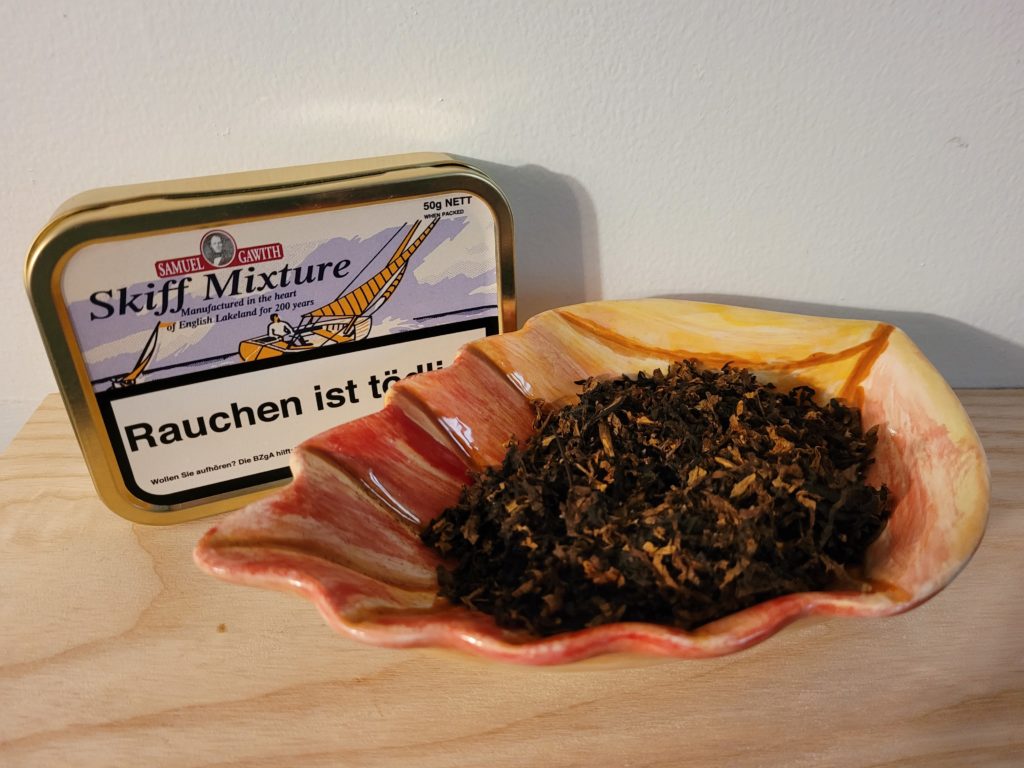 LOOK & FEEL OF THE LEAF
Skiff mixture is an even mixture of black and various shades of brown, all short, thin ribbon. From the tin it's rather moist, bordering on wet.
TIN AROMA
Smoky and sweet, quite reminiscent of barbeque being wet mopped. Earthy and figgy underneath.
LIGHT & DRAW
Packing Style:  This stuff is easy going, being near shag, so I just do a one pinch stuff
Fire:  My astronaut bic
SMOKE & ROOM NOTE
The smoke from Skiff is fairly thin and wispy, and gets more and more wispy the drier it gets.
While burning Skiff kicks off a mildly smoky, graham cracker, and cocoa aroma.
FIRST BOWL
>> Savinelli 320 KS, Fresh from the tin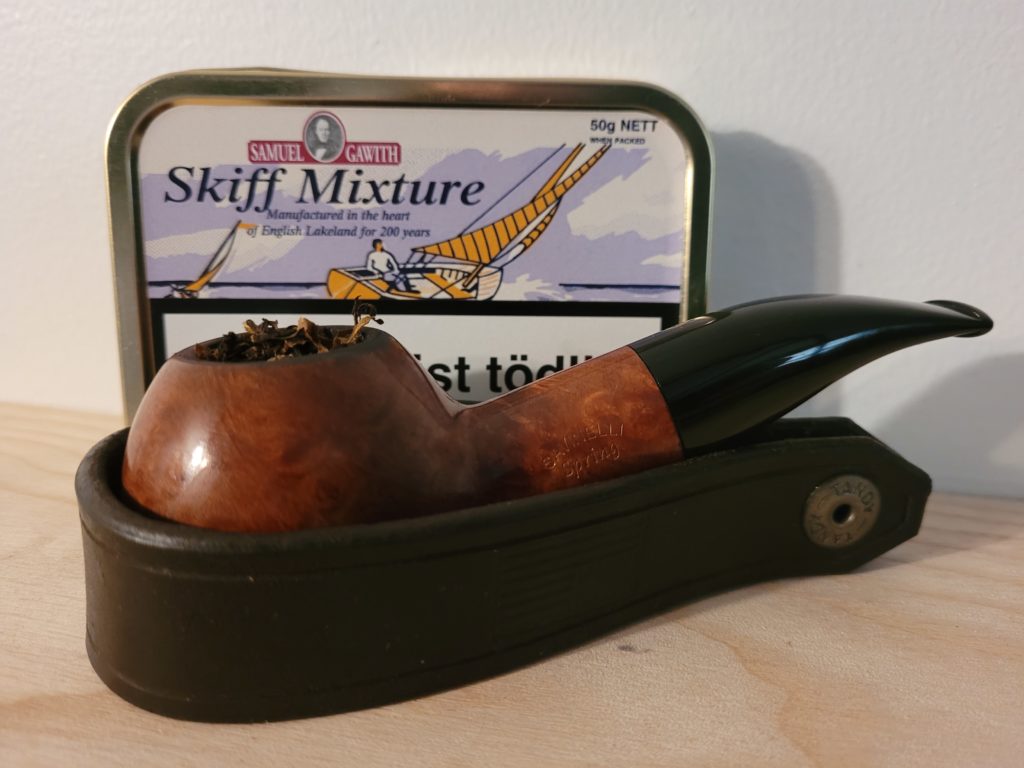 Creamy, salty, and mild vinegar. A tiny bit of leather and light smoke. It's very salty-sour. Vinegar and lemon. Lightly sweet. Grows a bit more earthy. Garlic and onion. Bisque. Pine. Floral, but thankfully without soap. A few puffs on shows it is lavender for sure. Gasoline pops. Lemon oil. Strawberry. Quite milky. The earth continues, along with that mild leather and smoke. Nutty, woody, and salty. Vinegar and cream. Grows oily, greasy even. Creamy with a pine heart. Vinegar and pepper. Stays consistent for a good long bit. More gasoline, garlic, onion, with burley nutty, and some Virginia hay as it moves towards the end. Sweeter and brighter right as it goes out.
Skiff Mixture is a bit different from other English blends, even on the lighter end of the spectrum. It's just barely an English, it seems more like a Burley-Latakia for most of the bowl.
SECOND BOWL
>> Savinelli 320 ks, 1 hour dry, still a tad moist to the touch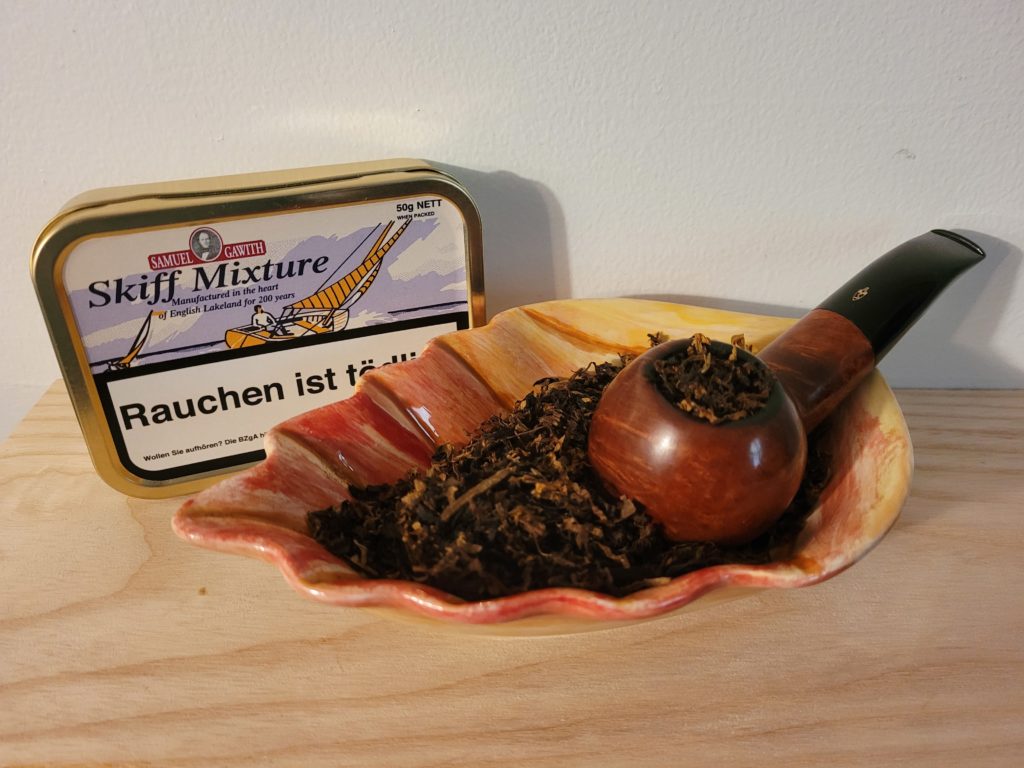 Creamy, cocoa, sour cream, and light smoke. Leather and a touch of earth. Salt, sweet, caramel and a growing smokiness. Some herbal complexity, like a light Balkan. A bit soapy. Coca Cola. Lavender forward, like many of the Dunhill mixtures. Lemon oil and sugar. Salty and lightly oily. The smoke is just barely there. Petrichor and oregano. Garlic salt. Cucumber. Cherry cola and the soapiness begins to fade. Caramel sweetness, very salty, vinegar, and garlic. Settles into this about halfway through and stays this way almost to the end, when gasoline pops come along. 
THIRD BOWL
>> Savinelli 121, 4 hour dry and now quite crispy to the touch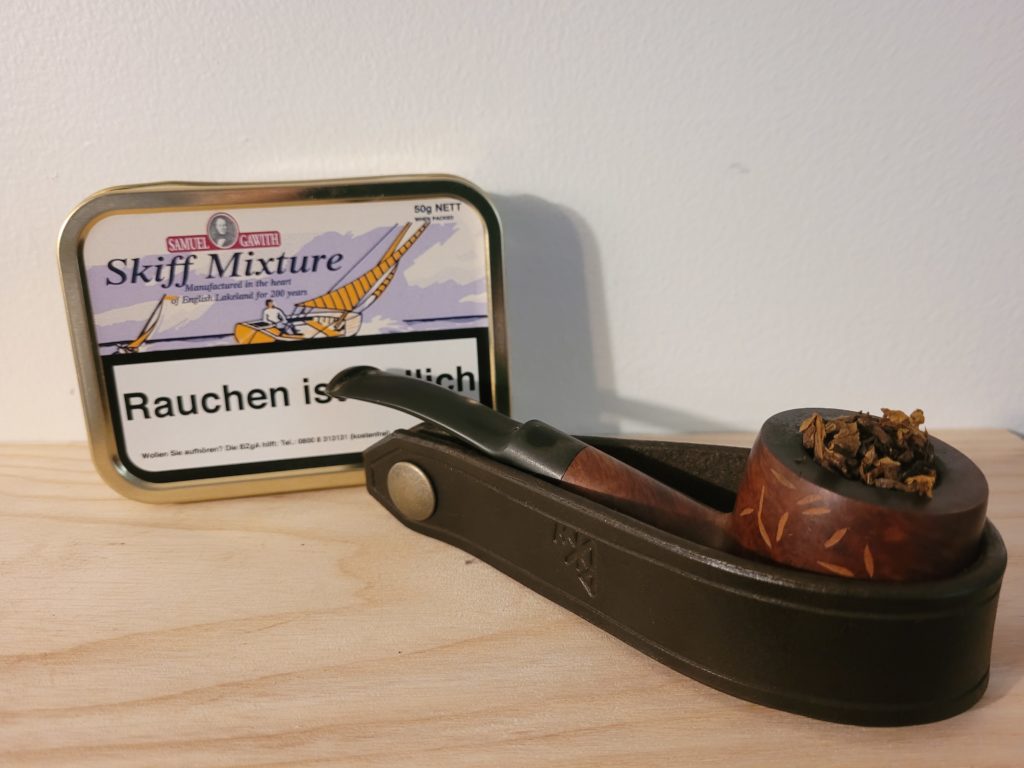 Sweet, cream, earthy graham cracker with a hint of smoke. A whiff of lavender comes up, but not soap thankfully. Gasoline and salt. This bowl is quite spicy. And the smoke is quite a bit thinner than when moist. Vinegar and white sugar. Buttery. A light green flavor, herbal, parsley I reckon. Touches of garlic. Extremely sharp, with the lavender, smoke, and earth just barely hanging on. Gasoline is a major player. Brown sugar and lime zest. The cream hangs heavy and true. The pepper continues too, but it's faded mostly to the back. 
FLAVOR PROGRESSION
Each bowl takes about the first half figuring itself out, then stabilizes into something for the secnd half. As you let this stuff dry it really transforms, from a muted milky, almost Burley-Latakia type blend, into full Balkan, full of garlic, vinegar, herbs, and gasoline.
BURN EXPERIENCE

Skiff's cut makes it incredibly easy to pack and smoke without much puff and go. Dried to a crisp it burns so quickly it's likely to put itself out if you don't keep tamping quite regularly.
SIMILAR BLENDS
Fresh from the tin, it's like other mild English, like Peterson Early Morning Pipe, but with more character and less soap, or a more dynamic GLP Chelsea Morning.
Dried, it's more like other blends toeing the English-Balkan line: Dunhill Durbar, Blackhouse, and Comoy's Cask No 11.
RATING BREAKDOWN
0.40 / 0.50 … Craft & Aesthetic
0.30 / 0.50 … Tin Aroma
0.50 / 0.50 … Lighting Process
6.00 / 8.00 … Smoking Experience
0.30 / 0.50 … Personal Enjoyment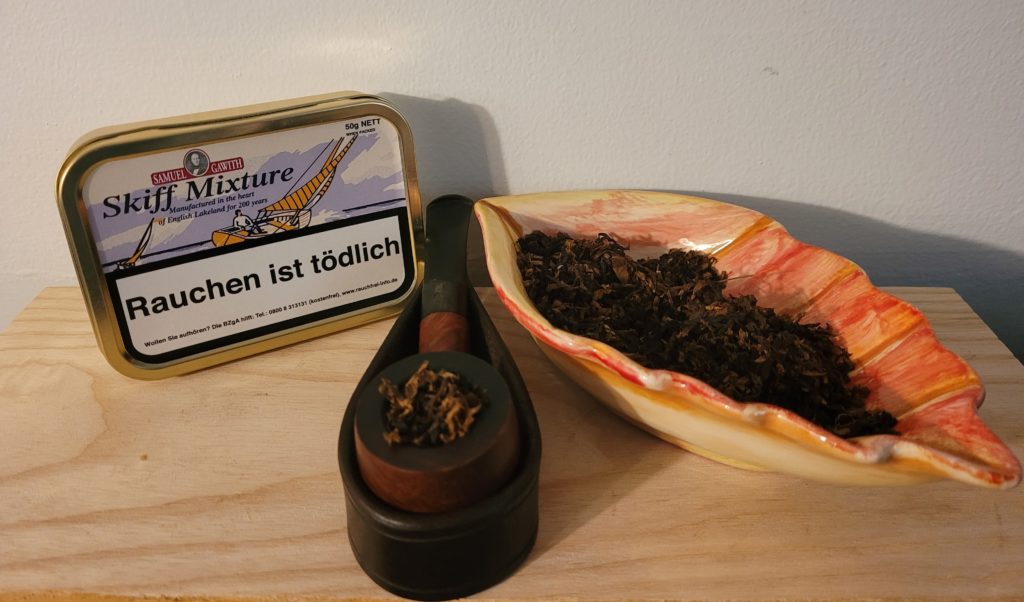 VARIABLE WATERS
It continues to amaze me how drastically variable the same blend can be if just brought to different levels of moisture. I saw this before in my review of Planta's Presbyterian. Presbyterian is a good reference, as we find a similar evolution in Skiff Mixture. At tin moisture, which is nearly wet, you'll find a very mild English, but one that rises above its primary rival, Peterson's Early Morning Pipe. Dry it a bit and it expands into a more captivating light Balkan. Dry it further and you'll get a full Balkan that will rollick your palate. For most fans of English blends, tinker with this blend and you are likely to discover a phase of it you'll enjoy. 
SIMPLY STOGIES RATING:  7.5/ 10.0
I love reading other reviewers' thoughts on the blends I'm smoke – it helps to show that no one review is perfect and there's always different opinions and tastes out there.  Here's how my review stacks up with reviews around the web.