Cringle Flake is a small production Virginia Flake, limited holiday release started by Sutliff in 2019. It appears to be an annual tradition as this was followed up with Sutliff Cringle Flake 2020, a Virginia-Perique Flake. This is fantastic news for Virginia fans who had looked forward each year to McClelland's Christmas Cheer. Christmas Cheer was a once a year, vintage, single origin pipe tobacco. In this review, we'll see see if the inaugural 2019 release makes that vintage worth seeking out and maybe peek into what quality can be expected from following releases.
Michael describes the tin's components and smoking condition, then gives commentary on the tin design and tobacco cut. The moisture level of the leaf is described, along with some notes of the tin aroma. Three sets of tasting notes are provided, from two different briar pipes, at three different drying times. Comments on the smokability of Cringle Flake are given, and similar tobacco blends are named. Finally, Michael gives a rating breakdown and summed rating for Cringle Flake.
BULK or TIN:   Tin
SIZE:   1.5 OZ
ORIGIN:   USA
BLENDING HOUSE/PRODUCER:   Sutliff
BLENDING COMPONENTS:   Pure Virginia

STRENGTH:   3/7
SOURCE:   smokingpipes.com
WHERE:   
Central Pennsylvania and Toledo Ohio
WHEN:   
December 2020-January 2021
DRINKS:   
Water or Bourbon
WEATHER:   
Ice and Snow
WHAT'S ON:   
The crack of melting ice hitting the asphalt
RELEASE TYPE  limited run
ORIGINAL RELEASE DATE  December 2019
SPECIAL RELEASE  Y
AVAILABILITY BREAKDOWN
o  Tin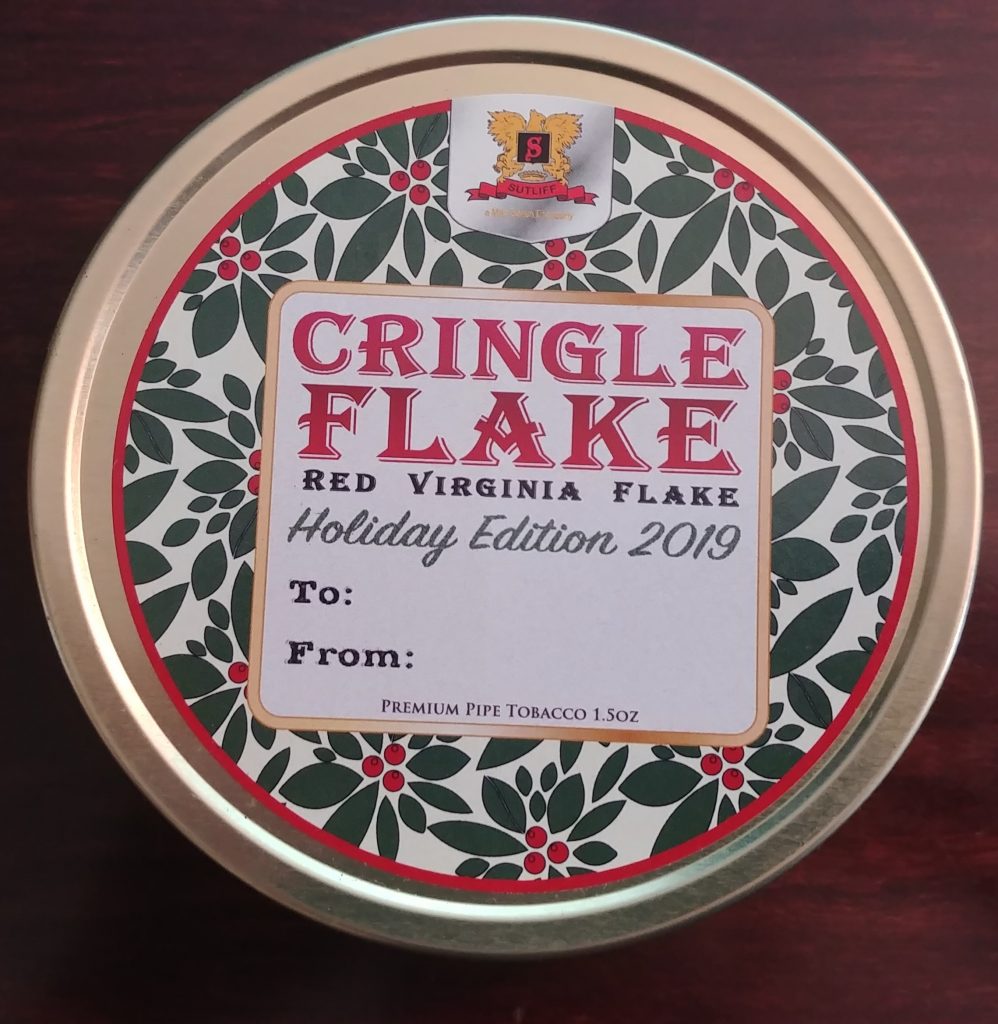 RESEARCH & BACKGROUND INFO
This was the first of a now annual tradition, Sutliff now having released a Cringle Flake 2020 as well.
Sutliff's Virginia Flake Holiday release is a spirtual successor to the long running, but now discontinued McClelland Christmas Cheer line of speicaly selected vintage tobaccos.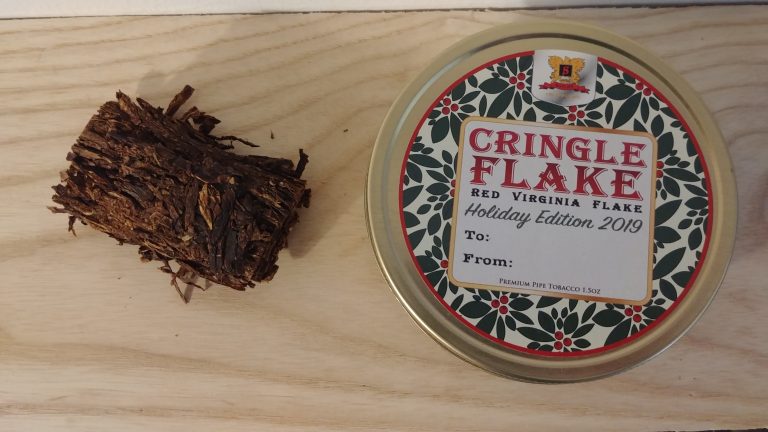 Cringle Flake makes it apparent, from its name and it's tin design, that this is a Christmas Tobacco. There is a cheery little To and From gift tag section to be filled out. The sole complaint is that the tin is light – Sutliff has moved from the traditional 50 g (1.76 OZ) weight to 42 g (1.5 OZ).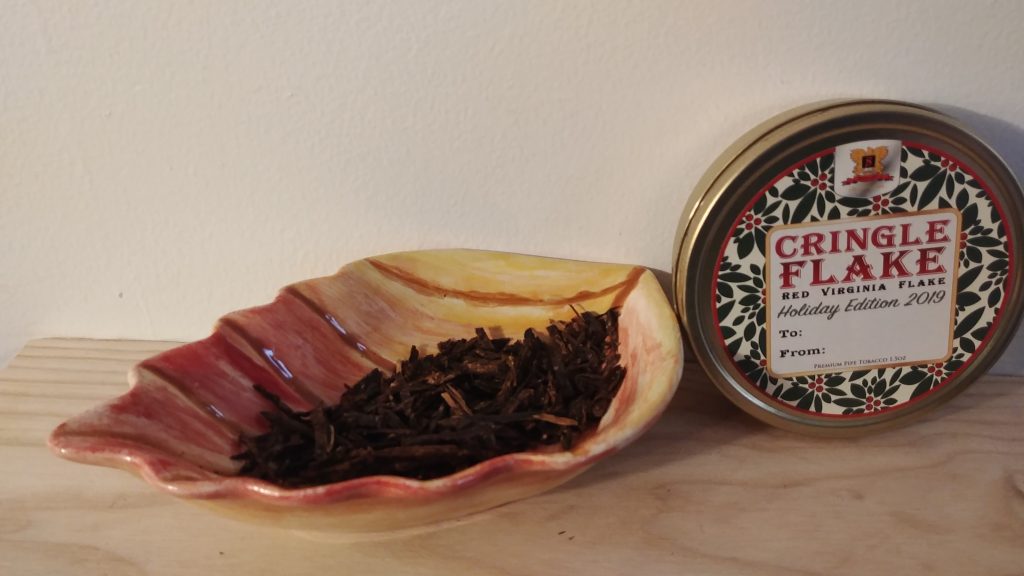 LOOK & FEEL OF THE LEAF
As occurs for some tinned flakes with some inherent moisture, most of the flakes fused back into a loose plug. It easily shears back into flakes. It's really not that moist to the touch, but I found it really needed some drying time.
TIN AROMA
Bready, vinegar, slight whiff of raisin. 
LIGHT & DRAW
Packing Style:  I started with a  full rub and gravity feed but found it needs at least a 2 pinch firm pack to burn well.
Fire:  Psychdelic Bic
Cringle Flake, being
SMOKE & ROOM NOTE
Like many pure Virginia blends, the smoke from Cringle Flake is thin and wispy.
The side stream from this blend is a gentle toasted tobacco that verges perilously near cigaretty.
FIRST BOWL
>> Brigham Dublin, No dry time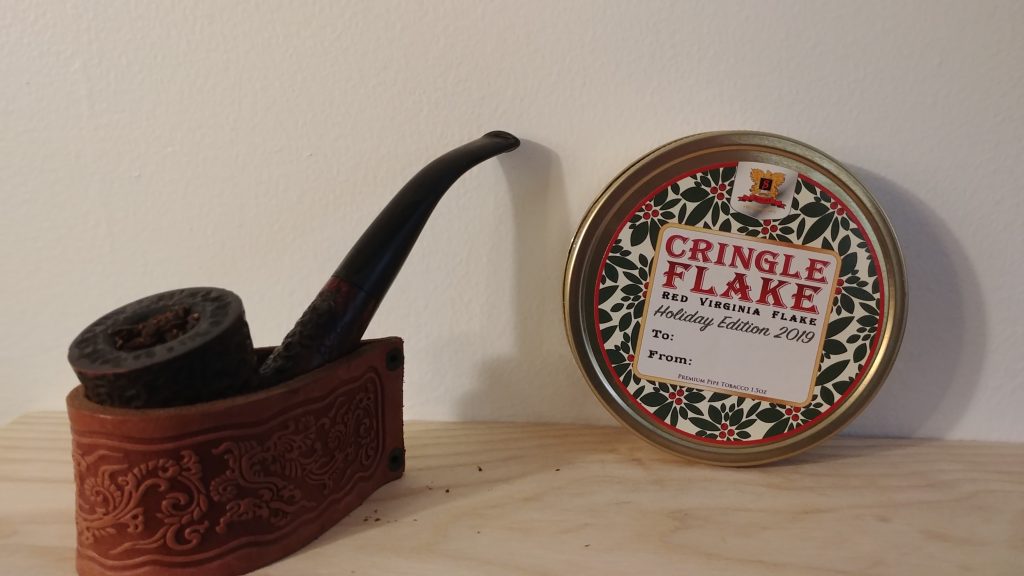 Bready, hay, and decidedly sweet. Sulphur, white vinegar. Quite malty and a bit of oak. Worcestershire sauce, malty, salty. Tangy vinegar with some Orange peel and white sugar. Sharp, sweet, salty, with orange. Overwhelming bursts of white vinegar. The maltiness grows. A bit of pepper shows, then turns spicy very quickly over a foundation of vinegar, oak, and hay. Wax and apple peel. Little bursts of fermented Virginia flavors, a combination of malt, incense, Worcestershire sauce, and A1 steak sauce. At the end it turns creamy, with a huge salt hit, some garlic, sort of a cream of mushroom soup umami bomb.
SECOND BOWL
>> Roma Bent Billiard, 2 hour dry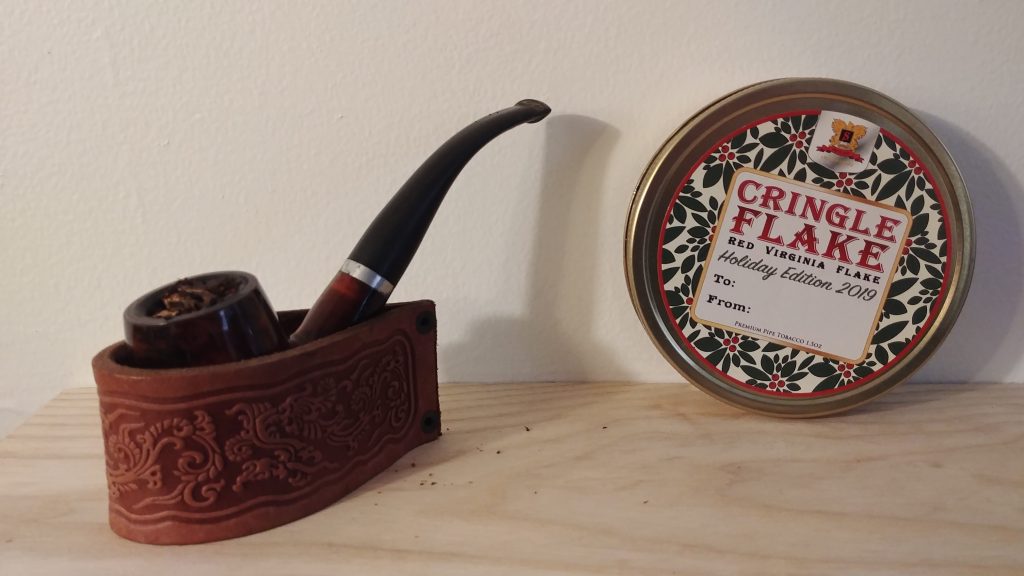 Sulphur blast at the first light. Hay, molasses, bready, and rather sweet. The sulphur hangs on, with some light incense, salt, Worcestershire sauce, vinegar, and a big rush of sugar. Bready, malty, and salty. Cayenne pepper, apple, kiwi, sour cream. Very creamy now. Sticks with a balance of vinegar, bread, sweetness, salt, and incense for a long stretch. Ends with another creamy, salty, umami finish.
With more drying it burns better, and I feel like some of the vinegar evaporates, though it is certainly still a big component of the taste profile.
THIRD BOWL
>> Roma Bent Billiard, 3 hour dry, more firmly packed.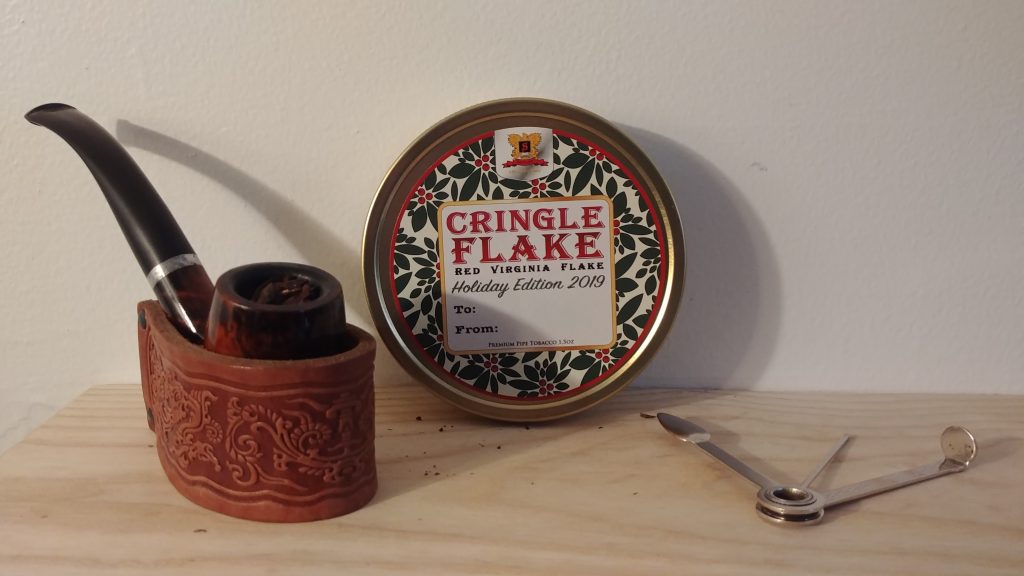 Sulphur and citrus peel, hay, white vinegar. Bready and some noticeable oatmeal. Far less sweet than previous bowls. Worcestershire sauce, incense, salt. Slowly the sweetness comes in, which is more in the brown sugar profile, which is married with some butter. Orange peel, incense, salty and sharp. Heinz 57. Exceptionally vinegary. Cayenne heat. Malt. Strawberry fruit roll up. Must and horse radish. In the last quarter it darkens, with more malt, Heinz 57, and a mild pine. The vinegar is still there but less forward. Pine needle and incense. Creamy bisque with garlic, loads of salt, and heavy dashes of Worcestershire sauce. Waxy and quite peppery as it fades out.
With even more drying you lose some sweetness, but even more complexity comes forward.
FLAVOR PROGRESSION
Cringle Flake has two phases. The opening phase, which lasts about the first 2/3s of the burn, is bready, vinegar, sweet, and fruity. The last third has a quick shift into a creamy umami bomb.
With more drying time you lose a bit of sweetness but see more complex notes come forward.
BURN EXPERIENCE
Here is where Sutliff really nails the McClelland experience: this stuff is difficult to light and maybe harder to keep lit. Even dried out and packed just right it's required more relights than I've needed for quite awhile.
SIMILAR BLENDS
The breadiness is reminiscent of Samuel Gawith Full Virginia Flake, the vinegar-bready-oatmeal is quite like Sutliff 507-C Virginia Flake,  the malty-salty-bright notes remind me of Wessex Gold Slice, the Worcestershire Sauce and Heinz notes in addition to the previous notes certainly capture some of the McClelland 40th Anniversary magic.
RATING BREAKDOWN
0.40 / 0.50 … Craft & Aesthetic
0.10 / 0.50 … Tin Aroma
0.00 / 0.50 … Lighting Process
6.50 / 8.00 … Smoking Experience
0.40 / 0.50 … Personal Enjoyment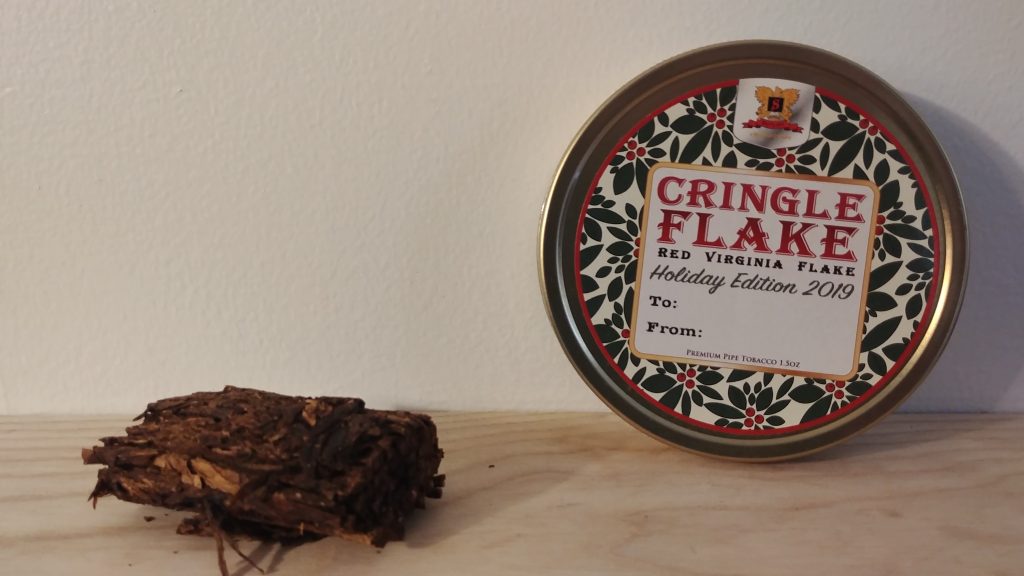 SOMETHING TO CHEER ABOUT.
Since the Day McClelland closed its doors, many Virginia smokers asked themselves and each other 'what do we smoke now?' One of the greater tragedies was the end of the annual Christmas Cheer Virginia flake release. Sutliff has provided something of, well not quite replacement, but a bit of an homage, and a treat for fans of the bygone tradition. It hints at that classic McClelland flavor profile, but it is soured, quite literally, by an overabundance of vinegar. I think with increased aging that vinegar will fade and this tobacco will evolve into something everyone bought as much as they could have when it was first released. I will certainly be sure to buy a couple of tins of Cringle Flake for as many years as they produce this seasonal release.
SIMPLY STOGIES RATING:  7.4/ 10.0
I love reading other reviewers' thoughts on the blends I'm smoke – it helps to show that no one review is perfect and there's always different opinions and tastes out there.  Here's how my review stacks up with reviews around the web.