Arturo Fuente cigars are easily attainable, they are sold in almost every gas station humidor on military bases and every brick and mortar store. The same can't be said for a select few lines such as Opus X, Anejo, and Casa Cuba.  When I saw my local brick and mortar, Leatherwood, get a box of the Anejo No. 77 in, I jumped on the opportunity to try this rare vitola. I have always been and will always be a fan of Connecticut Broadleaf wrappers, but this cigar takes it to a different level by aging the wrapper in Cognac barrels.  
VITOLA:   No. 77 "The Shark"
SIZE:   [5.87″ x 50/64]
ORIGIN:   Dominican Republic
FACTORY:   Tabacalera A. Fuente y Cia
WRAPPER:   USA Connecticut Broadleaf
BINDER:   Dominican Republic
FILLER:   Dominican Republic
STRENGTH:   Full
SOURCE:   Retailer
WHERE:   Under cover, outside, on the deck
WHEN:   22 April 2022, 8 PM
DRINKS:   Blue Note Juke Joint Barrel Select
WEATHER:   Warm 
HOW MANY CIGARS SMOKED:   3
RELEASE TYPE  Regular Production
ORIGINALLY RELEASE DATE  2001
TOTAL PRODUCTION
Typical Box Size:     Boxes of 25
Production Totals:  UNK
VITOLA BREAKDOWN
o  No. 77 Shark  (5.875″ x 50/64)
o  No. 50  (5.25″ x 50)
o  No. 46  (5.625″ x 46)
o  No. 55  (6″ x 55)
o  No. 60  (6.25″ x 48)
o  No. 888  (6.625″ x 44)
o  No. 48  (7″ x 48)
o  No.49  (7.625″ x 49)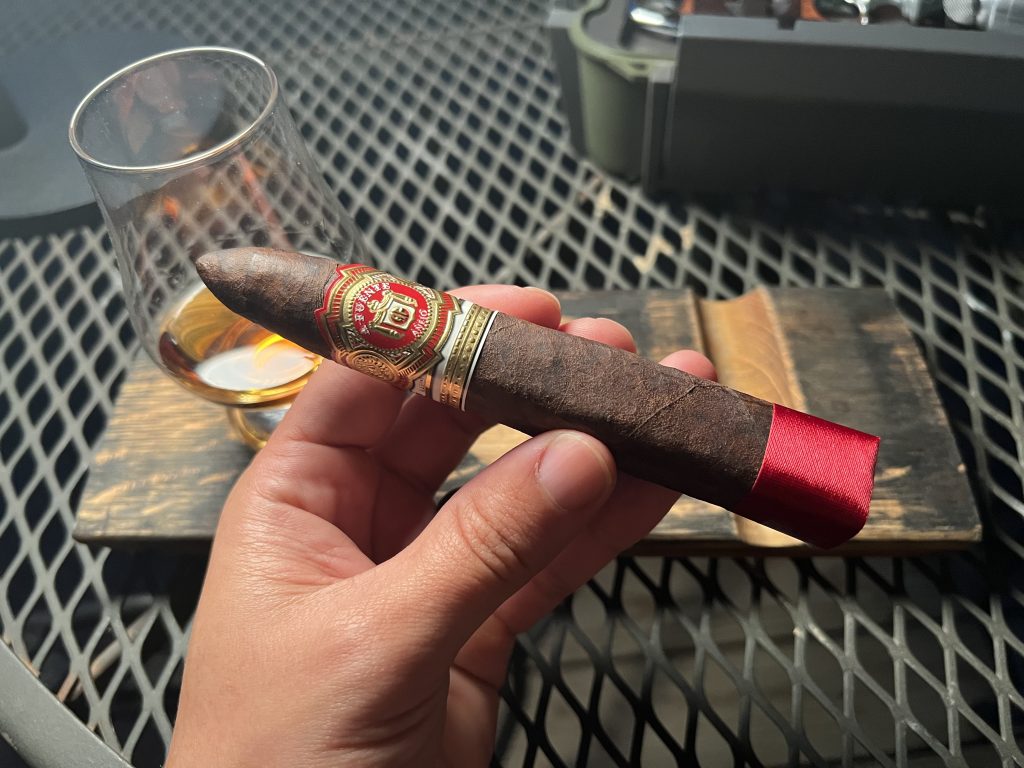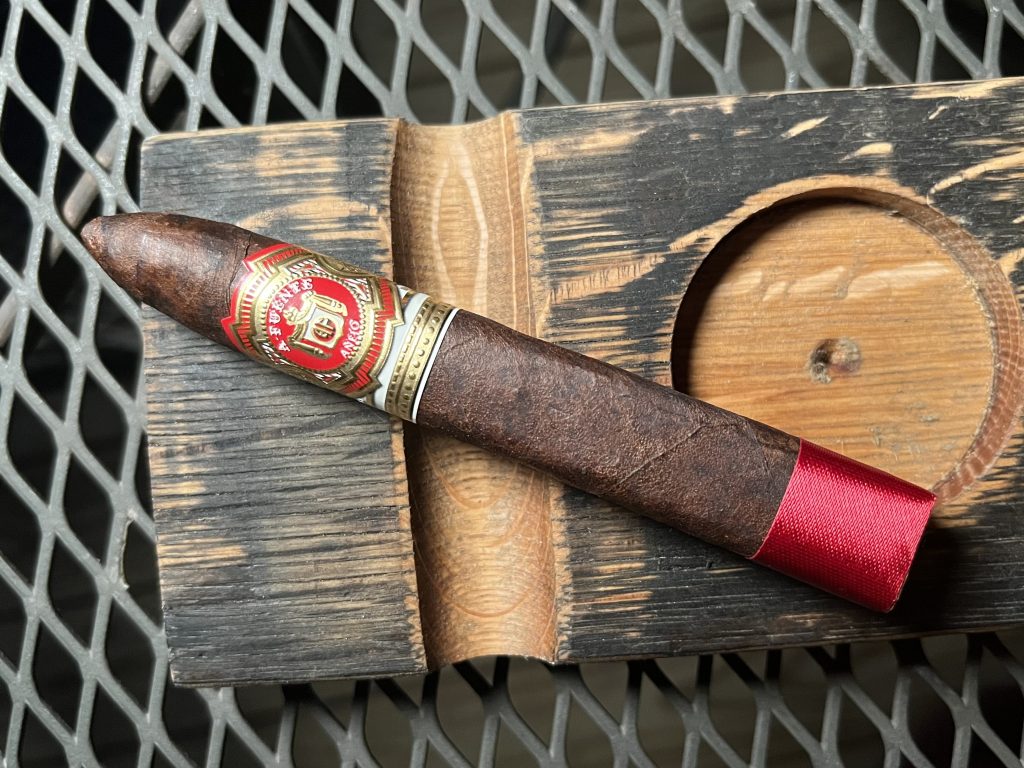 Nothing ground breaking here, it is your standard Arturo Fuente band with the main colors being white and red. The Anejo line is easy to identify because of the color way being different from the rest of the lines. It is a timeless band design that is beautiful and unmistakably, Arturo Fuente.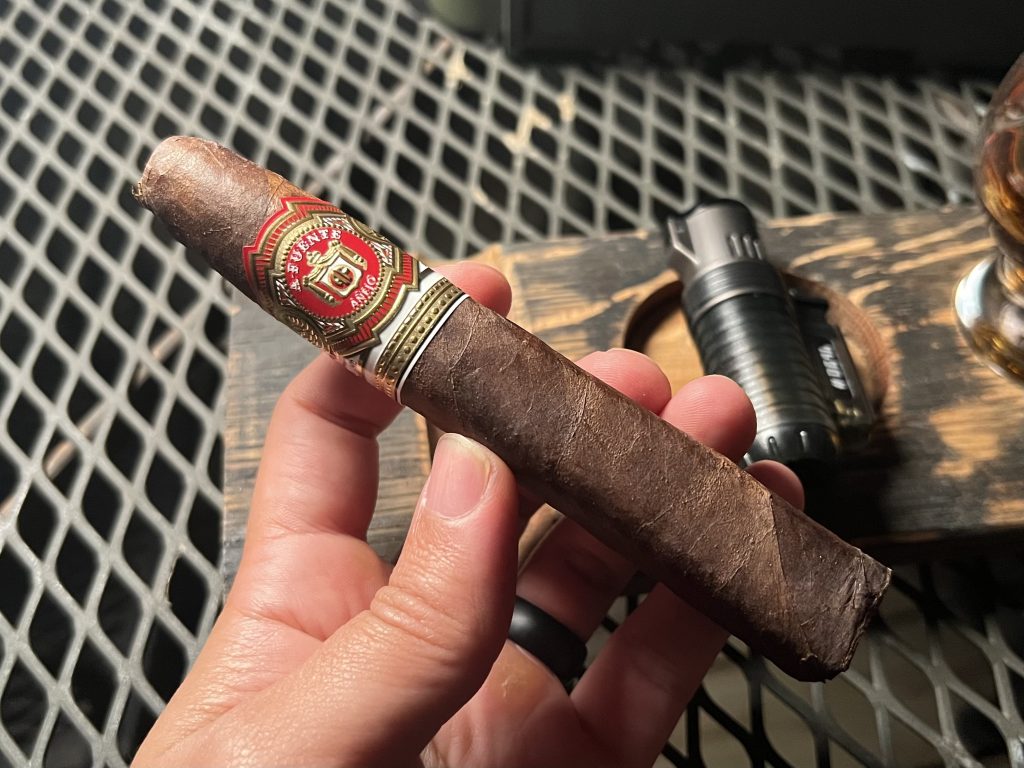 CONSTRUCTION
The Shark is a unique shape that starts as a torpedo at the head and transitions to a box press at the foot. The wrapper is a dark mahogany with a bit of tooth. It has a semi oily sheen with minimal veins. The Shark is packed fairly consistently with a little give when you squeeze the cigar firmly but I did notice one or two soft spots toward the middle of the cigar.
AROMA

There is a strong barnyard funk on the surface and foot of the cigar. If you smell a little deeper you will find subtle chocolate, leather, and cedar notes as well.
COLD DRAW

The resistance in this cigar is perfect, it isn't wide open and it isn't like sucking a thick milkshake through a tiny straw. The flavors on the palate are a dark silky chocolate with some prune on the back end.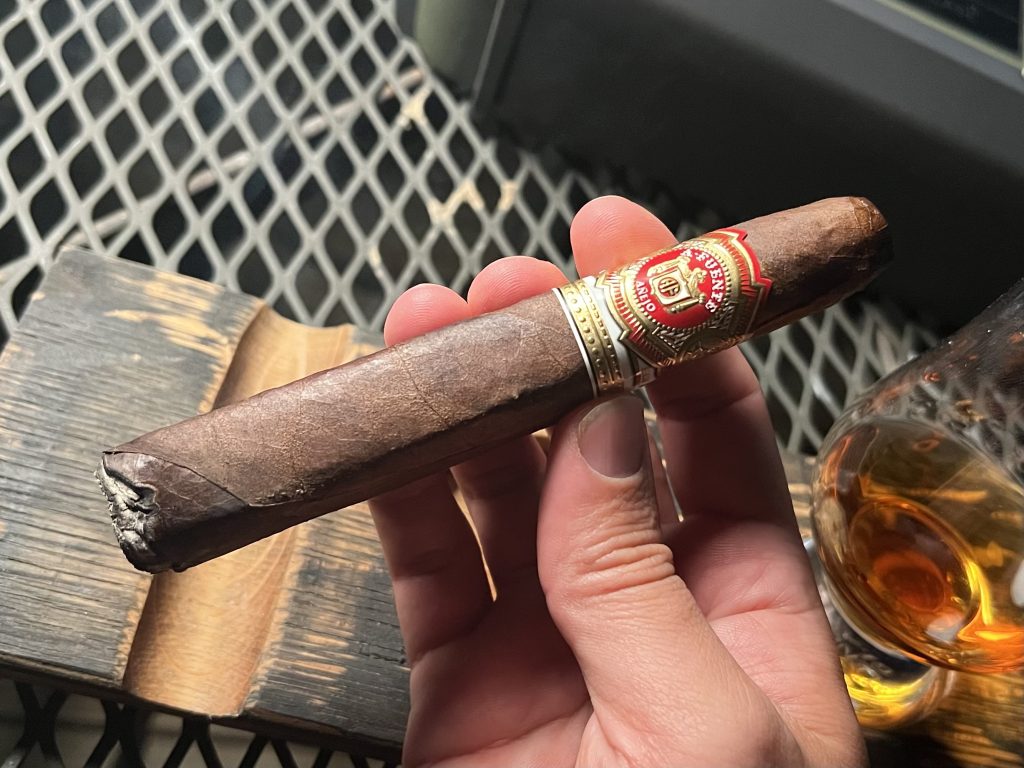 LIGHT & DRAW
Cut:  Straight Cut
Fire:  Table Torch
I had some trouble getting an even light with the burst of strong wind outside, so the initial light was not as even as I wanted. The cigar lit right up  with no need to double back on any spots. The draw really opens up when the cigar is lit but is still close to perfect.  
SMOKE

Right after light up I noticed some charred oak followed by a bitter chocolate mousse, cedar, and just a little red pepper. The retrohale is fairly tame with notes of nutmeg and cedar. The finish is insanely smooth with a wave of cream mixed with sweet tobacco. The smoke output is great with chewy thick smoke that leaves a slight slickness on the palate.
FIRST THIRD
>> Milk Chocolate, Cinnamon, Oak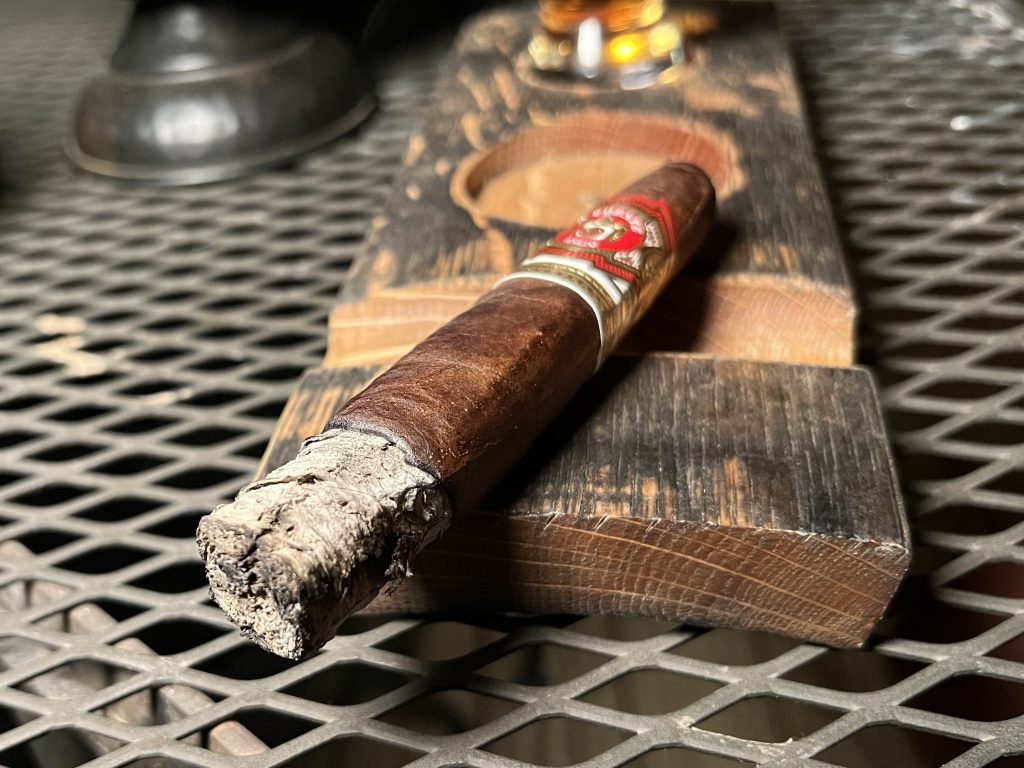 In the first third, there is a slightly wavy burn line with a semi flaky ash in one spot, the rest is fairly compact. I have not had many box pressed cigars with a razor sharp burn line. On the palate there is a pleasant milk chocolate sweetness followed by earth and oak, sprinkled with coco and cinnamon. The retrohale is smoother than before with  very faint white pepper, baking spice, and cedar notes. The finish reminds me of eating a chocolate cream pie that is not so sweet. It literally feels like I ate whip cream, there is so much texture in the smoke. The smoke output is still great.
SECOND THIRD
>> Chocolate Whipped Cream, Dark Hard Chocolate, Oak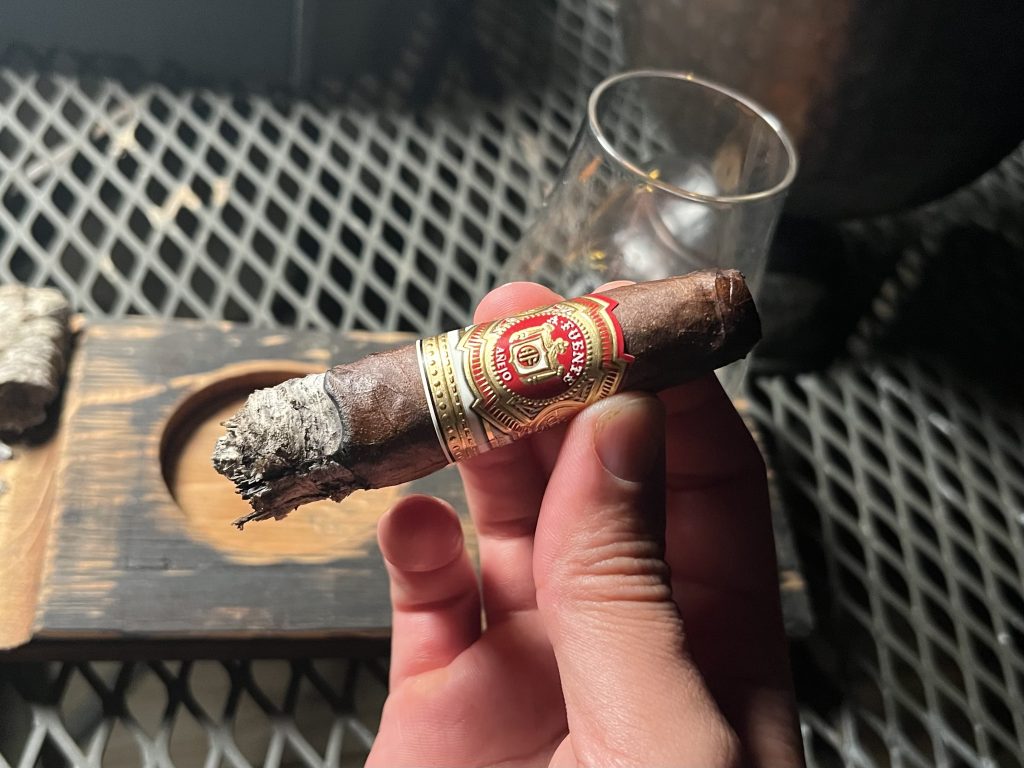 The ash holds on forever and the burn remains semi wavy with no need for touch ups. It is just a touch flaky but nothing is flying of the cigar. On the palate, chocolate whipped cream, it's kind of like eating a ho ho where there is a dark hard chocolate and vanilla cake and cream on the inside. The smooth cedar note is a constant in this cigar. The retrohale is smooth with almost no spice and just more coco and oak. The finish is subtle and long with bitter coco powder, sweet tobacco and blips of citrus peel. There is a lot of mild creaminess in this cigar and it is  phenomenal.
FINAL THIRD
>> Oak, Maple Syrup, Espresso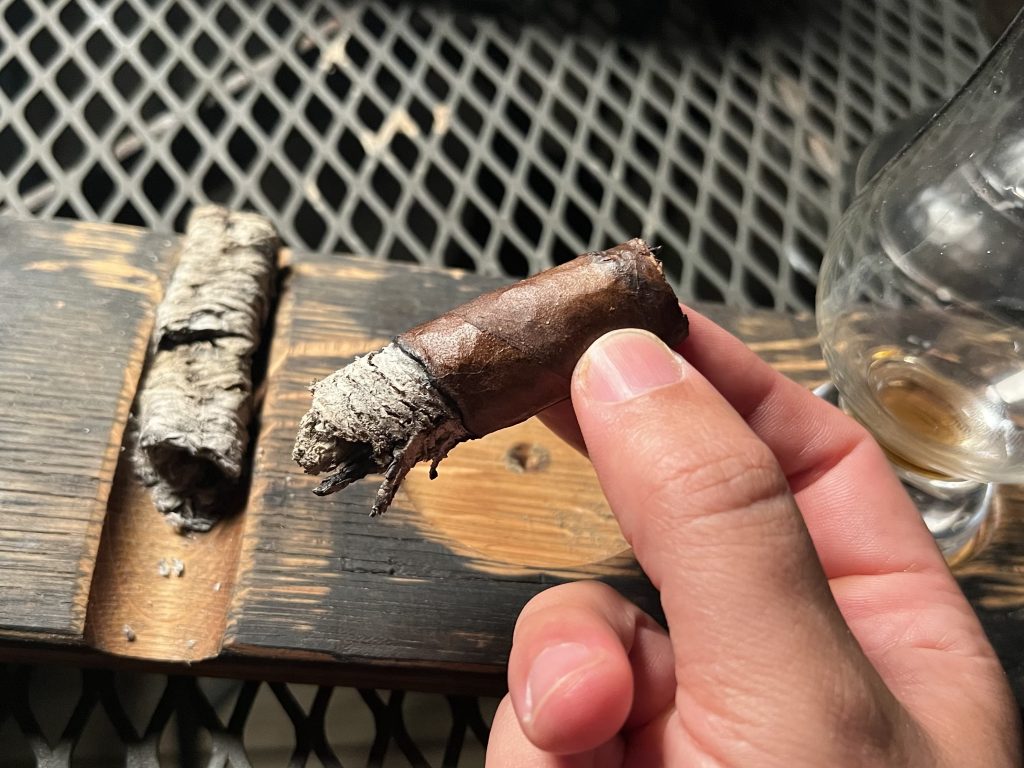 No touch ups needed but burn remains semi wavy. The draw is perfect and it's hard to believe the burn stayed as straight as it did when taking the shape of the cigar into consideration. On the palate, oak, maple syrup, coco powder that culminates into a dark roast espresso and a blast of baking spice. The white pepper on the front of the retrohale smooths out into a bitter coco cream. On the finish I feel like I am eating whipped cream that's been infused with tobacco leaves and chocolate. Baking spice and white pepper continue to build as I finish the cigar.
FLAVOR PROGRESSION
The underlying flavors of this cigar are without a doubt chocolate and oak. I have no idea how much age is on this cigar but it is buttery smooth. I really enjoyed the subtle shifts in flavor from third to third. The maple syrup, citrus peel, and creaminess blended really well with the chocolate and oak foundation.
BURN EXPERIENCE
While the burn remained slightly wavy throughout the cigar in all of the samples I smoked, I never had to touch up the cigar as it always self corrected. It would be hard to achieve a razor sharp straight burn in this vitola.
RATING BREAKDOWN
0.80 / 0.80 … Craft & Aesthetic
0.50 / 0.50 … Pre-Light Characteristics
0.45 / 0.50 … Lighting Process
7.00 / 7.70 … Smoking Experience
0.50 / 0.50 … Personal Enjoyment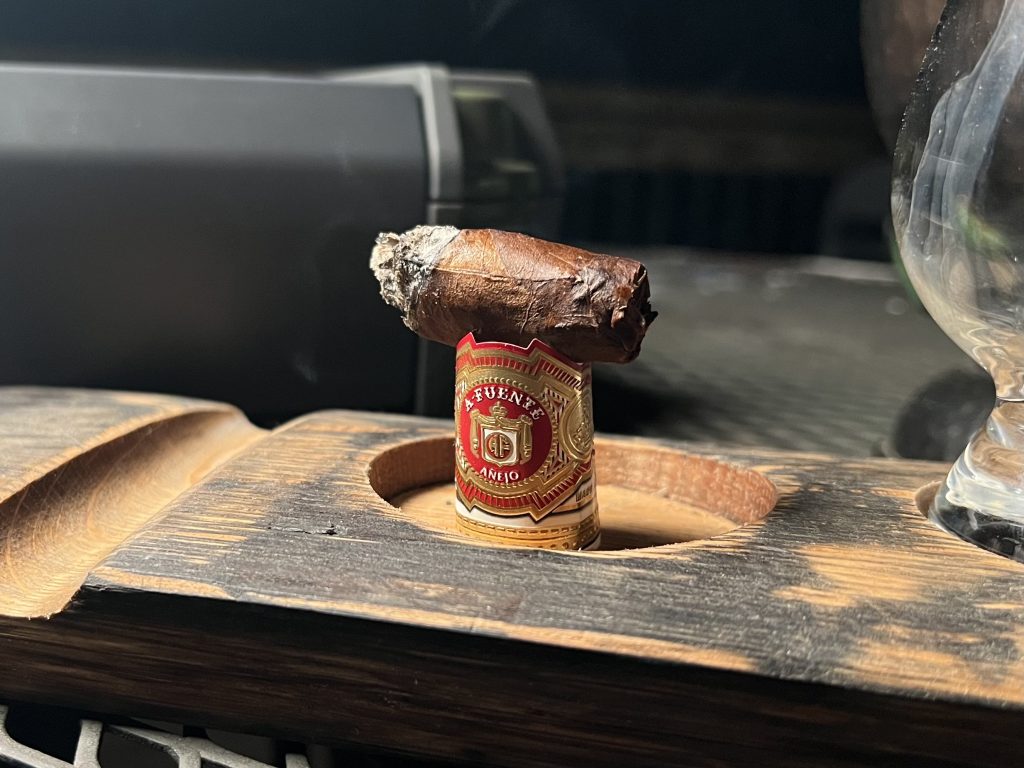 Worth Every Penny.
I sipped on bourbon sparingly throughout the cigar as I was afraid of it drowning out notes in the cigar but the flavors stayed true to my previous sample. It paired very well with the cigar and despite being a barrel proof bourbon the cigar was still the star of the show. The flavors are everything I want in a cigar and more. The smoke stayed cool until the very end. It's worth every bit of the $16.75 I spent on the cigar, I just wish they were easier to find! Nub worthy.
SIMPLY STOGIES RATING:  9.25 / 10.0