The Plasencia Cosecha 149 is a tribute to the family's 149th crop of tobacco. I enjoy many of Plasencia's lines, the Alma Fuerte is a cigar that a recommend to everyone. It is one of the first brands that was recommended to me when I began my journey into cigars and since then I have always held the brand in high regard. I was excited to see the release of the Cosecha 149 as a regular production product from Plasencia instead of another overpriced limited edition stick.
VITOLA:   Azacualpa
SIZE:   6″ x 52
ORIGIN:   Honduras
FACTORY:   Tabacos de Oriente
WRAPPER:   Honduras
BINDER:   Honduras
FILLER:   Honduras
STRENGTH:   Medium to Full
SOURCE:   Retailer
WHERE:   
Outside
WHEN:   
Late afternoon
DRINKS:   
Water
WEATHER:   
Sunny and cool
HOW MANY CIGARS SMOKED:   
3
RELEASE TYPE  Regular Production
ORIGINALLY RELEASE DATE  November 2021
TOTAL PRODUCTION
Typical Box Size:     Boxes of 10
Production Totals:  Unknown
VITOLA BREAKDOWN
o  Azacualpa  (6″ x 52)
o  Santa Fe  (4-3/4″ x 60)
o  La Vega  (5″ x 52)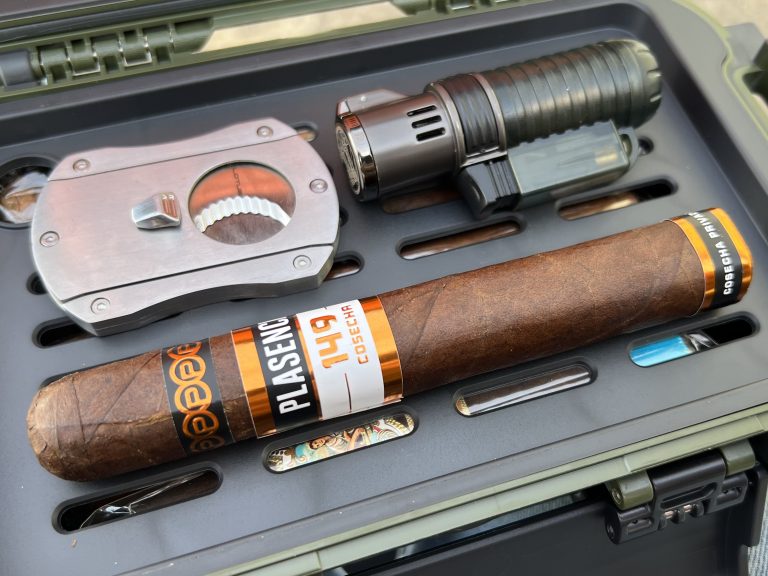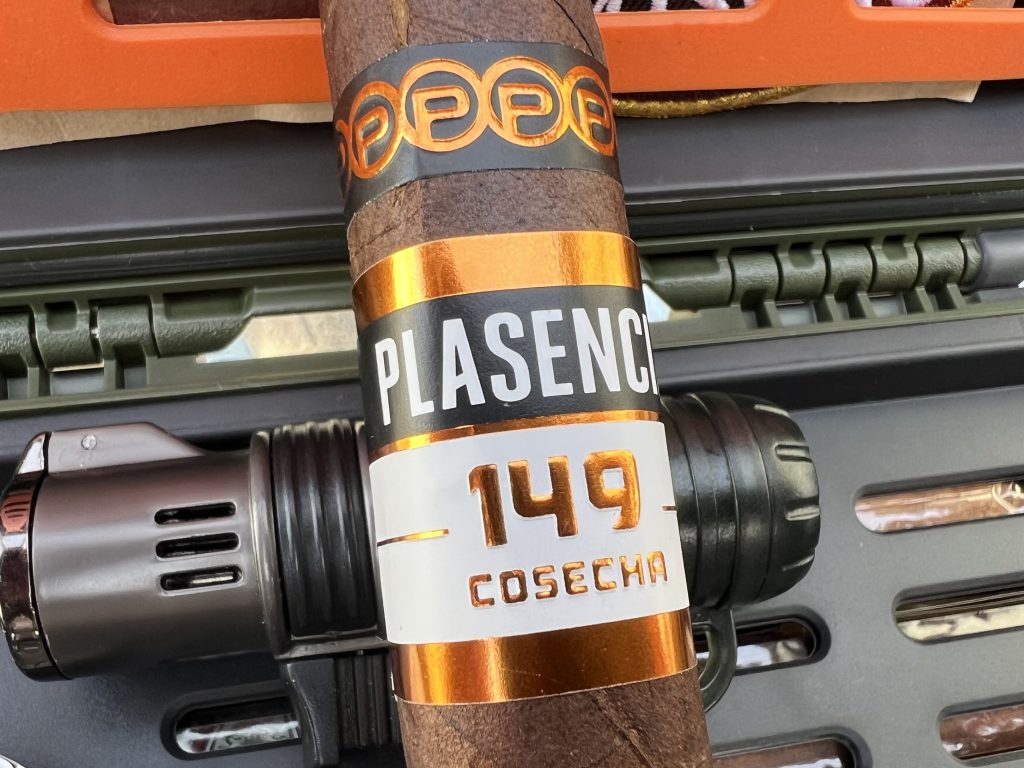 The band is identical to the 146 band but touts a different color scheme. I do like this band more, and I think that the goldish orange accents are more complementary to the cigar wrapper shade. Plasencia always goes a little overboard with their band design because they have three bands on many of their lines. The contemporary look of Plasencia has a way of making you think that this is a modern stick, but also kind of traditional at the same time. I remember the first time I was handed what is now branded the Reserva Original. It was the early 2000s and this cigar had the ugliest yellow band the 90s could barf out. To make up for this terrible design of the past, Plascencia opted to put 10 well designed bands on all of their cigars.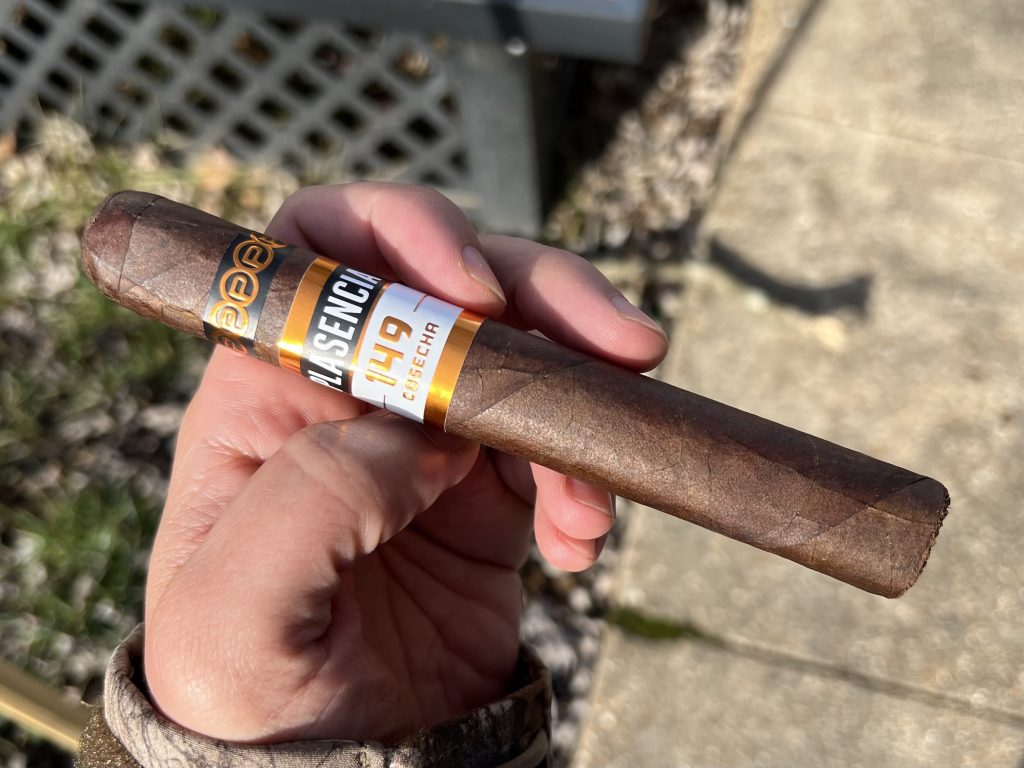 CONSTRUCTION
This is a cigar that I can't stop staring at. The wrapper is dark, with small and uniform veins, and the seams are as tight as woodpecker lips. The pack has a little give and is the same consistency throughout the entire stick. For the three samples I smoked, I always took a moment to admire how aesthetically pleasing this cigar is. The final sample I ended up taking pictures of had a lot more oil on the wrapper than the first samples I smoked. 
AROMA

There are earthy and peppery notes present followed by a very feint dark chocolate. On the foot you get more of a fruity scent that reminds me of a not so ripe strawberry mixed with pepper.
COLD DRAW
I get some spicy cayenne mixed with candied orange peel. There is a whisp of caramel cream on the backend but that cardboard note is still present.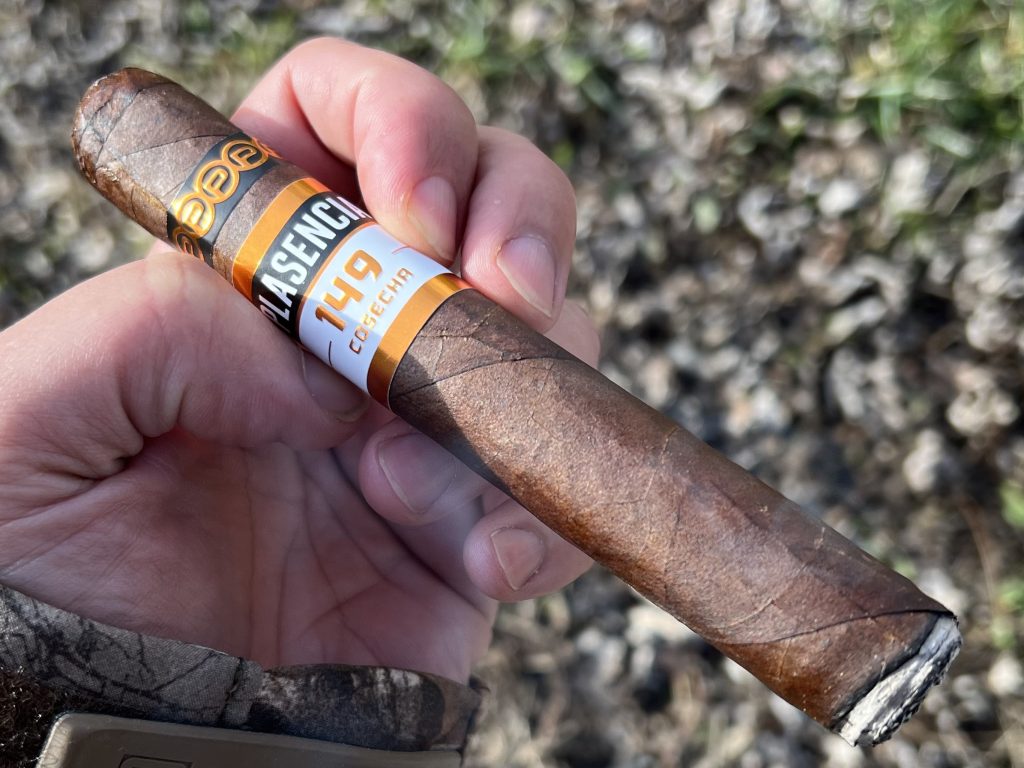 LIGHT & DRAW
Cut:  Straight
Fire:  Torch
Despite  feeling like a dense and heavy pack, this cigar ignited quickly and had a very airy draw. I attribute this to the slight box press that almost seems like it was done by accident.
SMOKE

The airy draw leads to some great smoke output and then gets a little tighter as you begin smoking.
FIRST THIRD
>> Dry Earth, Dusty Bakers Chocolate, Cardboard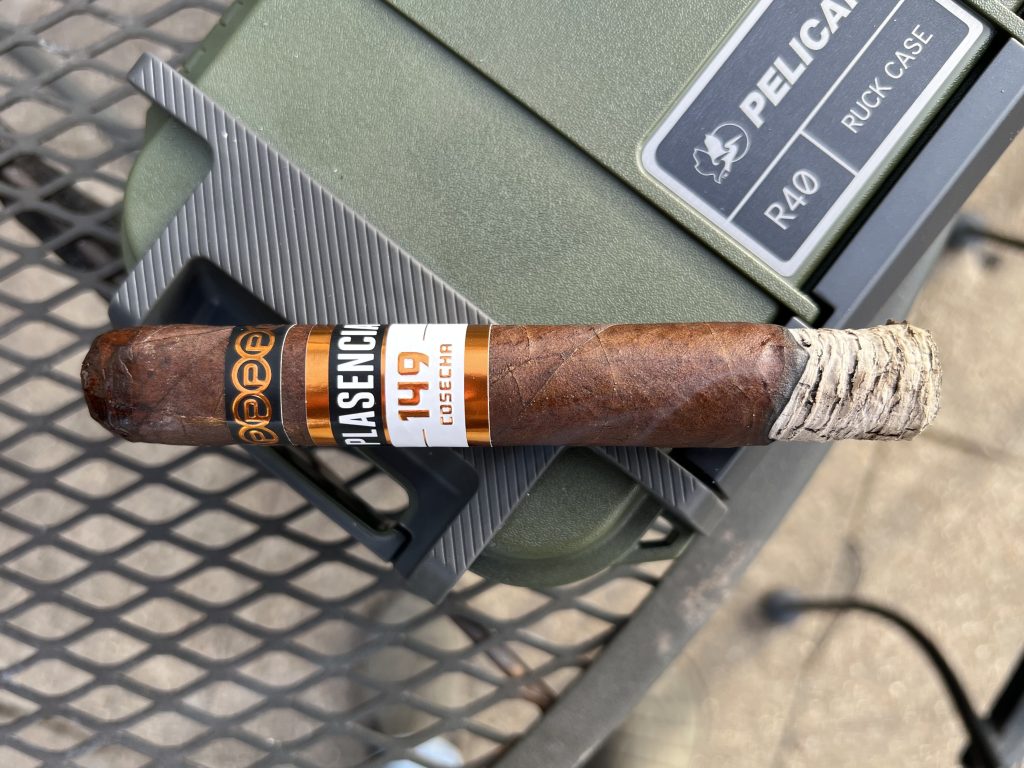 The draw remains consistent and the burn is slightly wavy but the ash is tight and bright. The chocolate is slightly amped up in the first third. There is a dry earth with paprika. The retro brings out a lot of cayenne still and brings back some of the fruit leather aroma as well. The finish is better than light up and a bit more present. There is a tartness that makes the back of my cheeks water. You can taste a little dusty bakers chocolate with the cardboard making another unwelcomed appearance. There's not a lot of sweetness in the Cigar, but the flavors are fairly good so far.
SECOND THIRD
>> Leather, Cayenne, Chocolate Coconut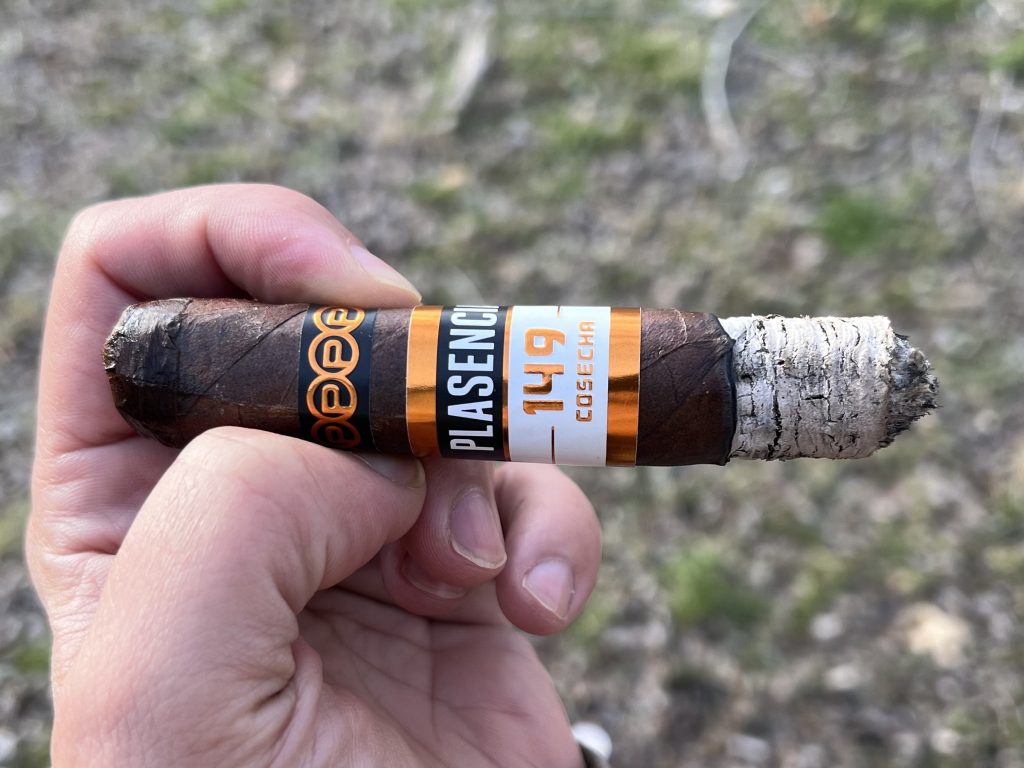 Construction wise this cigar is really phenomenal. In the second third, leather and earth dominate the palate. It's almost hard to taste anything else in the beginning of the second third. The cayenne on the retro calms down and transitions to black pepper mixed with a wet earth. The finish really changes and gets a little sweeter chocolate coconut note with strong waves of leather and earth that last forever. The ash holds on for a good inch before falling off because of the pictures I'm taking. I like how my mouth is not left dry after taking a draw.
FINAL THIRD
>> Beef, Chocolate, Rose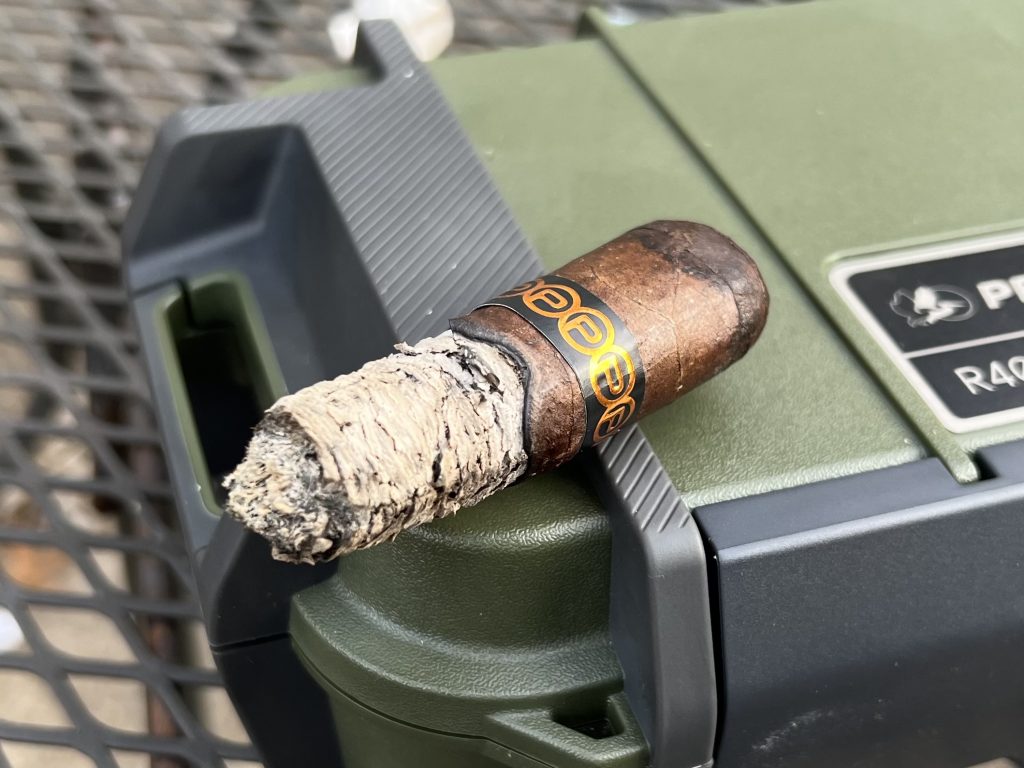 The last third is definitely where this cigar shines, that is the case with most cigars, but I was just happy that it happened with this more pricey stick. The smoke is still thick and the flavors get sweeter, bolder, and even more savory. While the leather in earth are still very present, you get a more meaty note shifting in. It almost would remind me of a piece of steak with a chocolate infused gravy on the side. The retro calms down from a black to a white pepper with cream. The finish is reminiscent of whipping cream that is slightly sweet, morphing into a bold leather with earth riding the wave until the next draw. I am thankful that the cardboard note eventually went away and made way for a foundation of leather, earth, and spice. Towards the end, you also get a small blip of floral a note, kind of like smelling a fresh rose. The cigar is definitely a more savory than sweet, but contains enough sweetness to keep things interesting.
FLAVOR PROGRESSION
At first, I was kind of concerned about the cardboard note I really thought that I would hold true throughout the cigar. The first third did not offer much in the way of flavor but halfway through the second third it really turned into something worth the hour and a half smoking time and the $14+ price tag.
BURN EXPERIENCE
I had absolutely no issues with the burn and while it was semi-wavy, I never had an issue and I ashed it exactly 3 times. Aesthetically, the cigar was flawless from the color of the wrapper to the color and tightness of the ash. It was a great experience.
RATING BREAKDOWN
0.80 / 0.80 … Craft & Aesthetic
0.50 / 0.50 … Pre-Light Characteristics
0.50 / 0.50 … Lighting Process
6.25 / 7.70 … Smoking Experience
0.40 / 0.50 … Personal Enjoyment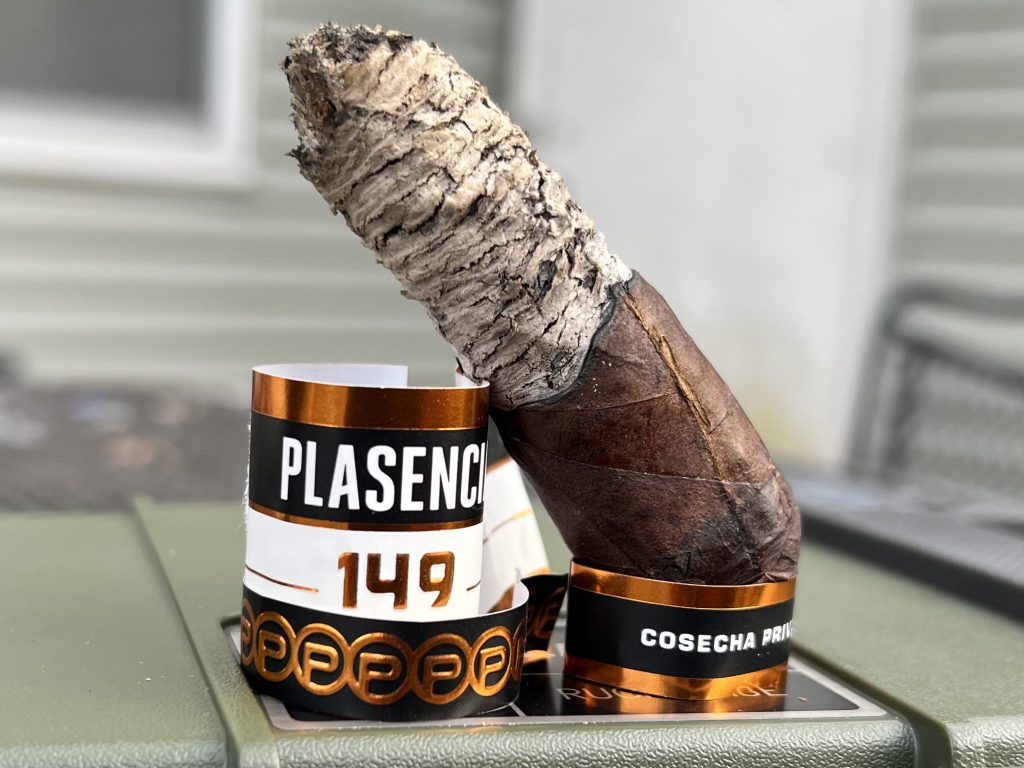 JUST WAIT UNTIL THE HALFWAY POINT!
If you really look at the journey, the cigar takes you through something that is not so interesting in the beginning, but is really exquisite towards the end. There was no harshness to the cigar, and it offered a really smooth and pleasant smoke. If you like, a more savory cigar with just a little bit of sweetness, this is definitely right up your alley. I would buy this again, but only in a five pack. With the Alma Fuerte and Alma del Fuego as options from Plascencia, this brand has so much more to offer. This stick is worth your time, at least once.
SIMPLY STOGIES RATING:  8.45 / 10.0