"At last we have made wonderful discovery in Valley; a magnificent tomb with seals intact; re-covered same for your arrival; congratulations," read the telegram from Howard Carter to his patron, the 5th Earl of Carnarvon. Thus, the world changed in 1922. 
After never fully recovering from injuries sustained in a car accident in 1903, Lord Carnarvon's doctors recommended that he winter out of the cold and dampness of England, so he began to spend time in Egypt, where he became an amateur Egyptologist. Eventually, in 1907 he began to sponsor Howard Carter's excavations, there was a break in the excavations for World War I, but they resumed in 1917. No significant discoveries were being made, and the Lord decided that 1922 would be the last year he would support the explorations. The telegram mentioned above changed all of that, well, almost.  
A pesky mosquito bite and a bad shaving technique eventually changed everything. The Lord traveled to Egypt with his daughter, where the tomb of Tutankhamun was unsealed, and all the fantastic artifacts were discovered inside.  We all know of the items as they eventually made their way into every history book in every school. What about the Mosquito and the lousy shave, you may ask? Well after the official opening of the burial chamber in March of 1923, Lord Carnarvon was bitten by a mosquito, the bite which was later becoming infected by a razor cut led to an infection and in conjunction with pneumonia, sadly caused his death on the 5th of April, which birthed the "Curse of King Tuts Tomb." 
Due to King Tut dying at an early age, his tomb was not completed, so they put him into a smaller tomb. But a king has to have his kit for the afterlife, so picture, if you will, half royal tomb, half storage wars abandoned storage unit. It was jammed packed with everything one would need in the afterlife, including a variety of chests, one of which Nick Melillo and the 8th Earl used to style the current box for this limited release of cigars to commemorate the discovery. 
The box, if you were lucky enough to get one, is elegant in Egyptian design. I think it looks better than the one found in the tomb. Stylized in the exact shape of the ancient box but painted black, with gold hieroglyphs, and topped with a golden scarab, representative of the Sun God Ra, and knobs as found on many ancient Egyptian chests, it is a showpiece. 
VITOLA:   Perfecto
SIZE:   6-3/4″ x 52
ORIGIN:   Nicaragua
FACTORY:   Tabacalera AJ Fernandez Cigars de Nicaragua S.A.
WRAPPER:   Habano Ecuador 7th Priming
BINDER:   Brazilian Malta Fina
FILLER:   Undisclosed but said to of been aged for 3 years
STRENGTH:   Medium
SOURCE:   
Fox Cigars and Foundation Cigar Company.
WHERE:   
Cabin on the frozen Mississippi River.
WHEN:   
Evening
DRINKS:   
Black Tea and Water
WEATHER:   
26° degrees outside, 68° inside 
HOW MANY CIGARS SMOKED:   
3
RELEASE TYPE  Limited Release
ORIGINALLY RELEASE DATE  November 2022
TOTAL PRODUCTION
Typical Box Size:     Egyptian-themed boxes of 12 with a Black Velvet Bag
Production Totals:  700 boxes, 12 cigars per box, 8,400 total sticks
VITOLA BREAKDOWN
o  Perfecto (6-3/4″ x 52)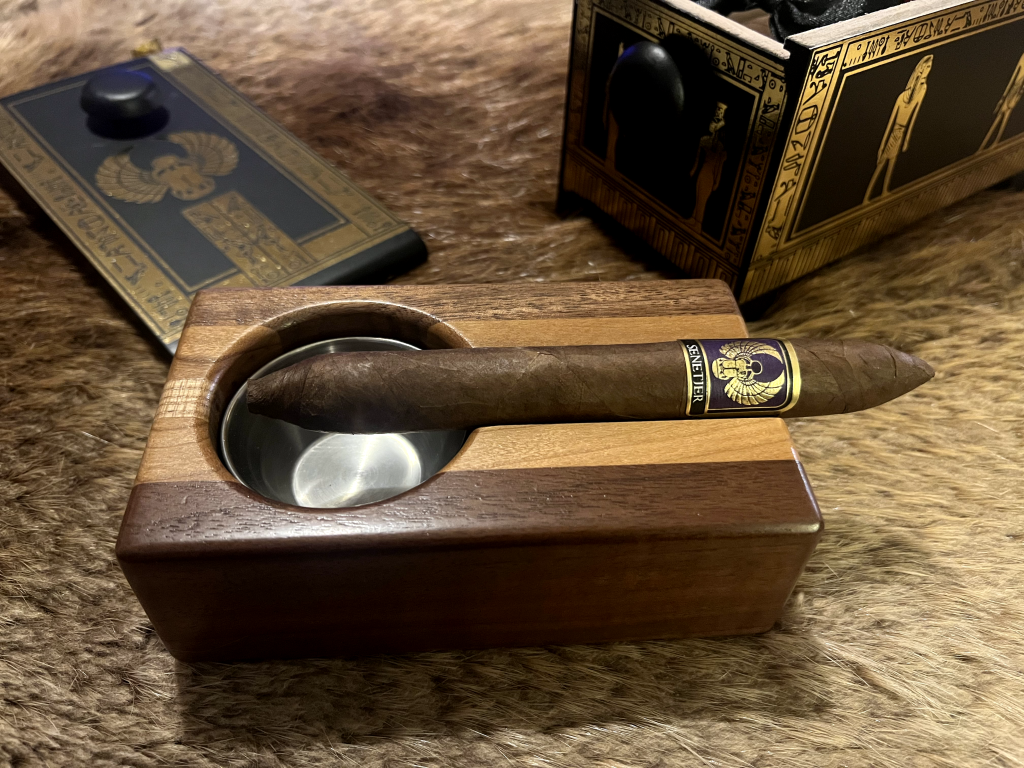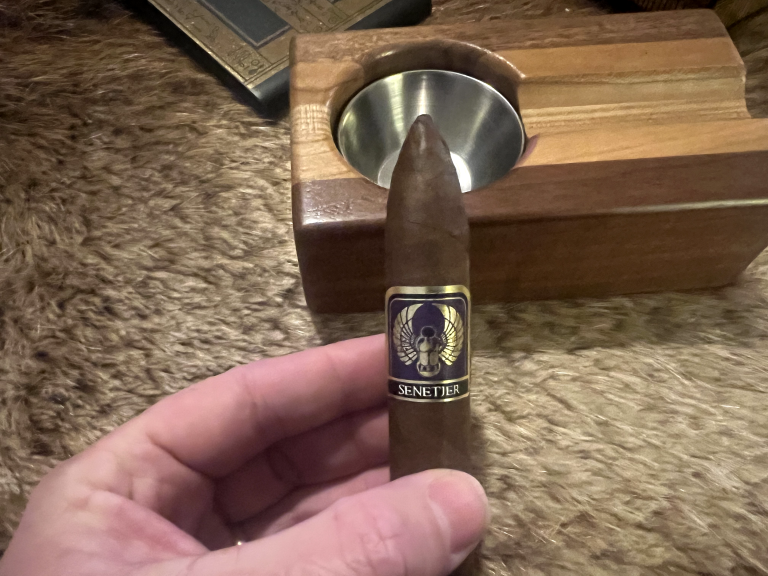 At first glance, in not the greatest lighting, you might think that the band is black and gold, like the boxes themselves. Upon closer inspection, you will find that the band has the same golden scarab and hieroglyphs, but the background is a deep purple. Purple was in ancient Egypt reserved for royalty or those of extremely high status. The band design, like the box, is quite remarkable, with the purple being just the right subdued pop to take it to another level.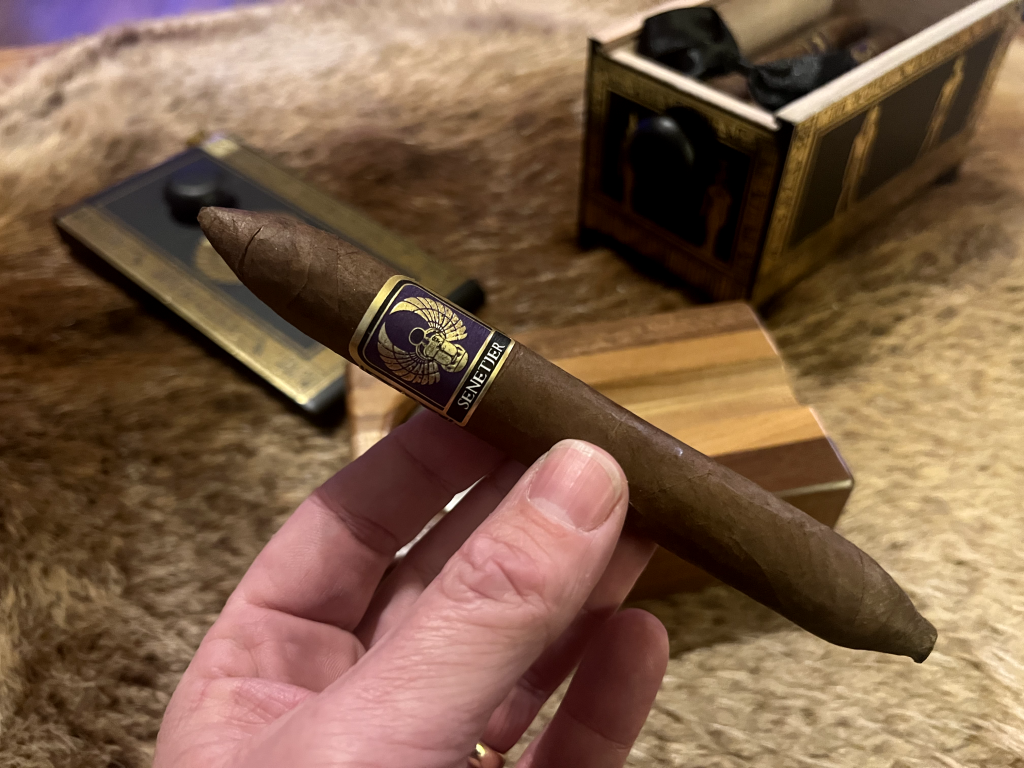 CONSTRUCTION

The Perfecto vitola is becoming a favorite of mine. I found a couple of water spots on two of the wrappers, which appeared as slight discolorations but other than that, they were firm to the touch, and each one I smoked had a fantastic draw.  
AROMA

I found the outward aroma of this cigar to have the typical hints of a barnyard with a slight sweetness to it.
COLD DRAW

The small end of the perfecto vitola causes the cigar to have a stiffness to the cold draw. I confess I clipped the foot from the third cigar to get a better draw. I found an almost too-easy draw and was concerned the whole cigar would smoke poorly. It did not—notes of sweet dried fruit, leather, and a hint of maybe graham cracker or maybe caramel.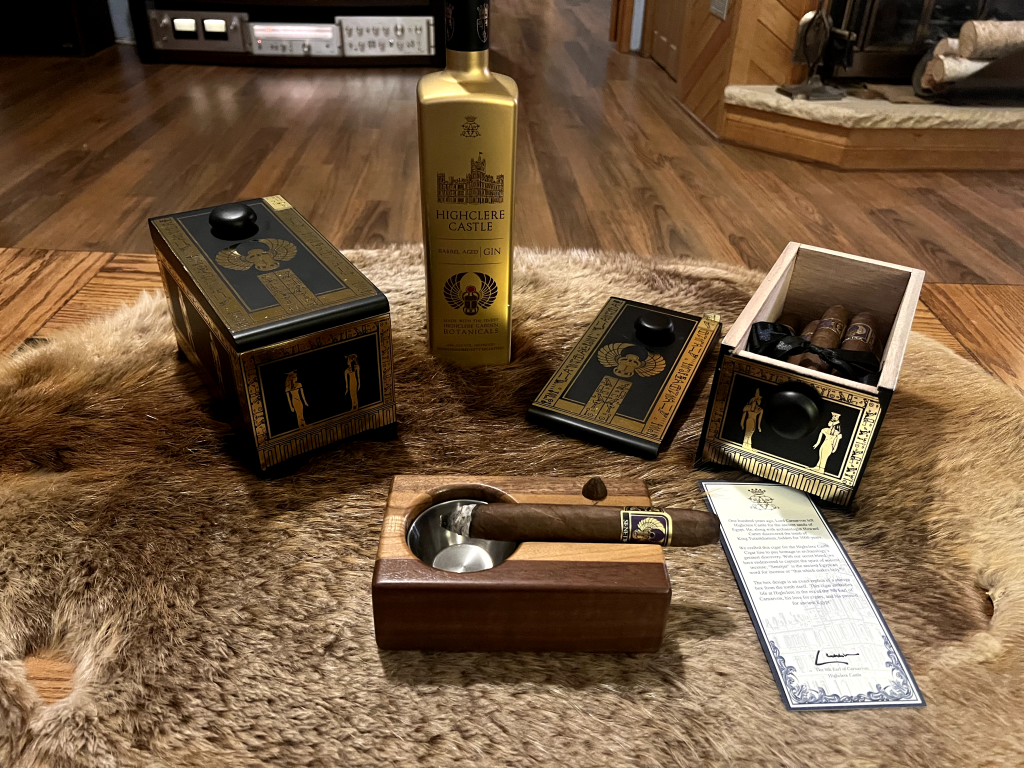 LIGHT & DRAW
Cut: Straight Cut
Fire: Three-Burner Vertigo 
The first post-light draws produce mouthfuls of light and airy smoke that carried the dried fruit sweetness and a hint of herbaceousness to the pallet. There are also some hints of lightly roasted coffee.  
SMOKE

Just enough smoke emanates from the cigar while it is at rest to let you know it is lit. The smoke is not as heavy and creamy but remains light and airy as it was in the initial lighting. 
FIRST THIRD
>> Dried Fruit, Baking Spices, Roasted Nuts, Coffee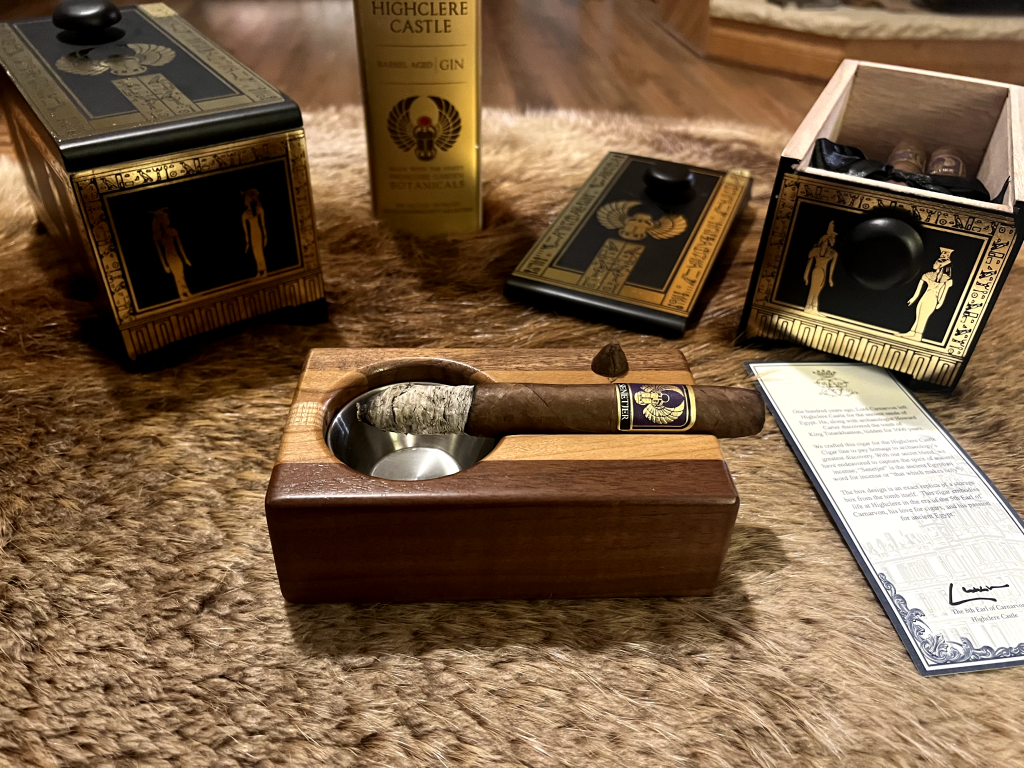 After giving the stick a chance to open up, the dried fruit sweetness starts to come through the most for me. Followed up by baking spices and light hints of coffee and roasted nuts. The retro-hales and orto–hales do not sting or burn but carry the baking spice notes well. The smoke is still light and airy, with a hint of saltiness. The burn is a bit wavy, although nothing to be overly concerned about. 
SECOND THIRD
>> Dried Lemon Peel, Coffee, Anise, Graham Cracker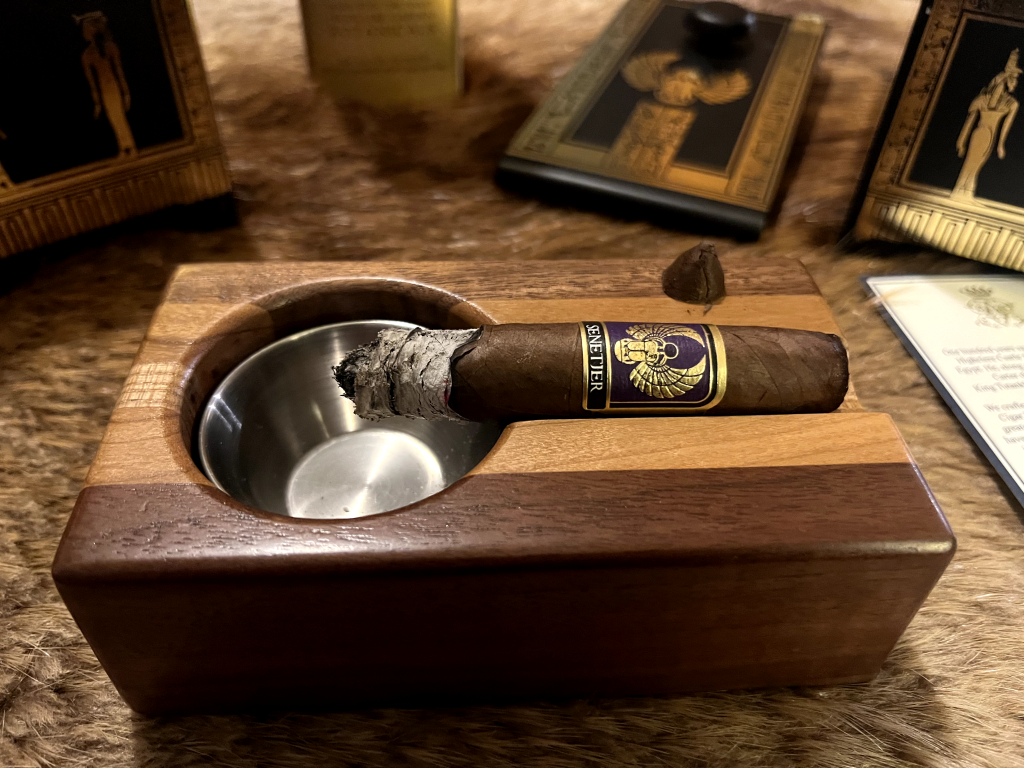 We begin round two of the three-ring bout with the dried fruit taking on more of a lemon peel flavor, balanced with some coffee and sweetened by a graham cracker, with a hint of anise in the back. The retro-hale remains smooth with some spices but not hot, with the saltiness of the first third transitioning into more of a savory finish/ The ash is hanging on to the stick but develops a curve to it. When I knock it off, it comes off in one chunk and remains firm. Although being a full to a full plus guy, not only in my dress size but my preferred cigar profile as well, I find this to be a delightful medium/medium minus sticks. The darkness of the wrapper may lead some to think this is fuller-bodied than it is. 
FINAL THIRD
>> Dried Lemon Peel, Baking Spices, Charred Wood, Caramel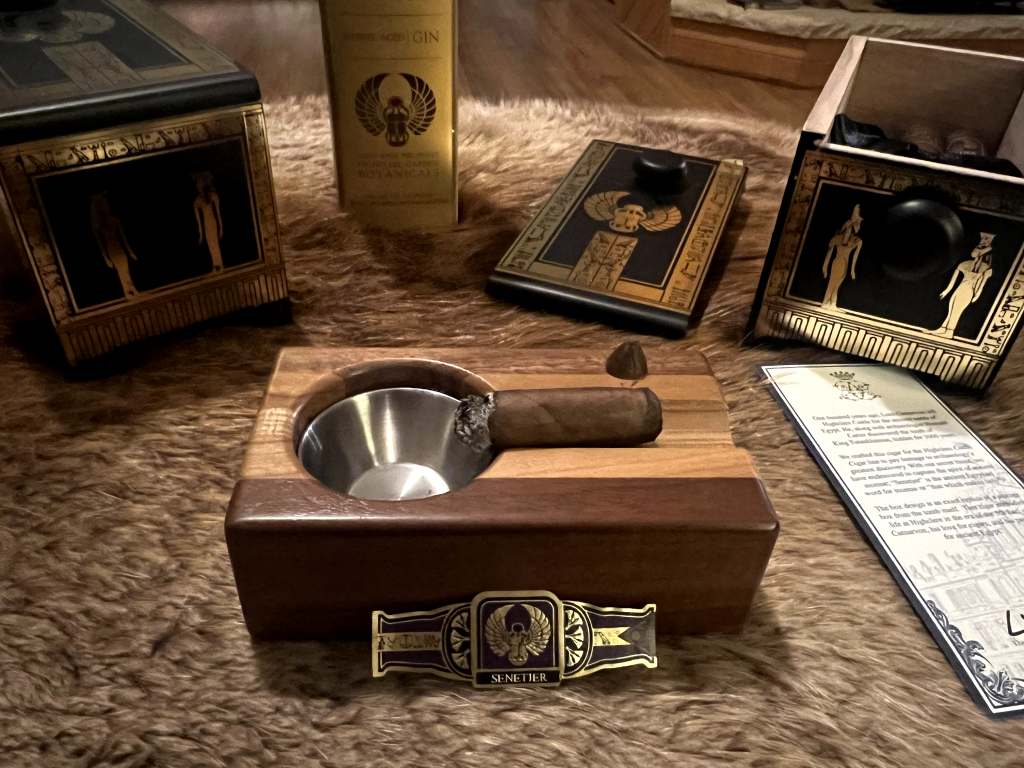 Well, here we are, the last third. The dried lemon peel hangs in there with the baking spices, while charred wood makes a subtle appearance, and the sweetness now comes from a caramel note that I am really enjoying. The smoke remains light while carrying all the flavors well. The salty first third that was transitioning to savory in the second third is now entirely savory and provides an excellent retro-hale. 
FLAVOR PROGRESSION
While this was not the most complex smoking experience I have ever had, it was one of the best medium-bodied cigars I have ever had. The first third begins with a slightly salty dried fruit with baking spices and roasted nuts with a hint of coffee. The second third sees a transformation from somewhat salty to slightly savory the dried fruit blossoms into more of a dried lemon peel with a barely noticeable tang. The coffee slackens in the middle giving way to a sweeter graham cracker with just a hint of anise. In the final third, we continue to see the dried lemon peel and baking spices while charred wood makes an appearance with a caramel sweetness rounding out the profile. The last third also gives up its last bits of saltness to real savory smoke.  
BURN EXPERIENCE
The construction by all the cigar artists at AJ Fernandez's factory, hey, if the kid making my sandwich at subway is a sandwich artist, then the guys and gals at the factory are cigar artists, is top-notch. Nick Melillo provided them with all the right ingredients, and they made a fantastic cigar with an awesome provenance. There was some slight unevenness to the burn line from time to time, but I never experienced a runner, canoeing, or tunneling. I am becoming, over time and through experience, more accepting of some unevenness here and there in my premium cigar smoking. These things are all made by hand, one at a time. Tens of thousands of individual leaves from thousands of individual tobacco plants. Although they try their best, each will have its own nuances to it; this includes the burn from time to time. It is not your grandma's Pall Mall cigarette. 
RATING BREAKDOWN
0.75 / 0.80 … Craft & Aesthetic
0.45 / 0.50 … Pre-Light Characteristics
0.50 / 0.50 … Lighting Process
7.70 / 7.70 … Smoking Experience
0.50 / 0.50 … Personal Enjoyment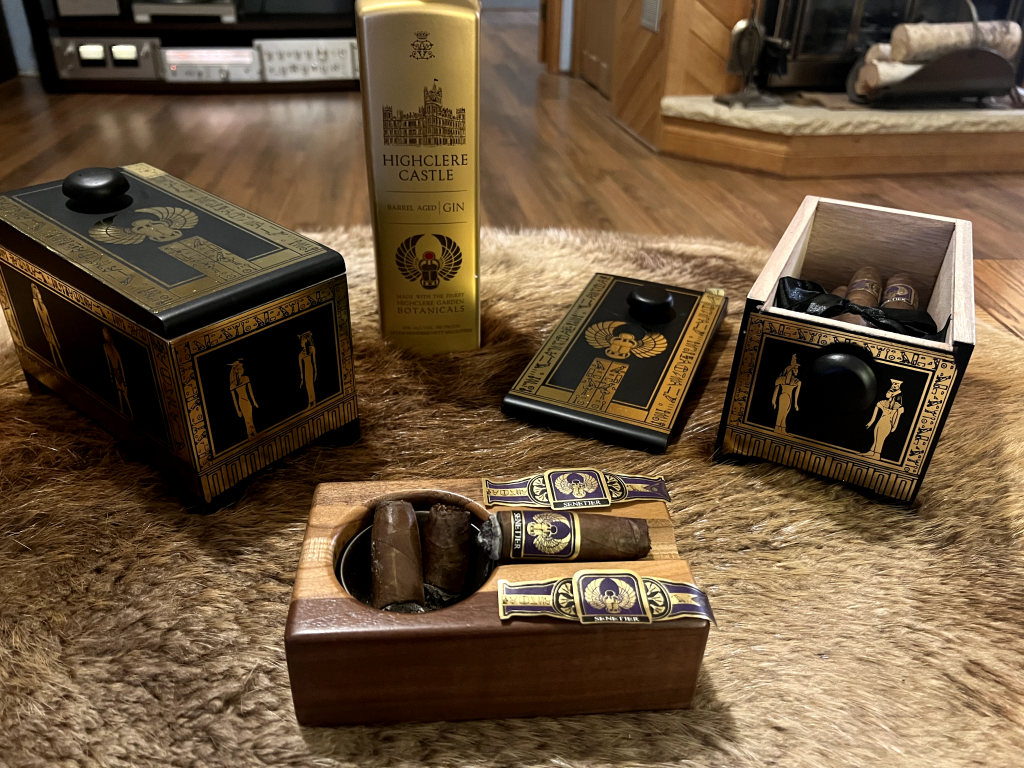 "CAN YOU SEE ANYTHING?" YES, WONDERFUL THINGS."
The above quote is the question asked by Lord Carnarvon and the reply given by Howard Carter when Carter first peered into King Tutankhamun's tomb by candlelight. 
I felt the same way when I slipped these boxes out of the black velvet bag they came in, then again upon opening the box, unwrapping the white paper to reveal the black silk bowtied bundle of cigars inside. 
Nick Melillo chose what is probably one of the finest wrappers for a cigar. If you are not familiar with Ecuadorian Habano, you should be. Don Pepin Garcia has called it the "best cigar wrapper in the world." Ecuador is a "naturally" shade-grown tobacco due to the cloud cover; this gives the leaves all of the benefits of traditional cloth-covered fields with just a little bit of extra sun thrown in from time to time, resulting in smooth, silky dark leaves with the finest of veins running through them. He also chose the seventh priming, which is generally the last usable priming left at the top of the plant to get all the benefits and flavors from the sun and soil. With a Brazilian Malta Fina binder and fillers aged for three years, this is truly a cigar worthy of the story and the 100th anniversary of a momentous discovery. 
When I added up this score, I wondered what James would say, and then I realized I didn't care. It is that good. 
*EDITOR'S NOTE: Is this score too high? Maybe, but not by much. After much internal debate, and me smoking one ROTT (Right Off The Truck), we're rolling with this score. This is the ultimate celebratory cigar. It is elegant, refined, sophisticated, and demands your attention. 
SIMPLY STOGIES RATING:  9.9 / 10.0