John Laurendi, owner and co-founder of Peter James, announced his foray into cigars with his Los Estoico line. Listening to John talk about his cigars, you can hear the passion in his voice. Known for their leather cigar cases, cigars seem like the next logical step for Peter James. The Los Estoico line have a maduro and a habano available. The Los Estoico 54 Maduro features a Mexican San Andrés wrapper, an Indonesian binder, and Nicaraguan and undisclosed filler. 
VITOLA:   Robusto Extra
SIZE:   5 3/4″ x 52
ORIGIN:   Nicaragua
FACTORY:   Tabacalera de Aragon S.A.
WRAPPER:   Mexican San Andrés 
BINDER:   Indonesian
FILLER:   Nicaraguan Jalapa, Condega, and undisclosed
STRENGTH:   Medium + – Full
SOURCE:   
Oxford Cigar Company
WHERE:   
On the patio
WHEN:   
August 20, @2:30pm
DRINKS:   
Ice Mountain bottled water
WEATHER:   
73° & 77% humidity
HOW MANY CIGARS SMOKED:   
4
RELEASE TYPE  Regular Production
ORIGINALLY RELEASE DATE  June 2022
TOTAL PRODUCTION
Typical Box Size:     Boxes of 12
Production Totals:  undisclosed
VITOLA BREAKDOWN
o  Robusto Extra  (5-3/4″ x 52)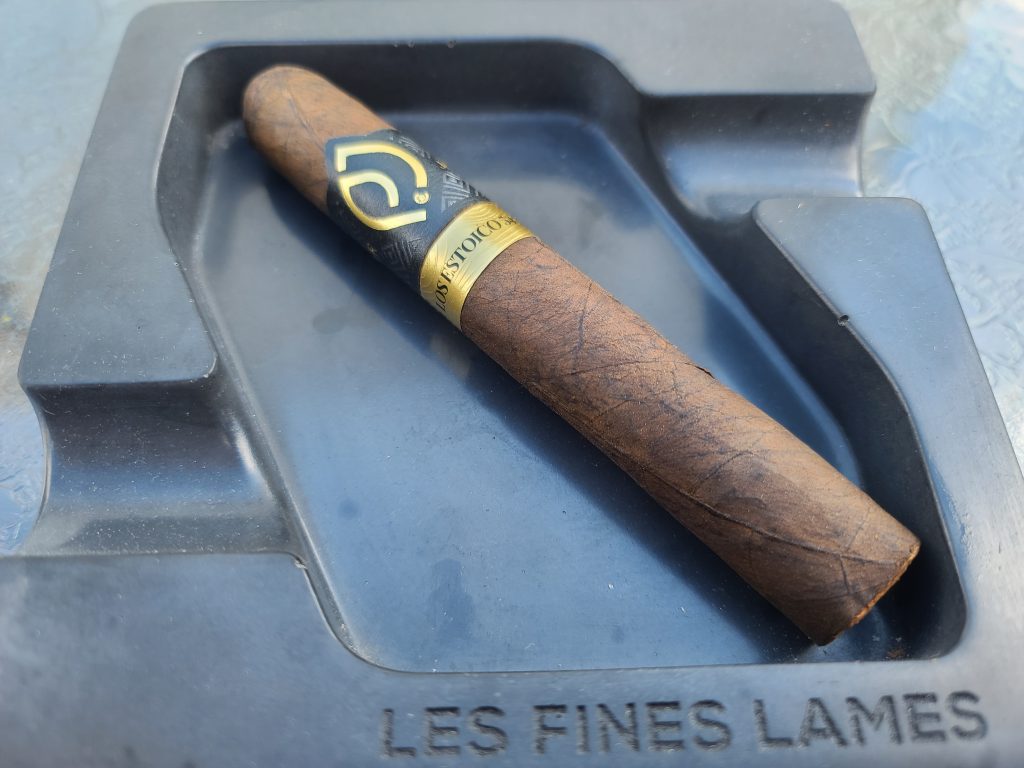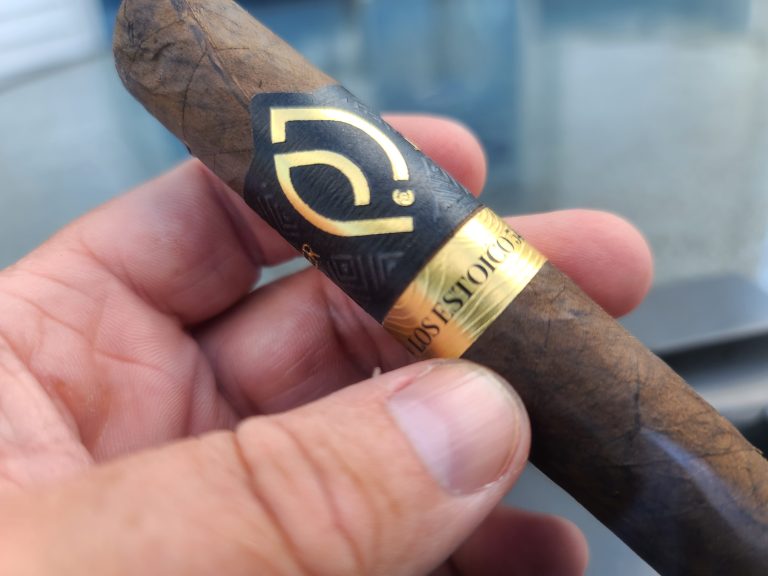 The Los Estoico 54 is double banded. The larger of the two feature the Peter James logo; while the second bares the name of the cigar. The first thing I notice about the bands is that they are made of high quality paper. The color scheme, black with gold accent on the primary band and the opposite on the secondary band, give the bands an air of sophistication.  I would expect nothing less from Peter James. It fits with the feel of everything that Peter James does: class, style, luxury. Both of the bands have designs on the background that add to the overall aesthetic of the bands.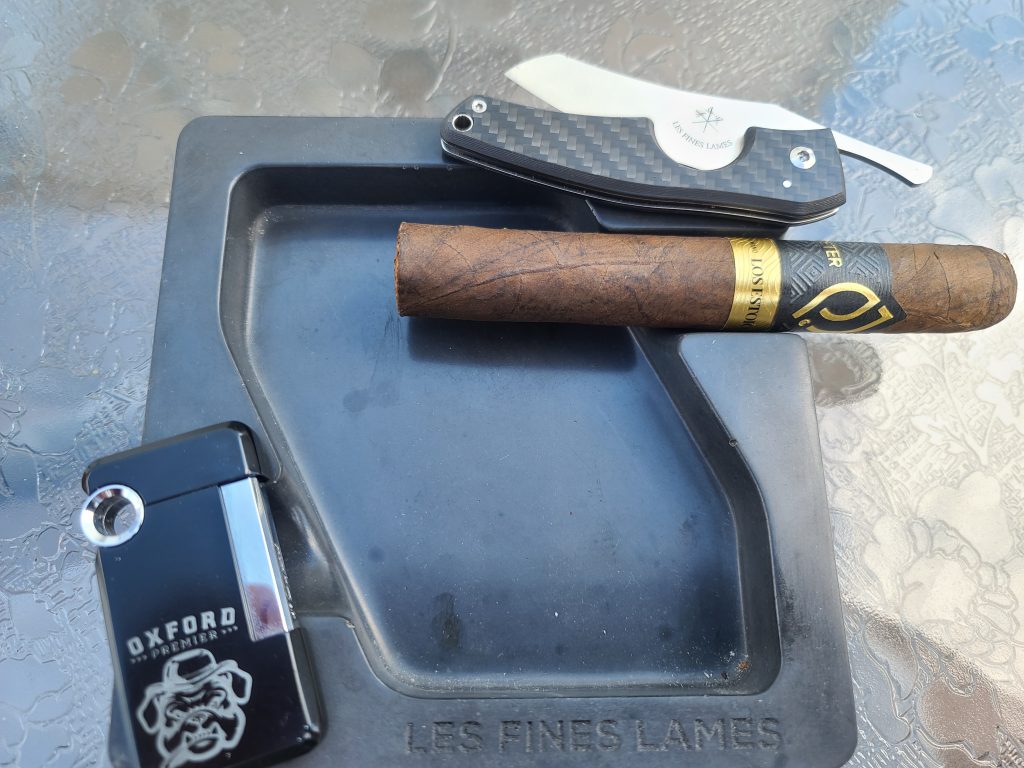 CONSTRUCTION

The Mexican San Andrés wrapper is rough to the touch and has a bit of tooth to it. Mottled, bumpy, and full of veins that crisscross the entirety of the Los Estoico. As I gently press on one of the cigars I smoked for this review, I notice it has more give near the center than near the head or the foot. It isn't exactly a "soft spot," but it is a bit more spongey than the rest.
AROMA

The wrapper is hay, straight hay…and it is sublime. The foot has a richness to it that is intoxicating. Notes of barnyard, dried dates, and sweet tobacco are easily detectable.
COLD DRAW

The cold draw reveals hints of salted nuts, fruit, and milk chocolate.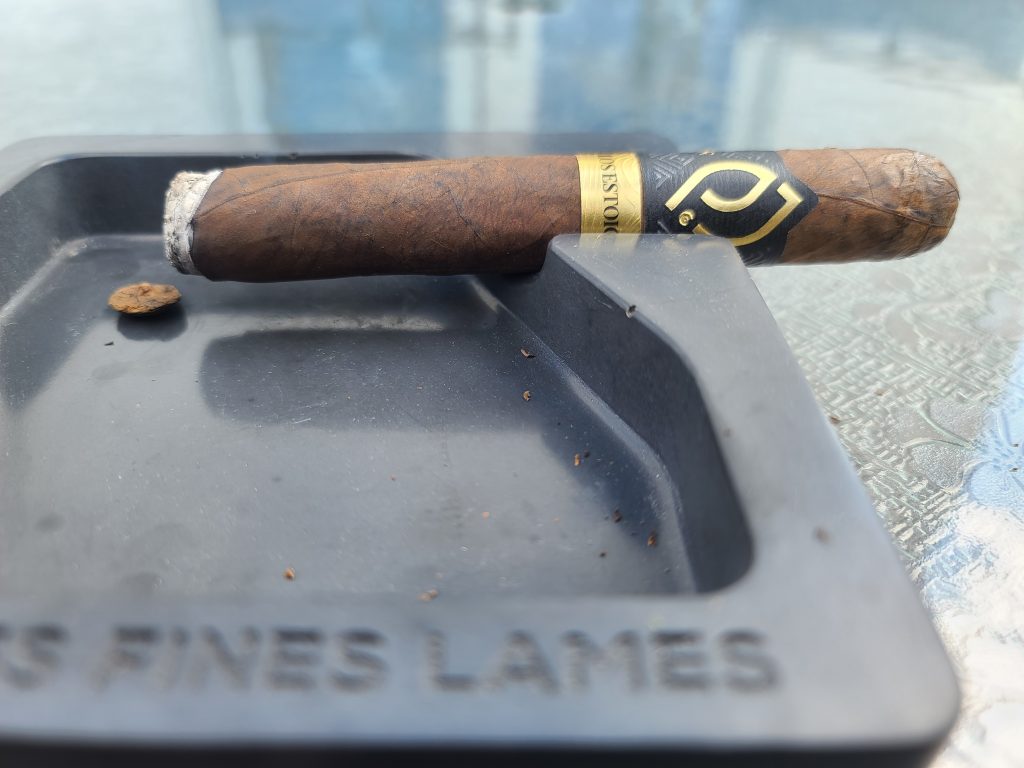 LIGHT & DRAW
Cut: Les Fines Lames LE PETITE cigar knife
Fire: ST Dupont Hooked
A blast of black pepper and spice hits me on the light, but there's a subtlety and elegance to it. Nothing is overpowering to begin. The Los Estoico 54 Maduro seems well-balanced. Caramel, avocado oil, salted nuts, and a hint of leather are immediately noticeable. A rich fruitiness lingers on my palate.
SMOKE

The Los Estoico creates volumes of rich, creamy, satisfying smoke.
FIRST THIRD
>> Sweet Cream, Caramel, Fruit, Black Pepper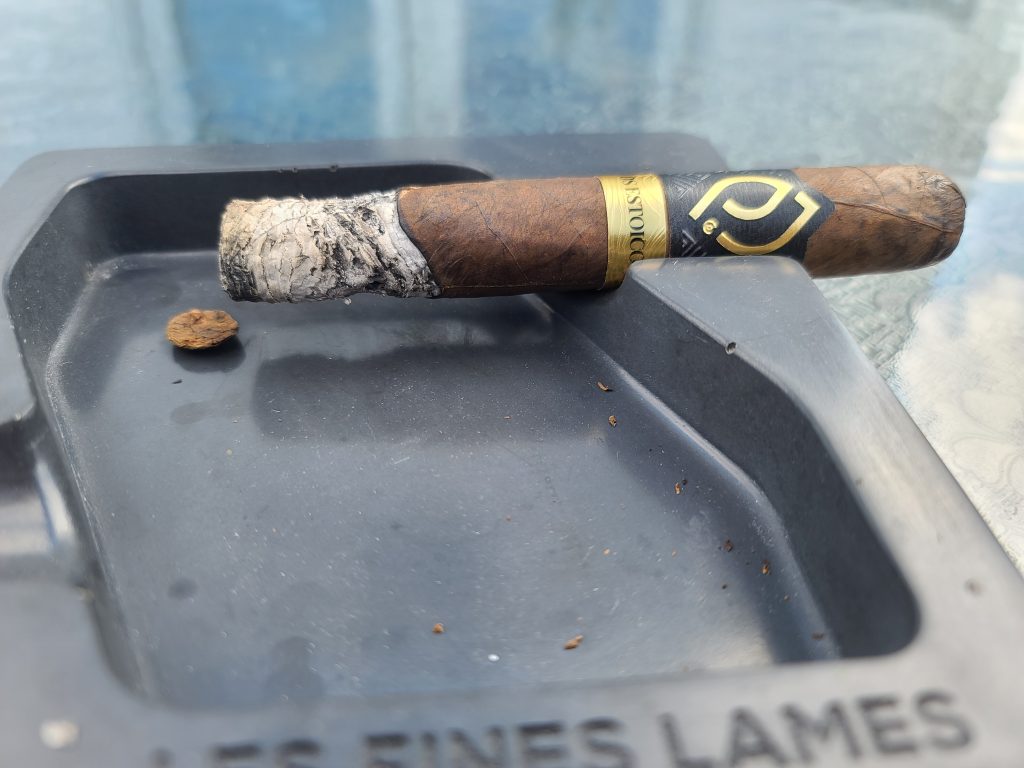 Sweet cream, salted peanuts, and caramel begin the initial third. Black pepper rules the retrohale. Cedar, lime zest, and a touch of honey round out the beginning. The first third has some great juxtaposition of flavor notes: sweet and savory, salty and bitter, creamy and acidic. But they are all in balance. Nothing really overpowering the other. A herbaceous note makes its way in. The ash is white with streaks of black running through it and compact with no flakes. The burn is a bit wonky but nothing that makes me concerned. Butter and spice and everything nice. A rich, beefy, almost umami note starts to come through. It drowns out the cream, nuts and caramel. In its wake are notes of earth and leather. There is still a fruity "tang" that lingers but you really have to search for it.
SECOND THIRD
>> Mushroom, Butter, Citrus, Baking Spices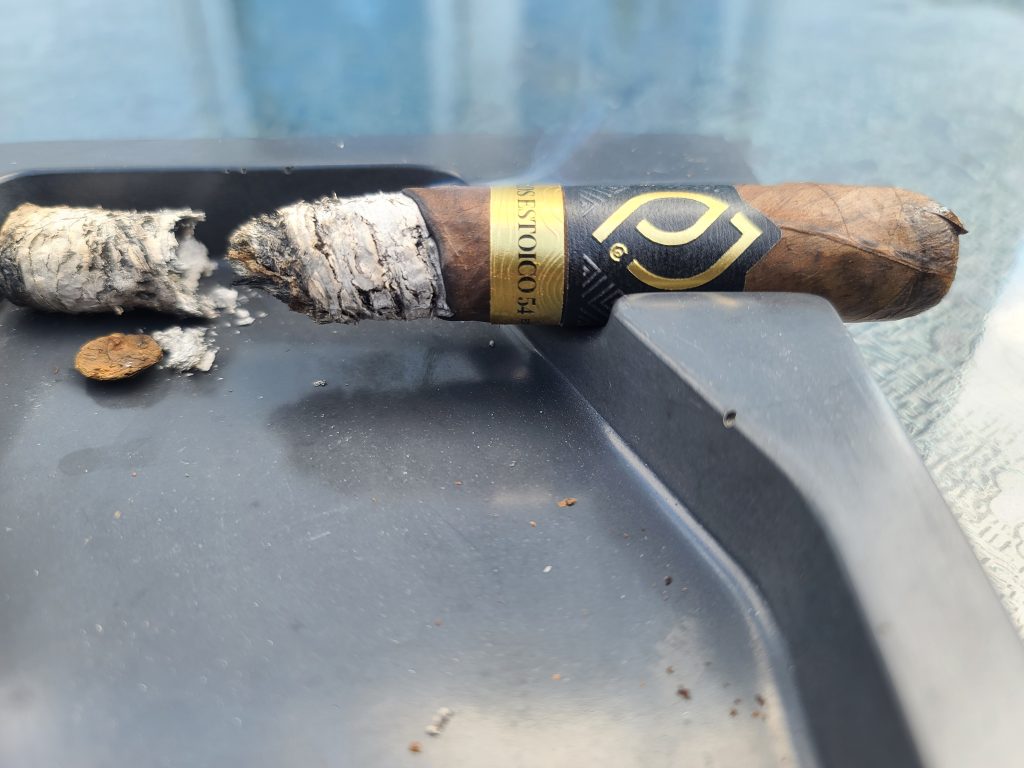 Beef, mushroom, baking spices, and butter to start the middle third. The retrohale has lemon zest and pepper. I'm impressed by how well everything is still balanced. The flavor notes have changed, but they are balanced with one another. A woody note begins to creep in. Citrus, leather, and wood are now the dominant flavors. Baking spices on the retrohale. The burn is still wonky, but nothing to worry about at the moment. The ash is still compact, but with a couple of flakes hanging off it. The richness of the first third is missing, so far, in this middle third. The flavors are there, but they seem a bit shallow. If that makes any sense? The butter is back, adding some brightness to the profile and some much needed juxtaposition. But just like that, it's gone.
FINAL THIRD
>> Earth, Charred Wood, Toasted Nuts, Black Pepper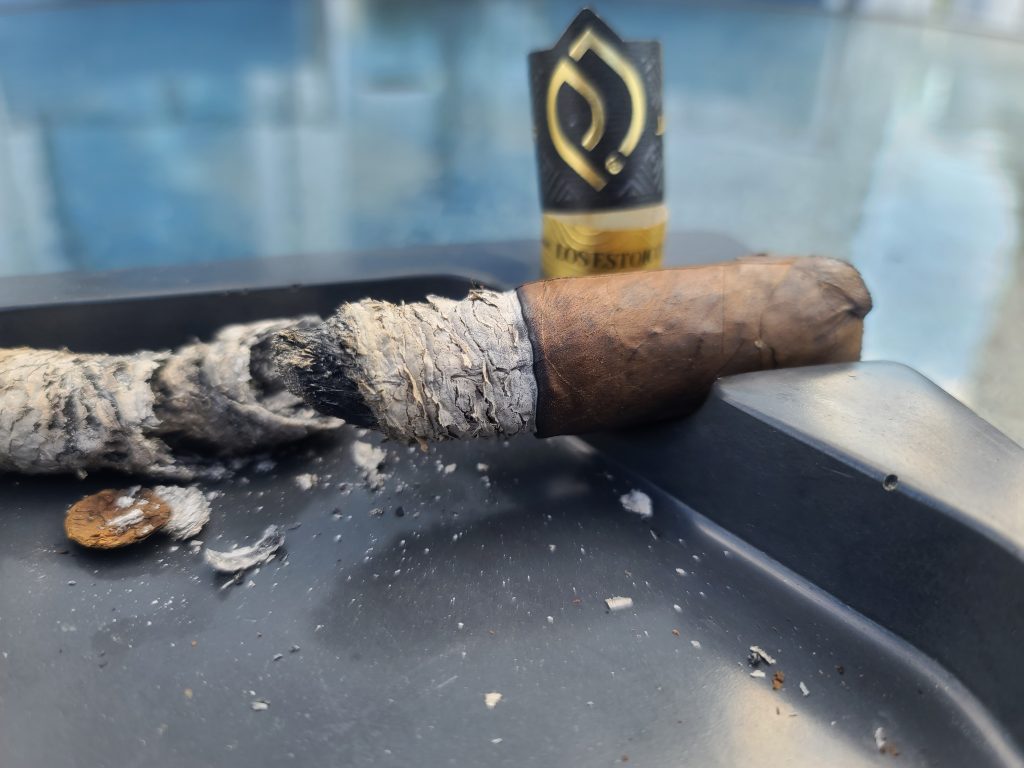 The final third is heralded by big notes of black pepper on the retrohale with a hint of lemon zest. The umami from the middle third is back with notes of earth, toast, and baking spices. The smoke is creamy and unctuous. The depth that seemed to be missing the middle third is finally back in the final third. Pepper is playfully clawing at the back of my throat. Again, all of these notes are well-balanced. The burn is still a bit uneven, but is hasn't gotten any worse. The ash looks like a stack of nickels: compact and not a flake in sight. There is a bright fruity note that somewhat reminds me of bananas, but that's not quite what it is. Charred wood, toasted nuts and burnt toast are complimented by a note of citrus. Dark chocolate brings a complexity to the Los Estoico that had been missing in the middle third.
FLAVOR PROGRESSION
The Los Estoico 54 Maduro is well-balanced, but might a bit lacking in the middle third. The thirds seems to flow into each other almost seamlessly, by bringing some of the tasting notes of the previous third into the the next. There are some great juxtaposition of flavors and some complexity found through each third. The Los Estoico Maduro builds from a medium + bodied experience into a full bodied one. 
BURN EXPERIENCE
I am, yet again, forced to deduct points for burn issues. Out of the four smoked for this review, two of the burned wonky and uneven. I must point out that in no way will this detract from the smoking experience. None of the four needed touchups or relights, but half did burn very uneven at times. It's something to keep an eye on, but nothing that should keep you from experiencing the Los Estoico.
RATING BREAKDOWN
0.70 / 0.80 … Craft & Aesthetic
0.48 / 0.50 … Pre-Light Characteristics
0.50 / 0.50 … Lighting Process
7.00 / 7.70 … Smoking Experience
0.40 / 0.50 … Personal Enjoyment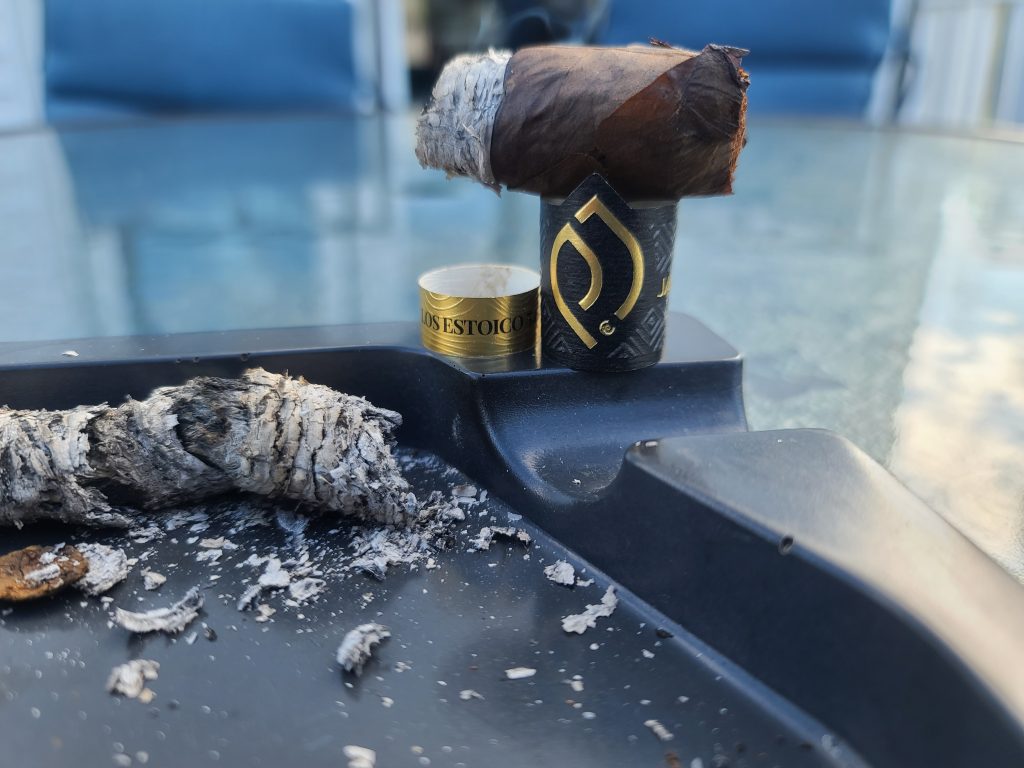 PETER JAMES DOES MORE THAN JUST LEATHER.
Everyone knows that Peter James does leather at a high level. The brand is synonymous with luxury and class. It should come as no surprise, then, that John Laurendi would bring the same level of execution and passion to his cigars. John never does anything just to say he's done it; instead, he does things that he has a passion for. John goes all in, and you can taste it in this blend. The Los Estoico 54 Maduro is one of those cigars that is a perfect pairing with coffee or as an after dinner dessert. 
SIMPLY STOGIES RATING:  9.08 / 10.0