ADDRESS:   9759 University Avenue Clive, Iowa
PHONE #:   (515) 278-8701
HOURS:   Monday – Thursday 10AM-8PM
                  Friday & Saturday 10AM-9PM
                  Sunday 12PM-6PM
BOOZE AVAILABLE:   N
DRINKS AVAILABLE:   Coffee, water, soda (water and soda are for sale)
FOOD AVAILABLE:   Snacks (for sale)
SMOKING LOUNGE:   Y
WALK-IN HUMIDOR:   Y
SPONSORED LOUNGE:   N
OUTDOOR SMOKING AREA:   N
MEMBERSHIPS AVAILABLE:   Lockers Available
This family owned business was established as Mid City News in Sioux City, IA in 1956.
David's Fine Tobaccos became David's Briar Shop in 1974.
Their walk-in humidor was expanded in 2019.
 They have a large pipe collection, including many estate pipes.
They have a large selection of shisha.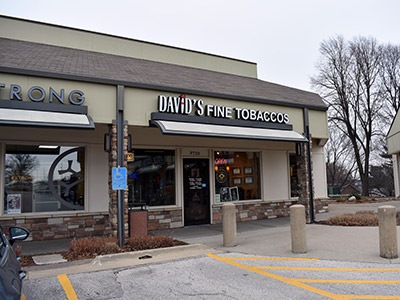 First opened in 1956, in Sioux City, Iowa, David's Fine Tobaccos has been through a few changes; at one point they were part gift shop, too. Located in a strip mall right off the interstate, makes this an easy destination for out of town aficionados and enthusiasts.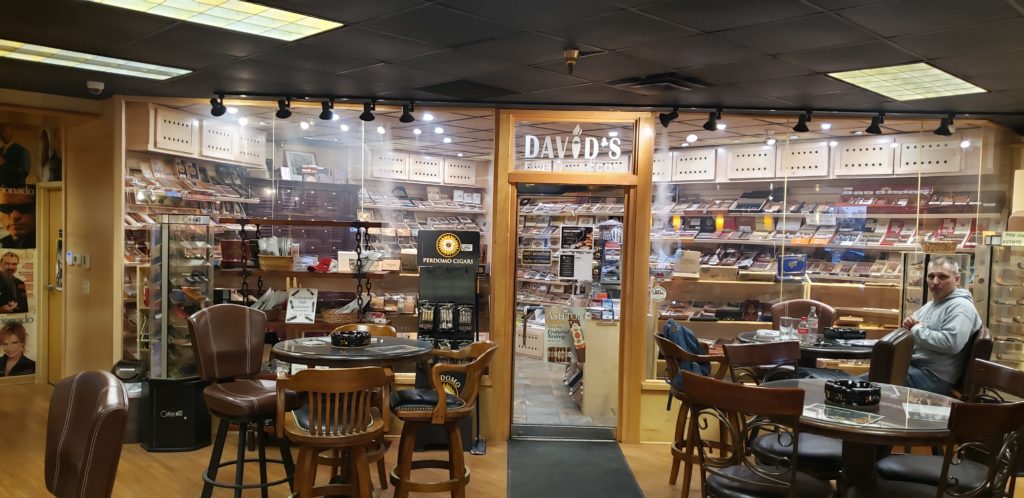 SELECTION/HUMIDOR SIZE
Don't let the pictures fool you, with two islands inside of the walk-in humidor, it is packed full of cigar goodness. There is plenty of room for 6  or 7 grown men to walk around and peruse David's Fine Tobaccos fine selection. Even with the two islands, they use every centimeter of available space. While some boxes of cigars are on the floor, there is still room to easily maneuver around. 
They carry all of the staples: Perdomo, My Father, Oliva, Ashton, and Arturo Fuente among others. They also have a great selection of all of your boutique brand favorites: Tatuaje, Foundation, Crowned Heads, and Illusione. However, their selection of ultra-premium cigar brands is limited to Padron. 
HUMIDOR MAINTENANCE
Tobacco runs in the family and current owner, Sean, was steeped in it. The humidor is well maintained with both rh% and temperature around 70. Their cigars have no mold and the cigars purchased and smoked in-shop, always smoke beautifully.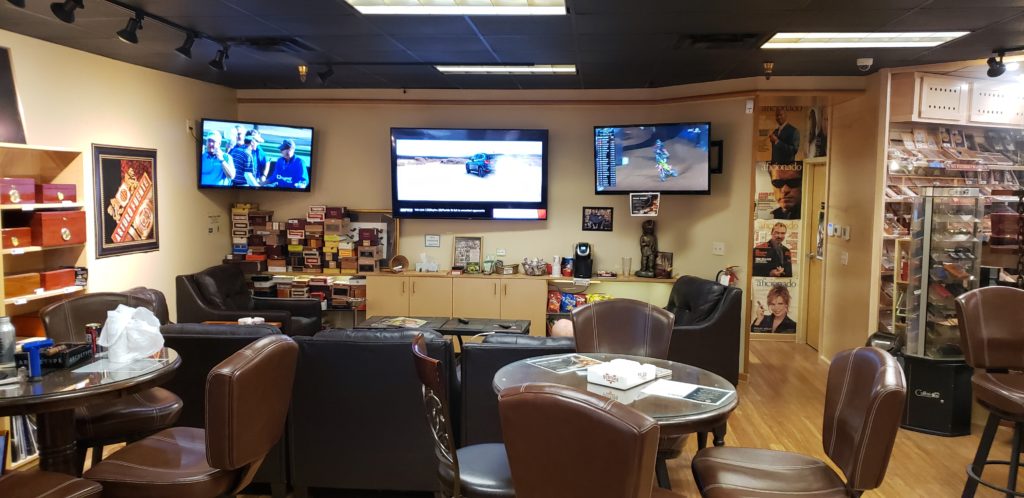 CUSTOMER SERVICE/STAFF KNOWLEDGE
The staff at David's Fine Tobaccos know their stuff; the byproduct of being a tobacconist for so long. It's the advantage that comes only from being in the same business for so long. They are more than able to help new enthusiasts find a cigar that won't be off-putting, and have the knowledge to direct aficionados to the newest releases that will fit their palate. 
The customer service is more than fantastic. The friendly and experienced staff at David's Fine Tobaccos answer all of your questions, keep the ashtrays empty, the tables wiped down, and the shelves stocked with a smile on their face. This lounge is extremely welcoming to newcomers and regulars alike.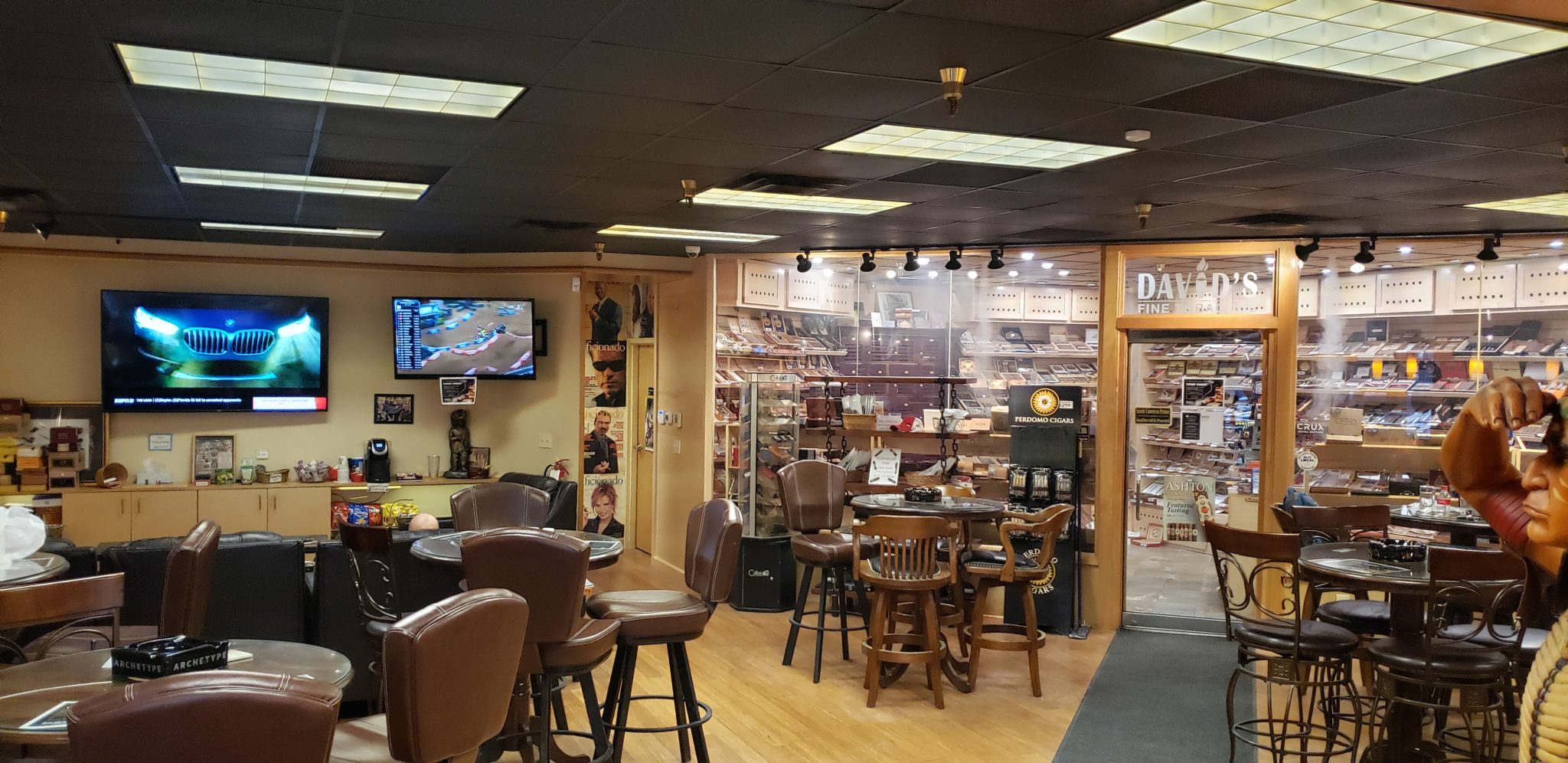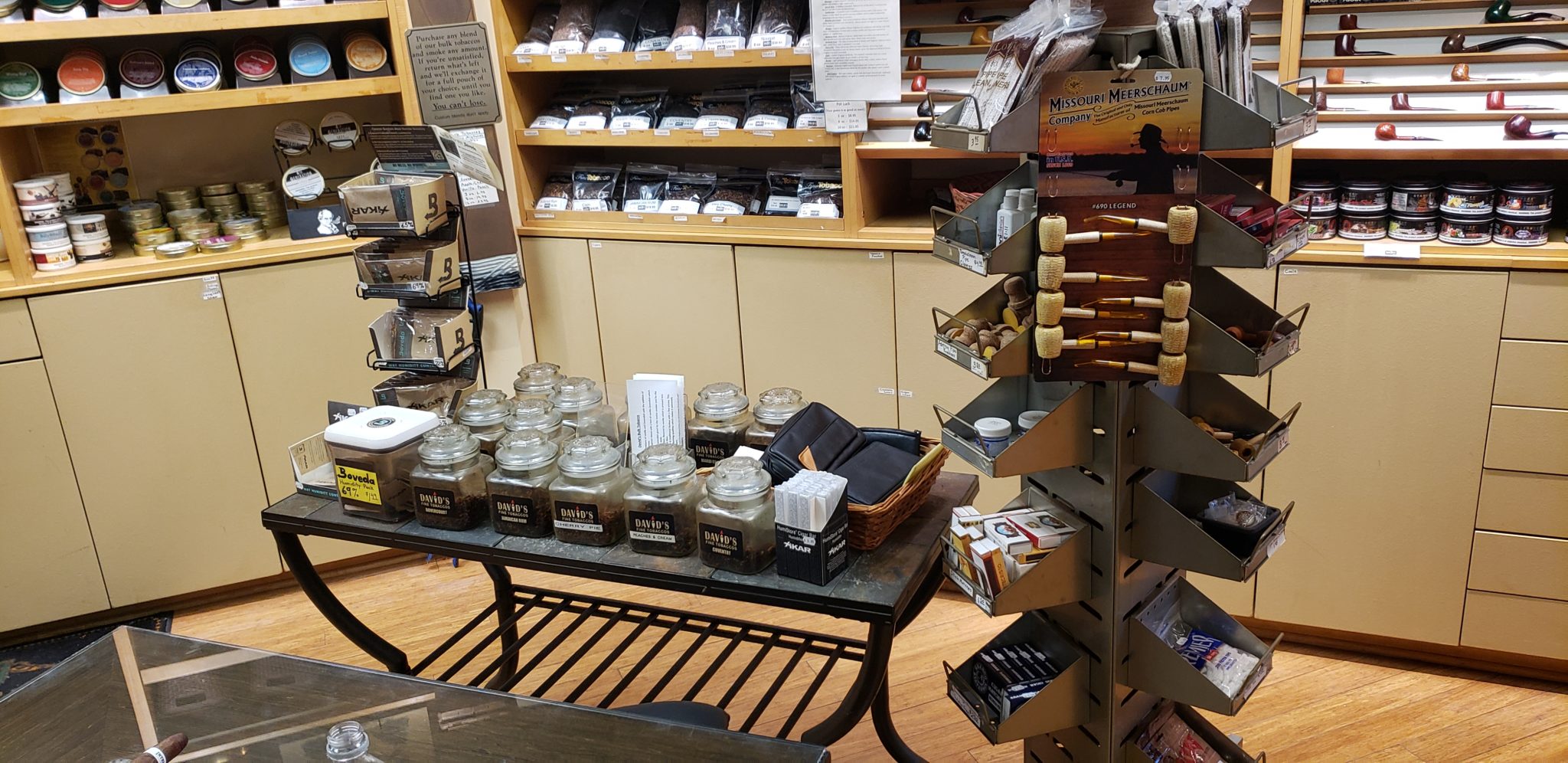 LOUNGE SIZE
This isn't the largest lounge I've ever been in; but it's very open. With seating for up to 36 tobacco enthusiasts (we counted). Again, they make the most out of the space they have. Three televisions accompany several comfortable leather seats. Spacious tables and high backed chairs and stools finish our their area.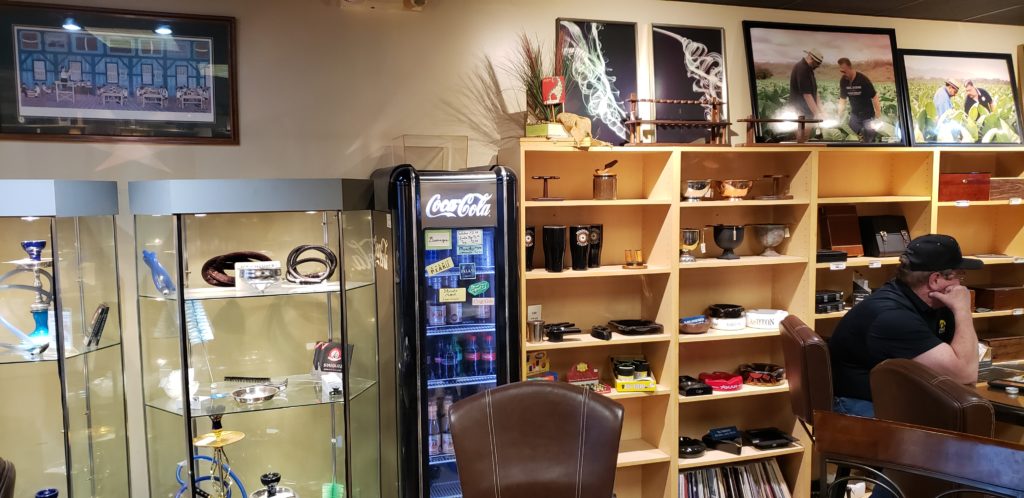 AMBIANCE
The lounge, humidor, and cash&wrap area are all kept very clean. Again, the lounge is limited by its size; however, they maximize the space they occupy very well. All of the accessories, pipe accoutrement, humidors, hookahs, and shisha add to the experience and overall feel of the lounge. They act, almost like decorations that are well placed. The decor hanging from the walls give you a sense that the staff know what they're doing. Above the humidors and ashtrays for sale are two pictures, taken 20yrs apart. One of Greg David and Nick Perdomo in a tobacco field in Nicaragua; and the other of his son, Sean David, and Nick Perdomo in tobacco field in Nicaragua.
The one spot of the lounge that feels out of place is the counter that holds the snacks and coffee under the tv's. 
HUMIDOR EXPERIENCE
I've been able to walk the humidor without being accosted or hovered over by the staff. Once I'd been in there for a few minutes, they ask how I'm doing or if I need help finding something. They're always friendly. The humidor has a lot of great options, and I've never had a cigar explode, unravel, or otherwise be unsmokable from their humidor.
LOUNGE EXPERIENCE
The lounge is always welcoming. The openness of the smoking lounge makes it easy to interact with other PotL; while the tables and small space offer a sense of intimacy and privacy if desired. 
RATING BREAKDOWN
3.00 / 3.00 … Customer Service/Staff Knowledge
3.00 / 3.00 … Selection/Humidor Size/Humidor Maintenance
3.00 / 3.50 … Ambiance
0.35 / 0.50 … Lounge Size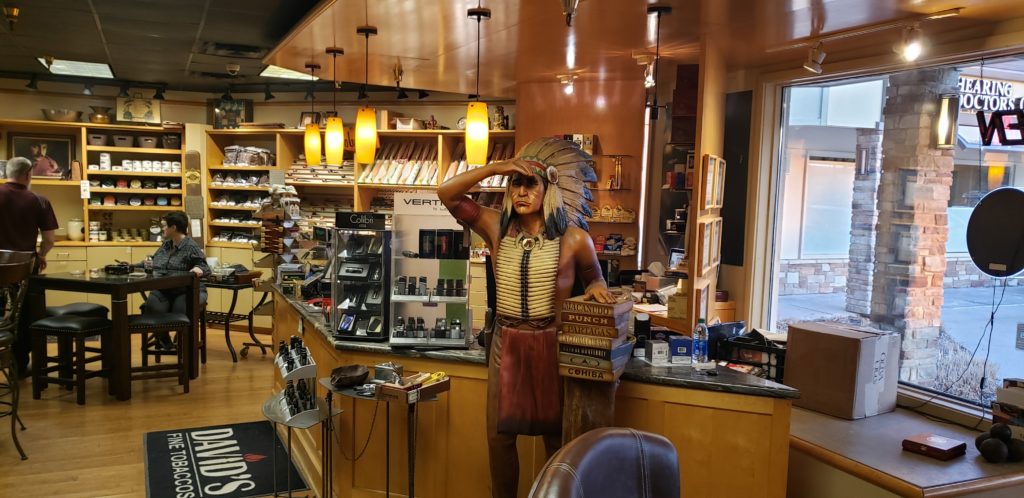 THE BEST DES MOINES HAS TO OFFER.
Between the selection, the location off the interstate, the history of the business, and the staff's knowledge there isn't a lot not to like about this location. David's Fine Tobaccos is our "home lounge" when we're in the Des Moines area. This is a lounge you'll want to experience for yourself. There is a difference between David's and the others in the area…and it all has to do with ambiance! If you want to relax, get to know your cigar, and have a quiet conversation David's Fine Tobaccos is the place to go.
SIMPLY STOGIES RATING:  9.35 / 10.0