For his fifth review at simplystogies.com Michael goes over a classic crossover blend, also known as Aromatic-English, Lane HGL. A crossover blend is part aromatic, part English mixture, perfect for someone who loves the smoky-leather notes but wants to keep their friends around while they enjoy their pipe. These can be an easy introduction into English blends for Aromatic smokers, or less common, a slide into aromatics for devoted English smokers.
Michael gives an overview of the tobacco, describes the tobacco leaf quality and moisture, speaks about the aroma of the blend in the jar and while being smoked, gives detailed tasting notes from three different pipes, both at eighteen months old and fresh off the truck. After a discussion of how this blend behaves over time and in different types of pipes, and he makes comparisons with similar blends, he gives a rating breakdown and ultimate score for Lane HGL.
BULK or TIN:   Bulk
SIZE:   1-16 oz
ORIGIN:   USA
BLENDING HOUSE/PRODUCER:   Lane Limited
BLENDING COMPONENTS:   Cavendish, Virginia, White Burley, Cyprian Latakia

STRENGTH:   1/7
SOURCE:   Your Cigar Den, State College, PA
WHERE:   
Central Pennsylvania staring at the dead and dying leaves
WHEN:   
November 2020
DRINKS:   
Water
WEATHER:   
Growing chilly and cold. Some snowflakes.
WHAT'S ON:   
The hooting of the owls
RELEASE TYPE  available
ORIGINAL RELEASE DATE  Dates back to at least 1946
SPECIAL RELEASE  N
AVAILABILITY BREAKDOWN
o  Bulk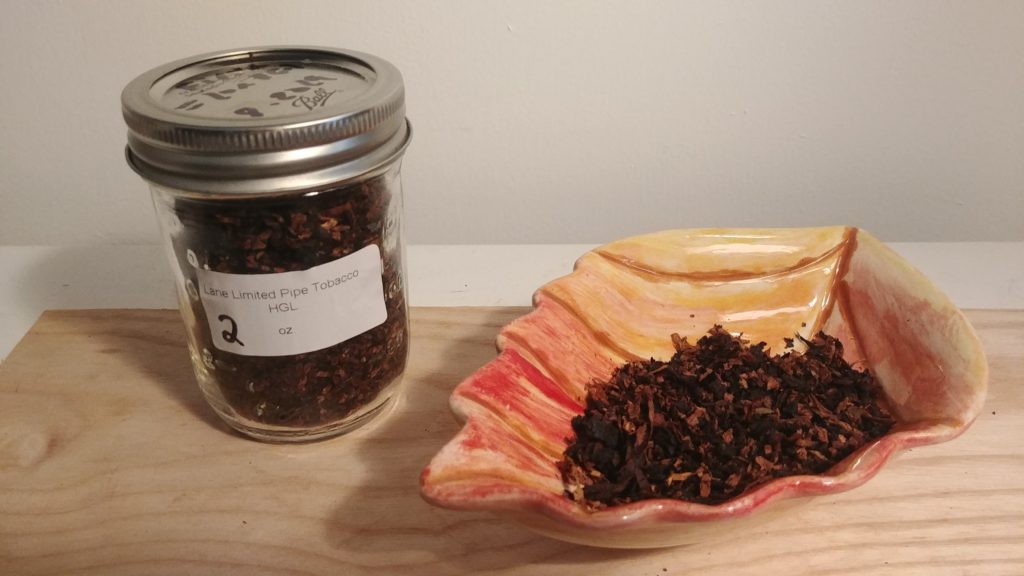 RESEARCH & BACKGROUND INFO
Lane tobacco began in Germany in 1890
Herman G. Lane, grandson of the founder Emigrated to the US in 1938, bringing the company with him
HGL is essentially Lane RLP-6 a classic aromatic with some Latakia added
Legend has it this was Herman G. Lane's personal blend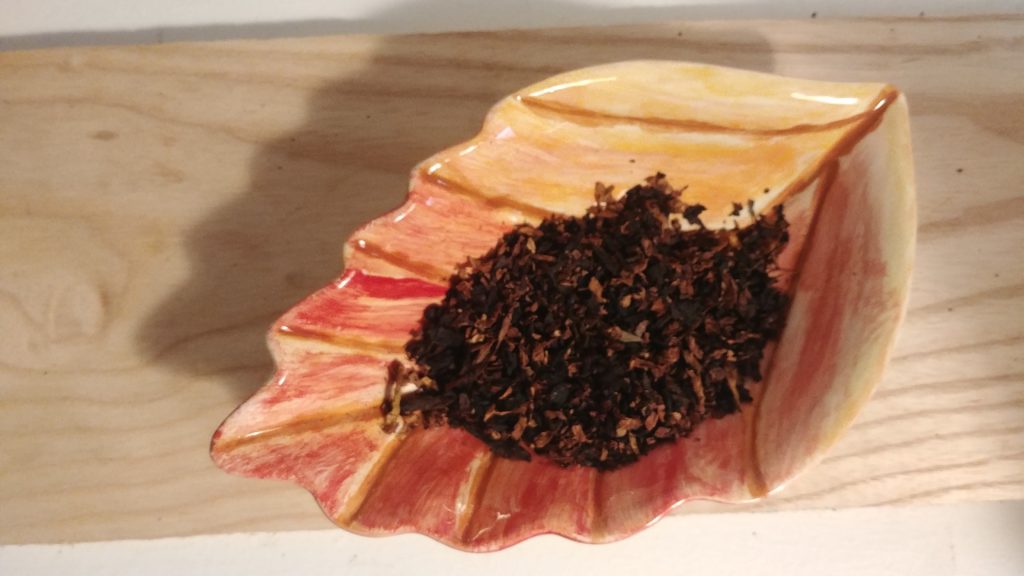 LOOK & FEEL OF THE LEAF
Lane HGL is a departure from your standard 100% Cavendish Aromatic, as you can make out a variety of leaf in the mix, including some thin tawny ribbon, some dark brown chunkier bits, and flecks of black. To the touch the leaf is a bit moist but not in a way that pushes me to dry this for any significant time.
LEAF AROMA
Intoxicatingly rich. Vanilla dominates, spices, or really spiced rum, raisins.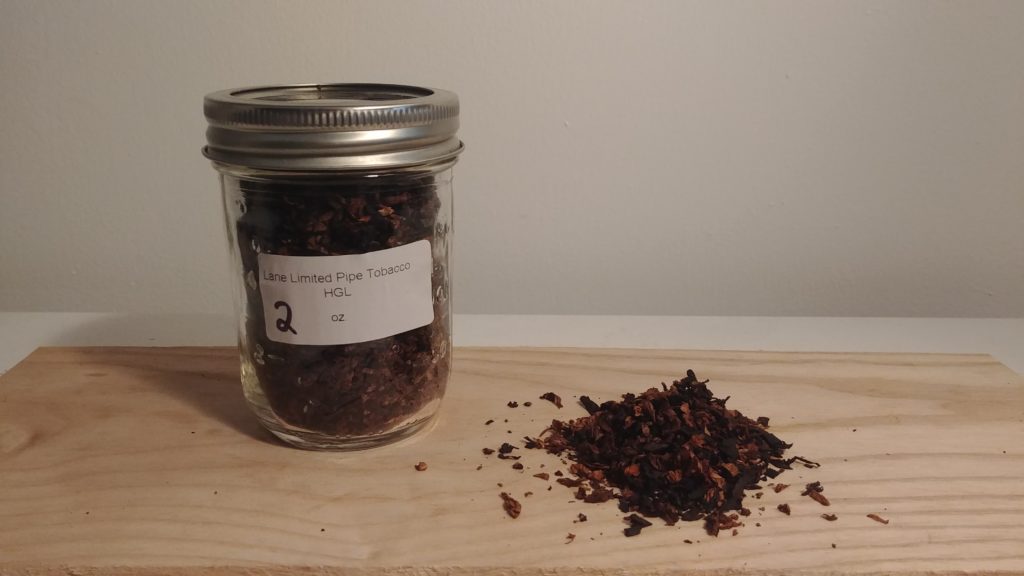 LIGHT & DRAW
Packing Style:  The consistently sized ribbon lends itself easily to the codger scoop, air pocket, and the 2-3 pinch method
Fire:  My cheap and trusty Bic
SMOKE & ROOM NOTE
Like many aromatics, Lane HGL produces a thick, creamy almost velvety smoke.
The side stream from this blend is phenomenal, rich vanilla and caramel sweetness with just a hint of campfire. This smell will stick to your clothes and make you smell delicious for quite a bit after you finish your smoke.
FIRST BOWL
>> Missouri Meerschaum Dwarf Cobbit, 18 months old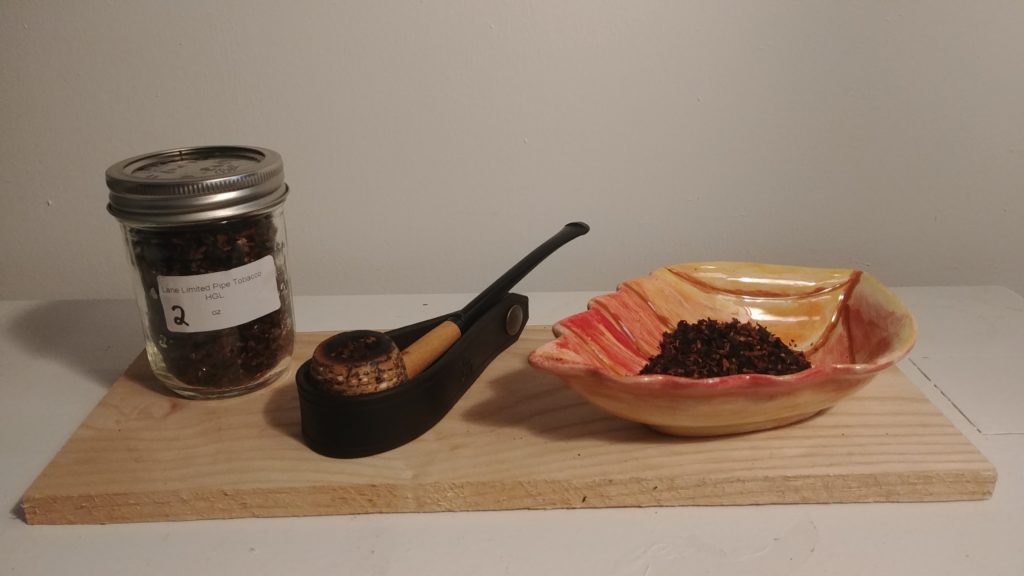 Sweet to start. Vanilla caramel. Toasty tobacco. Hay. Light leather. This produces a very thick, creamy smoke. The nutmeg and cinnamon hidden in the leaf aroma come through. With a warm, creamy taste it comes off very Eggnoggy. Woodsmoke. Butterscotch. A touch of white vinegar. Salt appears and begins to build. The smokiness is just barely there. Incense, salt, and caramel. Lemon-eggnog-salt for a good bit through the middle of the bowl. As you burn through the bowl the sugary dessert portion fades and the Latakia smoke builds, as do the baking spices. 
Without any dry time this took quite a few light and tamps to get this going, but once it was burning it was cool, exceedingly slow smoke.
SECOND BOWL
>> Roma Billiard, 18 month old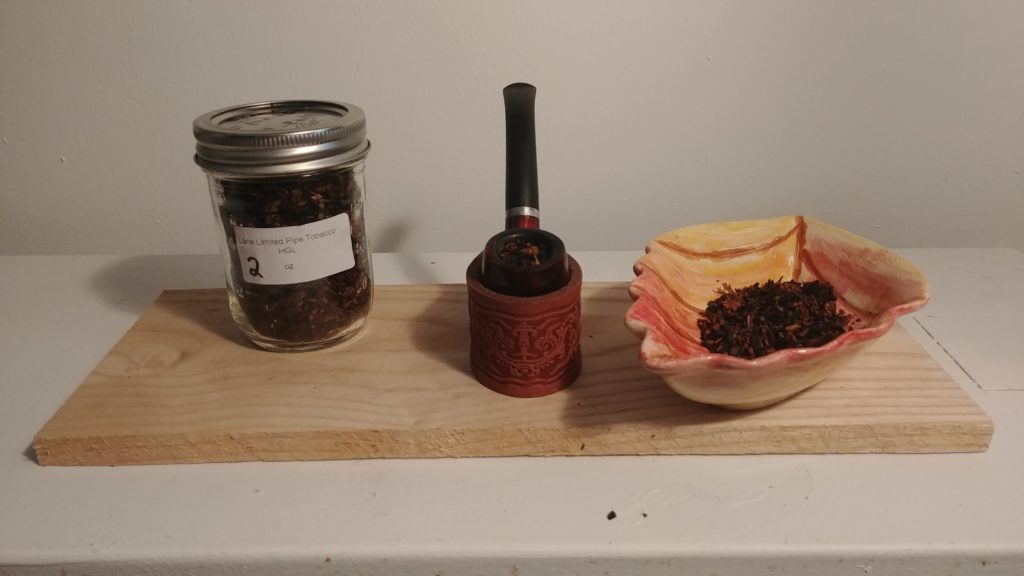 Sweet and a tad smoky. Vanilla-caramel. Spiced rum. Sweet notes but the sugar is just barely there. Smoky bursts. Salt and lots of baking spices. Buttery. Sweet comes back with very slow smoking. Wood bitters. This is a vanilla bomb. Fruits, pepper, apple peel, sour cream. Spices, cinnamon, clove, nutmeg. Lemon sourness. Rich, spicy eggnog.
I felt, like I frequently do with aromatics, that briar seems to swallow up some of the flavors and sweetness from this blend. I also seem to have remembered that this was much, much smokier when I first bought this, so I put in a quick order for a couple of more ounces.
THIRD BOWL
>> AKB Meerschaum Calabash, fresh off the truck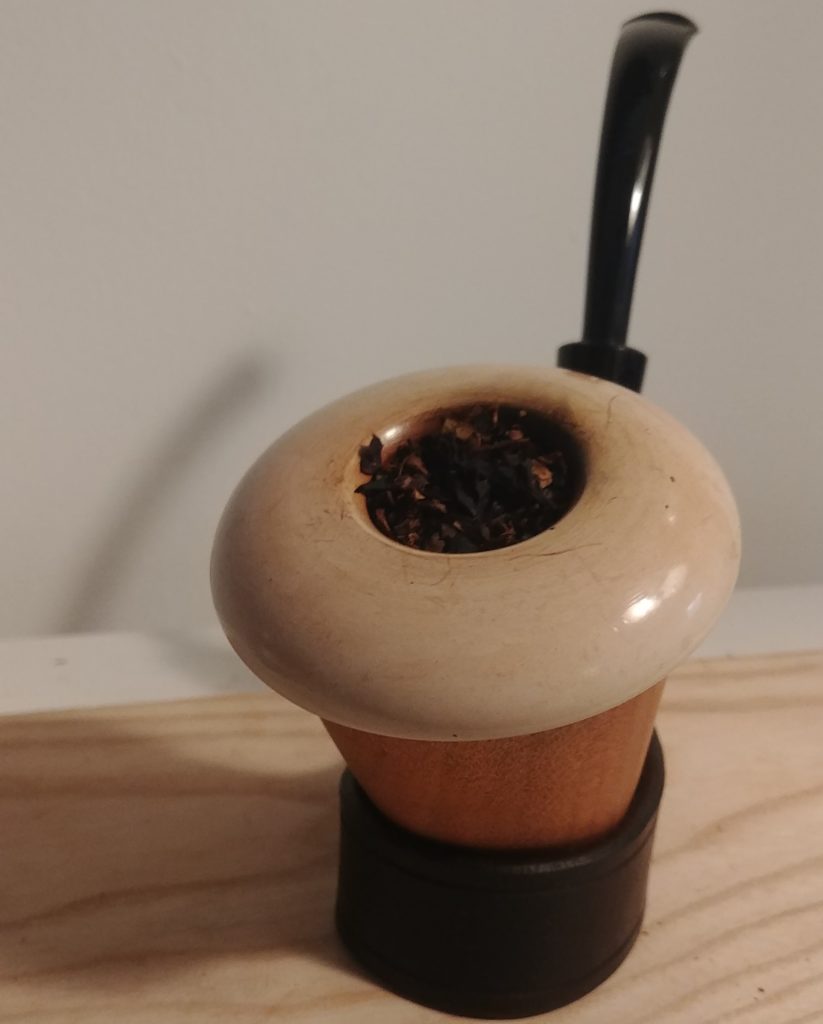 Smoky, really smoky. This is certainly a change. Barely sweet. Caramel. Salt and lemon peel. Very smoky and quite savory. White vinegar. Pine and pepper. Sugar in little pops, but mostly quite dry. Sour. Campfire. Lemon, salt, and unsweet tea. Carmel-vanilla, but mostly just in the aroma. Pine needles. Caramel peeks out here and there. Incense. Raisins. Baking spices. Hay. Light cocoa. The vanilla-caramel tries to break through with more sweetness creeping in. The lemon and salt is ever present. The smoke morphed into leather. Hazelnuts. Sour and smoke again at the end.
FLAVOR PROGRESSION
I've smoked HGL off and and on for over a year now. When I started writing notes for my review I noticed it was far less smoky than I expected. It was still there, but it was subtle, something that showed here and there, would strengthen over the bowl, but never hitting that big smoky-leather note I had recalled. I was so curious if my memory was that wrong I bought some brand new HGL. It was an almost entirely different blend. Aged HGL is a sugary treat with a suave, elegant backbone of smoke. Brand new HGL is a traditional English blend with hints of caramel and vanilla sweetness. It's apparent that rather quickly the smoke fades from this, returning the blend to its RLP-6 roots. It will take some work to identify for me the sweet spot, but I think somewhere between 2-12 months is likely the prime age where it's just balanced between sweet and smoky.
BURN EXPERIENCE
With the caveat that I uncharacteristically chose not to dry this blend for any noteworthy amount of time- many Aromatics seem to lose their oomph once they are exposed to air – HGL doesn't take to the flame particularly well. I seem to need 5-10 light-puff-tamp cycles until I get this stuff lit. Now once it is lit properly it stays that way, and smokes remarkably slow and cool, giving me a much longer burn time than I would expect compared to other blends. If you smoke a bit fast, this will leave some mild tongue bite, but otherwise it's well behaved and burns to a pleasing white ash.
SIMILAR BLENDS
By it's nature, RLP-6 is going to be very similar, and I believe my cob and Roma reviews are really coming close to what that blend offers. RLP-6 is essentially identical to Captain Black White minus the heavy Propylene Glycol that is thrown into the pouch tobacco to keep it fresh, so that should be a very well known point of comparison for smokers around the world.
Moving away from Lane tobaccos, HGL is similar in its makeup to other crossover blends. If you are a fan of the discontinued Frog Morton Cellar you likely will enjoy this, particularly once the initial smokiness fades. Probably most similar is Peter Stokkebye's English Luxury which is a straightforward light English with some Vanilla Cavendish added to it.
RATING BREAKDOWN
0.50 / 0.30 … Craft & Aesthetic
0.50 / 0.50 … Tin Aroma
0.50 / 0.10 … Lighting Process
8.00 / 6.00 … Smoking Experience
0.50 / 0.35 … Personal Enjoyment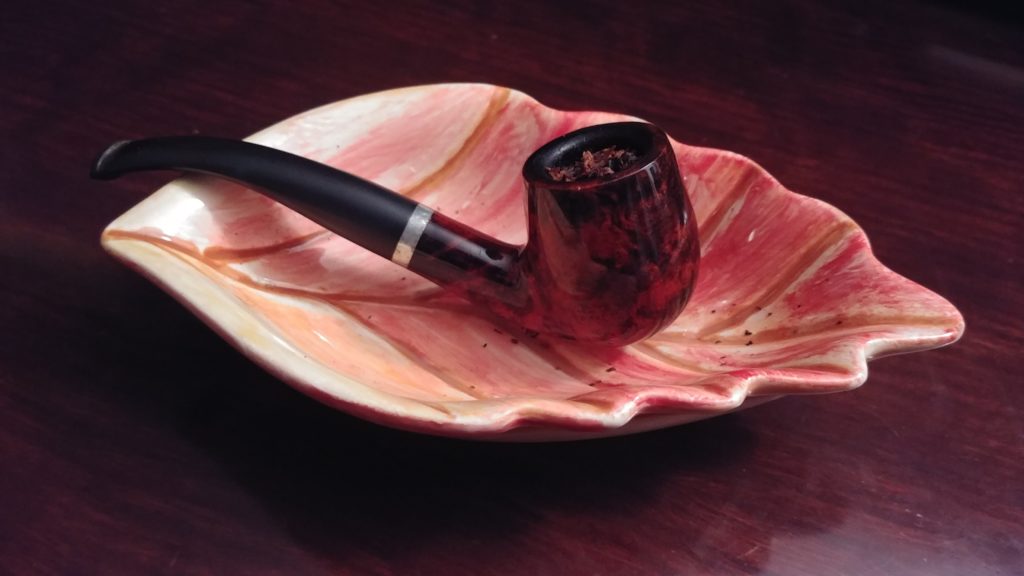 WHAT IS THIS, A CROSSOVER EPISODE?
Crossover blends, part smoky English, part sweet aromatic, offers something to please not only the smoker, but the smoker's company. Lane HGL, a venerable blend nearing 80 years old, has endured because it delivers a rich, smoky-sweet taste with a pleasing caramel-vanilla aroma. It's widely available, inexpensive, and delicious. Its flavor changes rapidly though, so once you find the balance between smoky and sweet is just right, smoke it fast before it loses it's Latakia oomph.
SIMPLY STOGIES RATING:  7.25/ 10.0
I love reading other reviewers' thoughts on the blends I'm smoke – it helps to show that no one review is perfect and there's always different opinions and tastes out there.  Here's how my review stacks up with reviews around the web.
Tobaccoreviews.com
Rating:  2.8/4.0 out 70 reviews
[ link ]