Located in the northeastern region of Kentucky, and hidden away in the Highlands, is the small town of Ashland, Kentucky. Ashland is the largest city in Boyd County, with a population of just over 20,000 (according to the United States Census Bureau). Ashland is full of small town charm, a Main Street USA feel, and all the Southern hospitality you could want. It also has the only cigar lounge in a 2hr radius, FatAsh Cigar Lounge. 
Owned by Dwight Adkins and opened five years ago, FatAsh Cigar Lounge is an oasis in a virtual desert. In its first five years it has seen one expansion and the inclusion of gift shop that boasts baseball caps, fedoras, Scally Caps, their own coffee blends, vinyl records, and "title" belts made by a local. FatAsh is a live music venue for local artists, and a gathering place for local cigar enthusiasts and aficionados. It is also the home for one of the best cigar events I've been to, the annual My Old Kentucky Herf. 
ADDRESS:   8110 US-60, Ashland, KY 41102
PHONE #:   (606) 254-0484
HOURS:   Monday-Thursday: 11pm-8pm; Friday-Saturday: 11am-10pm; Sunday: Closed12pm-6pm
BOOZE AVAILABLE:   N
DRINKS AVAILABLE:   Y 
FOOD AVAILABLE:   N
SMOKING LOUNGE:   Y
WALK-IN HUMIDOR:   Y
SPONSORED LOUNGE:  N
OUTDOOR SMOKING AREA:  Y
MEMBERSHIPS AVAILABLE:  Y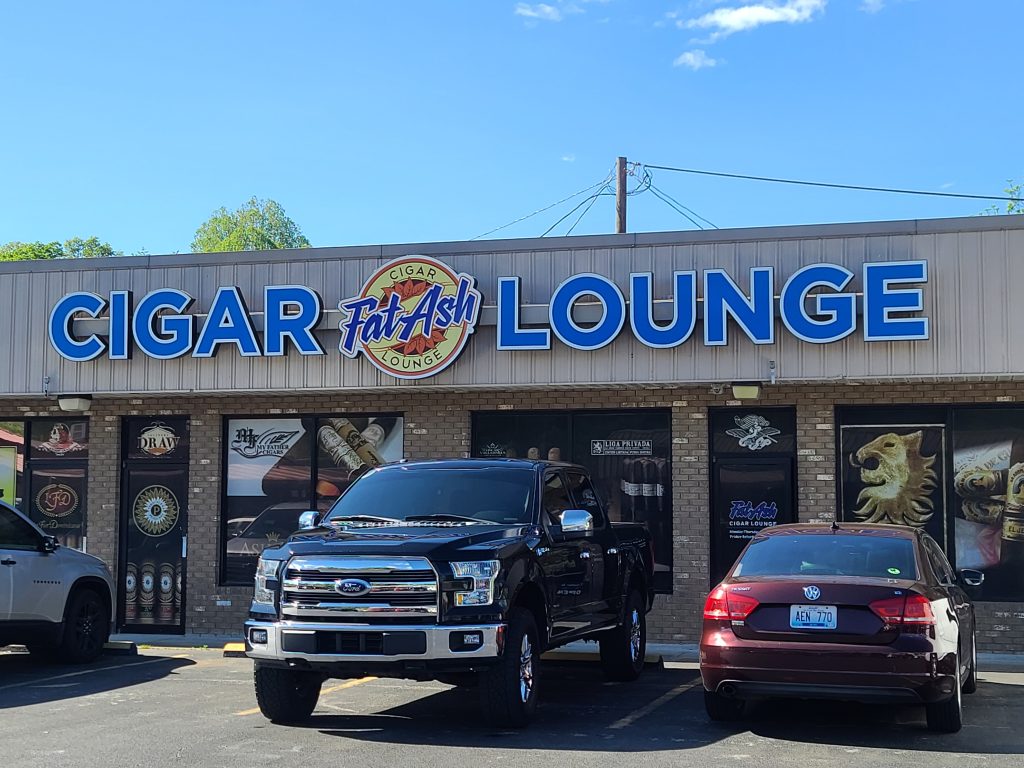 There on US-60, in a strip mall, is FatAsh Cigar Lounge. This one, however, is a little different because there are three separate buildings in the mall area, and FatAsh takes up the most real estate of any of the other stores. It's actually easy to find as it's less than a mile off of Interstate 64. There's plenty of parking spots to accommodate regulars and anyone passing through. FatAsh has two entrances; one entrance is used during regular business hours, and the other is used for their members to use after hours in their 24/7 VIP area.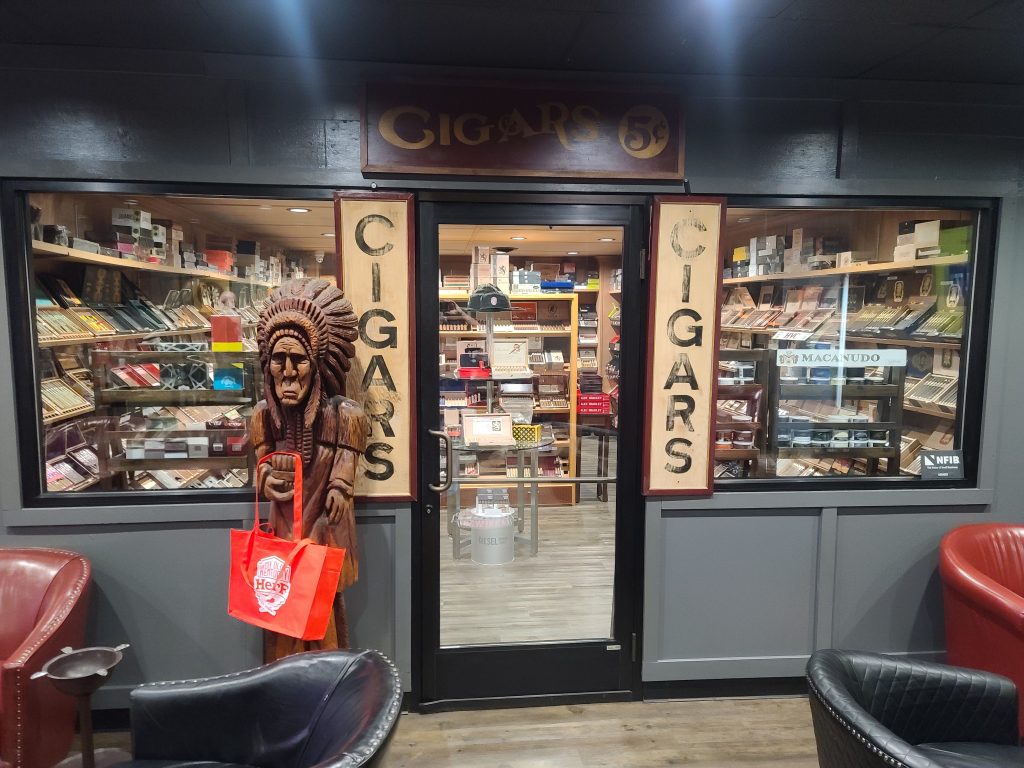 SELECTION/HUMIDOR SIZE

FatAsh Cigar Lounge boasts, what I would consider, a medium sized walk-in humidor. The walk-in has a small table right in front for specials and sales. There are also four shelves at the front of the humidor for cigarillos and pipe tobacco. There is plenty of space for ten to twelve patrons, possibly a few more, to comfortably peruse their selection. 
Speaking of their selection – wow. I mean this with no disrespect but, for a shop in the middle of nowhere their selection is absolutely amazing. Sure, you have your usual suspects like Drew Estate/Liga Privada, Rocky Patel, Cohiba, Tatuaje, and others; but their selection of boutique cigar manufacturers is more than impressive. Brands like HVC, LH Cigars, Plasencia, Micallef Cigars, Fuerte Y Libre, Oscar Valladares, Crowned Heads, and Ace Prime to name just a few. Beyond that, they have some had some hard to find cigars in stock like the LFD Andalusian Bull, Viaje Jalepeno and Carolina Reaper. The shop even had a lounge exclusive fresh pack with Jas Sum Kral called the Continental Breefus.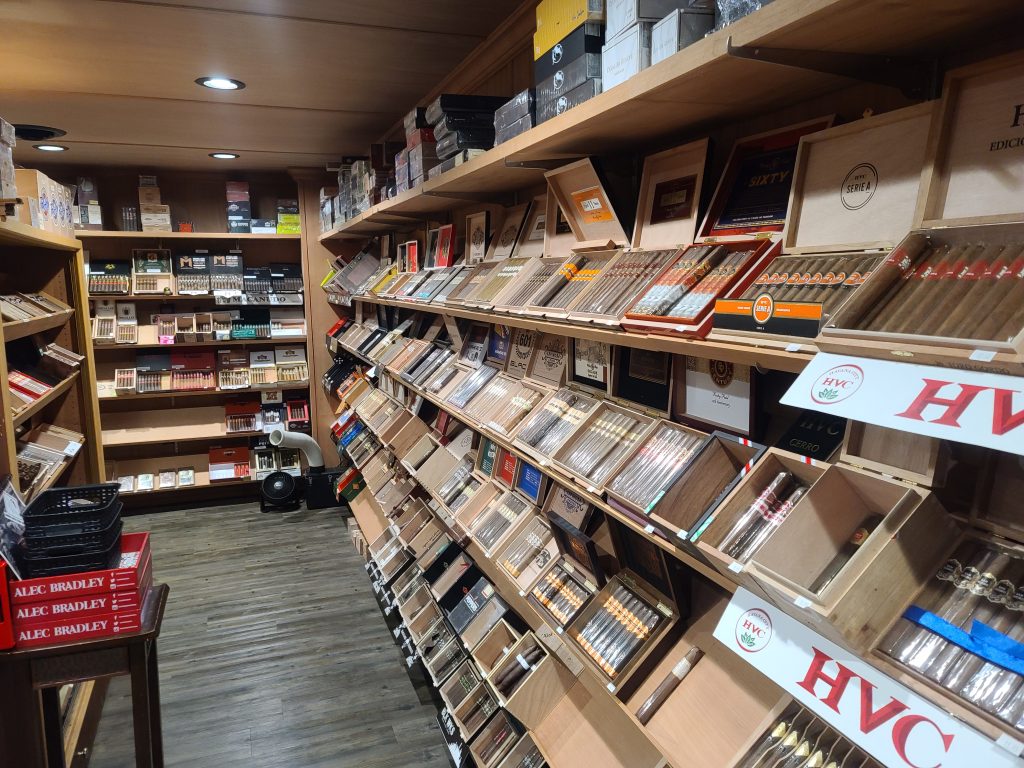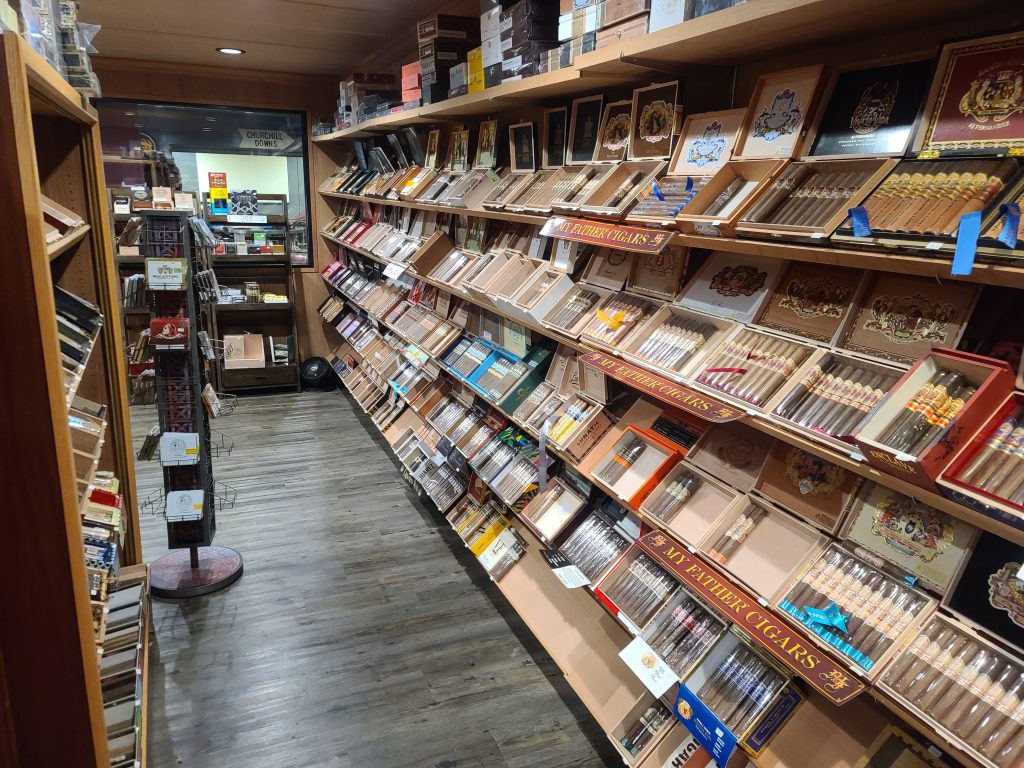 HUMIDOR MAINTENANCE

Dwight, the owner, actually apologized for "the mess in the humidor." I laughed when he did. If you can find the mess in these pics, please point it out because I didn't see one. The humidor was immaculate. No boxes of cigars were on the floor, the overstock was neatly stacked on the top shelf, cigars were arranged by brand, and there was no dust found on anywhere in the humidor. More importantly, there was no mold on any of the cigars. FatAsh has one of the most well-maintained humidors I've been in. 
The maintenance extended to their humidification. I smoked, at least, 10 cigars from their humidor and had no burn issues. FatAsh takes very good care of their cigars and it shows.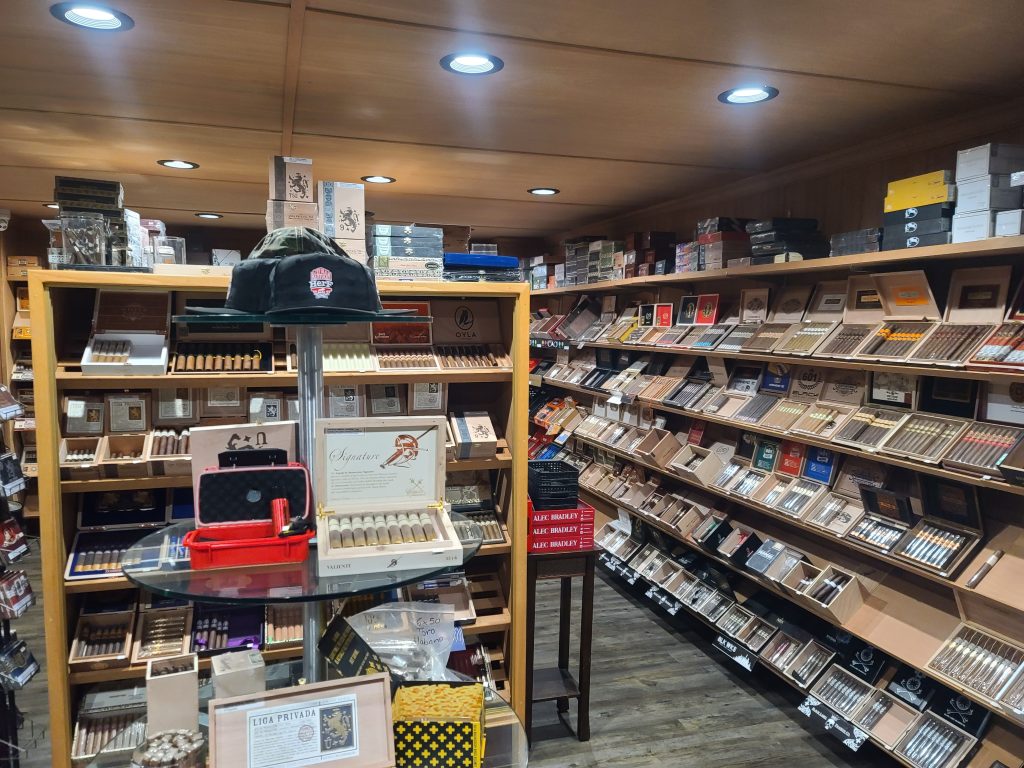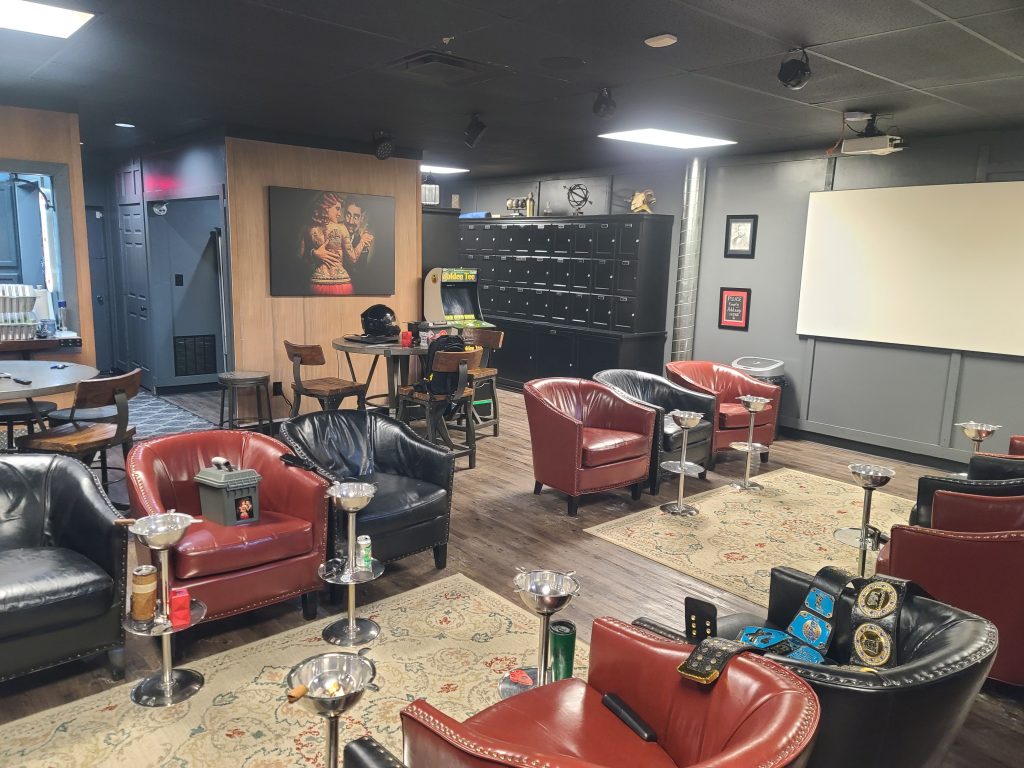 CUSTOMER SERVICE/STAFF KNOWLEDGE

As I mentioned at the beginning of this review, Southern hospitality is not in short supply in Ashland. That goes double for FatAsh Cigar Lounge. In the middle of getting ready for a large cigar event, the 2nd annual My Old Kentucky Herf, the staff was more than friendly and accommodating. Dwight took an hour to just sit and talk with me, though he may have just been trying to get in a quick break from the madness; regardless, the gesture was much appreciated. During that conversation he told me (and I'm paraphrasing), "It may sound corny, but [FatAsh Cigar Lounge] is all about the community." His staff emulated that sentiment the entire weekend.
None of the staff followed me into the humidor to hover. Instead, they asked me if I knew what I was looking for before I entered. They're also very plugged in to the cigar industry. They know what's new and what's trending. The cigar selection bears that out. They know their brands inside and out and they use that knowledge to help new cigar enthusiasts start their journey, and grizzled veterans stay up-to-date on the shiny new things coming out. They'll sit with you and talk about the industry, politics, current events, or even the weather.
What sets great cigar lounges apart from the good ones is their regulars. The regulars are just as friendly as the staff. It may be a "Southern" thing, but it's something that is "symptom" of the culture that the lounge cultivates. And FatAsh has that in spades. That sense of community that Dwight is so proud of is emulated in both his staff and his customers. Case in point, after the 2nd annual My Old Kentucky Herf ended, a donation was taken amongst everyone to send Dwight and his wife on a much needed vacation. Community isn't just a buzzword thrown around at FatAsh Cigar Lounge.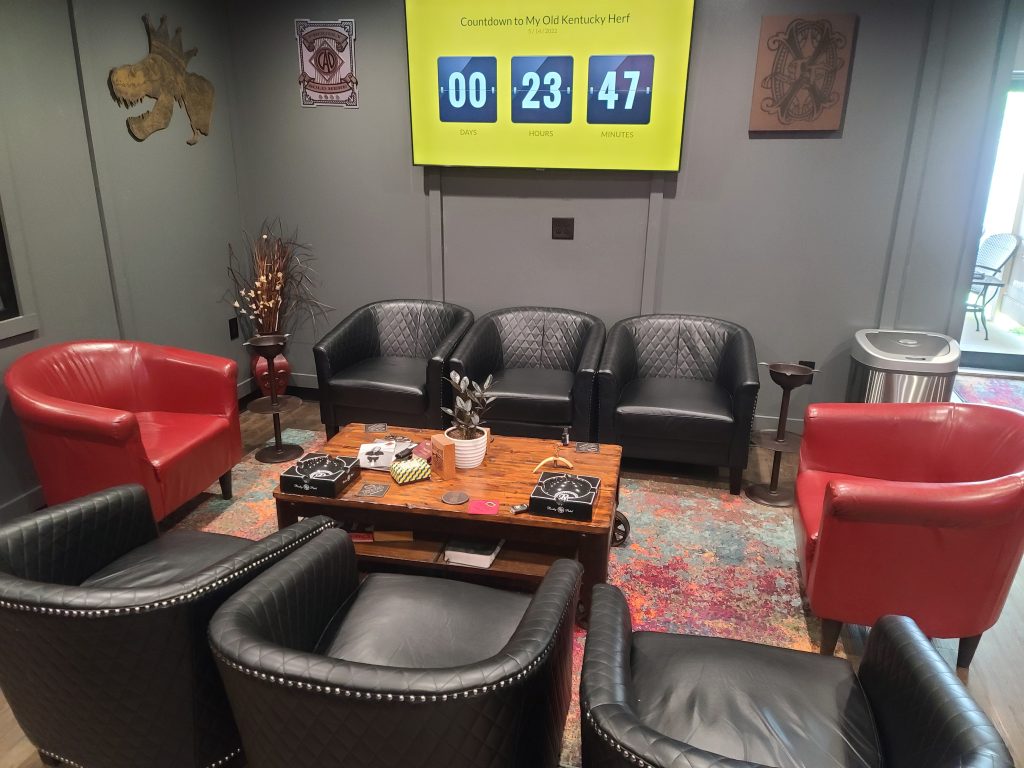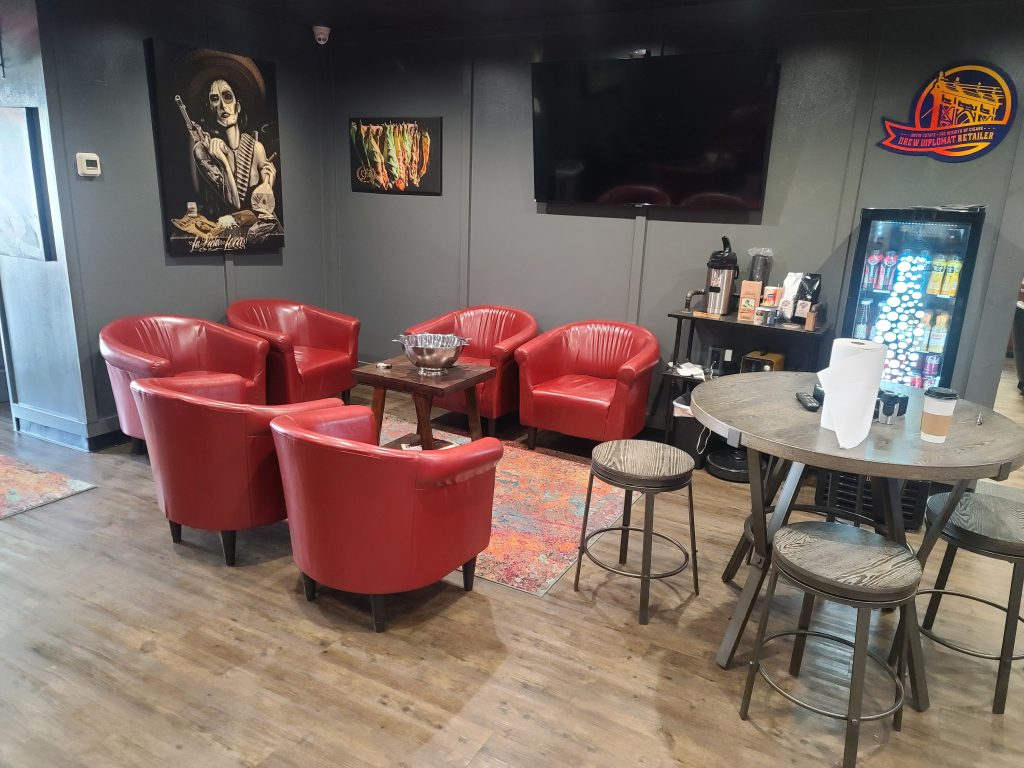 LOUNGE SIZE

This past year FatAsh expanded their lounge area. What was the Member's Only area is now the gift shop. The thing with the "Member's Only" area now is that is open to all customers during business hours. It's an open concept that promotes that feeling of community. There is also several areas with just a few seats for a more intimate parties. The space is bright and spacious with more than enough seating for large events. There's a stage that accommodates live music for local artists and more than enough televisions to watch the game. There's also a spacious patio that easily seats 20+ and has a television if you'd like to watch a movie or a game. 
Smoke isn't an issue at FatAsh. While the space doesn't have high ceilings, the lounge didn't have smoke hanging in the air, even when the member's area was packed. The ventilation was well planned and executed. Plus, there are at least three doors that can be opened if the need arises. The chairs were clean and looked almost new. The walls are adorned with cigar art that lend themselves to the overall feel and vibe of FatAsh.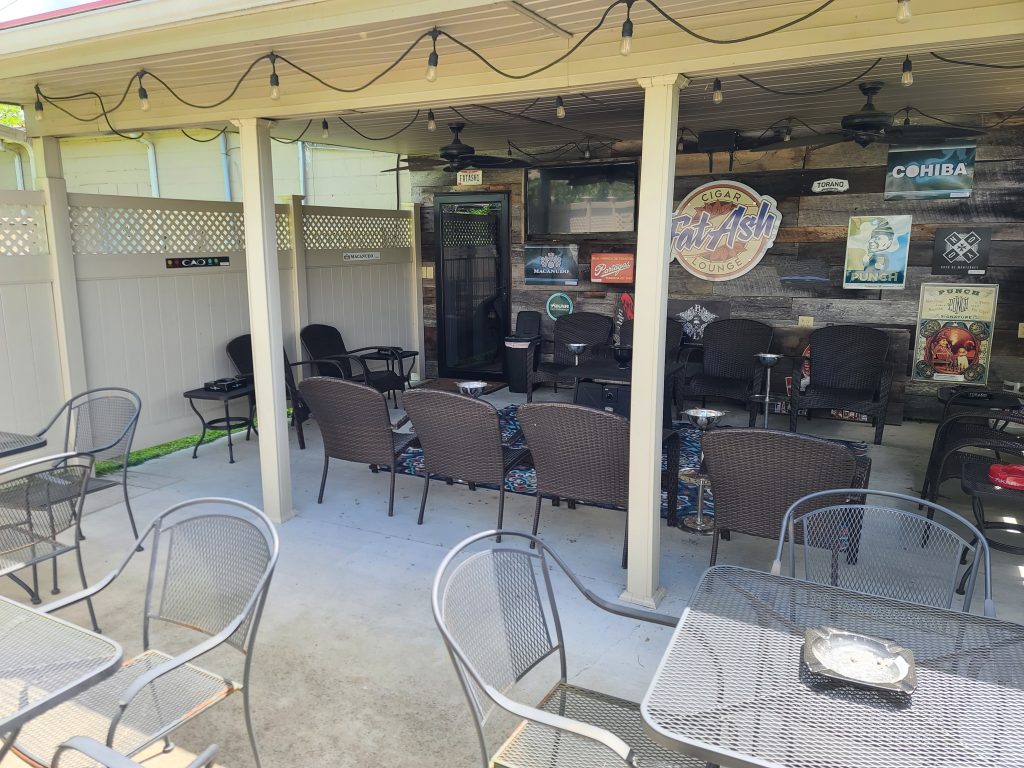 AMBIANCE
Again, maybe it's just a Southern thing but FatAsh has one of the best vibes of any lounge that I've been in. Modern but laid back. There's no pretentiousness. You get what you see. Just friendly folks that take pride in their lounge. The cigar art is tasteful and the walls do not look bare. The lounge and humidor are well lit, which promotes more women cigar enthusiasts to visit. The music is upbeat and, well, southern. A mix of rock and roll, rockabilly, and modern country music. As stated elsewhere in this review, everything is clean and well taken care of. 
HUMIDOR EXPERIENCE
If there was such a thing as the perfect humidor experience, this would be it. The humidor was clean and well maintained, despite Dwight's assertion to the contrary. The selection in the humidor was fantastic…for me. Your mileage may vary. They certainly have a selection that includes some of the usual suspects but if boutiques aren't your thing, you may be disappointed. That's not necessarily a bad thing. They cater to their regulars, and boutiques do quite well in Boyd County. Their customer service is some of the best I've ever seen. I cannot say enough good things about Steven, Tim, Dwight, and the entire staff at FatAsh.  
LOUNGE EXPERIENCE
I've visited a lot of cigar lounges in the past few years and FatAsh Cigar Lounge is up there with some of the best I've been in. What all of these lounges have in common is their commitment to community. Capital Cigar Lounge, Safari Cigars, En Fuego, Cedar Room, Screaming Eagles, Franklin Cigar, and now FatAsh Cigars all have a focus on their communities. They foster a culture of inclusion. In fact, that's one of Dwight's rules, "We are inclusive, not exclusive." There are no rules posted in the lounge; there's no need. The community makes sure that everyone's lounge experience is top notch.
RATING BREAKDOWN
3.00 / 3.00 … Customer Service/Staff Knowledge
2.75 / 3.00 … Selection/Humidor Size/Humidor Maintenance
3.35 / 3.50 … Ambiance
0.45 / 0.50 … Lounge Size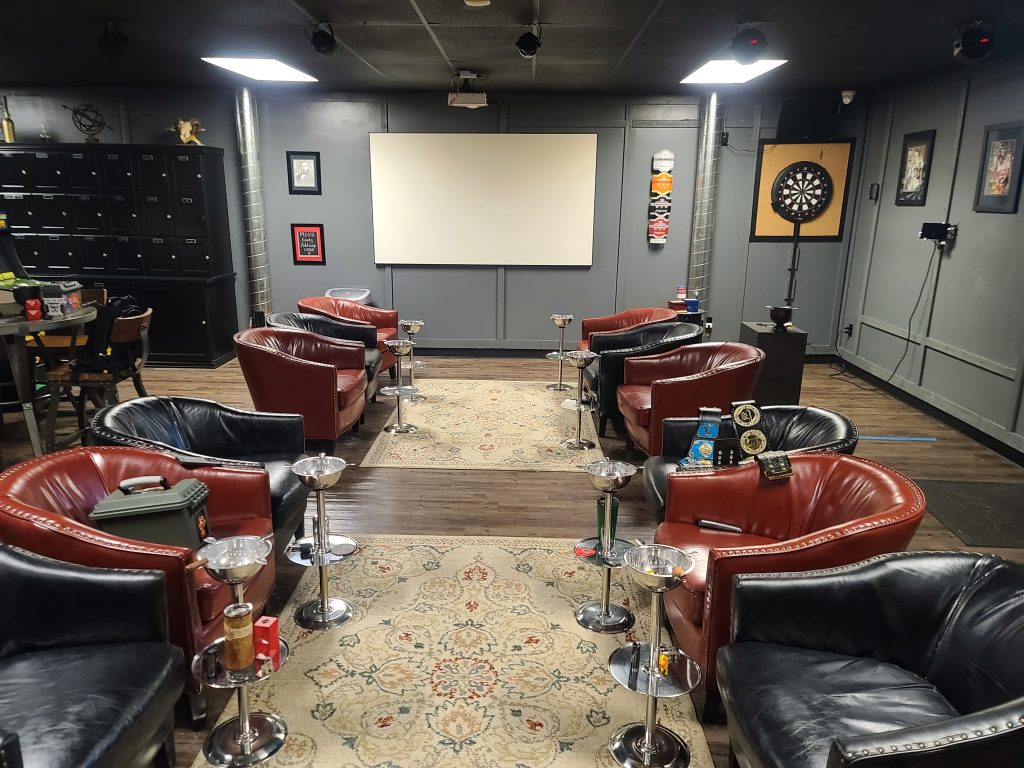 INCLUSIVITY AT ITS FINEST!
Who would have thought that the Highlands of Kentucky would be hiding this gem of a cigar lounge? Certainly not me, but here we are. When my lone complaint is that there aren't enough mainstream cigars in the humidor, you know I've found a new favorite cigar lounge. Their selection is just the tip of the iceberg. FatAsh Cigar Lounge has so many of those intangibles that make a cigar lounge great: knowledgeable staff, fostering a community of inclusion, an owner who is involved and has a genuine love of cigars and cigar culture, a staff who shares that love, and a community that is more than happy to pitch in and make FatAsh Cigar Lounge something special. I talk a lot about "destination lounges," but FatAsh is the epitome of a destination spot. FatAsh Cigars has found the recipe for success – a small town with that small town charm, a heaping spoonful of Southern hospitality, an owner and staff who are knowledgeable and love the cigar culture, a dash of community that are as invested as the owner is, and a commitment to be inclusive. A humidor full of great cigars doesn't hurt either. If you can't make it to Ashland, Kentucky for a weekend then make plans for the 3rd Annual My Old Kentucky Herf May 12-13, 2023.
SIMPLY STOGIES RATING:  9.55 / 10.0