Peter Stokkebye PS 41 Cube Cut is an old fashioned burley forward bulk offering. Cube cut is made by heating then pressing Virginia and Burley in the Cavendish process. This yields a hard plug that is then chopped into hard, dense little nuggets.
Michael gives a brief overview of PS 41, its production, and components. The leaf and moisture content is described. The smoke and room note are given before detailed tasting notes are given using three different pipes at three short, medium, and long drying times. The flavor progression is given, along with some notes on the burn experience. A list of similar tobaccos are enumerated. Each aspect is rated individually, then a summed rating is given, along with a final summation of Peter Stokkebye's PS 41 Cube Cut.
BULK or TIN:   Bulk
SIZE:   Typically sold in 1-16 OZ
ORIGIN:   Denmark
BLENDING HOUSE/PRODUCER:   Peter Stokkebye
BLENDING COMPONENTS:   Burley and Virginia
STRENGTH:   2/7
SOURCE:   smokingpipes.com
WHERE:   
The Frozen Wastes of mid Pennsylvania
WHEN:   
January-February 2021
DRINKS:   
water
WEATHER:   
Snow, sleet, and sub freezing temperatures
WHAT'S ON:   
The eerie silence of deep winter
RELEASE TYPE  available
SPECIAL RELEASE  N
AVAILABILITY BREAKDOWN
o  Bulk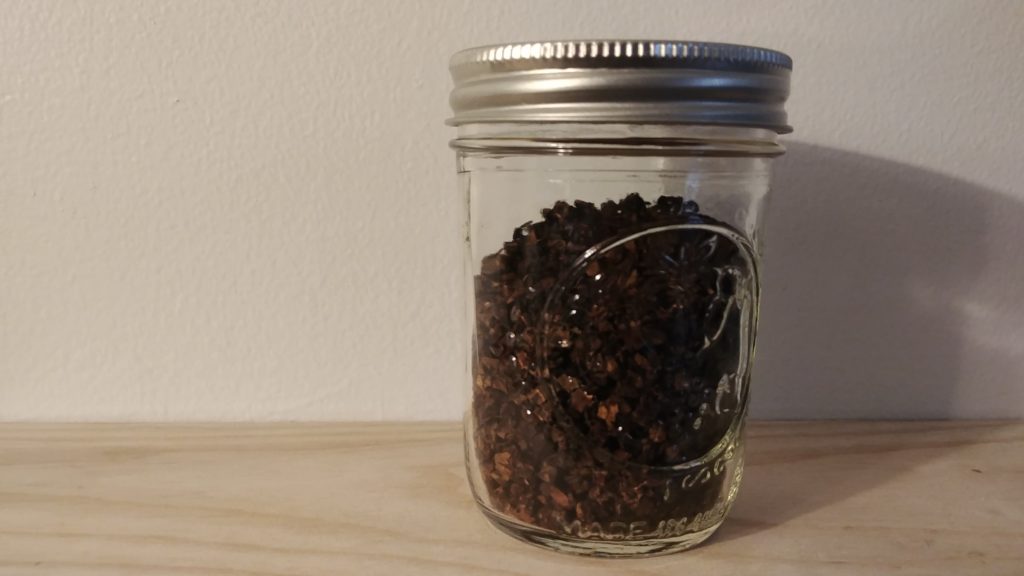 RESEARCH & BACKGROUND INFO
Long standing part of the Peter Stokkebye Bulk Line Up
Burley and Virginia are hot pressed into a Cavendish 
Pressed tobacco is then cube cut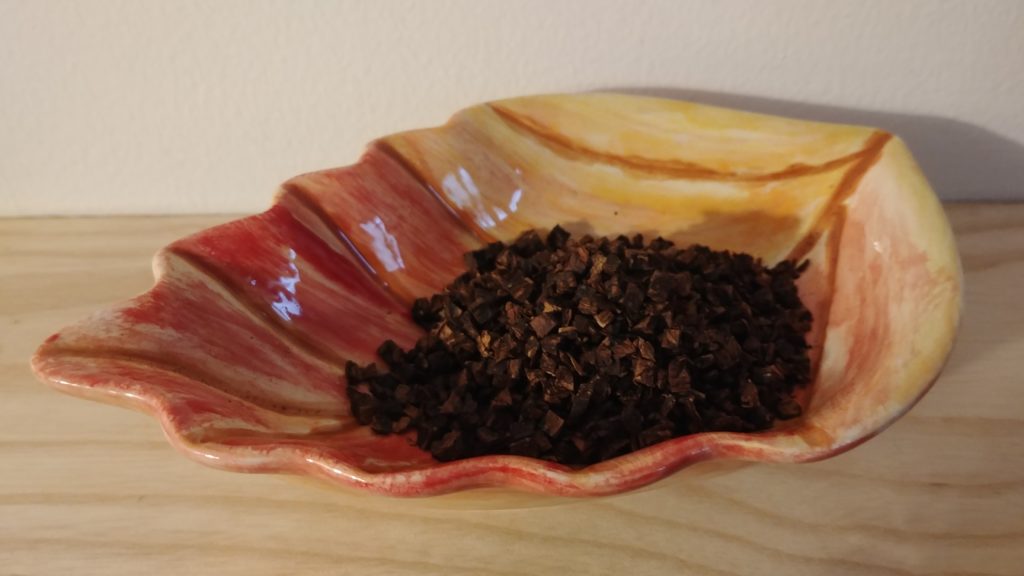 LOOK & FEEL OF THE LEAF
Unsurprisingly, Peter Stokkebye's PS 41 Cube Cut, is a cube cut tobacco. It is remarkably moist to the touch though and needs extensive drying. The little nuggets are quite hard and very dense, promising a difficult light but a long burning time.
TIN AROMA
Opening my jar of Cube Cut releases a chocolatey aroma. Putting my nose down into the jar I can suss out molasses, raisins, and red wine.
LIGHT & DRAW
Packing Style:  The Cube Cut really only offers two options, gravity feeding the pellets into your bowl or using the codger scoop, which attains the same effect.
Fire:  My spaceman bic
SMOKE & ROOM NOTE
The smoke itself is perfectly average, being neither thin nor thick. Sniffing the smoke you'll be greeted with a warm sweet, nutty aroma with just a touch of fruitiness, which matches the unburnt tobacco quite well.
FIRST BOWL
>> Briarworks Buckeye, 1 hour dry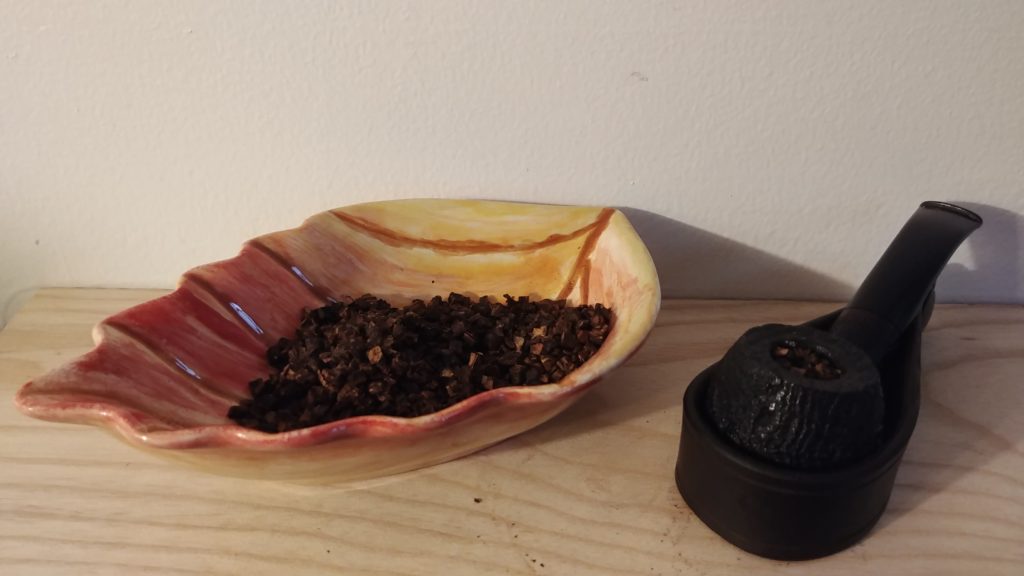 Cream, fruity, and lightly sweet. There's a tinge of pepper here. Some hickory smoke. A rich burley taste, so nutty-cocoa-coffee. Mild oak. The smoke is oily in the mouth. Fruity and some light vinegar balances out the richness. The pepper builds. For a very long stretch the smoke stays on the pepper, dates, hazelnuts, and cocoa. Towards the end it grows even spicier, almost a cayenne pepper, matched with a creamy, caramel, coffee.
This was an enjoyable smoke, but it took ages to get lit and then required numerous relights to keep going. I was surprised at the pepper note which nothing in the blend or description prepared me for. This was an exceptionally long smoke. Normally this bowl gives me a 20-30 minute burn, but this was somewhere around 50 minutes of smoking time. 
SECOND BOWL
>> Vermont Freehand Morta Cherrywood, 3 hour dry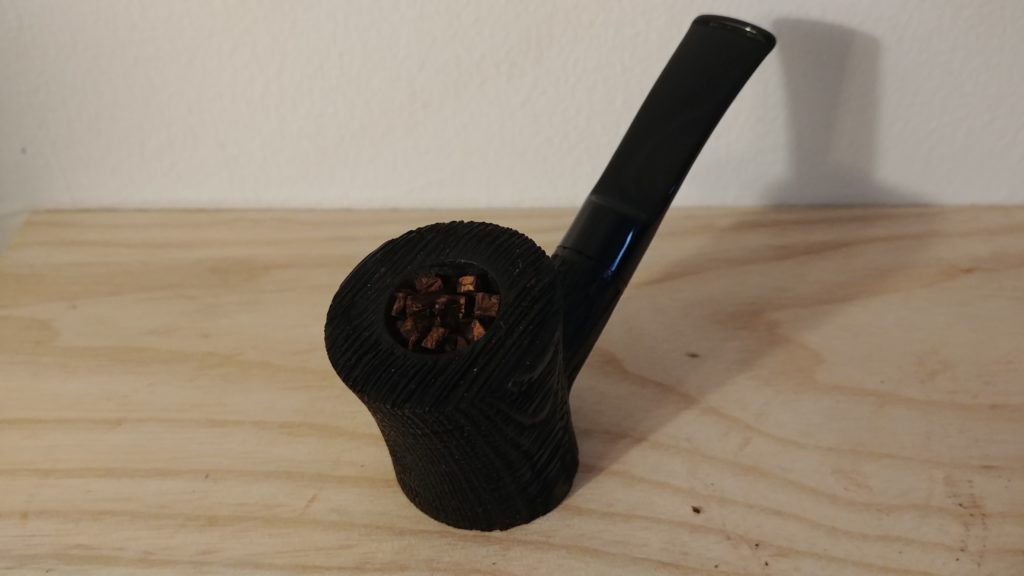 Plummy, sweet, and dry cocoa. Raisins, peanuts. A whiff of Worcestershire sauce. Salty too. Sour cream. This blend is much more Virginia dominate so far. The smoke is oily again. That now expected unexpected pepper comes through with jammy notes, cream, and cayenne. Soft sweet, spicy, fruity. Hazelnuts. Cocoa. It's very much fruit cake with a dash of chocolate and a sneaky shake of cayenne pepper. Black bread. Again it's consistent through the long middle. Towards the end it grows oaky, and shows some leather and earth.
It took slightly less effort to get this to light and it went out less frequently, but I'd say the performance was still south of average. Smoking this in a completely different pipe showed that strange pepper was no fluke. Even with the extended drying the burn time was immense at well over an hour.
THIRD BOWL
>> Lepeltier Clay Burley, 22 hour dry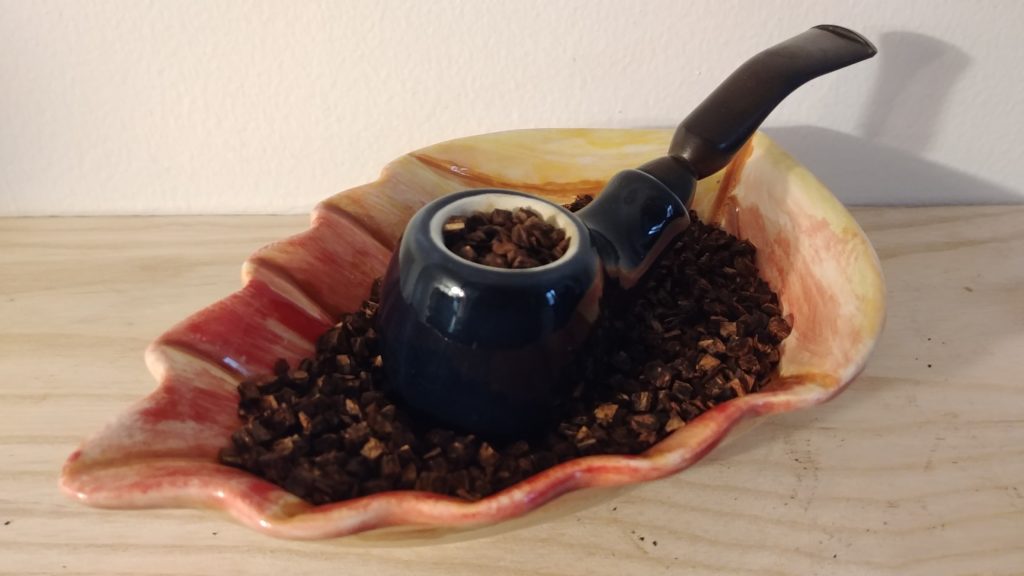 Starts with raisins, dates, and sour cream. A mild pepper creeps in. Light leather and earth. Grows sweet and sharp, with a noticeable red wine vinegar tang. Cocoa and cream. Salt, Worcestershire sauce, and a whiff of gasoline. Wood char. Cream, red wine, and salt. Finally settles into a sweet sulfur, incense, citrus peel, lemon oil thing for a long stretch.
About halfway through the burley arrives with cocoa, coffee, and macadamia nuts. The red wine vinegar hangs on but the rest falls off like a cliff. It's far less sweet, but more creamy-musty, with some leather and earth returning. Keeping with its idiom, it maintains this profile till it's all dottle.
Even with the nearly one day long dry time it still was a chore to light and needed several relights.
FLAVOR PROGRESSION
Unless you overdry it, PS Cube Cut is on the more consistent end of pipe tobaccos. It takes a few minutes to stretch its muscles, but once it does you'll settle in for a consistent but in no way boring experience for most of the smoke. If you overdry it, it still is consistent, but in two halves, first Virginia then Burley.
BURN EXPERIENCE
I have smoked worse burning tobaccos but I've never smoked a worse performing Virginia-Burley blend. Typically those are amongst the easiest of all to smoke, like the perennial Carter Hall. Even drying this aggressively doesn't do much to improve the burn.
SIMILAR BLENDS
Solani Aged Burley Flake, Carter Hall, Esoterica Stonehaven, Wessex Burley Slice, Sutliff Ready Rubbed Match, Sir Walter Raleigh
RATING BREAKDOWN
0.45 / 0.50 … Craft & Aesthetic
0.45 / 0.50 … Tin Aroma
0.00 / 0.50 … Lighting Process
4.75 / 8.00 … Smoking Experience
0.25 / 0.50 … Personal Enjoyment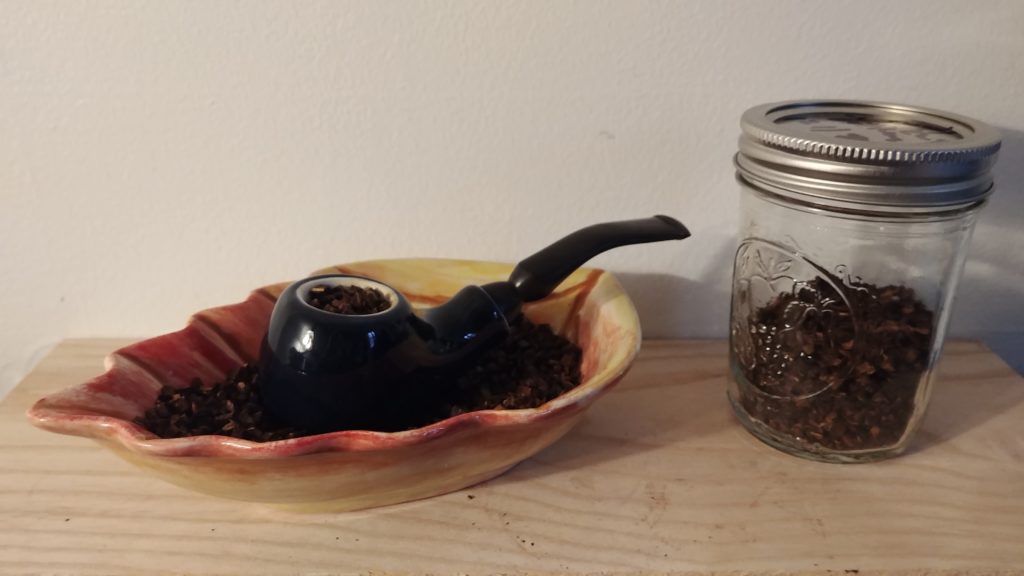 MORE FUN THAN A RUBIX CUBE.
While Peter Stokkebye 41 Cube Cut's mechanics certainly present a challenge, the reward for meeting that challenge are deep, rich, and varied flavors that should please any burley smoker. The flavor profile is an intriguing halfway point between the elegant and expensive burley flakes from Solani and Wessex, and the sweetened codger style burley blends which included Sir Walter Raleigh, Lane Ready Rubbed, and Sutliff's Ready Rubbed Match. At the price of less than $3 an ounce, far less if bought at volume, this is a great bulk blend to found one's tobacco cellar upon.
SIMPLY STOGIES RATING:  5.9/ 10.0
I love reading other reviewers' thoughts on the blends I'm smoke – it helps to show that no one review is perfect and there's always different opinions and tastes out there.  Here's how my review stacks up with reviews around the web.