Though I became a pipe smoker in 2014, it wasn't until two years later I found myself in a real pipe store, Iwan Ries in the midst of Downtown Chicago. It's a beautiful store, full of warm wood and delightful aromas. I was served by a dapper gentleman who was a devoted smoker himself. He helped me choose various tins, pointed me towards the Syrian Leaf, which was in its last blush. As I was rounding out my selections he noticed my predilection for Balkan blends, and pointed me at this large yellow tin, Dan Tobacco's Bill Bailey's Balkan. He said while there were many great Balkans, he kept coming back to it. Somehow that tin settled to the bottom of my cellar, forgotten. This summer when I was digging around for a Balkan, I spied that big yellow tin. Let's see if that long ago recommendation holds up.
BULK or TIN:   Tin, Large Format Pouch
SIZE:   50g tins, 250 g and 500 g pouches
ORIGIN:   Germany
BLENDING HOUSE/PRODUCER:   Dan Tobacco
BLENDING COMPONENTS:   DFK, Virginia, Latakia, Turkish, Perique

STRENGTH:   2/7
SOURCE:   Iwan Ries
WHERE:   
Nowhere Pennsylvania
WHEN:   
August-October 2021
DRINKS:   
Water
WEATHER:   
The first cool days of the year
WHAT'S ON:   
I think…I think those are bats
RELEASE TYPE  Available
SPECIAL RELEASE  N
AVAILABILITY BREAKDOWN
o  Tin
o  Large format pouch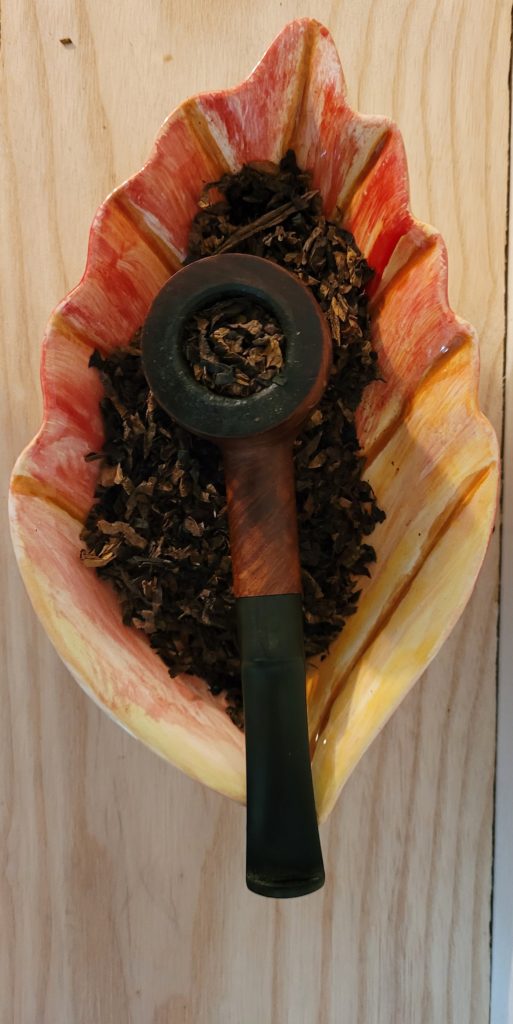 RESEARCH & BACKGROUND INFO
Dan started a Danish pipe company in 1972
Dan Tobacco was an extension of the company in 1991
This used to be listed as 40% Latakia
That Latakia had been listed as Syrian but that is no longer how it is advertised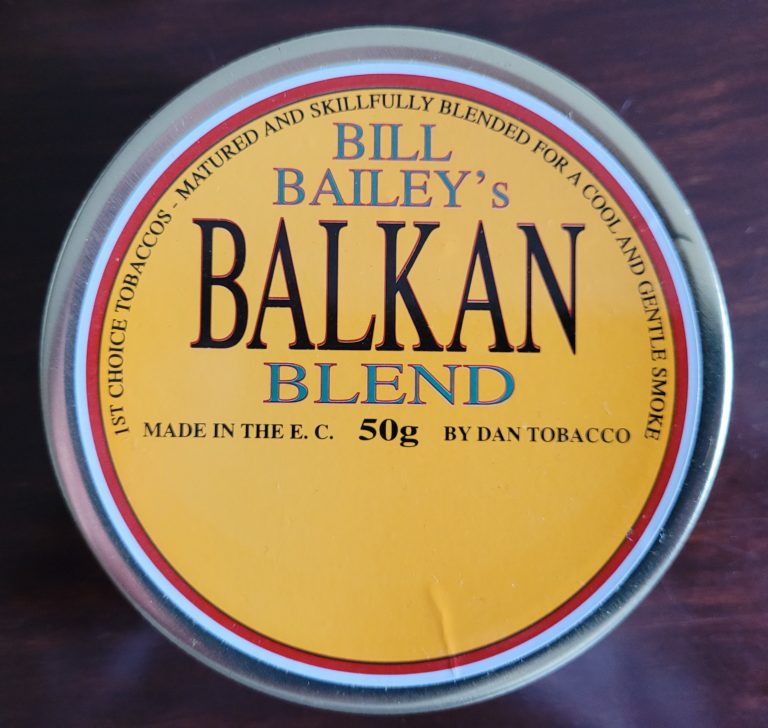 I have seen plainer tins. It's yellow? It's round. It's got it's name on there. What's different about this is that it's very thick round tin, probably twice as deep as a standard round tin. But as you'll see below, there's a good reason for the large size.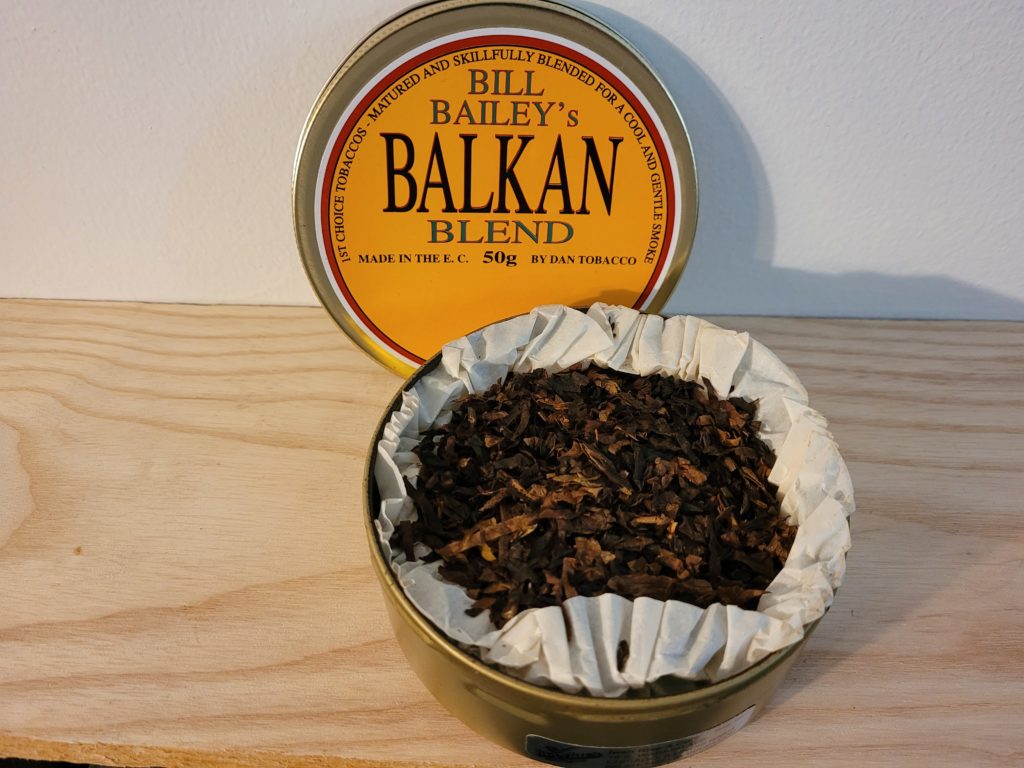 LOOK & FEEL OF THE LEAF
The look of Bill Bailey's Balkan is generic English, mostly dark brown, with some black, and tan leaves, all in a short, medium ribbon. The feel of this is not typical for an English. It's nearly sopping wet. I realized quickly it did not burn or taste great this wet so I ended up drying up the whole tin which illuminated exactly why they ship at this moisture. There's no other way they could jam this 50g of tobacco into this 100g sized tin. 
TIN AROMA
Campfire, maple syrup, and seawater. 
LIGHT & DRAW
Packing Style:  This stuff is fluffy but doesn't squish so much when you pack it, which makes it perfect for a once pinch or other codger pack.
Fire:  Astronaut bic
SMOKE & ROOM NOTE
The smoke is of medium thickness, maybe just past, a bit chewy even. The smoke has a lovely campfire note.
FIRST BOWL
>> Savinelli 121, fresh from the tin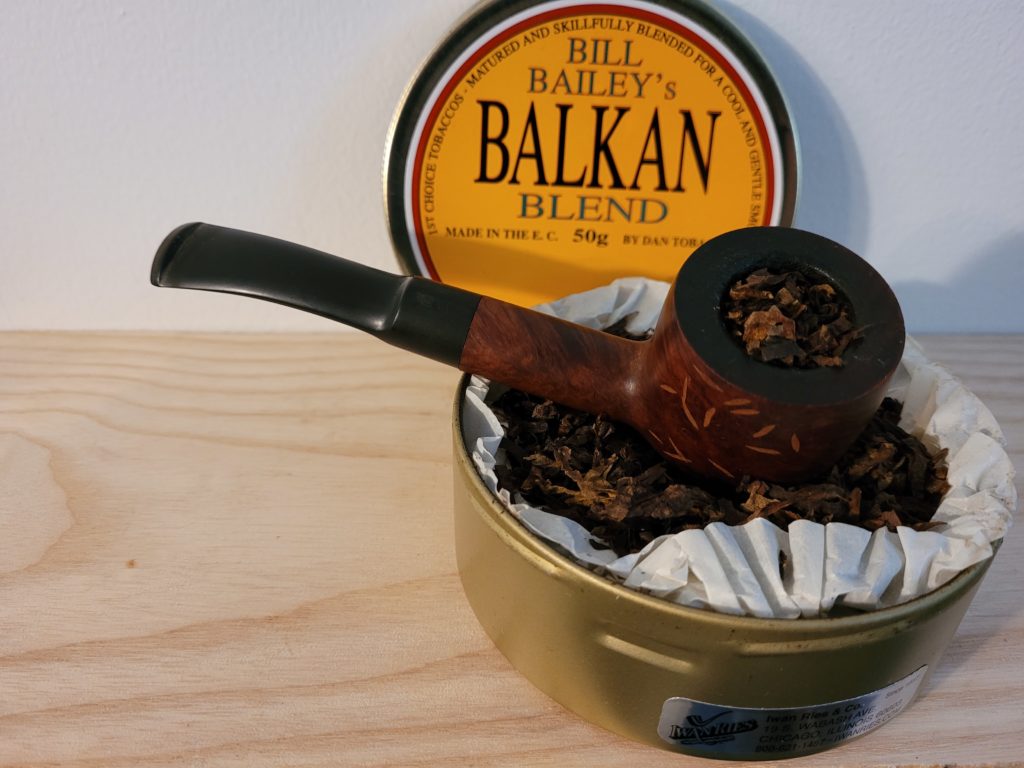 Sweet and earthy. Floral but no soap. Lightly salty. Kinda watery. A vinegar sharpness blunted by some heavy earth. Mild pepper. Petrichor. Herbal, hmm, marjoram and thyme. And a very distinct oregano. Now garlic. But all of it's fairily muted by the earth. Sichuan heat and some lavender. Sweet, and some milk chocolate, which melds surprisingly well with the vinegar, earth, herbs, and floral notes. It turns sharper and smokier, lemon peel and lemon juice, and a soft campfire. Grows incredibly salty. Butter and oily. Sharp and cocoa. Peaty. Heavy black pepper. Lemon, oregano, vinegar. Peaty, earthy, over  floral base, cocoa, cinnamon at spots. Grows ever spicier, into cayenne territory.
This was a bit too peppery to be my ideal blend, but it's got those Balkan notes the label promises, it's quite interesting, and different from any other Balkans I've had.
This required numerous relights which is quite unusual for an English. It's time to dry this wet leaf right out.
SECOND BOWL
>> Savinelli 121, 2 hour dry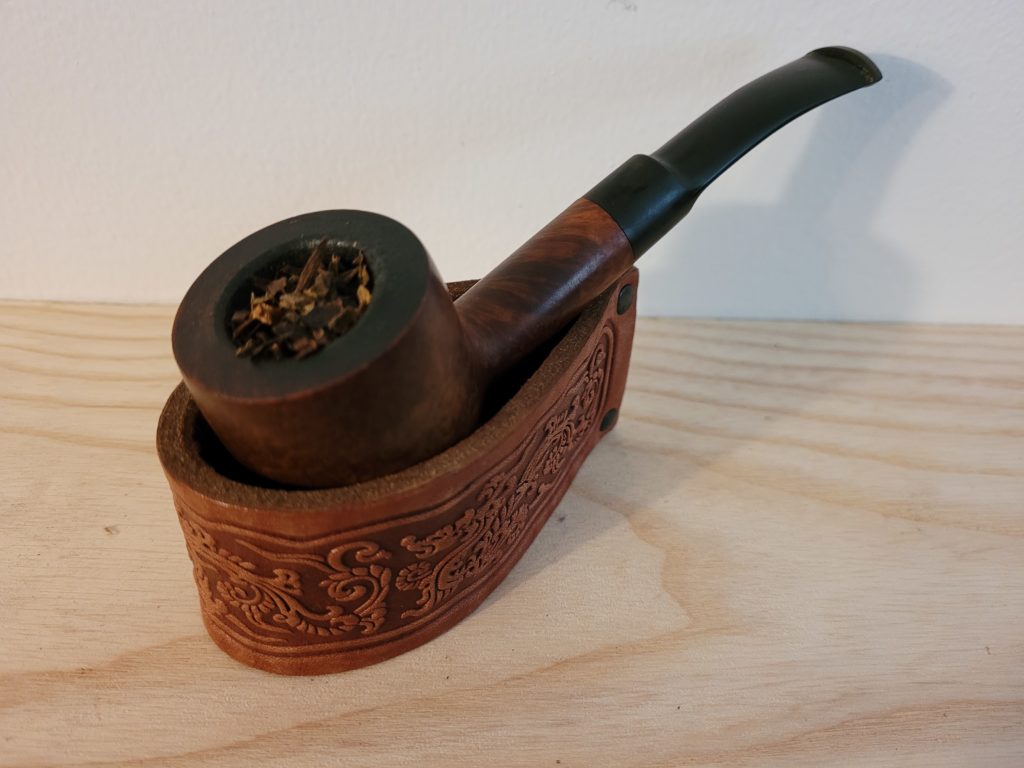 Petrichor, earth, dirt. Salted hazelnuts. Medium sweet. Quickly gets sweeter and some vinegar sharpness. Herbs, garlic, and onions. Lemon peel. Razor sharp. A base of earth and nuts. A growing pepper shows. Red wine vinegar. Very herbal. Parsley, marjoram, and sage. Settles into itself for a long while. Peaty, artificial cherry, the pepper hangs on but doesn't overwhelm. Cherry coke and chocolate. The earth returns. Sweet-sour-salty with garlic and onion top notes.
I think I say this with most of the English blends I've reviewed, with some drying time this stuff really comes into its own. Here that watery feeling dissipates and the pepper backs off. More importantly is burned beautifully.
THIRD BOWL
>>Savinelli 121, Full tin dry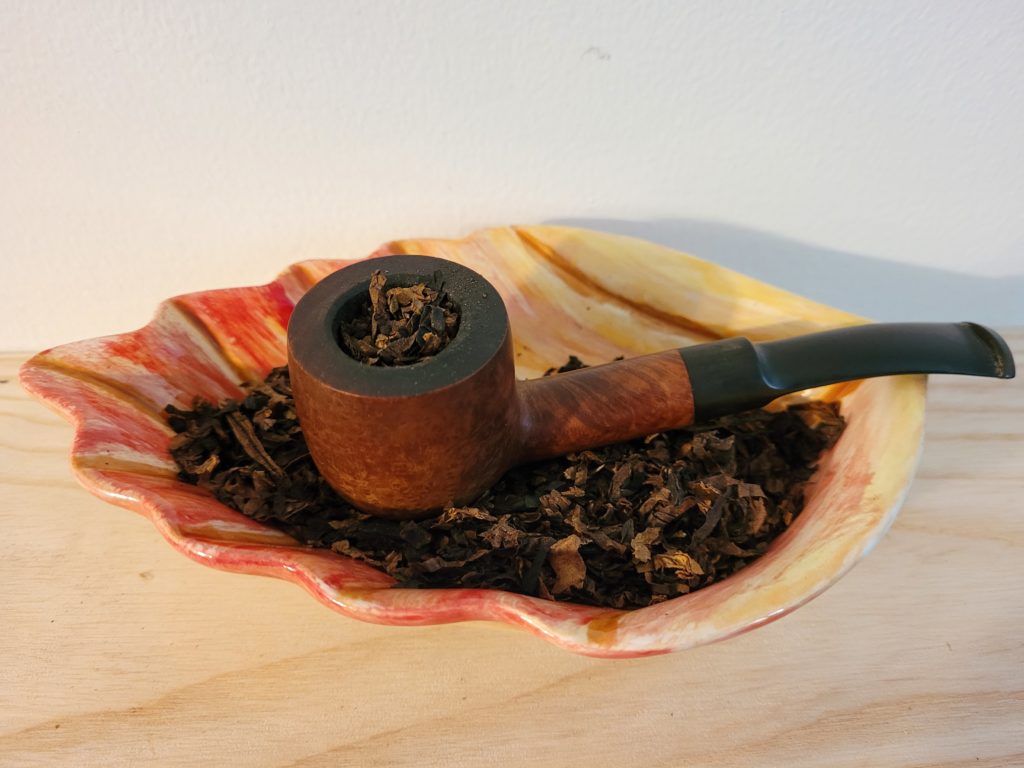 Smoked Lavender. Sugary. Musty. Did I say this was sweet? It's sweet. Lightly salty. Earthy, leather, creosote. Purply tasting, lavender, red grapes, almost Welches like. Salty, sweet, and white vinegar to balance. Mild pepper. Musty, leather, and earth. Garlic and onion, and huge white vinegar note. Faintly herbal. Creamy, salty – this stuff is bisquey. The pepper builds, but doesn't overwhelm yet. It's a touch soapy. More earth and leather, and a hint of cigar wrapper. The garlic, onion, vinegar, sugar, and salt returns, now over an earthy-leathery background. Towards the end it hits a gasoline note, vegetal, peaty, cocoa, wet oak, and campfire. 
After numerous well dried bowls of this blend I find it's consistently inconsistent as I'll touch on immediately below.
FLAVOR PROGRESSION
In general Bill Bailey's Balkan is a consistent whirl if that makes any sense – the flavors are varied and unpredictable in their order, but they are the same bowl after bowl. The one line running through is the spice. The pepper doesn't show up until 1/3 to 1/2 of the way end, but once it shows, it slowly builds to the end.
BURN EXPERIENCE
Fresh from the tin, this Bill Bailey's Balkan is quite moist and it burns poorly. Once it is properly dried out though it burns as well as anything.
SIMILAR BLENDS
The only other Balkan I've had with Perique in it is Seattle Pipe Club's Plum Pudding – but most of the time you can't even tell the perique is there. I've not had another Balkan with DFK in it, though it's so well blended in, I don't know if it is distinguishable from the Latakia. Yet even with these differences you'll draw plenty of parallels in all the classics of the form: Balkan Saisieni, Balkan Sobraine, H&H WhiteKnight, and MacBaren HH Balkan Blend
RATING BREAKDOWN
0.20 / 0.50 … Craft & Aesthetic
0.40 / 0.50 … Tin Aroma
0.50 / 0.50 … Lighting Process
7.70 / 8.00 … Smoking Experience
0.50 / 0.50 … Personal Enjoymen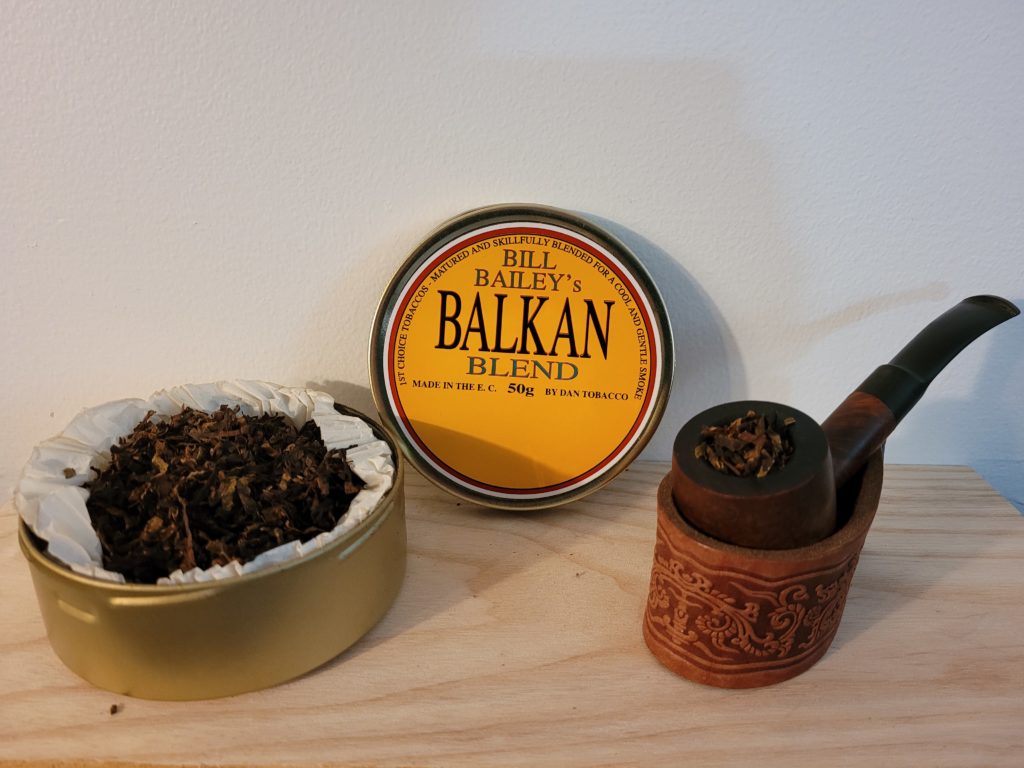 THERE'S ALWAYS MONEY IN THE BANANA STAND.
While I admit I am a Balkan fan, the quality of Bill Bailey's Balkan should be apparent for anyone who appreciates Latakia. It's smoky. It's sweet. It's salty. And Earthy, sour, herbal, and alliumic. It's packed with flavor, burns wonderfully once dried, and can meet moods spanning from the high sear of summer and the glove and coat smokes of February. Moreover, as a tinned tobacco it's quite a value, as you can easily get at least twice as many bowls from this 50g as your average English blend.  
It took several years for me to get around to smoking this personally recommended blend, but I can now extend my thanks for being steered towards this excellent Balkan.
SIMPLY STOGIES RATING:  9.3/ 10.0
I love reading other reviewers' thoughts on the blends I smoke – it helps to show that no one review is perfect and there's always different opinions and tastes out there.  Here's how my review stacks up with reviews around the web.