Every spring and every autumn I get a yen for apple-flavored tobaccos. Something about the crisp fruity taste matches the mood and weather just right. However I've yet to find an apple-flavored tobacco  that doesn't taste synthetic. But so far I've liked every Wessex I've had. Wessex is a small subbrand from Kohlhase and Kopp known particularly for its Virginia forward Brigade line. So I've got high hopes for this entry from Wessex which flagshipping the Brigade series.
BULK or TIN:   Tin
SIZE:   50 g/1.76 oz
ORIGIN:   Germany
BLENDING HOUSE/PRODUCER:   Wessex
BLENDING COMPONENTS:  Virginia, Cavendish

STRENGTH:   2/7
SOURCE:   Watch City Cigar
WHERE:   
Central Pennsylvania Backyard
WHEN:   
Autumn 2020 and Spring of 2021
DRINKS:   
Water
WEATHER:   
Cool and crisp. Crisp and warm.
WHAT'S ON:   
The crunch of leaves in autumn, and the cackling of the grackles in spring.
RELEASE TYPE  available
ORIGINAL RELEASE DATE  2004
SPECIAL RELEASE  N
AVAILABILITY BREAKDOWN
o  Tin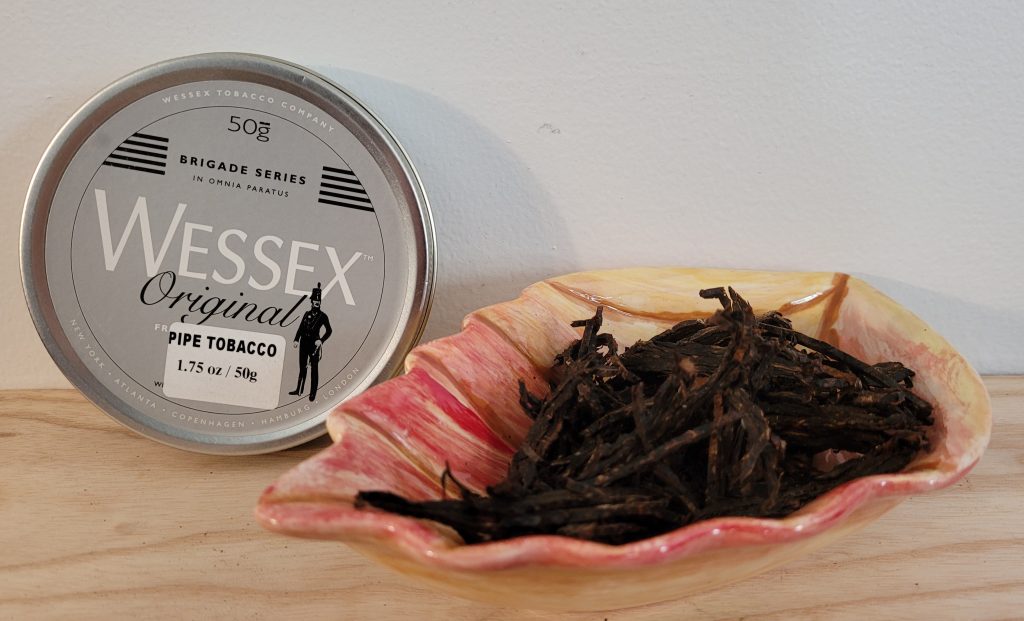 RESEARCH & BACKGROUND INFO
Wessex Tobacco Company was founded by a handful of pipe devotees in London during the 1980s

Production of Wessex occurs under the K&K Umbrella

The line takes its name from the works of Thomas Hardy

Wessex Brigade Original is lightly flavored with English Cider

Used to be a ribbon cut, now a lighty broken flake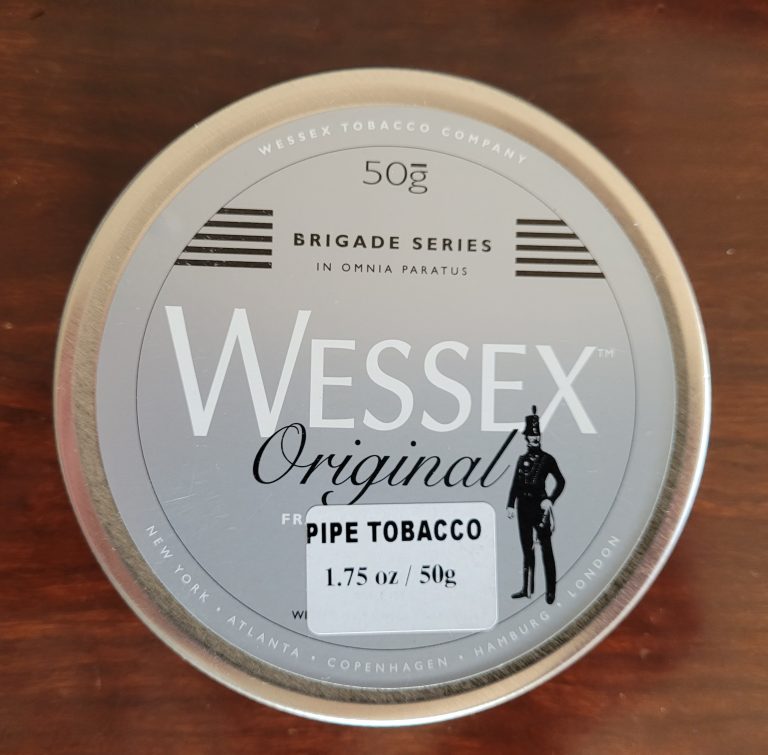 Like all of the Wessex Brigade Series, the Original sports a flat light grey, the silhouette of an English Dragoon, and a bit of Deco inspired illustration. It's classy and upscale. However a distinct problem with the Brigade Line is the tins are all almost identical, with a naming convention which is almost intentionally confusing, which has lead to me being shipped the wrong Wessex Tin on at least one occasion.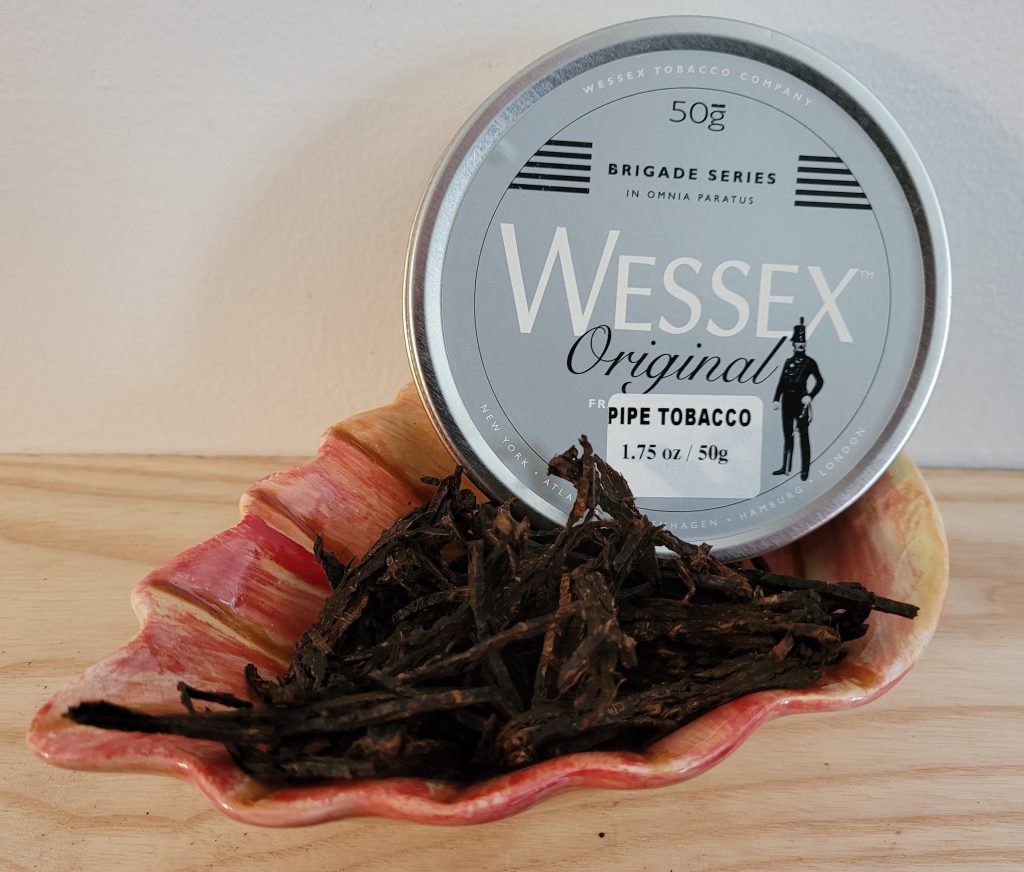 LOOK & FEEL OF THE LEAF
This is a broken flake, roughed out into about three inch (150 mm) chunks. It starts tawny golden, but ages quickly into dark brown and black.
TIN AROMA
Raisins, salt water, malt, hickory, burnt rubber, chocolate.
LIGHT & DRAW
Packing Style: Rough rubbed and cannonballed
Fire:  My trust Bic
SMOKE & ROOM NOTE
The smoke from Wessex Campaign Original tends towards the Virginia end of things, being thinner, with just a touch of creaminess from the cavendish. It's aroma is vaguely cigarette-y, failing to capture the promised cider like a traditional aromatic.
FIRST BOWL
>> Brigham Voyageur Bent Dublin 47, no dry time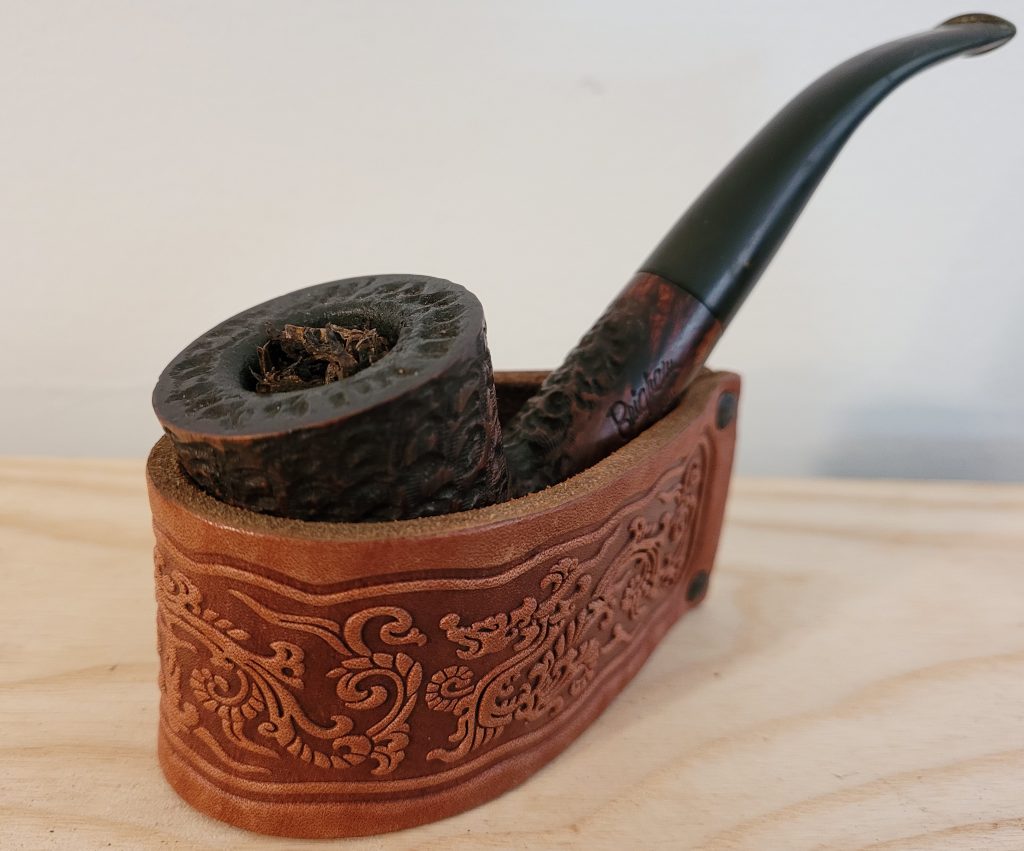 Cigarette-y. Malty sweet. Worcestershire sauce. It is wonderfully umami. Earthy, with some mushrooms. Portabellas. Barely sweet. It grows peppery, like peppered beef jerky. Some brisket notes too, making it quite meaty. Wood char. Apple peel and sour cream. It quickly becomes overwhelmingly salty. Spoonfuls of Worcestershire sauce, again. Malty dry cider. A splash of white vinegar That cigarette taste wafts in and out. Malty, incense, W sauce, sour cider, splash of white vinegar. Just a hint of granny smith right at the end, which almost feels insulting. Like a big celebrity cameo you saw teased in the trailer that comes in the last seconds of a film.
As they say on Rex Factor, I was not expecting that. The cut and tin note should have given this away, but this isn't an aromatic. It's a lightly topped Virginia. Unfortunately it's not particularly sweet, which makes the whole experience fall flat, whether you were expecting an aro or a Virginia Flake.
SECOND BOWL
>> Brigham Voyageur Bent Dublin 47, dried 1 hour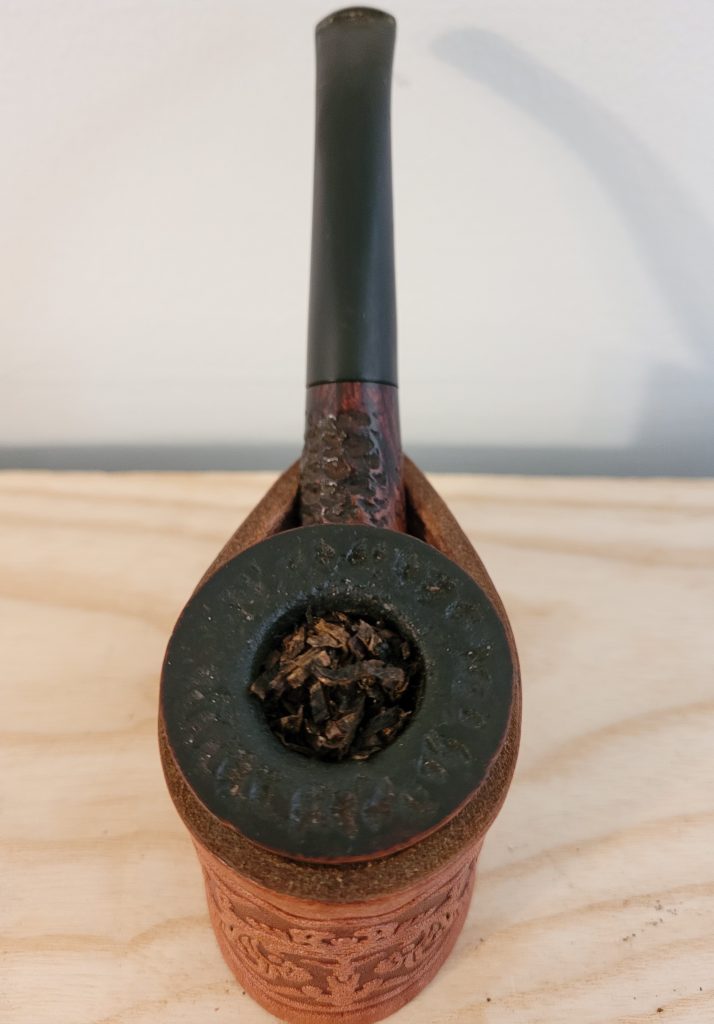 Much sweeter right from the light. Hay, and unfortunately that cigarette taste again. A bit of apple cider. Apple peel and sour cream. Light spice, and unsurprisingly, salt. Very umami again, with loads of Worcestershire sauce, malt, and malt vinegar, which dominates the whole bowl. There's a mild sugariness throughout, with hints of sour cream, cider, vague spices, hay, and vinegar. 
With a bit of drying time, this loses a bit of the savouriness, but makes up for it with a big boost in sweetness, pulling the whole experience together.
THIRD BOWL
>> Brigham Voyageur Bent Dublin 47, dried 2 hours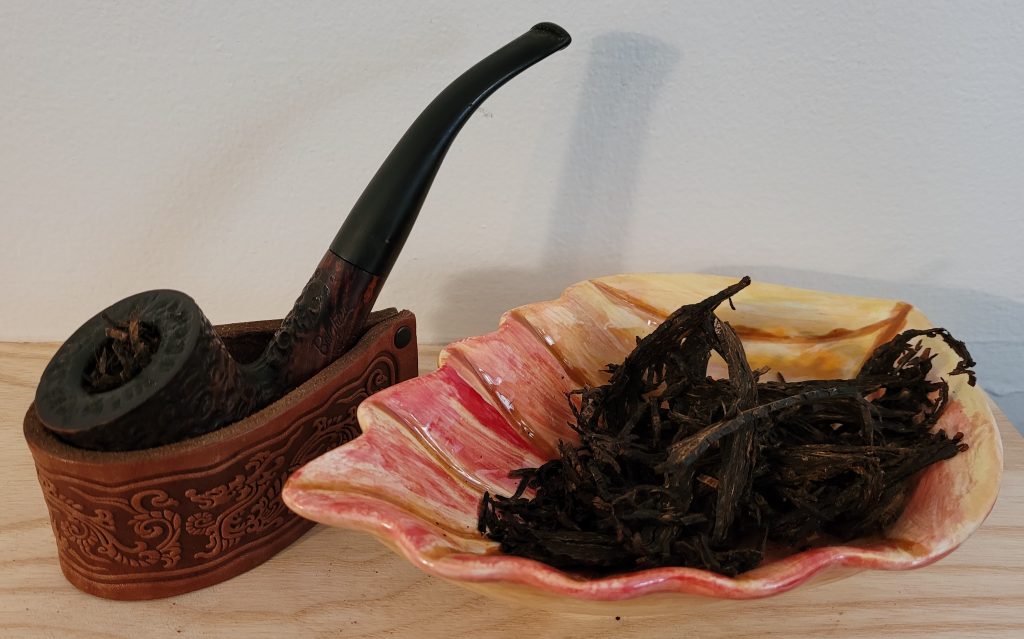 Sweet, salty, worcestershire sauce. A delightful belt of Heinz 57. Malty and vinegar. Spicy but not peppery. Fruity, processed fruits, figs, and raisins. Sulphur and incense. Milky. Worcestershire sauce. Malty and rich. A little oily. Hay and spice. A driving sweetness carries this bowl. Sour cream and lime zest. Apple peel. Salt, incense, and worcestershire sauce. Just a hint of cigarettes. Milky again. Fresh plums. Grows even richer with an even deeper malt flavor, incense, apples, sour cream, Worcestershire Sauce, Heinz 57. Savoury and sweet, salty and sour.
With it drier but not crispy, it reaches even greater heights. Only the best Virginias pop with that Heinz 57 notes, and with this bowl you get more fruits, more sweetness, incense, and just clearer, better flavors. Those stronger flavors also do a great job of covering up the unpleasant cigarette taste that tries to sneak into every bowl. 
This is a terrible aromatic but a top notch Virginia.
FLAVOR PROGRESSION

There's not a very strong progression over the bowl, there is some uptick in intensity and richness, but the flavors themselves don't necessarily shift that much over the bowl. Now as you vary the drying times, you go from a more savory experience, to a well balanced sweet-umami smoke.
BURN EXPERIENCE

Wessex Brigade Original has a nice easy burn even fresh from the tin, which only improves with a bit of drying time.
SIMILAR BLENDS
Once you realize this is a Virginia blend, and not the advertised aromatic, it won't shock you that it tastes quite a bit like the other Wessex Virginas, like Campaign Dark Flake, Gold Slice, and Gold Brick. It also shares that heavy malt note you get from both Dan Salty Dogs and Capstan Blue. 
RATING BREAKDOWN
0.40 / 0.50 … Craft & Aesthetic
0.40 / 0.50 … Tin Aroma
0.40 / 0.50 … Lighting Process
7.50 / 8.00 … Smoking Experience
0.50 / 0.50 … Personal Enjoyment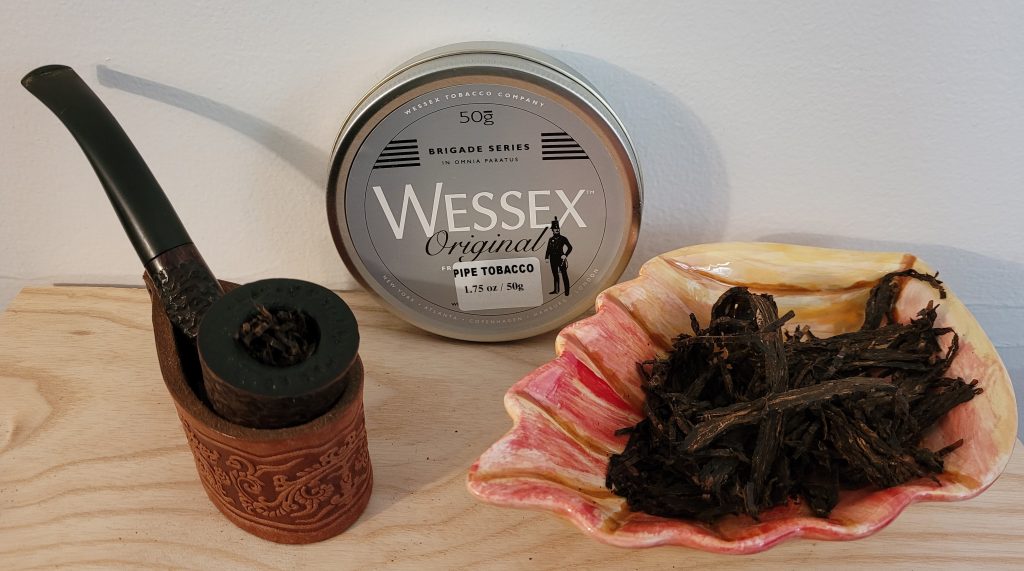 INSIDER TRADING.
From your first bowl onward, you'll find this blend is not a traditional aromatic. Smoking it longer, particularly playing with extended drying times, you will discover this is at best a lightly topped Virginia. It has what I've found is the archetypical Wessex style — malt forward, salty, creamy, with some balancing sweetness and sourness. The cider notes are there, but if that is what you are looking for, they are far less pronounced, subsumed under the natural flavors from the high quality Virginia. It's not exactly as advertised, but I am in no way disappointed by this surprise.
SIMPLY STOGIES RATING:  9.2/ 10.0
I love reading other reviewers' thoughts on the blends I'm smoke – it helps to show that no one review is perfect and there's always different opinions and tastes out there.  Here's how my review stacks up with reviews around the web.