Wessex Gold Slice is the subject of Michael's third pipe tobacco review on simplystogies.com. Gold Slice is a straight Virginia flake with no discernable or advertised added flavoring. Like most straight Virginias, this Flake is designed for the experienced pipe smoker, requiring a mature palate to fully appreciate the nuances, and the mechanical expertise to dry and pack the flake to extract the peak performance from the tobacco.
Michael gives a short overview of the tobacco, offers commentary upon the tin design and the cut of the flakes, describes the results of experimentation with drying times and packing approaches, gives a tin note description, and offers his wife's opinion on the room note, then provides detailed tasting notes at three drying times using his favorite Virginia pipe, the Brigham 147. Finally a rating breakdown and ultimate score for Wessex Gold Slice is offered, with some discussion of how it stacks up against some of the classics of the golden Virginia flake genre.
BULK or TIN:   Tin
SIZE:   1.5 oz (42 g)
ORIGIN:   UK designed, produced in Germany
BLENDING HOUSE/PRODUCER:   Wessex
BLENDING COMPONENTS:   Straight Virginia

STRENGTH:   3/7
SOURCE:   Mars Cigars
Age:   1 Year
WHERE:   
Central Pennsylvania
WHEN:   
August and September 2020
DRINKS:   
Water
WEATHER:   
Sweltering but dry
WHAT'S ON:   
End of summer construction noise
RELEASE TYPE  Available
ORIGINAL RELEASE DATE  2015
SPECIAL RELEASE  No
AVAILABILITY BREAKDOWN
o  Tin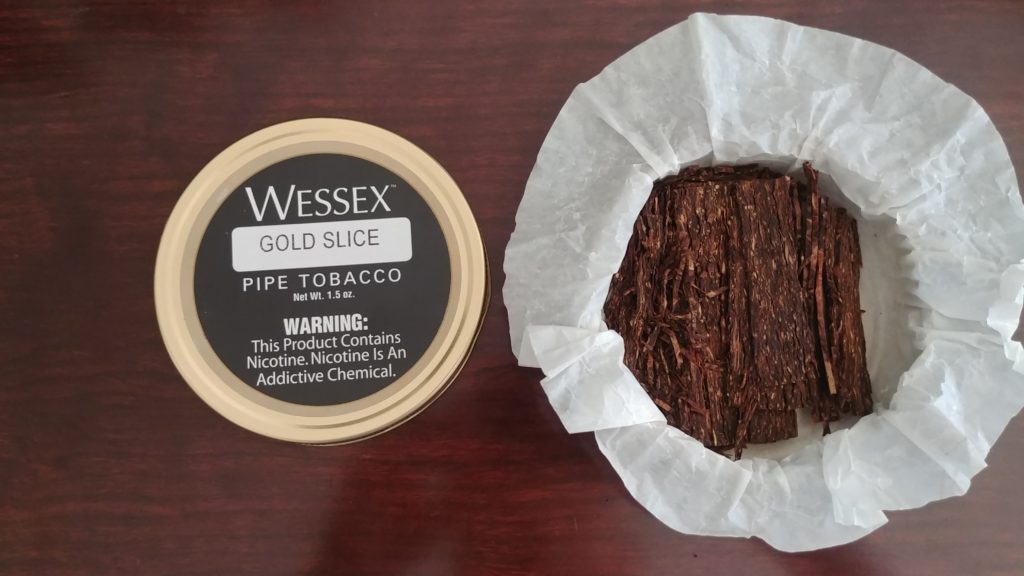 RESEARCH & BACKGROUND INFO
Wessex Tobacco LTD is named for Thomas Hardy's mythic county of Wessex
Wessex was founded in the 1980s by a group of pipe tobacco enthusiasts around London
Wessex Gold Slice is a pre sliced version of Wessex Gold Brick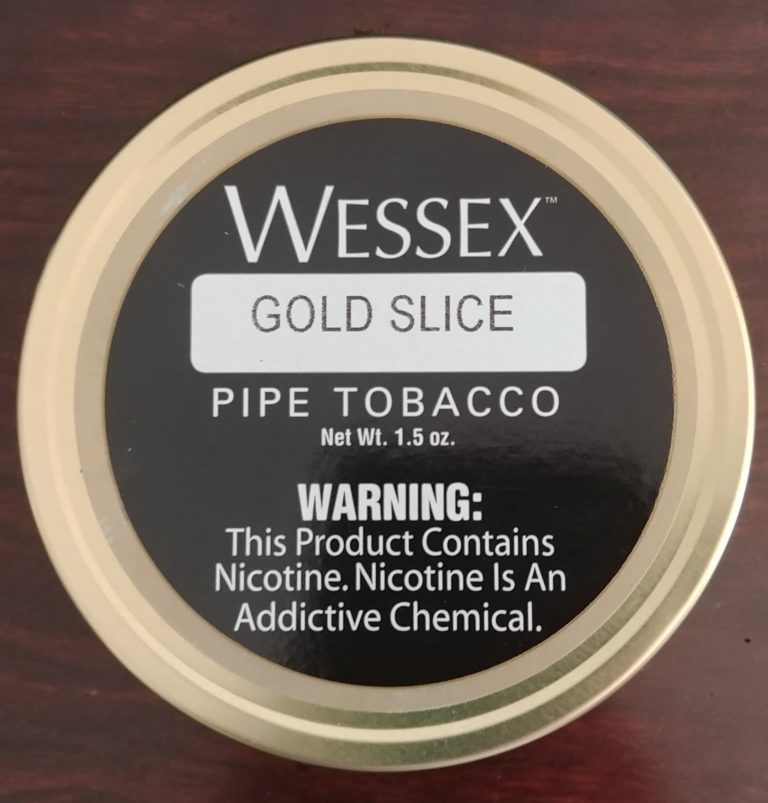 Wessex Gold Slice, with the other newer Wessex tins, seems to have embraced the plain tobacco packaging movement before it has been legally required everywhere.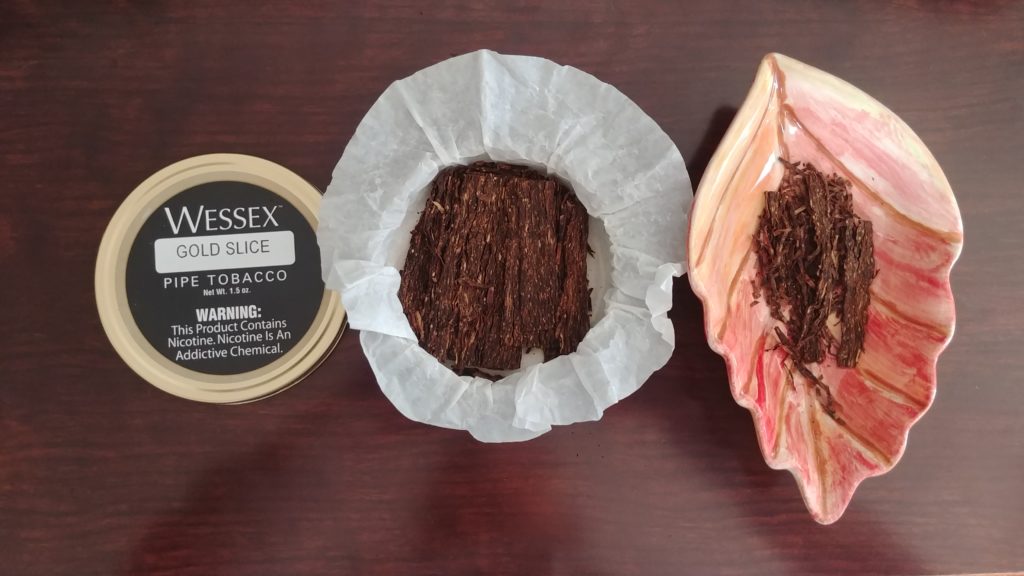 LOOK & FEEL OF THE LEAF
Inside the institutional looking tin you will find, unsurprisingly, golden brown slices. These are longer than most European produced flakes, about 3 inches or 80 mm long. The flakes are somewhere between full and broken, having a looser structure, but hold together when picked up. About 1/4 of the tin seems to have already been broken up. Moisture wise, the flakes are fairly most.
TIN AROMA
Opening the tin you immediately smell fruit, something like apricot, along with the more standard raisin, raisin bran, and hay found in straight Virginia.
PACK & LIGHT
Packing Style: I tried some variations of fold'n'stuff but it's best with a rough rub out and gravity feed.
Fire:  My trusty, cheap, bic
SMOKE & ROOM NOTE
Like most straight Virginia, Gold Slice produces a fairly thin, wispy smoke.
Smoke aroma from my obliging wife: Sweet, it's a light, not cloying sweetness. Zucchini bread with raisins. Hardword campfire smoke.
FIRST BOWL
>> No dry, Fold'n'stuff in the Brigham 147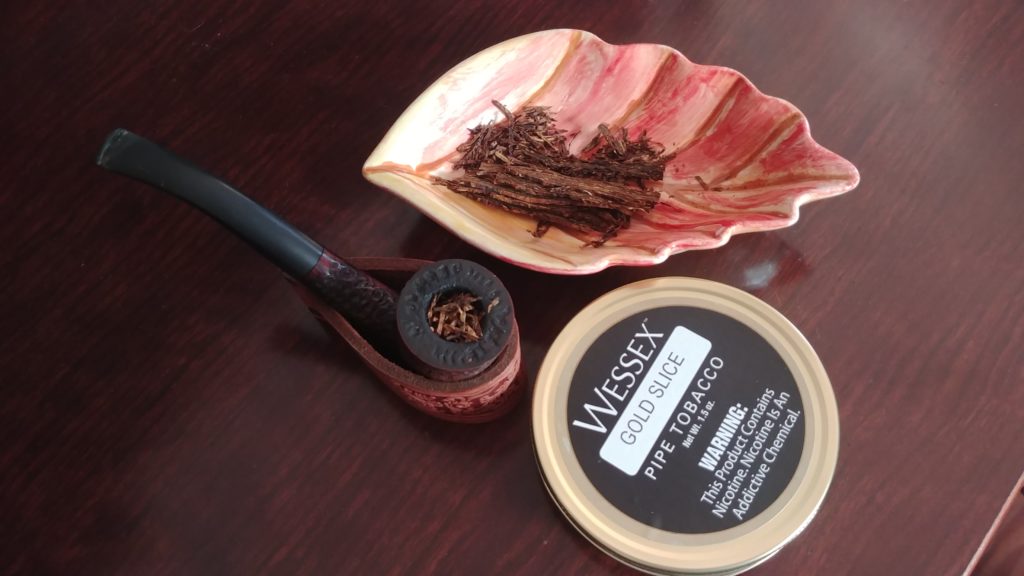 Hay with a citrus sharpness greets you. It's salty with a oily richness. Lime zest and incense. Rich sour cream. Stays consistently sour cream-hay-rich for awhile.
Eventually that natural Virginia spice comes in, much like the faded pre-ground pepper at your Denny's table. There is finally a tease of sweetness in odd puffs. Zest and malt also comes in occasional bursts.
Slowly the sweetness builds on top of the hay.
This very wet bowl required frequent relights.
SECOND BOWL
>> 3 hour dry, rub out and gravity feed, Brigham 147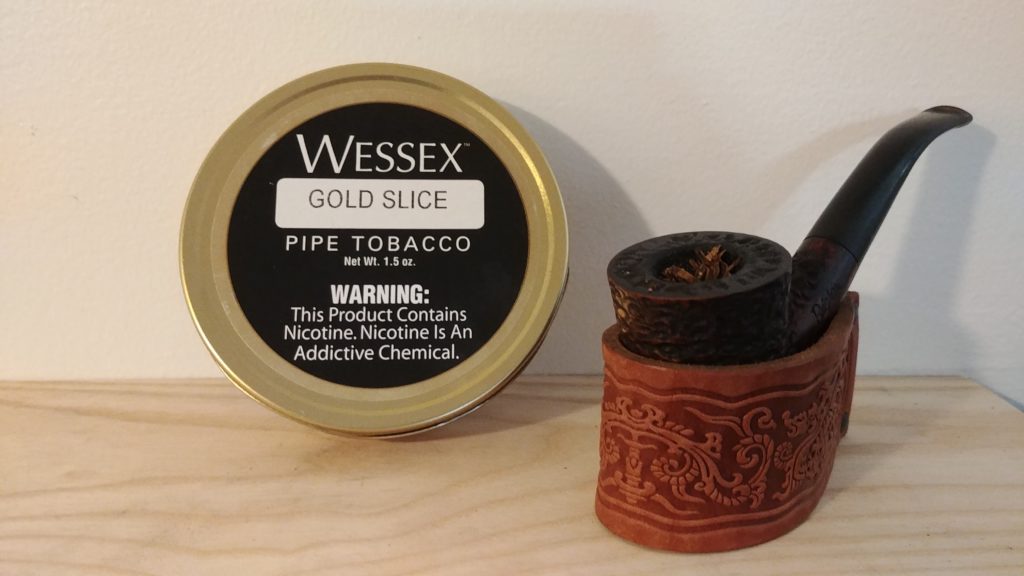 Sweet, salty, and malty. A hint of Worcestershire sauce and some vague fruits. Oily and oaky. Booming Worcestershire sauce after just a few more puffs. Rich, mouth coating oil – that is very atypical for straight VA. Hay, some pepper. Citrus rind, kiwi, and limes help balance the richness, with a tart and green taste. Yogurt. Bourbon barrel. Strawberry lemonade. Incense bomb. Anejo Tequila. Oaky but without any bitterness. Sour cream, lime zest, and white pepper.
This was incredible once you dry it out till it's just crispy. Smoking this wet is a crime against tobacco.
THIRD BOWL
>> Two day dry, rub out and gravity fill, Brigham 147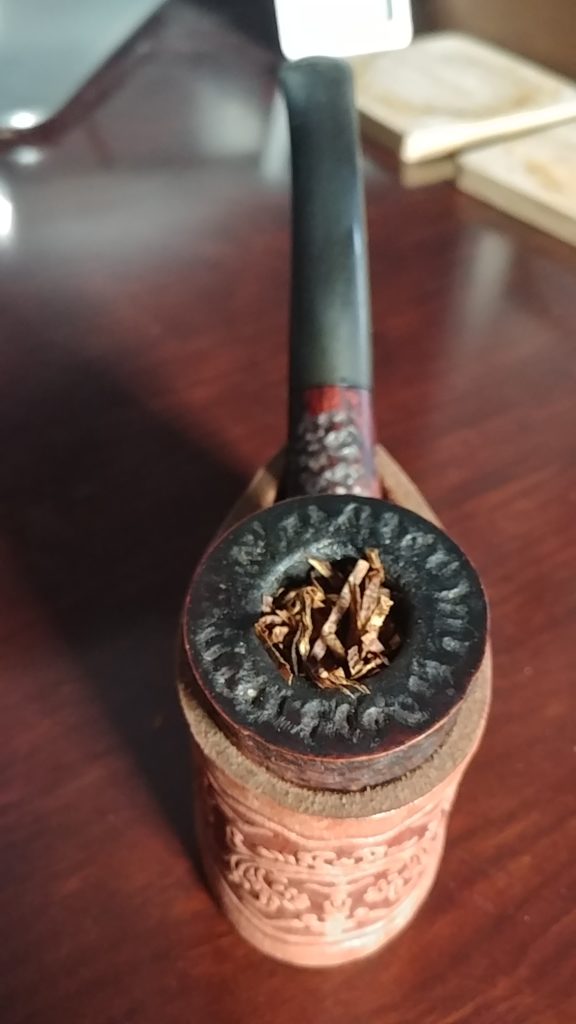 Malty, salty, and sweet. Strawberries and oak. The Worcestershire sauce is there again. Oily and rich still too. Sour cream. Tobacco – is that too on the nose? Like the tobacco taste note you get in some aged rum. The sweetness is almost entirely gone. Toast. Sharp and slightly bitter. Kiwi. White pepper pops. Hay and malty, really quite hay dominated again.  Strawberry but disconcertingly without any sweetness. Lemon peel. Wispy smoke. Lemon oil and white vinegar till it fades out.
This has been clearly overdried, it's good, but far past it's prime.
FLAVOR PROGRESSION
There is no really clear progression as you smoke down a bowl of this. It comes out strong and while there are numerous complex tastes, it's likely that after smoking this dozens of times you'd experience any one of them at any stage of the burn.
As for the dry time progression it has a very clear sweet spot – quite literally – around 2-4 hours of drying. Without drying it significantly it doesn't take the flame well and the flavors are muted. Dry it for too long and it fades. Another danger of over drying it is that I started to notice some tongue bite, likely due to it smoking too quickly.
RATING BREAKDOWN
0.50 / 0.25 … Craft & Aesthetic
0.50 / 0.30 … Tin Aroma
0.50 / 0.50 … Lighting Process
8.00 / 7.00 … Smoking Experience
0.50 / 0.45 … Personal Enjoyment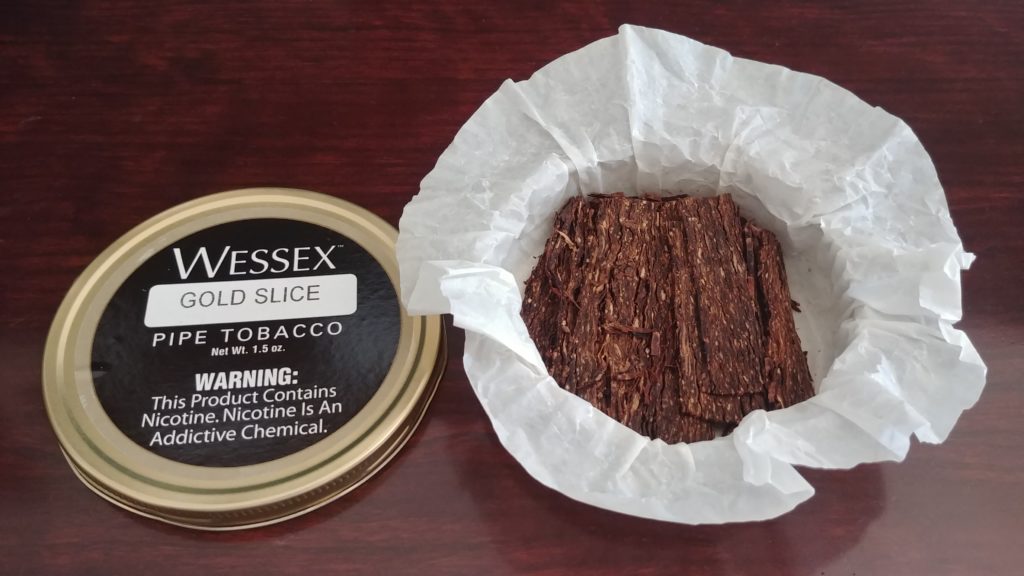 Stay Cool Golden Boy.
Wessex Gold Slice is an excellent straight Virginia tobacco. From the name and presentation I came into this review expecting a ho hum, light flake perfect for late summer. I was disappointed. Wessex Gold Slice oozes rich, deep, complex flavors. There is plenty of hay and citrus, but it is just as marked by a rich mouth coating oil and savory flavors. It is reminiscent of the much more popular Wessex Campaign Dark Flake, but with a lighter, more summery profile. Most impressively, it hones in on the flavor profile of the already legendary discontinued McClelland 40th Anniversary Virginia Flake. For fans of Dunhill/Peterson Flake and MacBaren HH Pure Virginia, this is a notable increase in flavor at such a young age. Over time I imagine Wessex Gold Slice will continue to improve from an already great tobacco.
SIMPLY STOGIES RATING:  8.5/ 10.0
I love reading other reviewers' thoughts on the blends I smoke – it helps to show that no one review is perfect and there's always different opinions and tastes out there.  Here's how my review stacks up with reviews around the web.