BULK or TIN:   Tin
SIZE:   50 g
ORIGIN:   
Virginia – United States
Oriental – Macedonia
Latakia – Cyprus
BLENDING HOUSE/PRODUCER:   Planta
BLENDING COMPONENTS:   Virginia, Oriental, Latakia

STRENGTH:   4/7
SOURCE:   Smoking Pipes
WHERE:   
Central Pennsylvania Backyard
WHEN:   
June-July 2020
DRINKS:   
Filtered water
WEATHER:   
Hot, 80s-90s
WHAT'S ON:   
The mewling of catbirds
RELEASE TYPE  After a production hiccup around 2016-2017, this is widely available
ORIGINAL RELEASE DATE  This blend predates WWI, but did not garner its name until 1925.
SPECIAL RELEASE  N
AVAILABILITY BREAKDOWN
o  Tin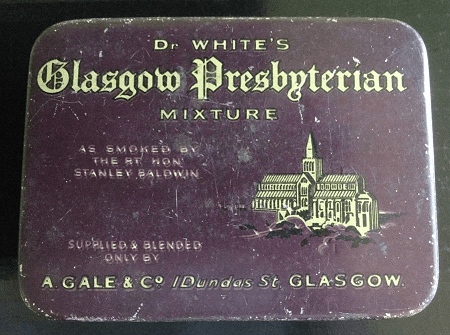 RESEARCH & BACKGROUND INFO
Originally blended by Alfred Gale Sr., a Glasgow based tobacconist
The blend was made for John White, a Presbyterian Minister of some renown
John White introduced the blend to Stanley Baldwin circa 1923, during his first stint as British Prime Minister
Baldwin is attributed with giving the blend the name "Presbyterian Mixture"
Production was 1st outsourced to Imperial Tobacco in 1956
Planta took over the rights in 1981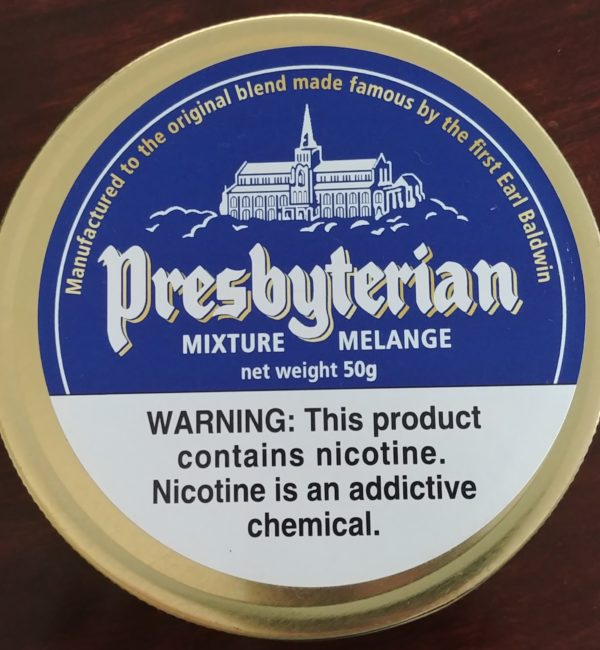 The Presbyterian Mixture tin art is classic, and save for the obtrusive warning label, unchanged for generations. It is delightfully old fashioned and helps remind you ever time you reach for it that you are smoking something historical.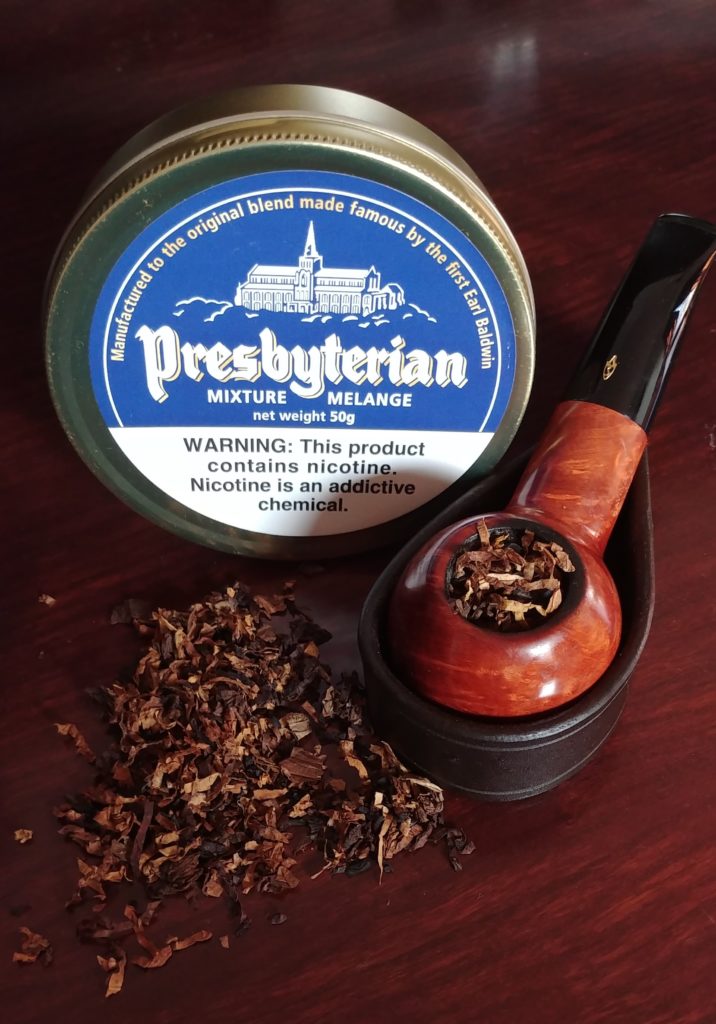 LOOK & FEEL OF THE LEAF
Presbyterian Mixture is made up of nondescript short tawny and walnut brown ribbon of varying widths. Pulled from the tin it is surprisingly moist and needs some drying time to improve both the smoking performance and flavor.
TIN AROMA
Smoky Raisin Bran
LIGHT & DRAW
Packing Style:  Typically I use a lightly packed two-pinch or the Frank method for standard ribbon mixture. Using the Frank  didn't noticeably change the flavor or burn so I mostly used the two-pinch.
Fire:  My trusty bic.
SMOKE & ROOM NOTE
The smoke produced by Presbyterian is on the thicker side of English mixtures, occasionally becoming very creamy.
The aroma description provided by my wife is: mostly campfire, with baking cocoa, something warm, spicy, reminding her of Ghirardelli's Dark Chocolate Cocoa mix.
FIRST BOWL
>> One hour dry in my Savinelli 320 Ks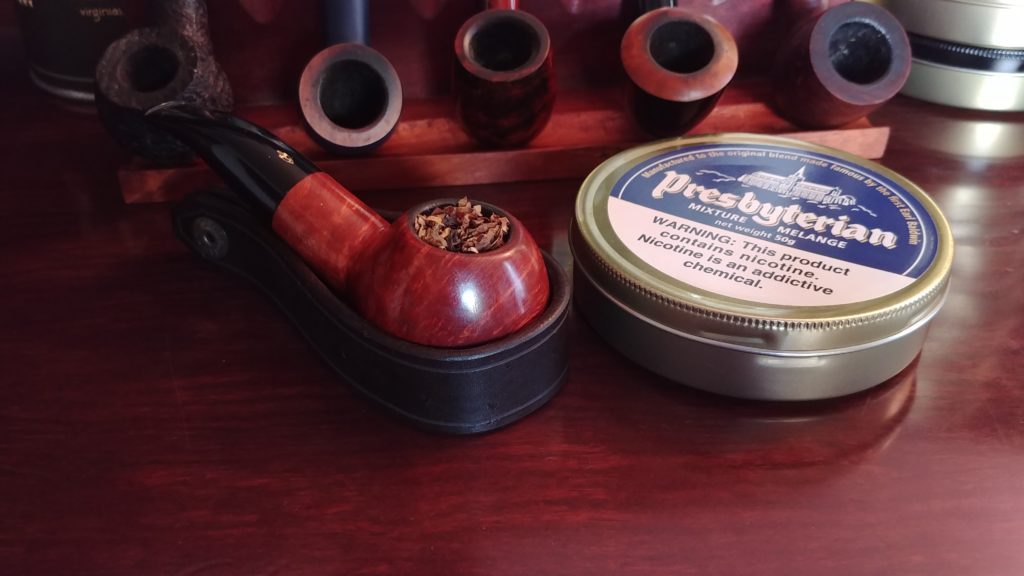 My first foray into Presbyterian Mixture starts bright, lemon and vinegar, salty, floral over a nutty-cedar base. This is creamy. It is medium sweet. Hmm, a hint of artificial grape, more like you get with Syrian Latakia, which I suspect they used years ago. Musty, but still bright. Lemon zest. Wood smoke. Orange zest, leading into orange soda-pop driven by a white vinegar zing. The creamy, leathery Latakia is there, but mostly subdued. Oak and wood bitters show up towards the end. Returns to the beginning with lemon oil, salt, and smoke to finish.
SECOND BOWL
>> Two hour dry in the Unfinished Savinelli 121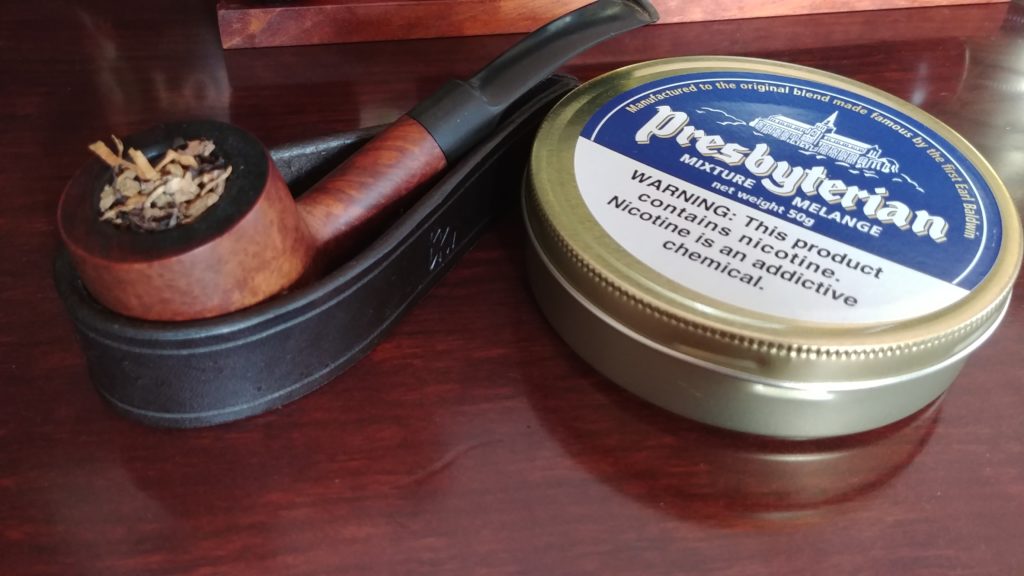 Musty lavender to start. Nutty, creamy, and salty. Orange and vinegar. Then the sweetness hits. This is much better already. Strawberries, salt, garlic, and onion. The extra drying time elicits the Balkan hidden in this English mixture, letting the Oriental and Virginia shine.  There is still some floral smokiness, but it's just a steady hum of bass. Peppery in pops. The sweetness is unrelenting, not cloying, but always cheerily there. Vinegar and kitchen herbs, oregano. Black pepper with raspberry jam notes. Floral, but not soapy, so I almost like it. Almost. There is that nutty, creamy, leather again, more burley flavors than anything. I supposed Latakia is, if you strip away the curing process, burley at its heart. It stays here for awhile, the sweet, salt, and sour flavors are all gone, leaving a pleasantly smoky burley.  After a time the vinegar pops up, jarring against the nutty-cream. The comes pepper again, and now coffee notes. Oranges and some sweetness steals back in while the creamy-nutty-coffee fades to a gentle malt. A hint of salt comes back, balancing the sweet and sour, complementing the pepper and gentle smoke, completing full synthesis before the bowl gives out.
THIRD BOWL
>> 4 hour dry, AKB Meerschaum Calabash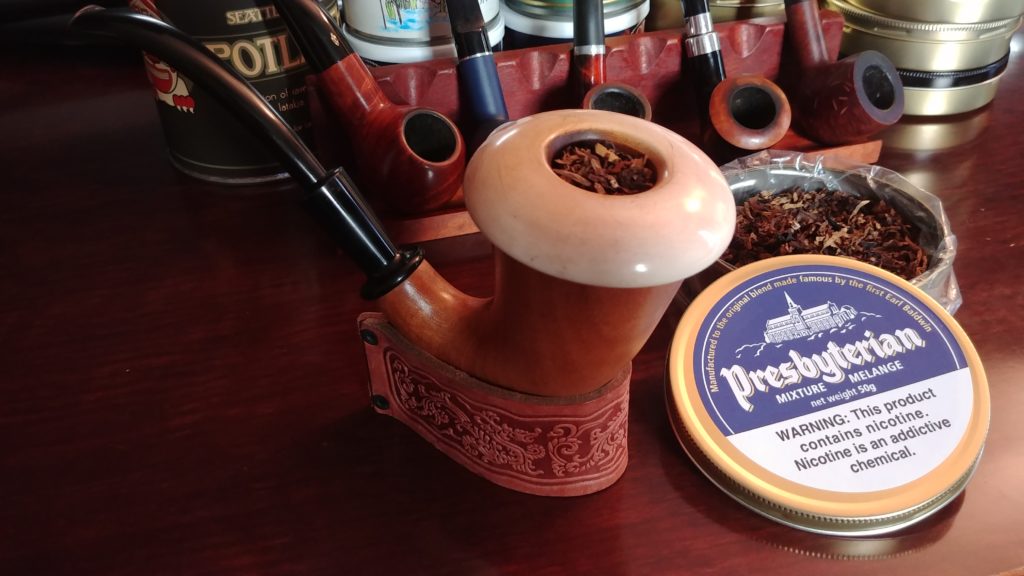 Starts fairly close to the previous bowl, with a floral, nutty, smoky, salty push. It goes quickly from a touch sweet to a medium sweetness.  Garlic and lavender. This is very salty with just a light bit of black pepper. The sweetness builds further, bordering upon too sweet, but quickly a flood of white vinegar comes forward to match. Here we have a wonderful balance of salt, sugar, and sour. Some oak wanders in. Full flavored garlic, onion, oregano. Creamy floral. A dusting of cocoa powder. Kitchen herbs holding on strong. This is by far the best bowl of this, all of the flavors are big but balance and compliment one another. Sugar water and smoke, quite akin to Laphroiag. Vegetal. Okay so more Caol Ila. Lemon Zest. Fine, Ardbeg. Anyway, very Islay Scotch Whiskey if you are into that. Creosote. Barbecue brisket in flowers. Gasoline and strawberry. Turns earthy, really petrichor, mushrooms, potato peels. Peanuts with a little salt and very mild vinegar. The sweetness backs letting the nutty burley come through. At the tail end, lemon zest and sugar.
FLAVOR PROGRESSION

There are two flavor progressions to comment on, one of the bowl, and one for the drying time. As you burn this it starts with the sweet, sour, and salty combination you'd expect from a Balkan, with just hints that there is some Latakia in there, but towards the bottom it frequently shifts into more burley flavors, nutty, cocoa, coffee. 
I was not particularly enamored of Presbyterian for the first few bowls, but as I extended the drying time I found the smoky, floral notes faded, letting the Oriental and Virginia pop. I did try one all day dry time and it was not recommended, it felt flat, almost watered down.
BURN EXPERIENCE

Presbyterian Mixture, as long as you give it just a bit of time out, particularly when the tin is freshly cracked, performs perfectly. It packs easily, takes the light readily, and as long as you tamp lightly but often, you can burn a bowl without reaching for your fire again. 
SIMILAR BLENDS
Fresh from the tin it's in the classic English Vein, think Samuel Gawith Squadron Leader, Dunhill, now Peterson, 965, and maybe most like Hearth & Home Blackhouse with that Balkan edge but prominent floral smoke.
Well dried this is more akin to Dunhill Durbar, MacBaren's Vintage Syrian and Balkan Blend, the long discontinued Sutliff Bosophrous Cruise, and Luxury Balkan 957.
RATING BREAKDOWN
0.40 / 0.50 … Craft & Aesthetic
0.30 / 0.50 … Tin Aroma
0.50 / 0.50 … Lighting Process
7.50 / 8.00 … Smoking Experience
0.30 / 0.50 … Personal Enjoyment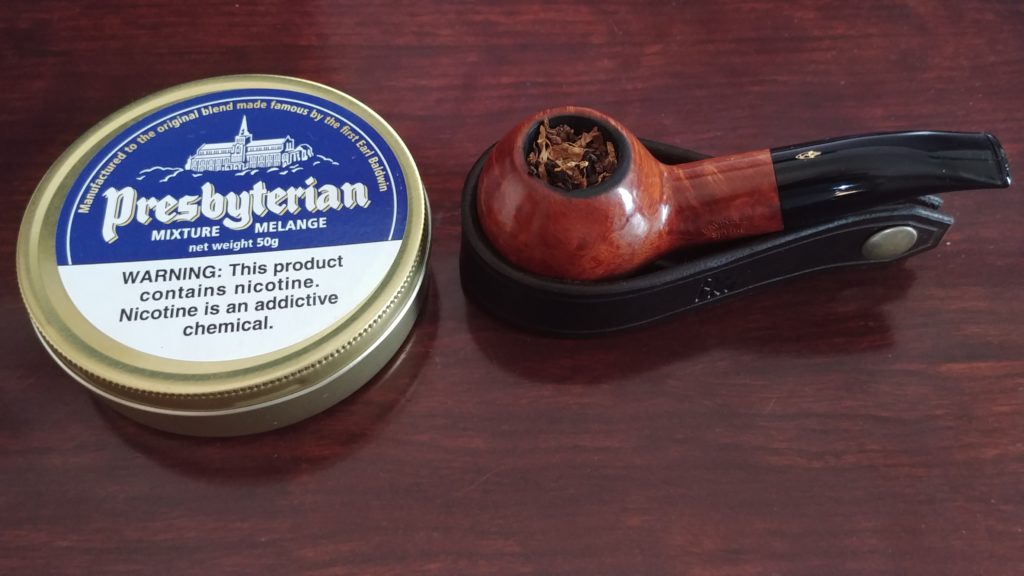 Yes, Prime Minster
Initially Presbyterian Mixture turned me off, the Latakia being too strong and too floral for my tastes. This was surprising as for years the tin did not even state it had Latakia in it and there was a healthy debate as to whether or not it was a component. But by experimenting with the drying time you can convince the blend to let the other components shine. This blend, already over a century old, is likely to remain popular as long as people continue to smoke pipe tobacco. 
SIMPLY STOGIES RATING:  9.0/ 10.0
I love reading other reviewers' thoughts on the blends I'm smoke – it helps to show that no one review is perfect and there's always different opinions and tastes out there.  Here's how my review stacks up with reviews around the web.
Tobacco Reviews
Luxury Tobacco Reviews
Tobacco Reviews
Rating:  3.1/4.0 from 261 Reviews
[ link ]
Luxury Tobacco Reviews