Last summer I took a vacation to Key West with the family. Rodriguez cigar factory in Key West was on my radar after My Cigar PackMy Cigar Pack released the Rodriguez Factory Direct Dongers Knockout. I was impressed by the construction and bold yet balanced flavor the cigar had to offer. The factory is tucked away in a small strip mall near Hog's Breath Saloon and The Key Lime Pie Bakery. I opted not to take the tour because of the kids but I enjoyed the small space they had to display merchandise and cigars. I was drawn to the Primera Clase because of its dark wrapper and eye catching band design. I grabbed two boxes. 
If there is a cigar and spirit pairing that defines Key West it is a Rodriguez Primera Clase and Papa's Pilar Sherry Cask Rum. Conveniently enough, both Papa's Pilar and Rodriguez are in close proximity, making it easy to tour both locations in one day. You will not regret any purchase made and if you try the pairing mentioned earlier, it will linger in your mind for months. Make sure you stock up!
VITOLA: Perfecto
SIZE: 5×50
ORIGIN:   Nicaragua
FACTORY:   Rodriguez Cigar Factory
WRAPPER: San Andreas
BINDER: Nicaraguan
FILLER: Nicaraguan
STRENGTH:   Medium Full
SOURCE: Rodriguez Cigars
WHERE:   
Outside on the deck
WHEN:   
5 March @ 10:00 AM
DRINKS:   
Fabula Dark Roast Coffee 
WEATHER:   
45 degrees with the wind blowing and the sun out
HOW MANY CIGARS SMOKED:   
3
RELEASE TYPE:Regular Production
ORIGINALLY RELEASE DATE: December 2019
TOTAL PRODUCTION
Typical Box Size:     Boxes of 20
Production Totals:  Unknown
VITOLA BREAKDOWN
o  Perfecto (5″ x 50)
o  Corona (6-1/2″ x 48)
o  Robusto (5″ x 50)
o  Toro (6″ x 52)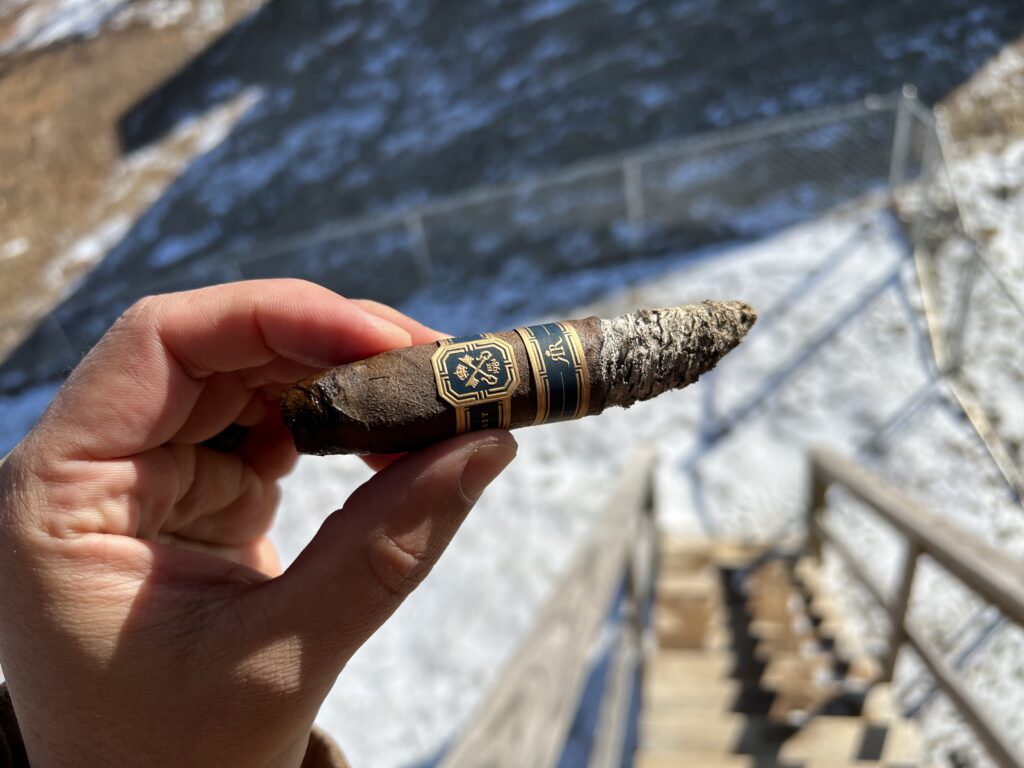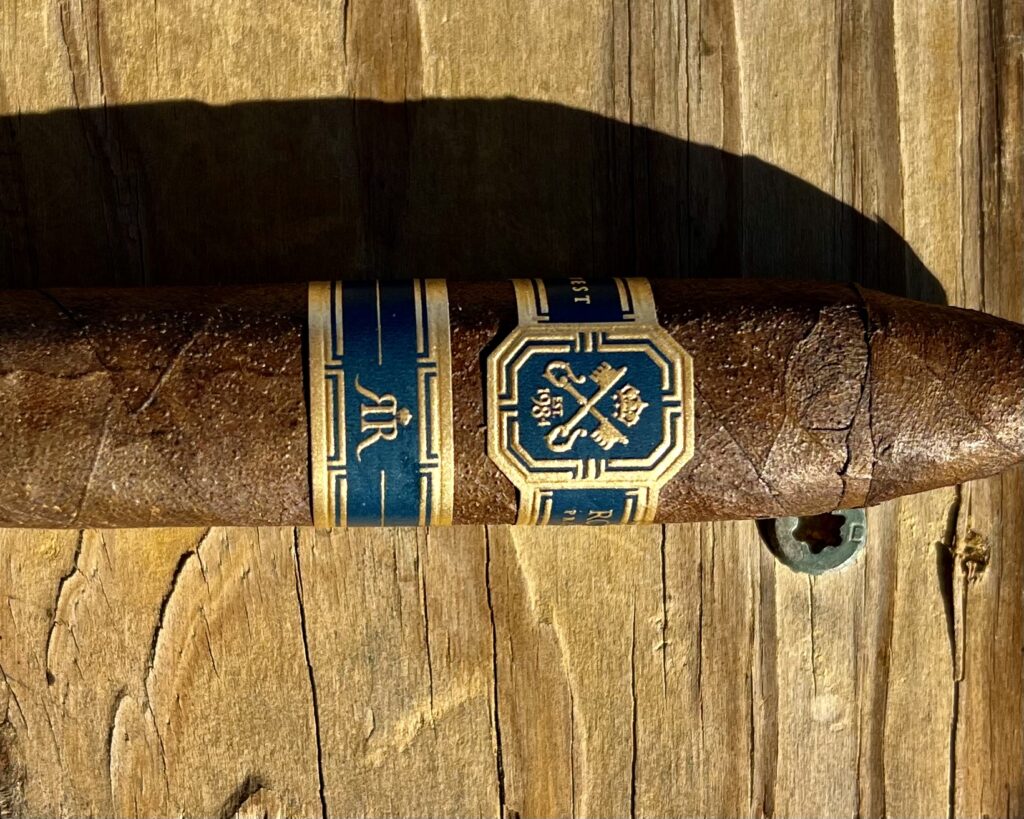 The Primera Clase offers a simple, yet sophisticated band design. The navy and gold are a classic combination and out of all of the lines Rodriguez offers this particular band stands out in a way that lets the consumer know that this is the best cigar they offer. There are two bands, the top has two crossed keys (signifying that the company is based out of Key West) with the year 1984 (when the factory was founded) under it, the lower band has the mirrored "R" logo.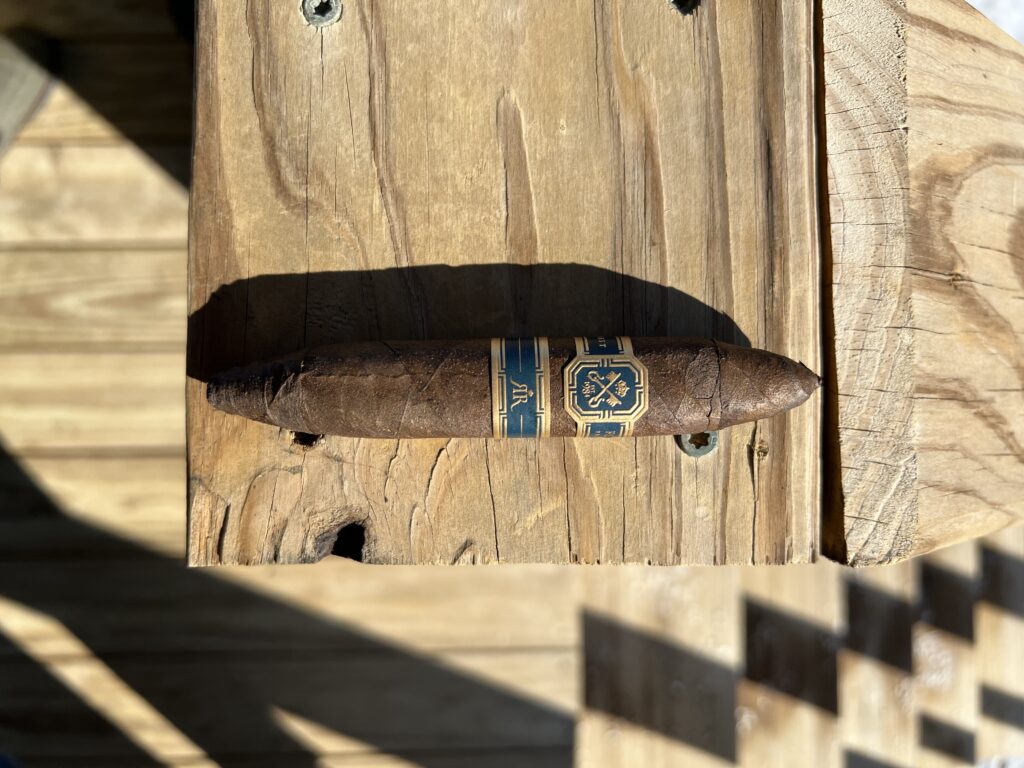 CONSTRUCTION
The perfecto shape has always been a favorite of mine and adding a box press to it really catches my eye. The San Andres wrapper is a dark chocolate color with some small veins, a slight oily sheen, tight seams, and a medium tooth. Of the three cigars I smoked for this review, there was one with a noticeable soft spot, but the other two had a consistent and dense pack. The perfecto vitola is topped off with a single cap, giving me a large area to cut with a Lotus Jaws straight cutter.
AROMA

Dark chocolate chips with barnyard and raisin. It reminds me of a chocolate candy bar with raisin and toffee, I can't stop smelling it. 
COLD DRAW

Since the foot of the cigar is nearly closed the cold draw feels tight. The cold draw offers more chocolate, earth, pepper, and a wisp of cherry.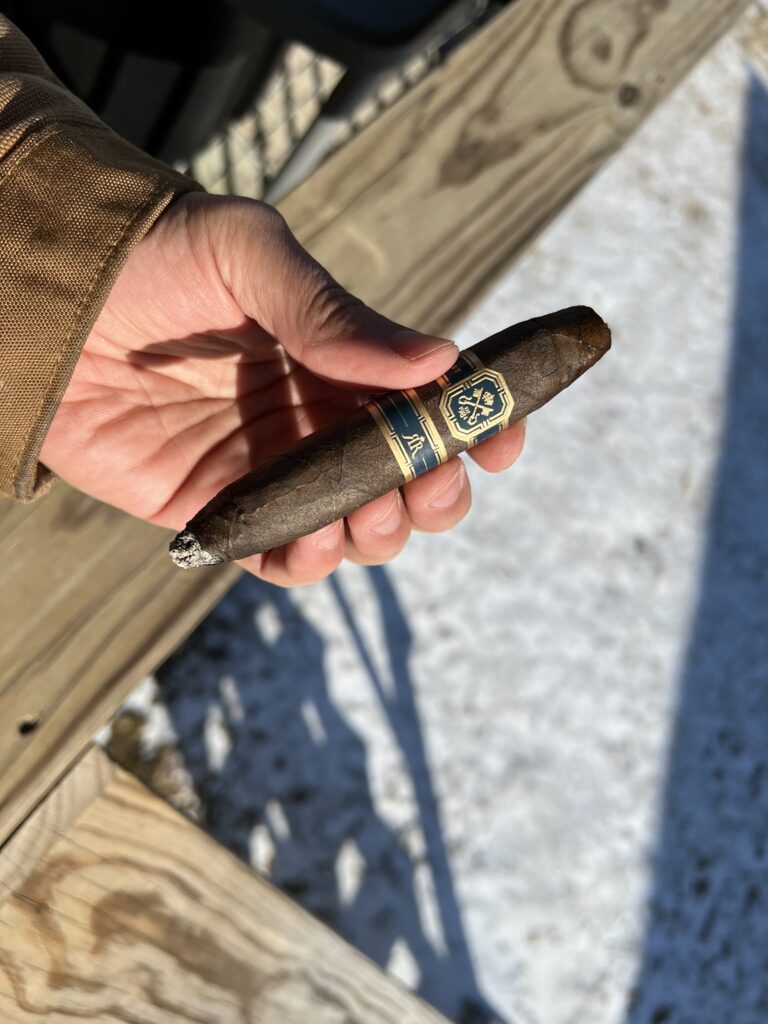 LIGHT & DRAW
Cut:  Lotus Jaws Straight Cut
Fire:  Colibri Quasar Table Lighter
The cigar toasts and lights up in seconds as the foot is so small. I will admit that a table lighter for this cigar is a little overkill and with a flame that large I took extra care to get an even light on the foot. In another sample, I had an uneven light that did not cause too many issues, but did not burn correctly in the first third. After lighting the cigar carefully, the draw opens up immediately and has just a touch of resistance. It is actually close to perfect.
SMOKE

Upon taking my first three draws, the smoke billows and lingers in the cold air. It is thick, chewy, and full of deep mineral earthiness. The smoke does not pour off the foot but there is still a lot of it. It has an incredibly pungent room note that may be a bit too much for the non-smokers you know. After smoking one sample, I walked into the house and my wife asked me what I smoked because it was so strong.
FIRST THIRD
>> Black cherry, Smoked Oak, and Earth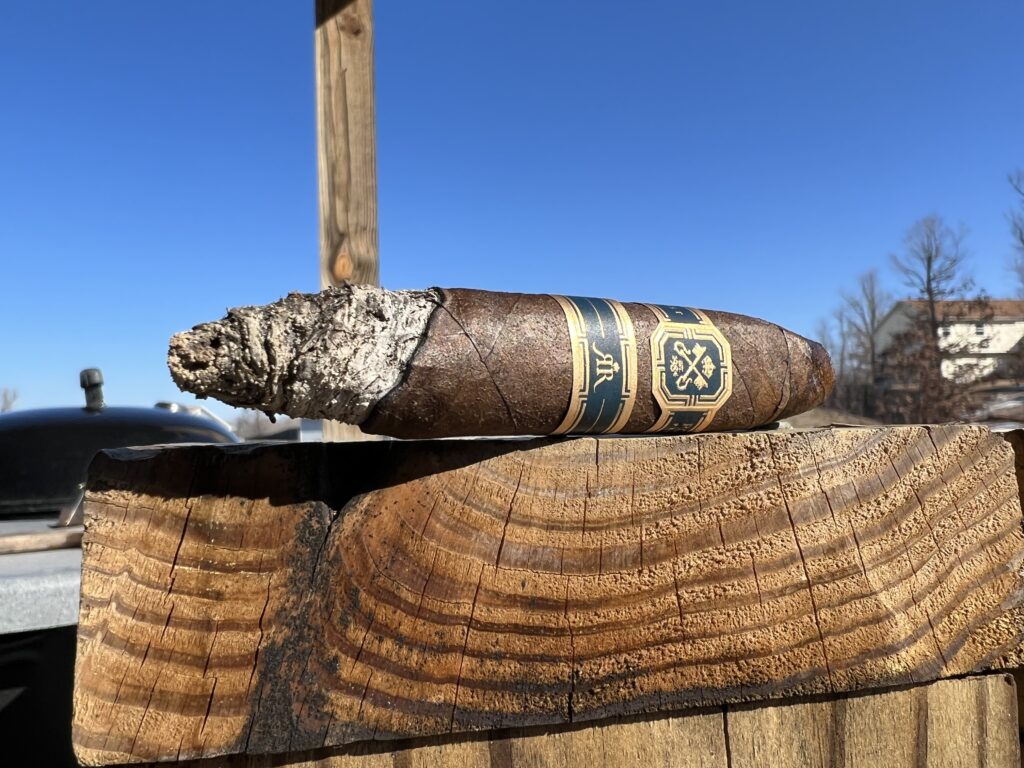 From the light up, this cigar offers some of the richest and boldest flavors of any cigar I have smoked. The first notes you will notice upon lighting up this cigar are dark chocolate, dark roast coffee, and earth. The retrohale is spicy red pepper with a long leathery/earthy finish. This is, without a doubt, a full-bodied cigar and right before the end of the first third the flavor shifts. On the palette is a sticky black cherry, a smoked oak that reminds me of my first days of learning how to BBQ with my first sergeant usin whole oak logs, and a dark damp earthiness. The smoke remains chewy and a little dry, but not enough to where I need a glass of water. The burn is sharp but wavy, the draw has almost no resistance, and the ash is semi-compact with flakes here and there.
SECOND THIRD
>> Fresh Baked Bread, Dark Chocolate Fudge, Dry Cocao Nib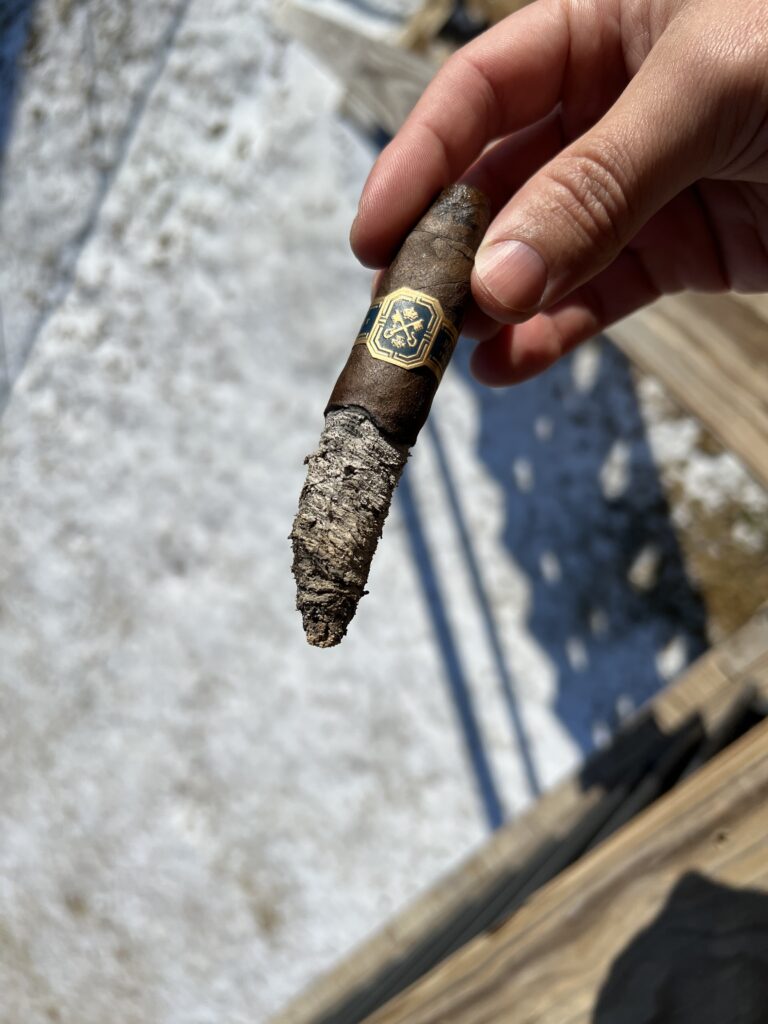 Chocolate is the dominant flavor of this cigar and I could not be happier about it. The second third reminds me of a baguette I made a few weeks ago. It isn't often I pick up such a strong baked bread note. If I had sliced that baguette, put some fudge on top, and sprinkled it with cocao nibs, that is what this cigar is like. The red pepper on the retrohale subsides and is more of a black pepper and oak mix now. The finish offers earth, oak, and bitter chocolate. The ash begins to straighten out and holds on strong for almost half of the cigar. It has some incredible balance and progression. 
FINAL THIRD
>> Chocolate (like a lot), Citrus Tang, Cherry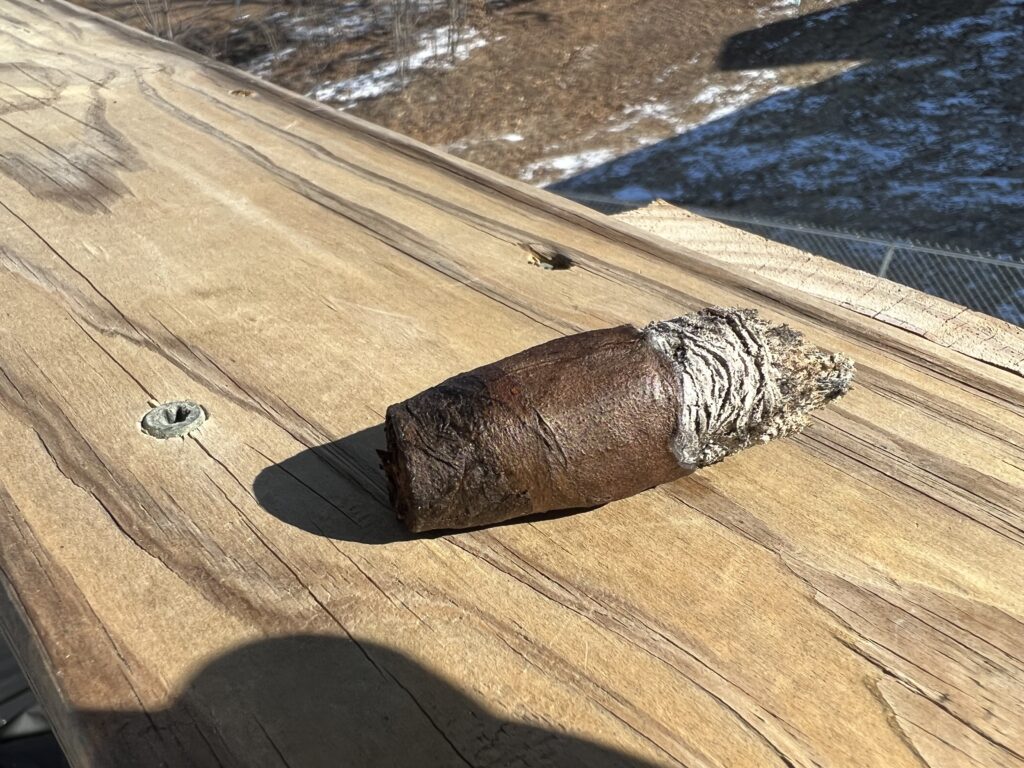 Chocolate continues to be the dominant flavor of the cigar and really acts as a solid foundation in which all other flavors can hang off of. There is a citrus tanginess mixed with cherry and oak in the last third as the cigar flavors become more concentrated. The burn is wavy but I have not corrected the cigar once. The smoke remains chewy, but shifts from a general dryness to an oily slick finish that coats the palette. More pepper and oak can be found in the retro-hale followed by a chocolate butter pastry finish that lasts until the next draw. 
FLAVOR PROGRESSION
I love chocolate and I can't really think of many people who do not like it, that is the dominant flavor throughout this cigar. While it is not on the forefront all the time, it is always present. I liked the bold and nuanced flavors that shifted in and out from each section, all of the flavors meshed well with the chocolate base. The retrohale had a nice progression in starting out with a spicy red pepper and mellowing out to a black pepper with oak. There is so much flavor in this stick and it was impossible to not stay interested for the entire smoke.
BURN EXPERIENCE
The Rodriguez Primera Clase did not offer the best burn experience, but it was by no means terrible. Even when I had a cigar with a noticeable soft spot and burned a little fast, I still did not have to touch it up. None of the samples had a razor sharp burn but I never corrected any of them either.
RATING BREAKDOWN
0.80 / 0.75 … Craft & Aesthetic
0.50 / 0.50 … Pre-Light Characteristics
0.50 / 0.50 … Lighting Process
7.70 / 7.00 … Smoking Experience
0.50 / 0.50 … Personal Enjoyment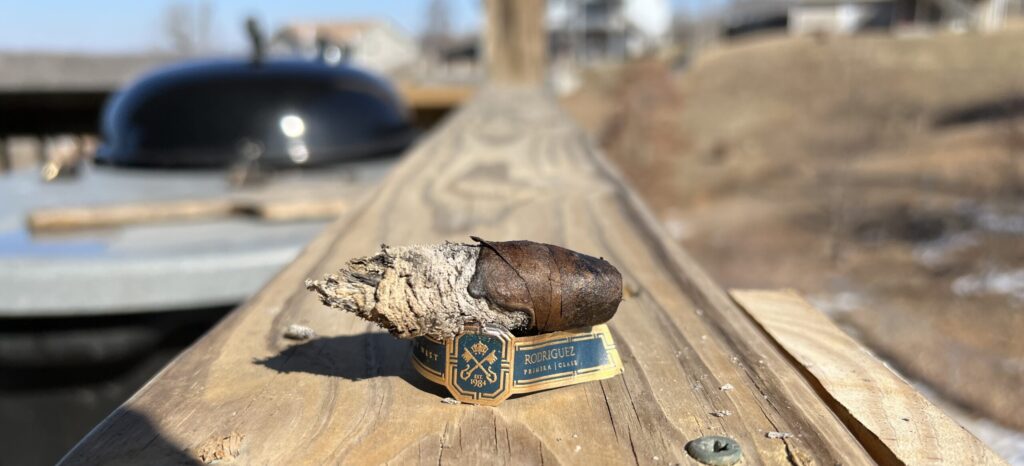 TOP 5 CIGAR.
I am a big fan of all of the lines Rodriguez has to offer but the Primera Clase is, by far, their best offering. This is without a doubt, one of the best cigars I have smoked in my life so far. I will always have a box of these in my humidor, but not necessarily the perfecto vitola. This may not be for the beginner, but it sure is one hell of a smoke. 
SIMPLY STOGIES RATING:  9.25 / 10.0