Safari Cigars and Lounge, located in a strip mall on the Northwest side of Omaha, is one of the nicest cigar lounges I have ever visited. Owned by Jeff and Mari Doll, this family run business is a destination spot for any cigar enthusiast or aficionado. Safari boasts two spacious smoking areas, a bar full of top shelf liquor, plenty of comfortable seating, and more than enough televisions to accommodate multiple sporting or entertainment events. 
There are really two stars of Safari Cigars and Lounge: their walk-in humidor and their staff. Their humidor offers something for every palate and every budget. As an authorized Davidoff retailer, they carry a wide selection of the ultra-premium brand, as well as Atabey, Padron, and others. The majority of their humidor is budget-friendly and popular with fans of Rocky Patel, AVO, Ashton, and Comacho. The staff is friendly and engaging. The emphasis for Safari is on cigars and making every customer feel welcomed and comfortable. 
ADDRESS:   13110 Birch Dr #108, Omaha, NE 68164
PHONE #:   (402) 965-1460
HOURS:   Monday – Saturday 9AM-12AM
                  Sunday 12pm-9PM
BOOZE AVAILABLE:   N
DRINKS AVAILABLE:   Y
FOOD AVAILABLE:  N
SMOKING LOUNGE:   Y
WALK-IN HUMIDOR:   Y
SPONSORED LOUNGE:   N (Is an Authorized Davidoff Retailer) 
OUTDOOR SMOKING AREA:   N
MEMBERSHIPS AVAILABLE:   Y
When Jeff and Mari purchased the lounge, it was a "quasi-strip club."
Jeff remodeled the club to give a more upscale and luxury-type vibe.
You will never see news channels on their televisions. This is done to make the environment inclusive for everyone.
Jeff Doll gave Tony Goins advice on opening Capital Cigar Lounge in Lincoln, NE, and they consider each other their "sister lounge."
Safari Cigars and Lounge is an Authorized Davidoff Retailer.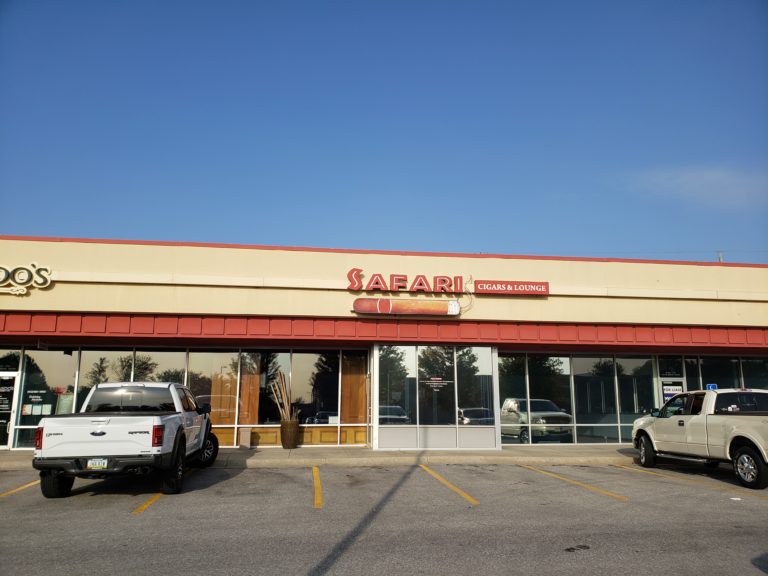 Located in a strip mall on the Northwest side of Omaha, the location could not be better. The strip mall is located inside of a shopping center that has several restaurants close by, a Walmart, and a golf course. This is a great location to grab a few cigars before hitting the links when the weather is nice, or taking refuge and smoking inside the lounge when the weather is not cooperating.
The outside of Safari Cigars and Lounge seems almost unassuming and belies what waits for you inside. The giant smoking cigar on their sign, lets you know that you're in the right spot. There is plenty of parking in the lot, which should have been my first indication at the size of the lounge. You are immediately met with the "safari" motif as you approach the entrance.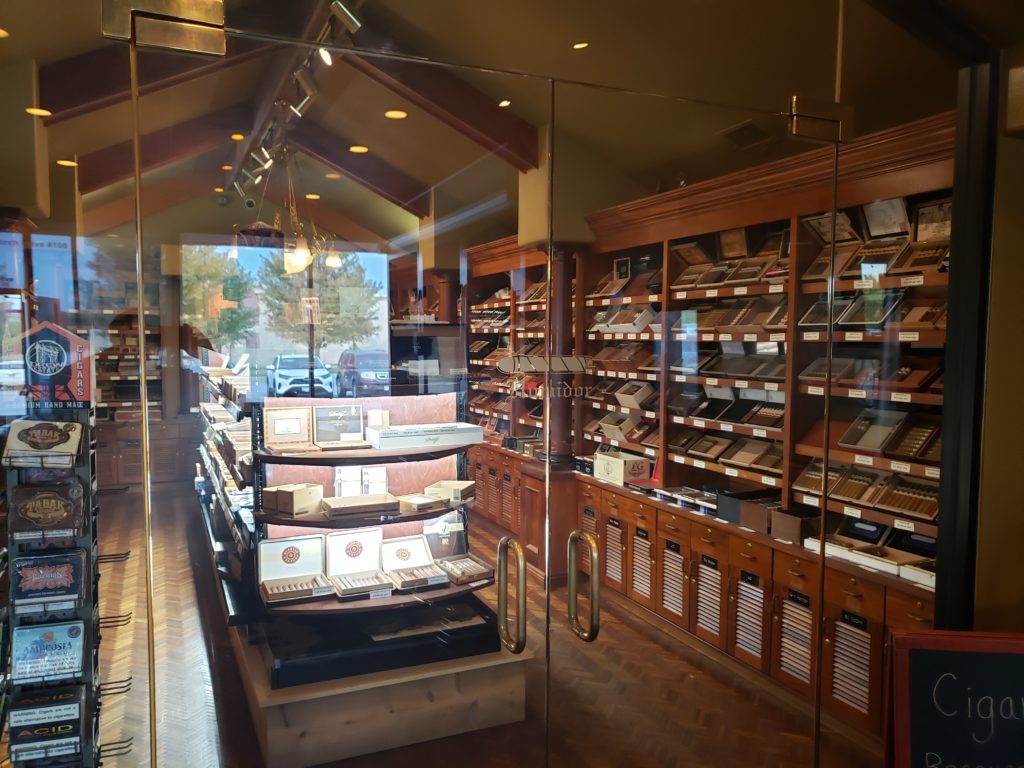 SELECTION/HUMIDOR SIZE
Safari Cigars owns a large walk-in humidor. The spacious humidor was not something I was expecting to see walking up to the Lounge. This is the largest walk-in humidor I have seen in a lounge that is located in a strip mall. There is plenty of room to walk around, and it is spacious enough for several customers to browse their selection at once.
Safari Cigars and Lounge has one of the largest selections of cigars that I've seen. Jeff and Mari have made great use of their space, and have packed their large walk-in humidor with a lot of variety. The island in the middle has ultra-premium brands such as Davidoff and Atabey, and Padron is located directly behind the island. Do not be scared off by their upscale look. Safari offers cigars for every budget and palate. Brands like Drew Estate, RoMa Craft, Rocky Patel, La Flor Dominicana, Southern Draw, and many others. Their selection is very impressive.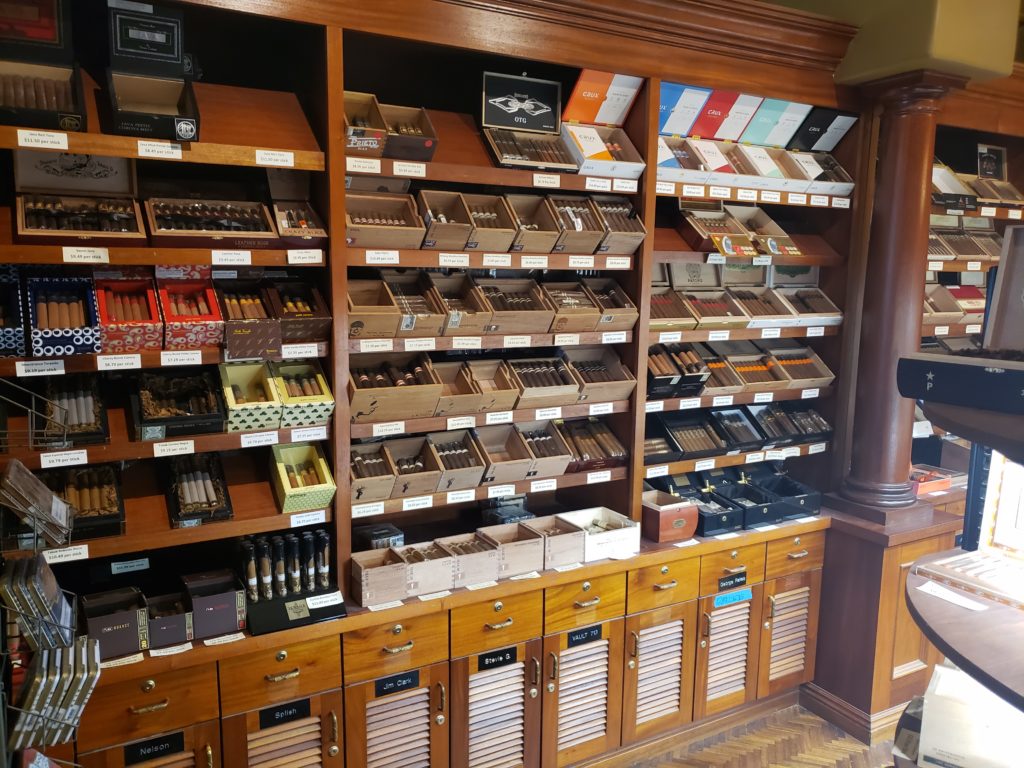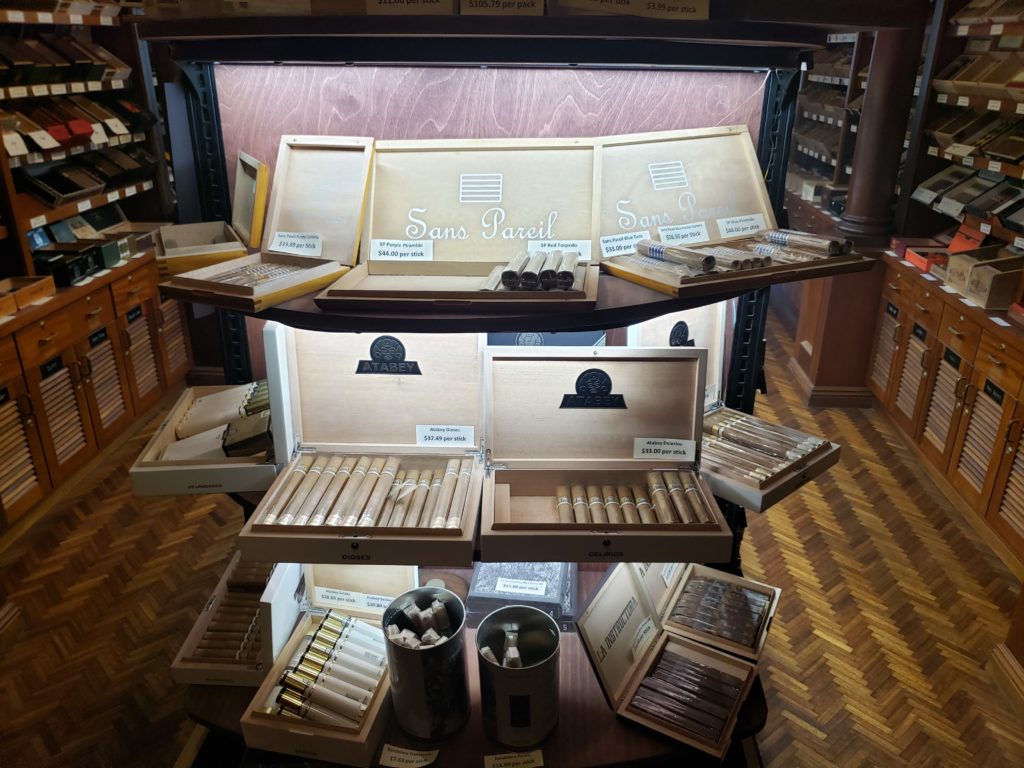 HUMIDOR MAINTENANCE
As one might expect, the humidor is well maintained. Having smoked two cigars from their humidor, while at the lounge, I can personally speak to them not be over-humidified. The cigars are beautifully displayed and are obviously well-kept. There was no mold present on any cigar, and their humidification system was well maintained.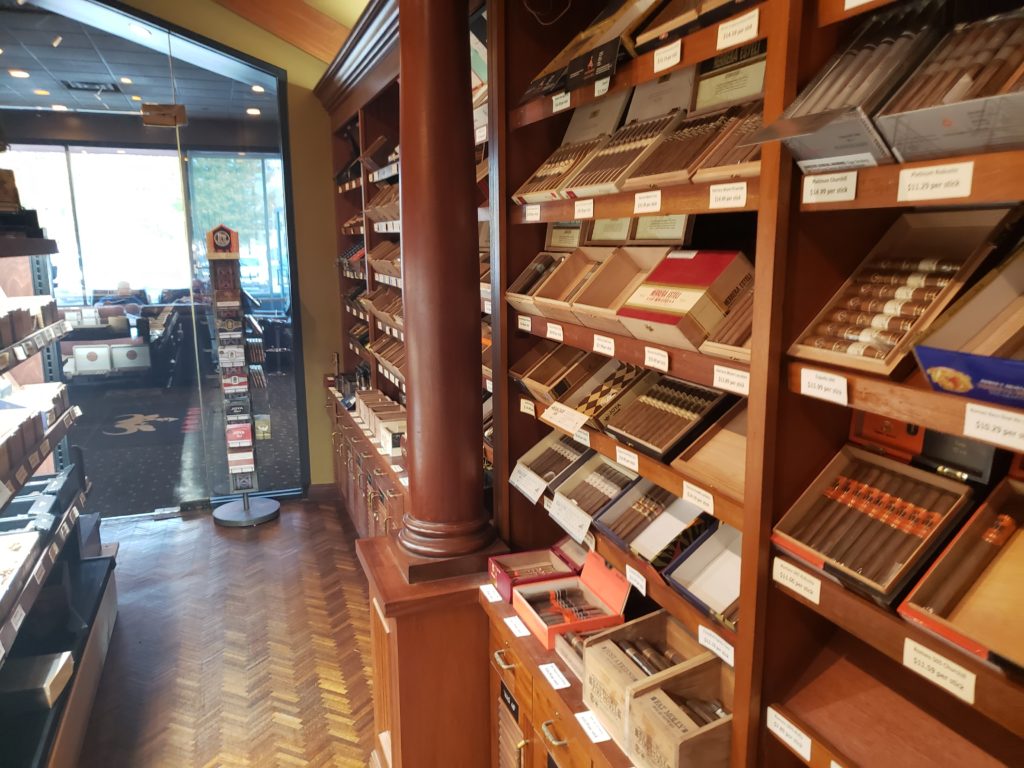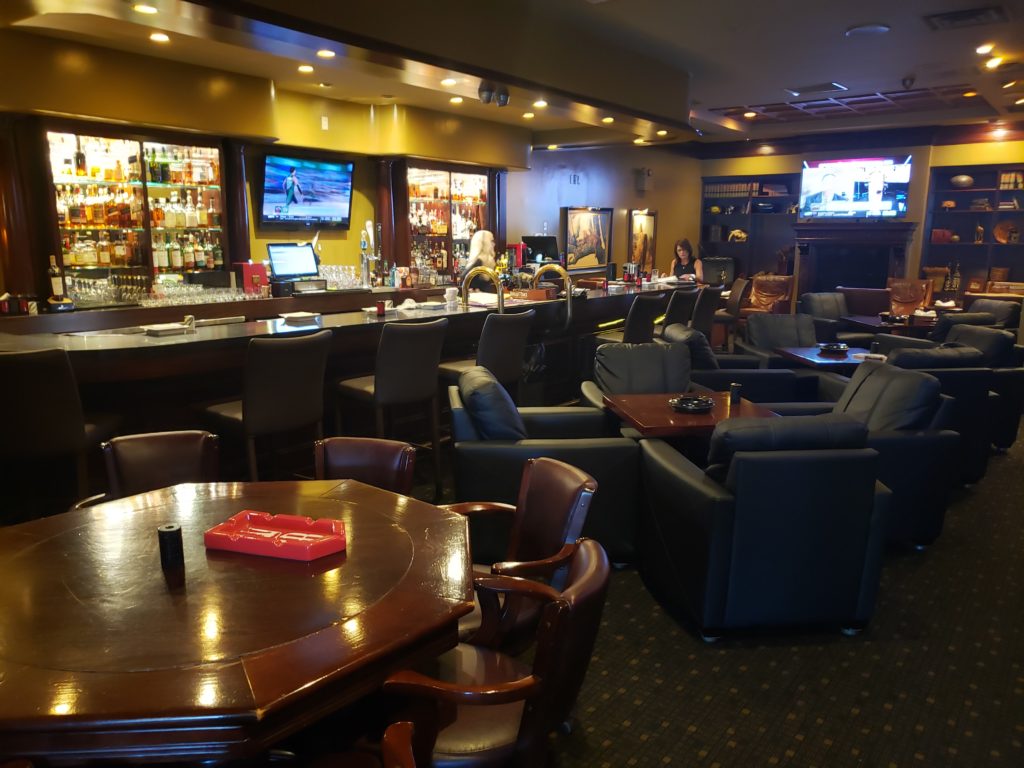 CUSTOMER SERVICE/STAFF KNOWLEDGE
This is, arguably, the most important area for every lounge. One of the biggest advantages of having a B&M (brick and mortar) is that it gives cigar enthusiasts and aficionados a place to glean knowledge of the hobby from the staff. This is an area that Safari Cigars and Lounge excels in. The first indication of a knowledgeable staff is how the humidor is maintained. The second is how knowledgeable the staff is. Based on my interaction with their humidor manager, I can tell you that the staff is very knowledgeable. From new products to leaf primings and from FDA regulations to the impact of COVID, the staff knows their stuff and are more than happy to pass that knowledge on to their customers.
Customer service is yet another area that the staff excels in, especially their bartenders. They are friendly, willing to engage in conversation, and show a genuine interest in getting to know their customers. This helps them not only find the right cigar for beginners and aficionados, but also in what drinks to pair with your cigar purchase. Do not be fooled by their top shelf bar. Their focus is on their humidor, on their selection of cigars, and on their customer service.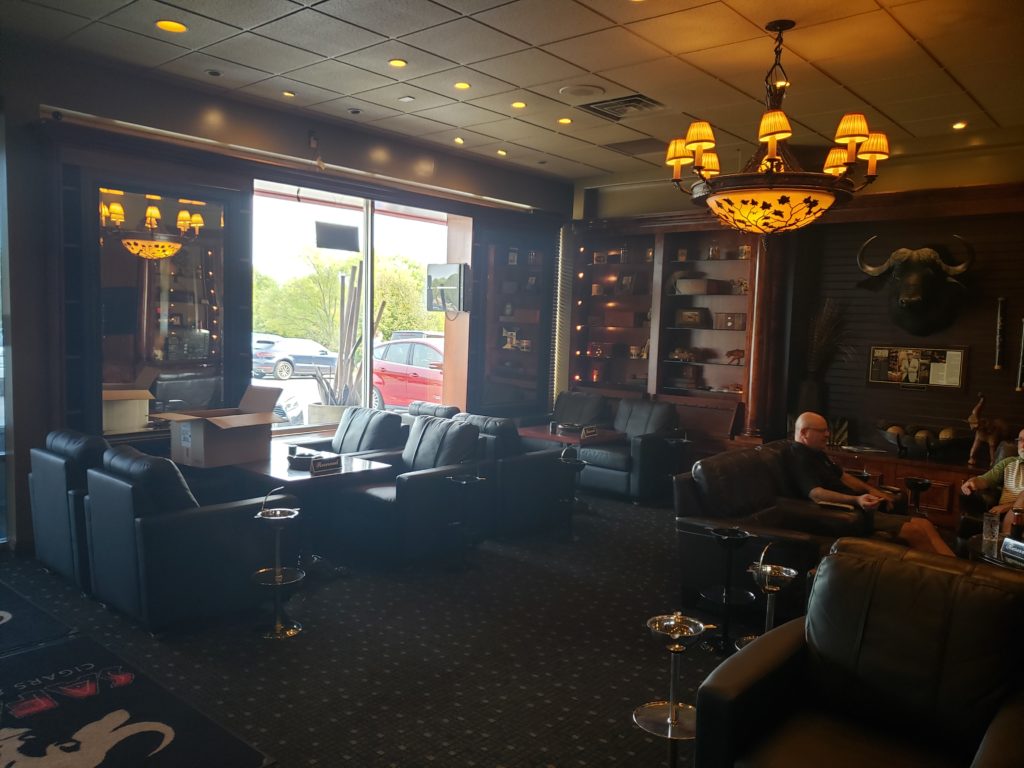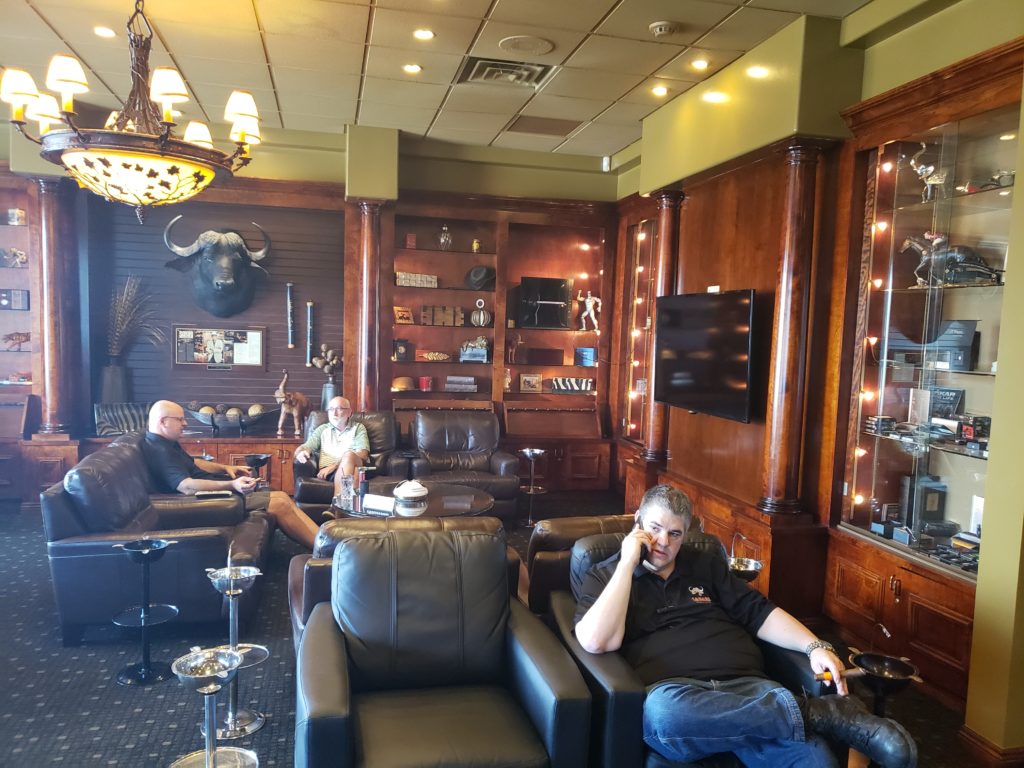 LOUNGE SIZE
Safari Cigars and Lounge has two seating areas. One is in the front and is surrounded by large windows that provide plenty of light. It has two large televisions and is adorned in an upscale "safari" motif, and cigar accessories available for purchase. The second is in the bar area. The bar contains top shelf liquor, a bartender on staff, "safari" motif, and two large bookshelves. There is seating at the bar and plenty of tables for small parties.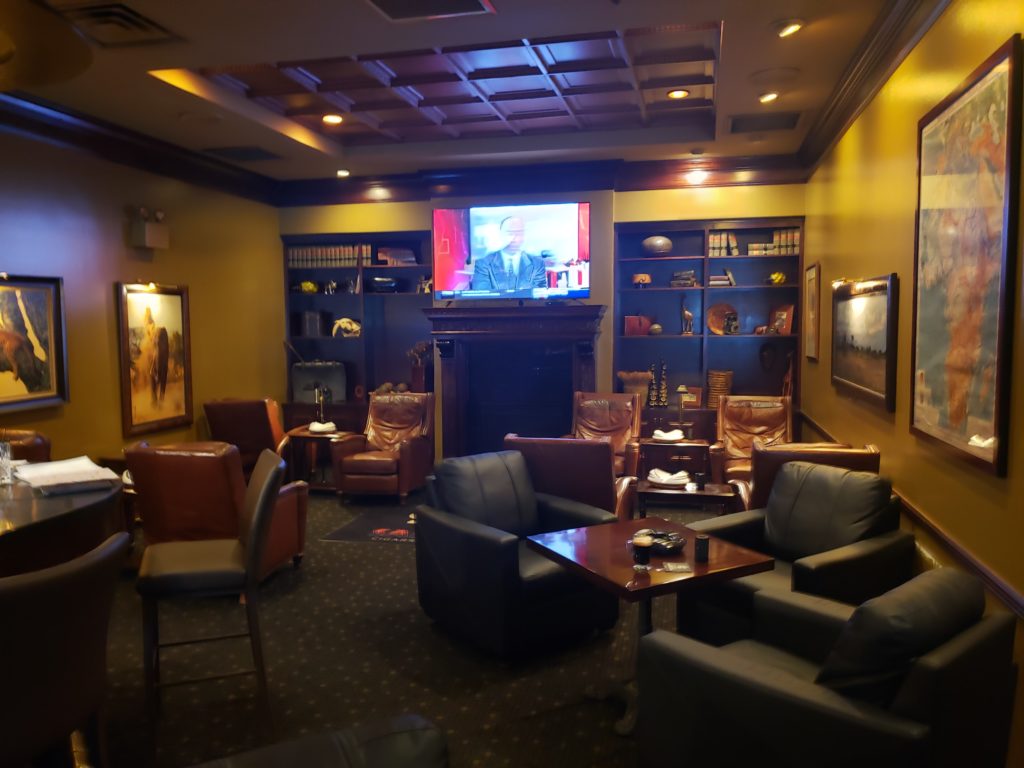 AMBIANCE
The ambiance is one of luxury and an upscale setting. When I close my eyes and imagine a cigar lounge, this is exactly what I imagine. It is relaxing and oozes class. I was told by some in the Omaha area that Safari Cigars and Lounge is "too snobby" for them. I can understand that perception based solely on the décor; however, there is more to a lounge than how it looks. Jeans and t-shirts are just as welcomed as a business suit and tie. The staff matches this atmosphere as the bar staff are more formal than the cigar staff. Regardless, the ambiance of Safar Cigars and Lounge is unmatched.
HUMIDOR EXPERIENCE
The wide variety and selection found in Safari's walk-in humidor should be attractive to all smokers, no matter your experience level in the hobby. The knowledgeable staff can you help you find anything you're looking for and point you in the right direction for those who are unsure of what they may want. The humidor is well-maintained and very nicely laid out.
LOUNGE EXPERIENCE
The lounge is second-to-none in the Omaha area. A fully stocked bar is nice, but the attention is on the cigars. With plenty of seating and large televisions, there is not a bad seat in the lounge. With enough space to hold large events, it still manages to feel cozy enough for intimate parties. My water glass was never empty and the staff was attentive and friendly.
RATING BREAKDOWN
2.80 / 3.00 … Customer Service/Staff Knowledge
3.00 / 3.00 … Selection/Humidor Size/Humidor Maintenance
3.40 / 3.50 … Ambiance
0.48 / 0.50 … Lounge Size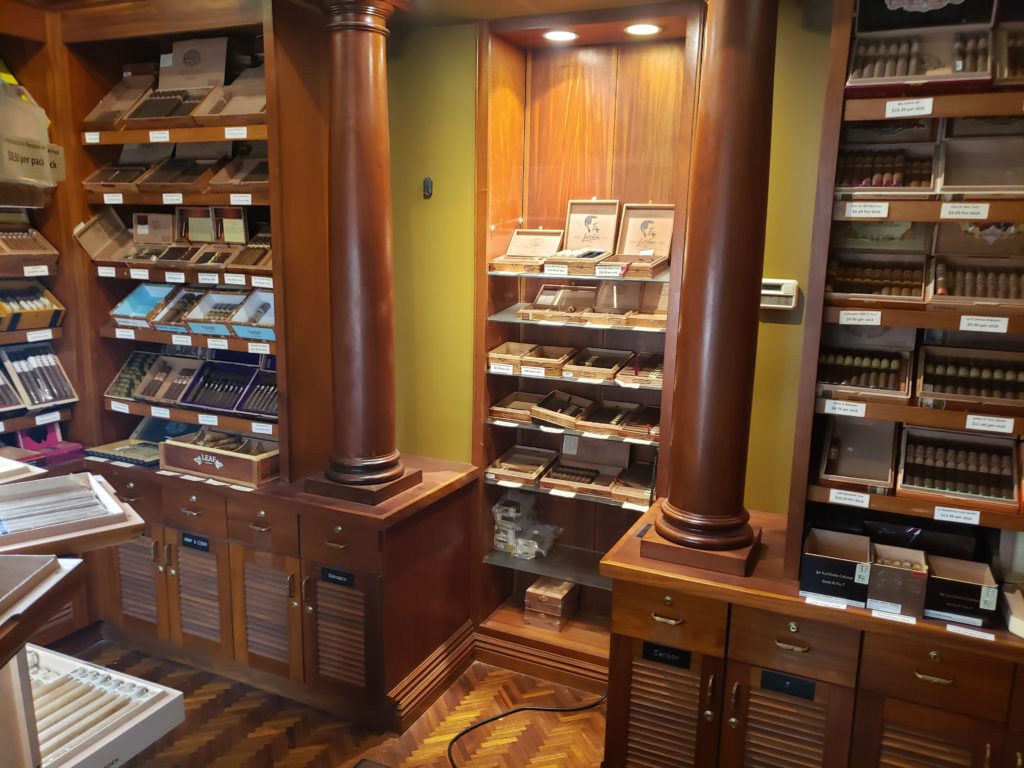 UPSCALE WITHOUT BEING SNOBS.
No lounge is perfect, but Safari Cigars and Lounge comes damn close. Jeff and Mari Doll have done a great job turning what was a "quasi-strip club" cigar lounge into an upscale and luxurious cigar experience. Safari is THE destination cigar lounge in Omaha, Nebraska. They want every customer to feel like they are escaping the daily grind. They have created a cigar lounge that gives everyone a respite from the divisiveness that plagues our society. They have gone above and beyond to provide a selection of cigars that appeal to a wide audience, and a lounge that whisks you away to a time long past where class and civility ruled the day. Do not miss an opportunity to visit Safari Cigars and Lounge the next time you are in Omaha.
SIMPLY STOGIES RATING: 9.68 / 10.0