I once again find myself in a strip mall in the Midwest. However, this is another case of "don't judge a book by its cover." Opened in 2018 by Anthony Goins and Austin Hillis, Capital Cigar Lounge is located on the south side of Lincoln, Nebraska. The building still looks new and is surrounded by new developments. Besides looking shiny, Capital Cigar Lounge sports a fully stocked bar, complete with trained bar staff, walk-in humidor, large smoking lounge, VIP lounge, and smoking conference room.
 The first time that I had visited Capital Cigar Lounge was at the beginning of 2020 for the Nebraska Cigar Fest. At the time, they seemed to focus more on the bar and less on their humidor. That all changed by the time I visited for this review. Humidor Coach Jeff Fry and co-owner Anthony Goins had put a renewed focus on the cigars they carried, making sure that their staff was well-versed in each brand they carry.
ADDRESS:   5505 S 16th St Ste 100, Lincoln, Nebraska
PHONE #:   (402) 430-9109
HOURS:   Sunday – Thursday 11AM-12AM
                  Friday & Saturday 11AM-12AM
BOOZE AVAILABLE:   Y
DRINKS AVAILABLE:   Fully stocked bar
FOOD AVAILABLE:   No
SMOKING LOUNGE: Y
WALK-IN HUMIDOR: Y
SPONSORED LOUNGE: Alec Bradley
OUTDOOR SMOKING AREA: Y
MEMBERSHIPS AVAILABLE: Y
Capital Cigar Lounge is the "sister" lounge of Safari Cigars and Lounge in Omaha, Nebraska.
Co-owner Anthony Goins and Humidor Coach Jeff Fry have appeared on Simply Stogies Podcast twice.
Anthony Goins is good friends with the owner of another lounge in Lincoln, Nebraska, Cigarz Lounge.
Capital Cigar Lounge is the only Alec Bradley-branded lounge in the United States.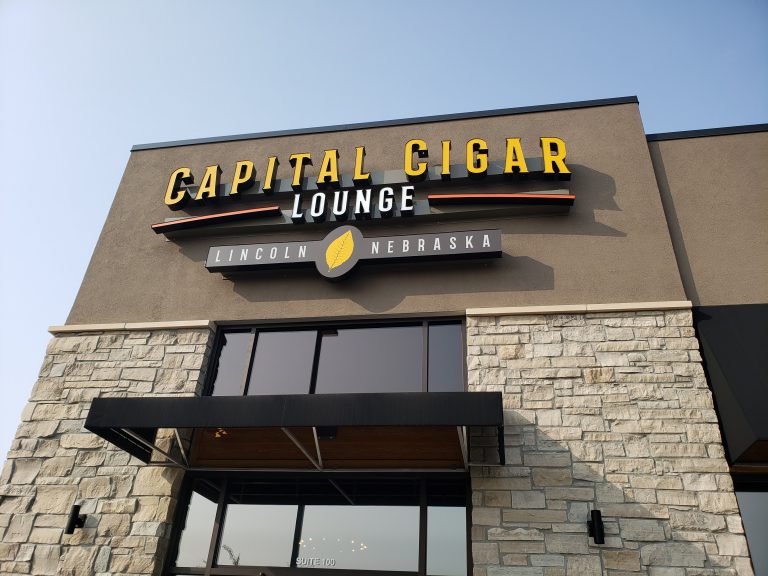 I am constantly surprised by how nice cigar lounges can be when located in a strip mall, and Capital Cigar Lounge is no different. The outside is very inviting and modern-looking. A rock façade and large windows, the outside almost looks like a standalone building. Part of that has to do with its size. It is spacious. Very spacious — with room for two lounges, full bar, and conference room — it has to be.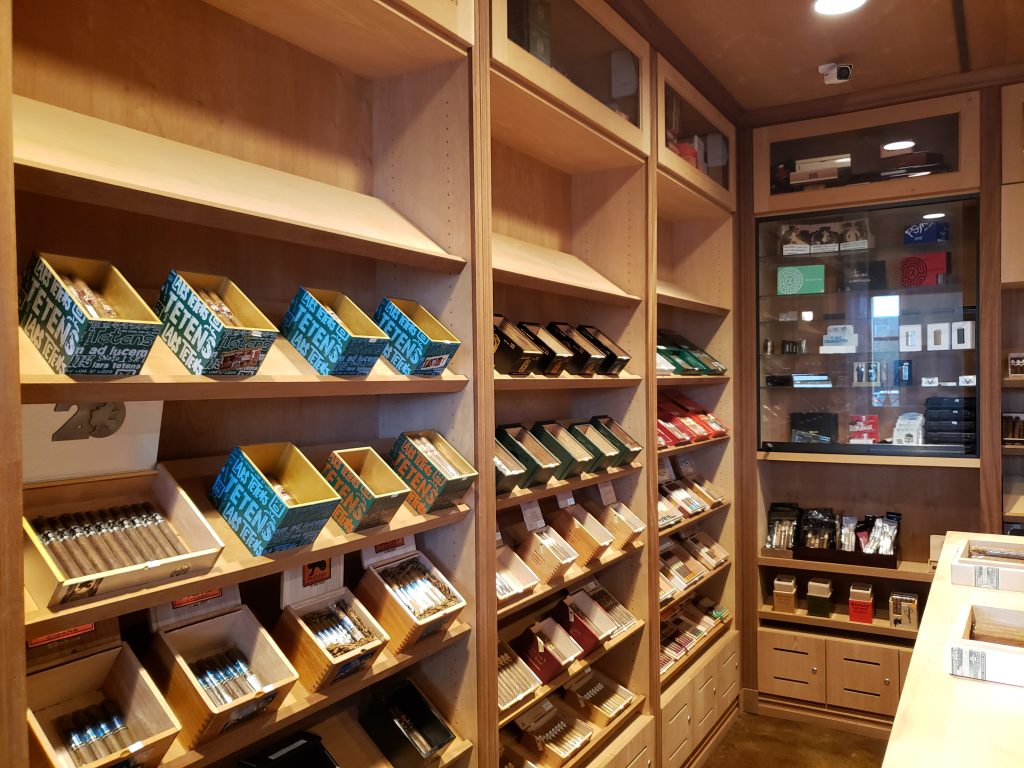 SELECTION/HUMIDOR SIZE
What a difference six months make! I'll be honest, after visiting the lounge in February I did not have high hopes as to what selection of cigars I would find in their humidor. At that time, there was a lot of real estate open on the shelves. Not in September. They were stocked and their seclection was stacked. Of course they had Alec Bradley, but they had so much more: Padron, Davidoff, Byron, Atabey, Crux, CAO, Crowned Heads, Archetype, Principe, and much more. I was more than impressed. Jeff Fry told me that they had made a concerted effort to focus on bringing in more brands for their patrons to enjoy. Boy, did they.
The walk-in humidor is not the largest I've been in, but there is a lot of real estate and it is all taken. I recently spoke to Humidor Coach Jeff Fry and he has informed me that their humidor is now packed tight with new editions. The installation of a small island does not make it feel cramped and gives them more space to bring in more and more brands.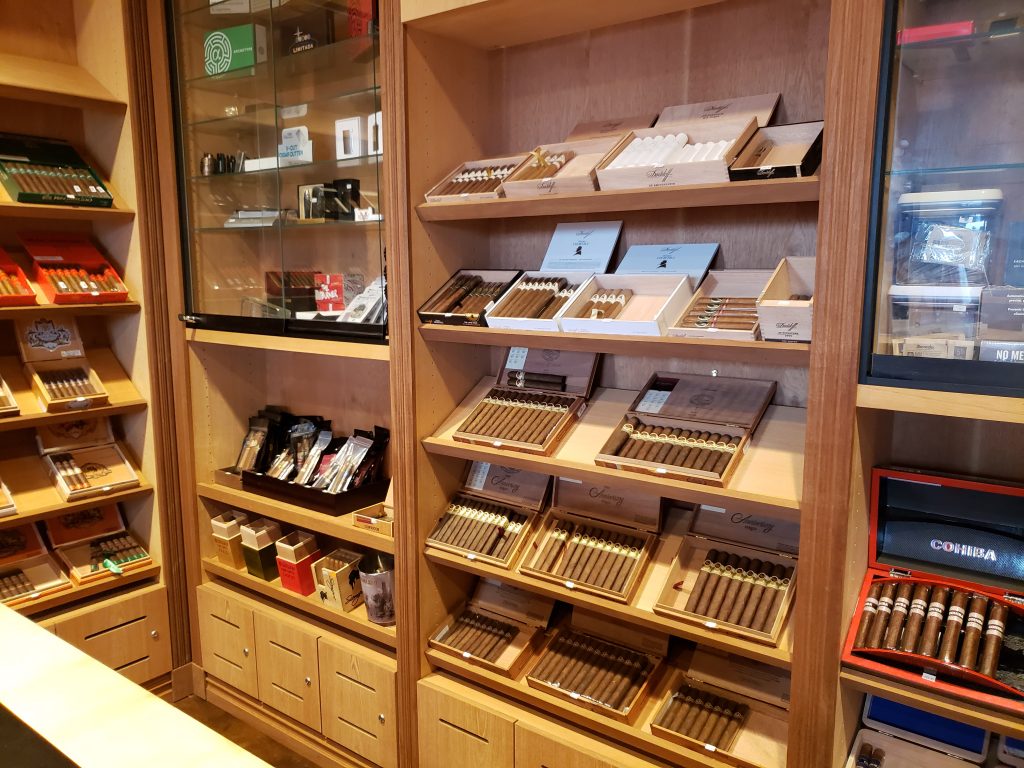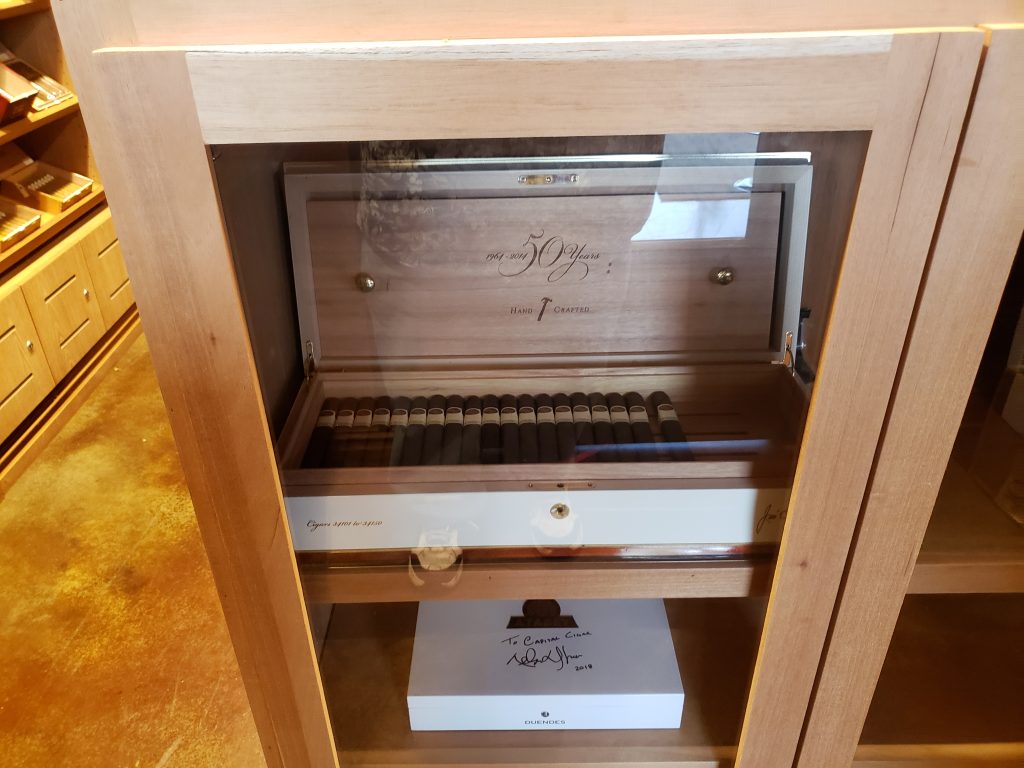 HUMIDOR MAINTENANCE
The humidification system is not visible inside their humidor. That's something I prefer to the humidifiers sitting on the floor in some humidors, but that is just personal preference. Their humidor is set, as most walk-ins are, at a higher rate (somewhere in the mid-to-high 70% range) to accommodate customers walking in and out all day. However, I have smoked several cigars straight from their humidor and never had a problem of being over- or under-humidified.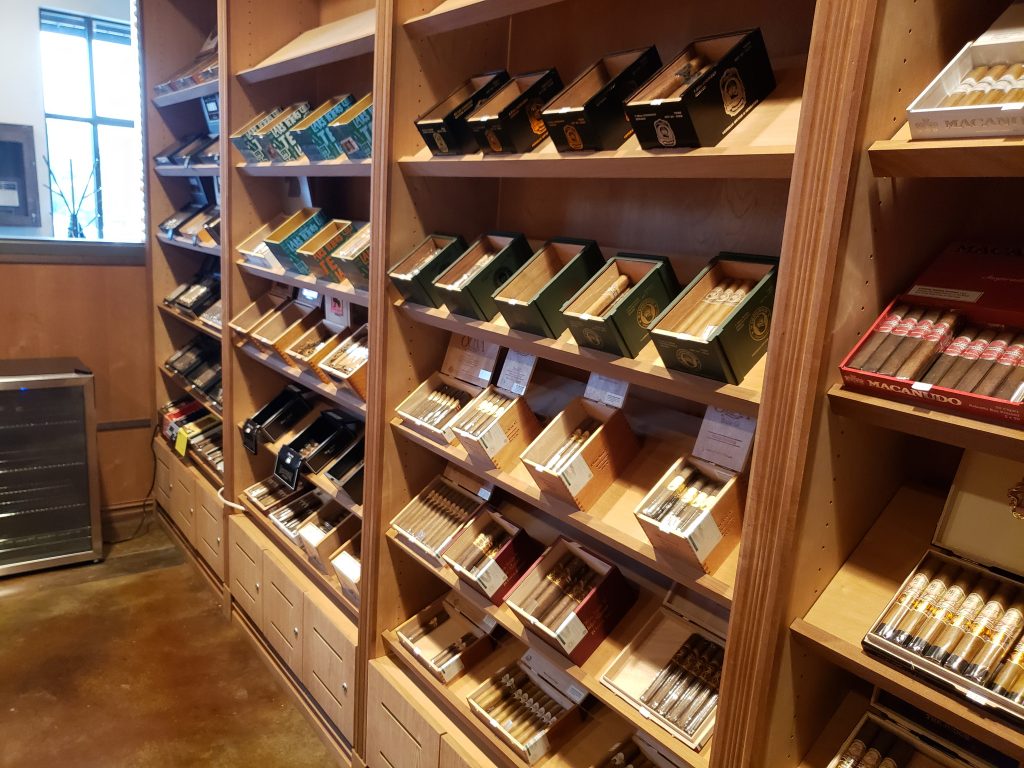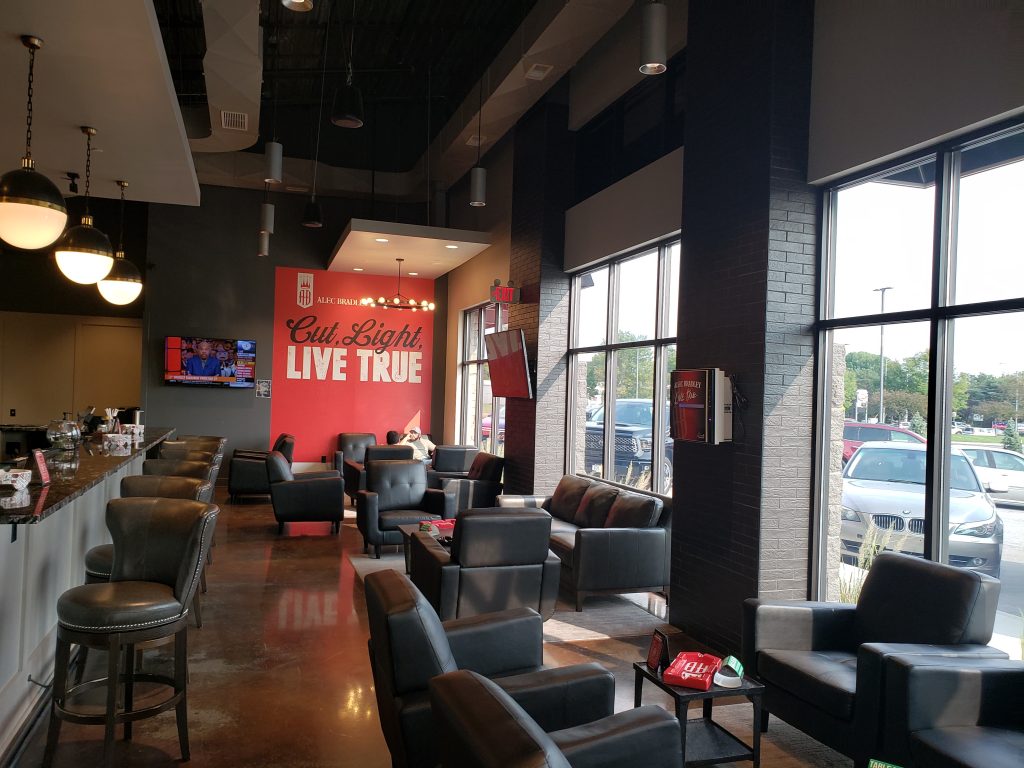 CUSTOMER SERVICE/STAFF KNOWLEDGE
There is a difference in an attentive staff and a hovering staff; the staff at Capital Cigar Lounge know the difference. What might be more impressive is that they have trained bar staff that is also trained humidor staff. They can now make a great Old Fashioned and help you select a cigar from their humidor. That's a lot to remember, but they have been trained to ask customers the right questions to get them a cigar that will fit their preferences.
Each time I visited Capital Cigar Lounge, I have seen their staff get very busy and handle it very well. The pandemic, however, has given the staff more of a challenge. Co-owner Anthony Goins wants his family and customers to be as safe as possible. A hand-sanitizing station is set up at the entrance for customers to use before entering, masks are mandated to be worn unless you are smoking or drinking, and they have table toppers that let customers know that a seating area has been cleaned. Going even further, the owners had air scrubber technology added to their HVAC to help keep the air clean inside the lounge.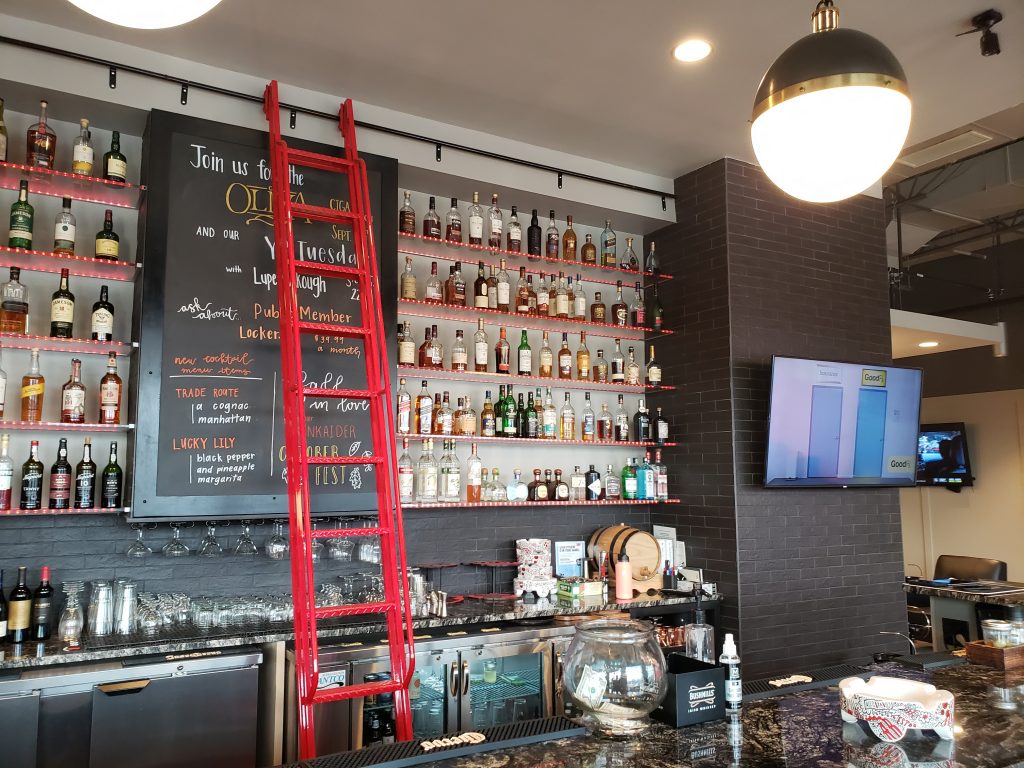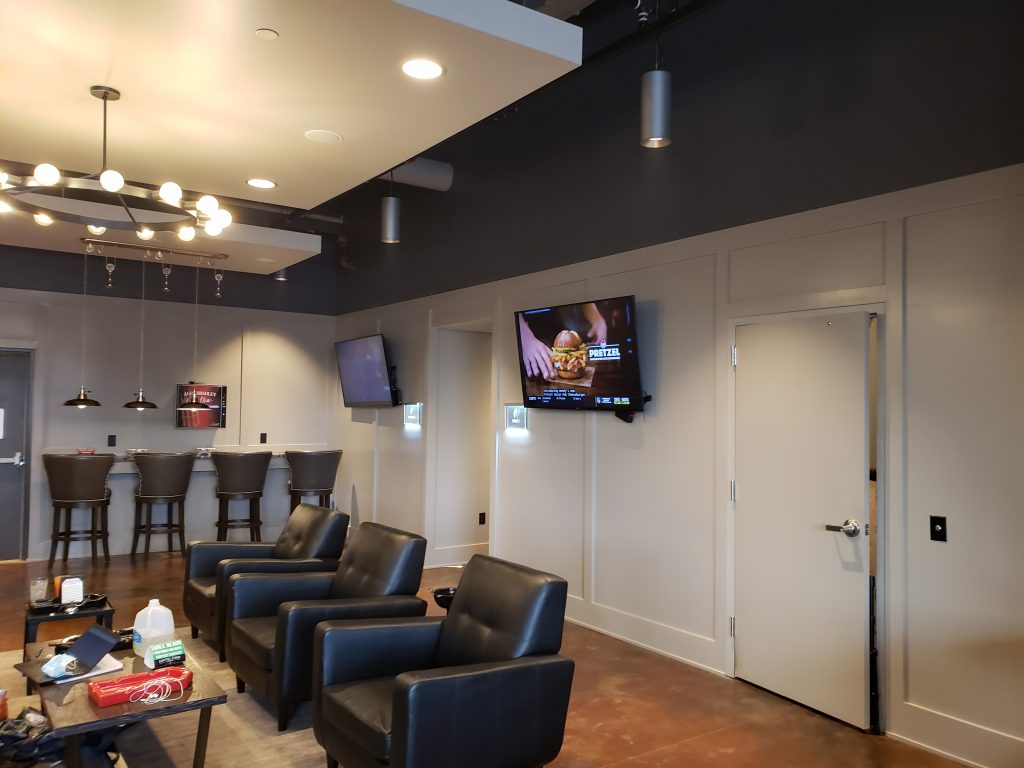 LOUNGE SIZE
The size of the lounge is impressive, and they make great use of the space they have. Not taking into account the VIP lounge area, there is ample seating for large parties or intimate parties of two.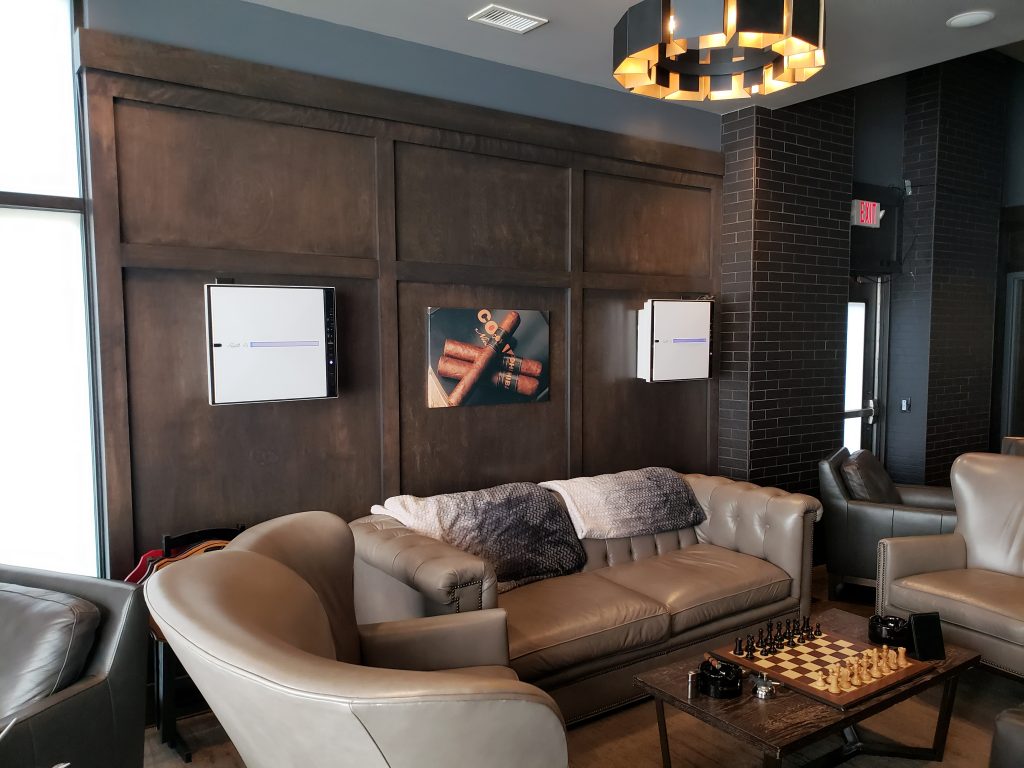 AMBIANCE
Capital Cigar Lounge is what I would call "casual class." You will not be out of place in jeans and a t-shirt or polo, nor would you be overdressed in a suit and tie. They cater to both the blue collar and white collar worker. While they are located in a college town, the bar is more bougie than frat house. And with the focus now on the cigar side of the business, it feels very much like an upscale lounge.
The main lounge features the bar area, five televisions, three Rabbit Air Purifiers, and a large amount of seating for both large or smaller parties. The decor is simple, yet modern. It is a great place to watch the game with friends or take those special SotLs in your life to for date night. Capital Cigar Lounge caters to almost everyone without being part of the "bar scene."  
Smoke is never a problem at Capital Cigar Lounge. With Rabbit Air Purifiers, a newer HVAC unit, and the addition of air scrubbers, smoke never lingers in the air. Again, I have been at Capital when they were packed and smoke was never an issue. 
HUMIDOR EXPERIENCE
The large selection and attentive staff armed with knowledge made my humidor experience a pleasant one. "Do you know what you're looking for?" "Are you a regular cigar smoker?" "What kind of food and drinks do you like?" Are all questions you can expect from the staff at Capital Cigar Lounge. They never hovered or made me feel like I was being watched in the humidor (a huge pet peeve of mine). They always made me feel welcome.
LOUNGE EXPERIENCE
The lounge experience is on par with any upscale lounge I've been in. Partly due to the attentive staff, partly due to how they have handled the pandemic, and partly due to its ambiance. It is a trifecta of awesome. There is not a bad seat in the house. I have been lucky enough to have been invited into their VIP area and it is worth the price of admission. 
RATING BREAKDOWN
2.80 / 3.00 … Customer Service/Staff Knowledge
2.90 / 3.00 … Selection/Humidor Size/Humidor Maintenance
3.40 / 3.50 … Ambiance
0.48 / 0.50 … Lounge Size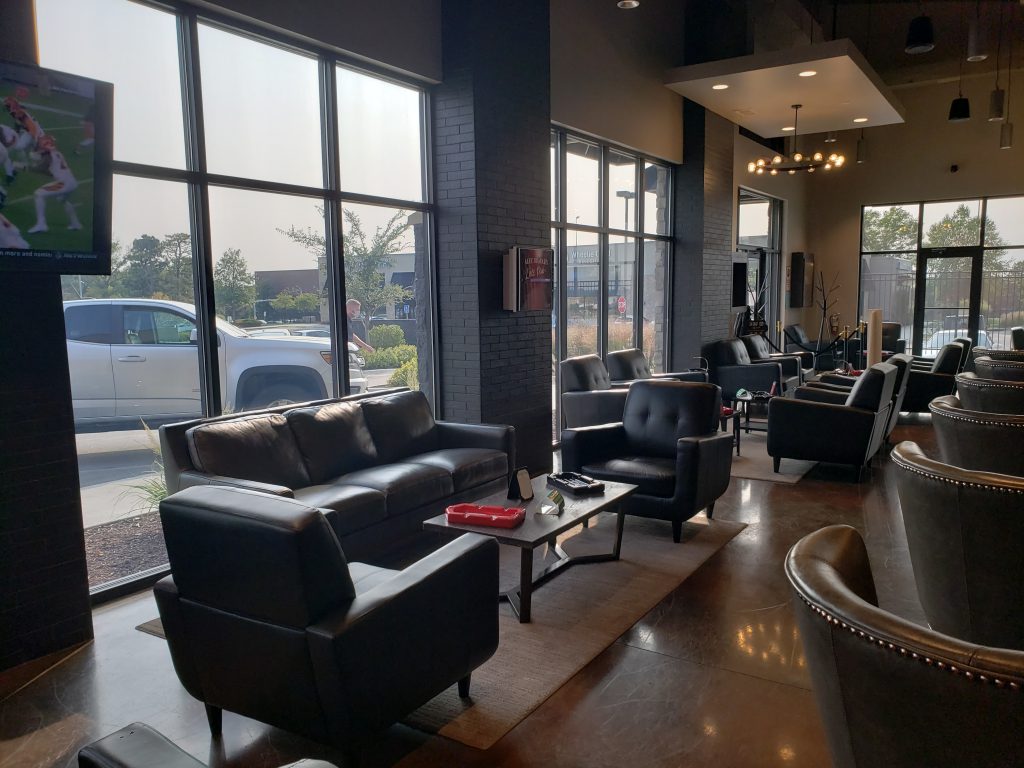 YOU WILL NOT WANT TO LEAVE.
Unfortunately, you'll eventually have to go home. However, Capital Cigar Lounge is the home-away-from-home for many of their customers, and for good reasons. The renewed focus on cigars has elevated a very nice lounge to elite status. Capital Cigar Lounge is the premier cigar lounge in Lincoln, Nebraska. It is far enough away from campus to avoid being part of the "bar scene" and their humidor selection is absolutely stacked with great cigars. Jeff Fry, the humidor coach, makes sure that the humidor is fully stocked and fully stacked with old favorites and new brands and blends for you to try. The bar, while fully stocked, is now the icing on the cake. Their VIP lounge is worth the price and the staff is well trained to make sure that aficionados, enthusiasts, and newcomers to the hobby feel right at home and will be coming back for years to come. 
SIMPLY STOGIES RATING:  9.58 / 10.0