Every year, without fail, when winter is at its nadir, I crave smoke —smoky scotches and smoky tobaccos in particular. While there are several entry level scotches which deliver the heavy peaty smoke I crave, I am still on the search for something that reaches the smoky heights of the ever elusive Penzance but at an affordable, bulk tobacco price. I've tried Pirate Kake, which, despite its high Latakia content, doesn't taste particularly smoky, and Star of the East, while also smoky, fails to capture the deeper nuances I'm looking for. Engine #99 by Cornell and Diehl is a perennial recommendation for an inexpensive English that should satisfy the most devoted smoke head.
BULK or TIN:   Bulk & Tin
SIZE:   Bulk or 2 OZ tins
ORIGIN:   USA
BLENDING HOUSE/PRODUCER:   Cornell & Diehl
BLENDING COMPONENTS:   Latakia, Perique, Virginia, Burley, Oriental 

STRENGTH:   4/7
SOURCE:   smokingpipes.com
WHERE:   
Pennsylvanian Mountains
WHEN:   
February-March 2021
DRINKS:   
Water
WEATHER:   
The worst of winter to the first beautiful days of spring
WHAT'S ON:   
The howling of wind and the chirping of the braver birds
RELEASE TYPE  available
SPECIAL RELEASE  N
AVAILABILITY BREAKDOWN
o Bulk
o Tin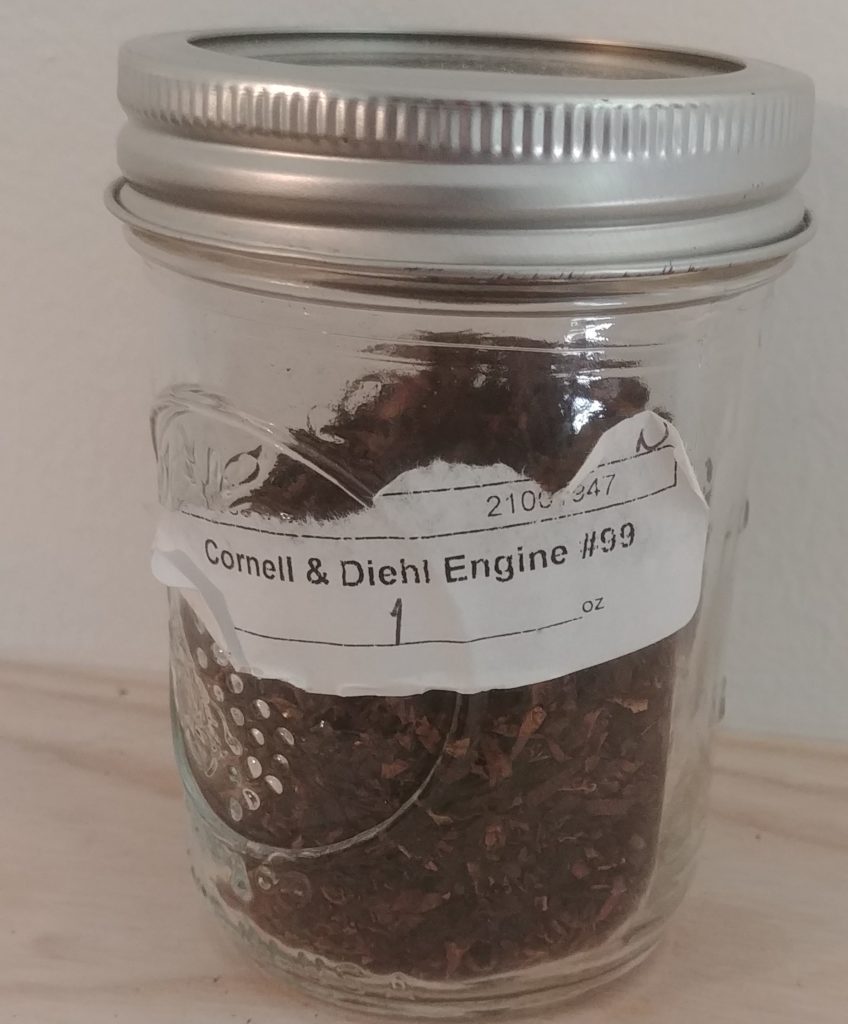 RESEARCH & BACKGROUND INFO
Is a combination of two classic C&D blends:
Red Odessa
Pirate Kake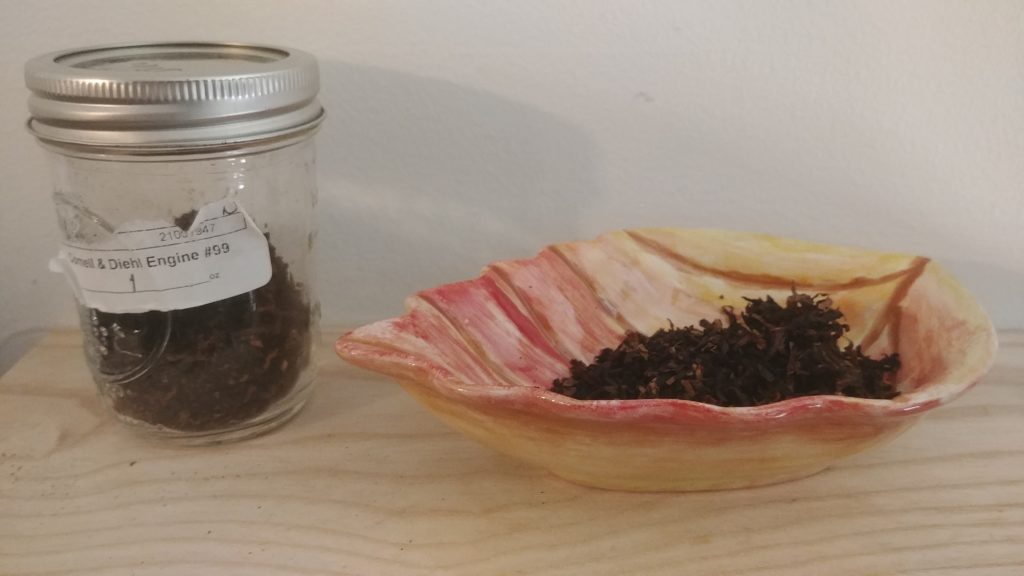 LOOK & FEEL OF THE LEAF
Roan, chestnut, tawny short medium ribbon.
TIN AROMA
Smoky. Smoky and earthy. Smoky and cedar. Smoky bacon. Smoked salt. Smoky.
LIGHT & DRAW
Packing Style: This easy going ribbon takes well to my thoughtless packing methods like the codger pack or two pinch.
Fire: My $1 astronaut bic.
SMOKE & ROOM NOTE
The smoke from Engine #99 is just to the heavy side of medium. Unsurprisingly for those knowing it's pedigree, this smells incredibly akin to a campfire when you smoke it.
FIRST BOWL
>> Savinelli 320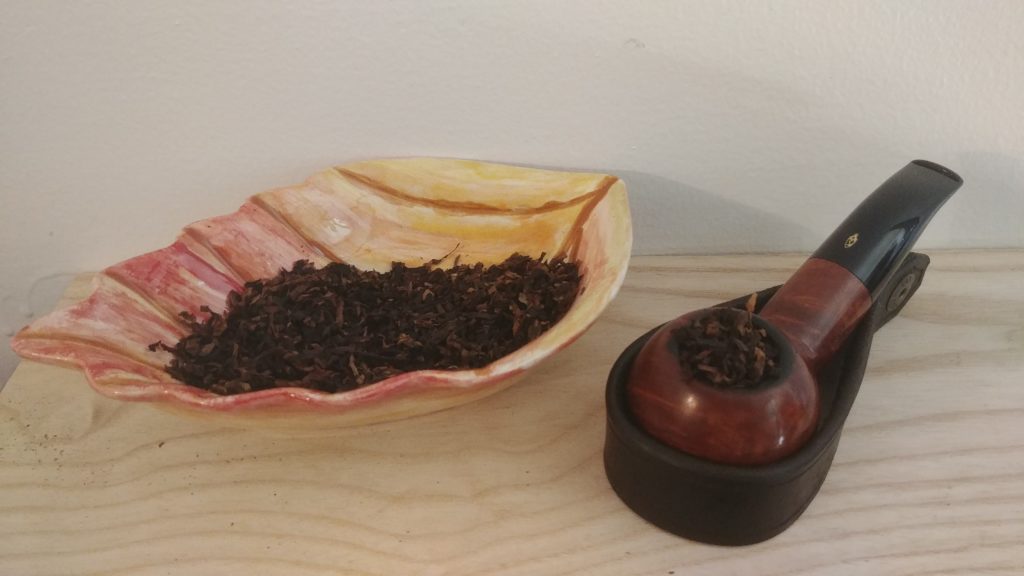 Leather, earth, smoke, and lavender. This is a Latakia bomb right from the start. There's a hint of orange, but no sweetness to pair. Now some salt, sourness, and that looked for sweetness. Wood bitters. Orange zest and white vinegar. Balanced sweet-sour-and-salt. Oily and smoky. Garlic, onions, and oregano. A bit of bitterness here and there. Effervescent orange soda pop, white vinegar, leathery smoke, and pine. Vegetal peaty bacon fat. Soft smoke. There is Latakia in every puff. Oily, almost greasy. The sweetness is teasing at this point. Oak and smoke grow, pushing the sour and saltiness aside. Leather, earth, pine, and a light tingly pepper.
SECOND BOWL
>> Savinelli 320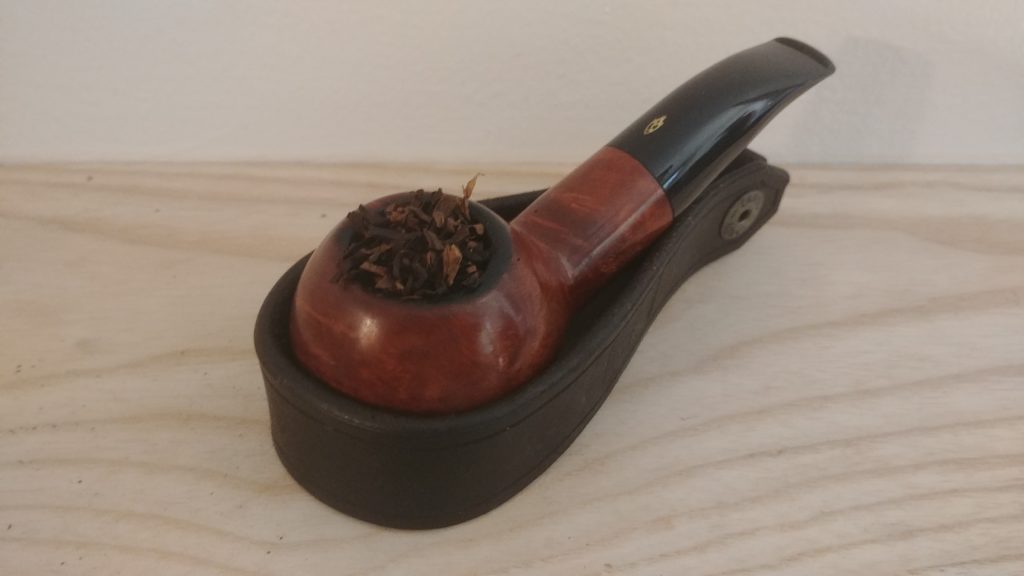 Sweet, smoky, fruity, salty, and a light soap. Oranges and vinegar. Settles into a consistent rhythm. A slight pepper intrudes. Orange soda pop and white vinegar. Very sour, sweet, and salty. The smoke is rather over the top. Slightly floral. Shifts into the greasy bacon peaty shift.
THIRD BOWL
>> Savinelli 121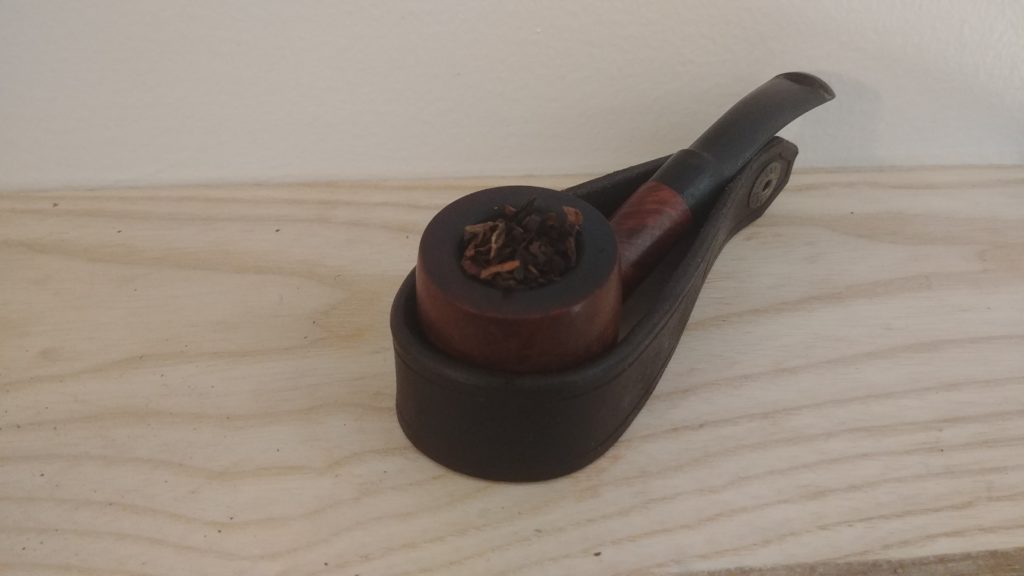 Leather, musty, salty, and mildly sweet. Oak, orange wood bitters, creamy, and vinegar. Pepper. Huge flavors. Floral. Slightly sweet throughout. Garlic, onion, salty , vegetal, greasy peaty. Leather, oak, creamy, lemony, peaty, and salllllty. Very bisque-esque. Strawberry. Fizzy peaty, vinegar, and orange. Leather, and now earthy. Peat, orange, and soggy oak. Grows thinner and sharper. Creamy, vinegar, salt, sweet, peat. Even a bit of iodine.
FLAVOR PROGRESSION

While Engine #99 starts as a mostly conventional heavy English, the break towards greasy, peaty, bacon-y flavors about halfway through makes it appealing and memorable.
BURN EXPERIENCE

Like many bulk English blends Engine #99 arrives on the dry side, perfect from loading from jar to bowl. On several occasions I was able to make it through a bowl without a single relight.
SIMILAR BLENDS
Engine #99 is quite similar to Star of the East Flake, and thus this is easily the closest bulk you can probably find to Penzance.
RATING BREAKDOWN
0.30 / 0.50 … Craft & Aesthetic
0.50 / 0.50 … Tin Aroma
0.50 / 0.50 … Lighting Process
7.50 / 8.00 … Smoking Experience
0.50 / 0.50 … Personal Enjoyment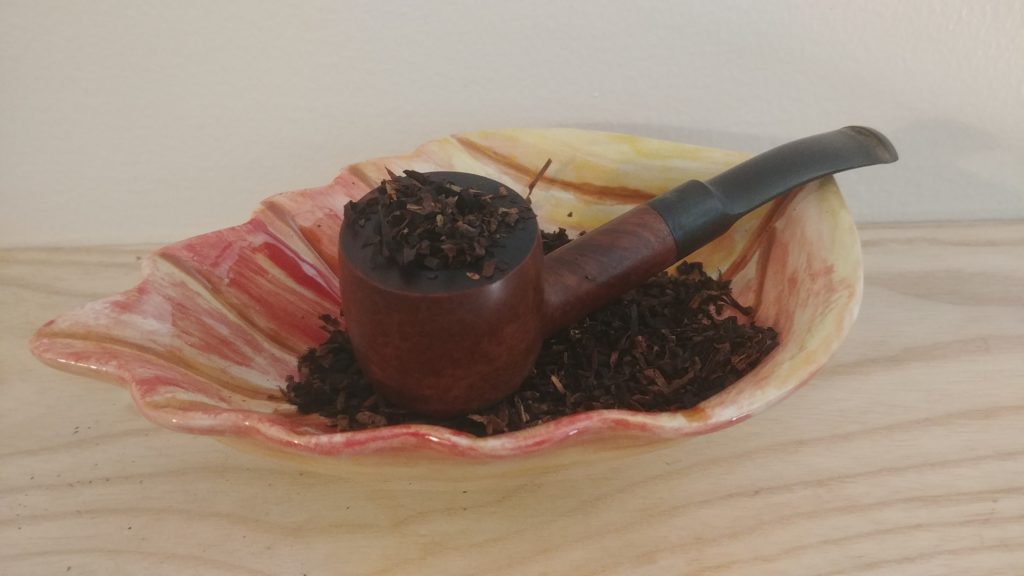 The Golden Spike.
When I purchased Engine #99 I had heard it talked up among the Latakia fiends as a true gem in the smokier blends. I didn't realize until after it had taken up residence in one of my jars that it was just two other blends thrown together. That sounded to me like the lowest effort level of blending. But once I had my first bowl, I realized it was no lazy effort or if it was, it was serendipitous. As this Engine #99 starts full flavored and keeps chugging till you've hit the bottom of the bottle.
In the previous section, you might have noticed that I casually compared this lowly bulk tobacco to Penzance, which is one of the most sought-after English blends. This is not a vague, 'they are both heavy english' kind of analogy. What makes Penzance interesting is its heavily peated scotch whisky profile: Vegetal, deeply smoky, sometimes lemony, often greasy, salty, and rather sweet. Engine #99 hits all of those notes, and without having to give yourself carpal tunnel on Esoterica release day or taking a reverse mortgage on your yacht to buy a tin from the secondary market.
 
SIMPLY STOGIES RATING:  9.7/ 10.0
I love reading other reviewers' thoughts on the blends I'm smoke – it helps to show that no one review is perfect and there's always different opinions and tastes out there.  Here's how my review stacks up with reviews around the web.