Way back, in the middle of the pandemic, Privada Club released a cigar that captured the attention of the cigar world: the Cookie Monster. Not all of it was good attention. As it turns out, the cigar industry doesn't like it when cigars are named after beloved children's puppets. While the industry bemoaned the cigar, social media and cigar smokers in general loved the cigar. It gained a huge following and, in my mind, put Privada Club on the map. If you'd like to know my thoughts on the industry's response to Privada Club's and others' marketing, you can read it here. 
Regardless, the "new" controversy came about when Lost & Found released the same cigar in April, sans Privada Club and the name; instead, opting to call it "15 Minutes of Fame." It's the same cigar as the "Cookie Monster." Privada Club didn't seem to like that, and a social media post was made. I'm of the mind that "controversy creates cash." That line of thinking seems to have worked, because here I am reviewing a cigar that has been hyped up for months.
VITOLA:   lancero
SIZE:   7″ x 40
ORIGIN:   Dominican Republic
FACTORY:   Unknown
WRAPPER:   Habano
BINDER:   Ecuadorian Sumatra
FILLER:   Dominican and Honduran
STRENGTH:   Medium
SOURCE:   
Oxford Cigar Company
WHERE:   
My deck
WHEN:   
June 11 @4:15pm
DRINKS:   
Ice Mountain bottled water
WEATHER:   
75° & 73% humidity
HOW MANY CIGARS SMOKED:   
4
RELEASE TYPE  Limited Edition
ORIGINALLY RELEASE DATE  April, 2022
TOTAL PRODUCTION
Typical Box Size:     Bundles of 20
Production Totals:  750 bundles, 15,000 total cigars
VITOLA BREAKDOWN
o  Lancero  (7″ x 40)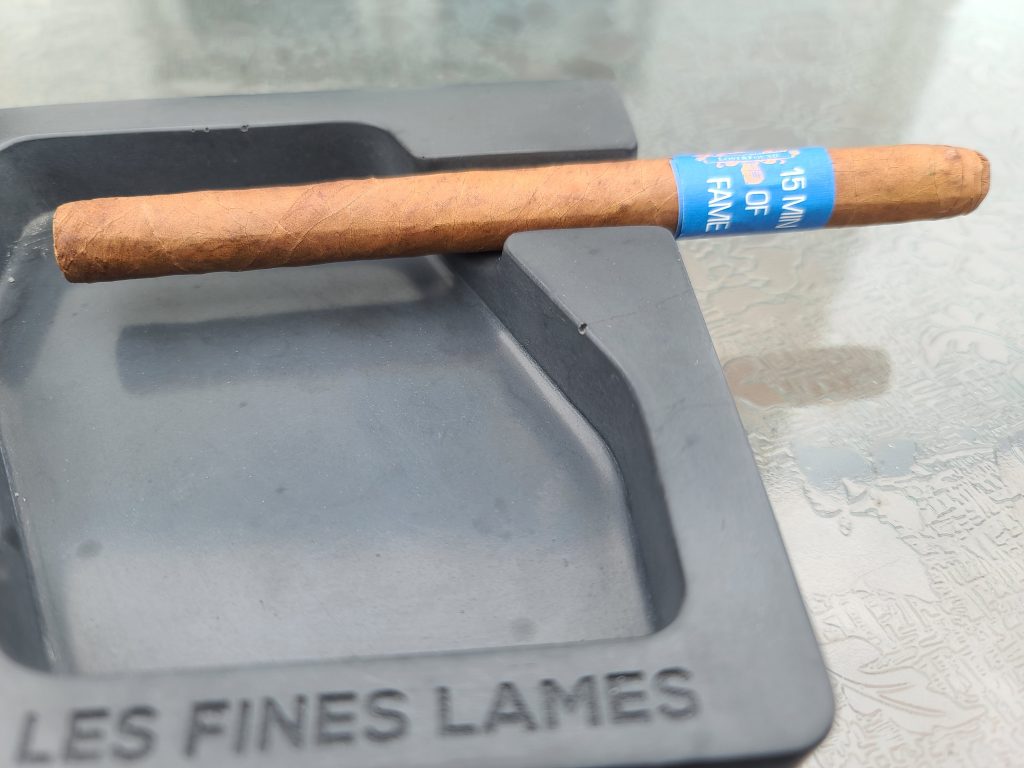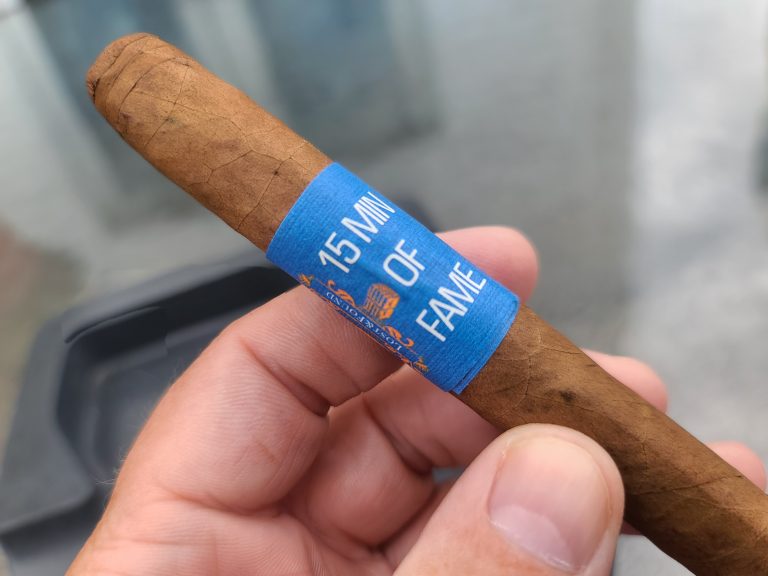 The band on the 15 Minutes of Fame is pretty straight forward. The name of the cigar is prominently displayed next to the Lost & Found logo. It's a very similar blue to the infamous "Cookie Monster" band. Honestly, there's nothing special here and it's kind of boring. Maybe I've just become accustomed to intricate designs and colors that pop?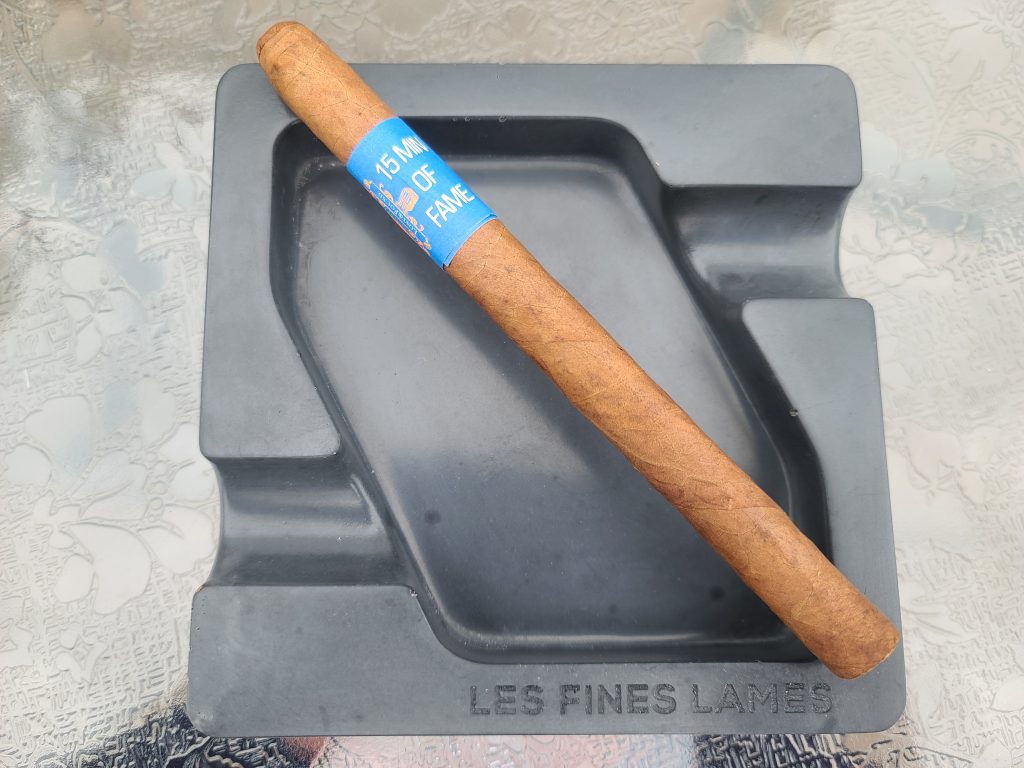 CONSTRUCTION

The wrapper is smooth to the touch, save for some veins that run up, down, and across the wrapper. There is some tooth to this, slightly mottled, wrapper; but it is a beautifup shade of caramel brown. A couple of water spots can be found, too.
AROMA

The wrapper has a subtle wood aroma with an almost undetectable note of sweetness. The foot gives off a nice bouquet if fresh grass, a little bit of fruit, and a nice floral note.
COLD DRAW

The draw is surprisingly open, but not soq open that I forsee an issue. The cold draw reveals notes of hay, sweet tobacco, cedar, and a floral note on the finish.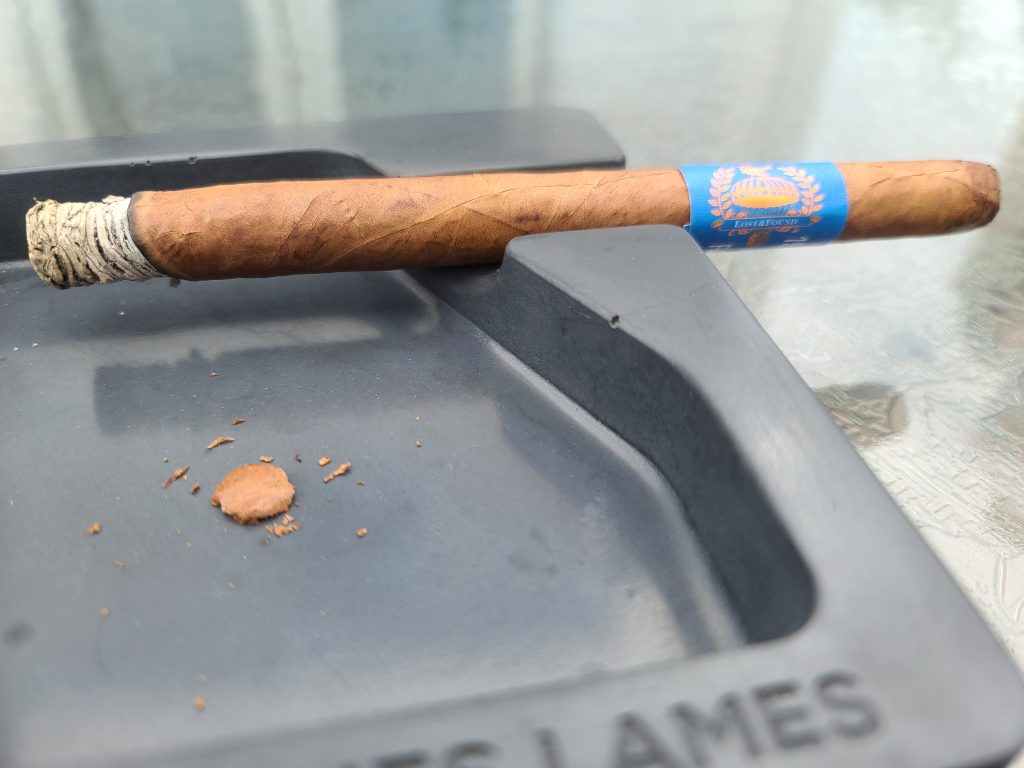 LIGHT & DRAW
Cut: Les Fines Lames LE PETITE cigar knife
Fire: ST Dupont Hooked
I immediately notice a rich, nutty note and some grassy notes, along with flavors of wood, coffee, and caramel. Black pepper stings my nostrils. Baking spices linger on my palate. The flavors are strong off the initial light…super strong and super good.
SMOKE

The smoke has a creamy element to it. It's thick and satisfying.
FIRST THIRD
>> Caramel, Black Pepper, Coffee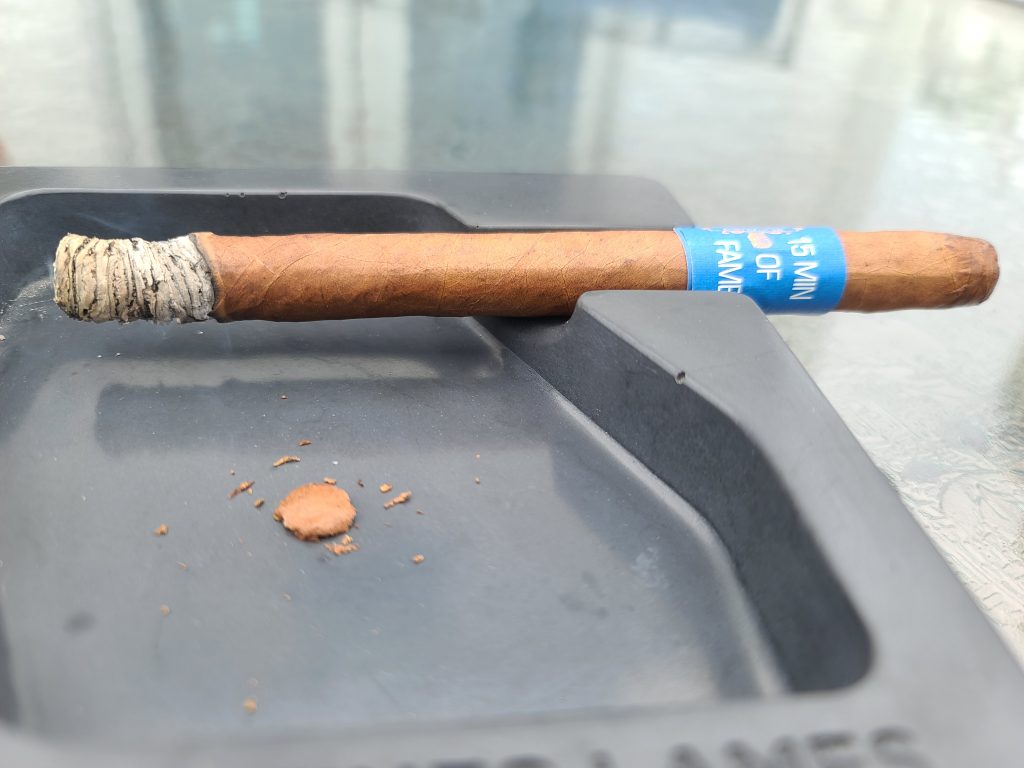 Notes of caramel and nuts are easily made out. Black pepper rules the retrohale. There is a light musty note. and just a bit of earthiness. Sweet cream and bitter coffee now hit my palate. The burn line is less than razor sharp; in fact, it's just uneven, but it eventually corrects itself. The ash on the 15 Minutes of Fame is somewhere between gray and white, with streaks of black running through it. It is fairly compact. The coffee note is now dominant, while a woody flavor lurks in the background. Nuts and caramel linger on the finish. The baking spices from the initial light are gone and what's left are flavors that are dark and musty. The ash holds for almost an inch before I deposit it in the tray. A note of lemon zest begins to brighten up the flavor profile. Baking spices and pepper on the retrohale. The ash has gone much more white now. The wood note remains in charge.
SECOND THIRD
>> Chocolate, Mushroom, Cream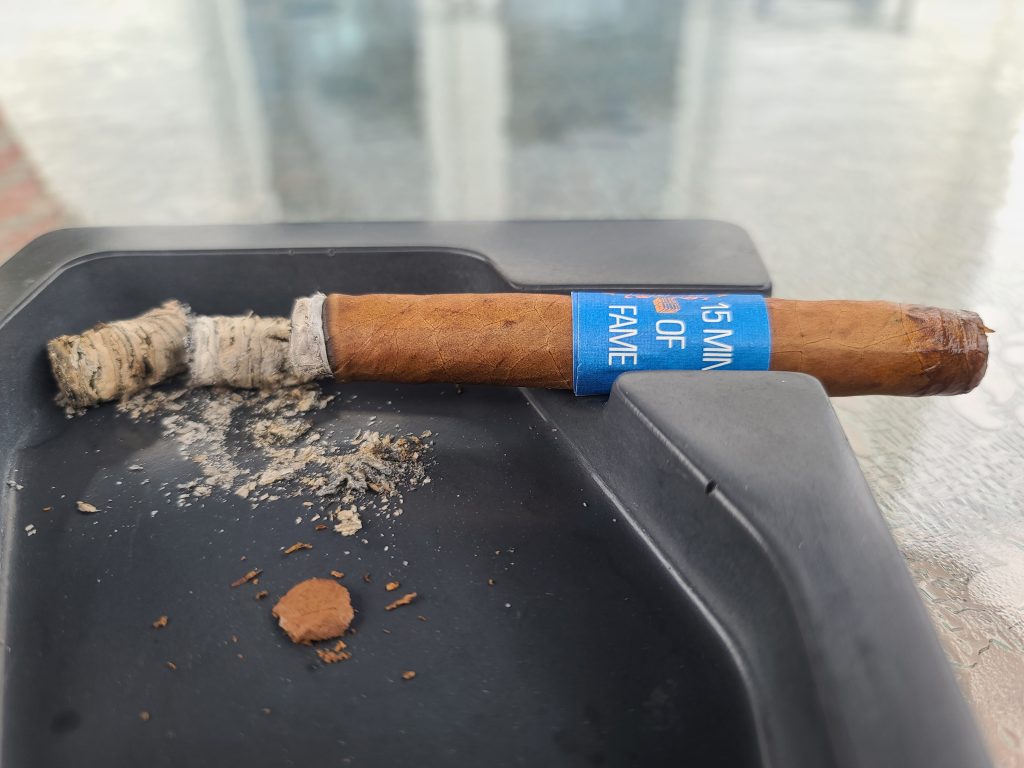 Chocolate, mushroom, and citrus begin the middle third. Wood and maybe a wisp of baking spices on the finish. White pepper on the retrohale. The 15 Minutes of Fame is a bit boring. Not a lot of nuance here in the middle third. Chocolate, cream, mushroom. Black pepper on the retrohale again. There is an almost…I hate to say it…cookie note (sue me) to the chocolate. Much like a chocolate wafer cookie on the finish. It's very good, but there is still no nuance. Now wood and a creamy mushroom note. Spices start to claw at the back of my throat. Chocolate, mushroom, wood. The citrus is back, adding some much needed contrast to the profile. I'm impressed with construction, as the ash makes it to an inch before I put it in the tray; but it loses some cohesion when it falls.
FINAL THIRD
>> Charred Wood, Marshmallow, Espresso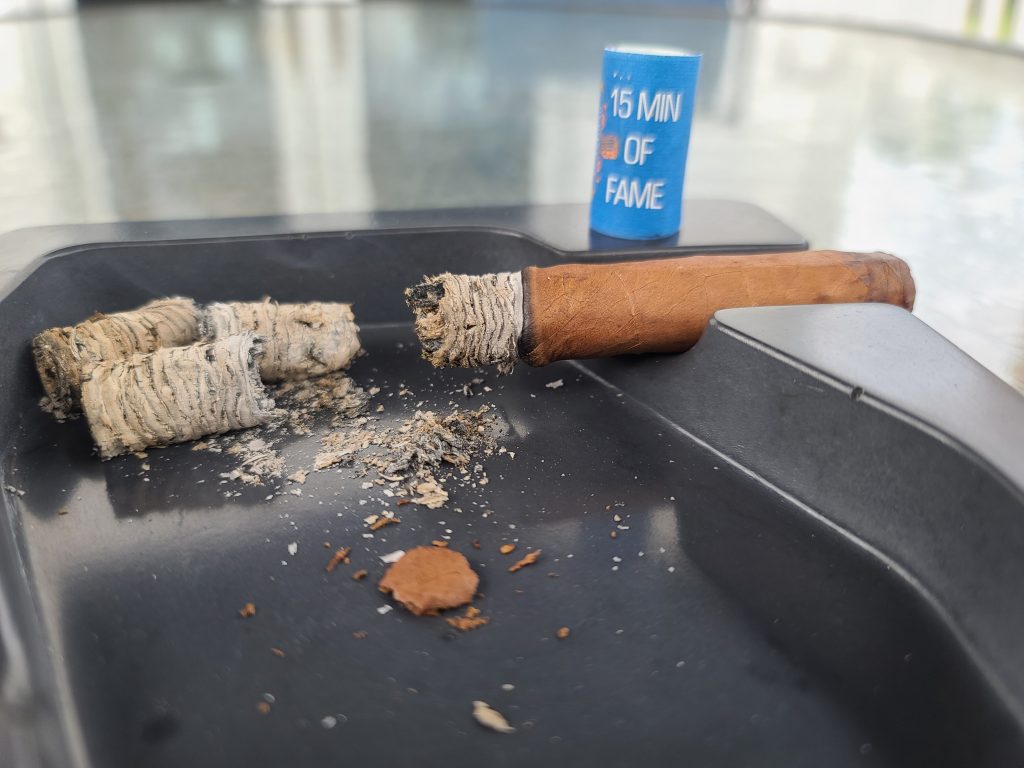 The final third starts to show signs of life. It begins with smooth notes of butter, chocolate, wood, and sweet cream. White pepper changes things up on the retrohale. Baking spices really start to come through, as the chocolate morphs into a decadent dark chocolate note. Charred wood and marshmallow elevate the 15 Minutes of Fame to something more complex and nuanced. It reminds me of S'mores, and I'm not complaining. The burn continues to be sharp. The ash has only been flakey when it falls off. A soft rain begins to fall and the cigar has finally hit its stride. I am digging this. Espresso, cream, nuts, caramel, and a floral note continue the journey. The burn becomes just a bit wonky. Charred wood, butter, and baking spices round out the experience.
FLAVOR PROGRESSION
While each third had solid transitions and unique flavors, not all thirds are created equal. The middle third was a bit monotonous. I'm not saying it was bad, but it did lack a lot of the nuance and complexity that was found elsewhere in the 15 Minutes of Fame. But I also feel that the middle third is where it got its original name. It all came together well and nothing seemed out of place or overly harsh.
BURN EXPERIENCE
There were several moments where the burn line was just uneven. It would then correct itself, before burning wonky again, and then burn uneven. It wasn't the worst burn experience I've had, but it certainly wasn't the best. No relights or touchups were needed.
RATING BREAKDOWN
0.60 / 0.80 … Craft & Aesthetic
0.50 / 0.50 … Pre-Light Characteristics
0.50 / 0.50 … Lighting Process
6.60 / 7.70 … Smoking Experience
0.40 / 0.50 … Personal Enjoyment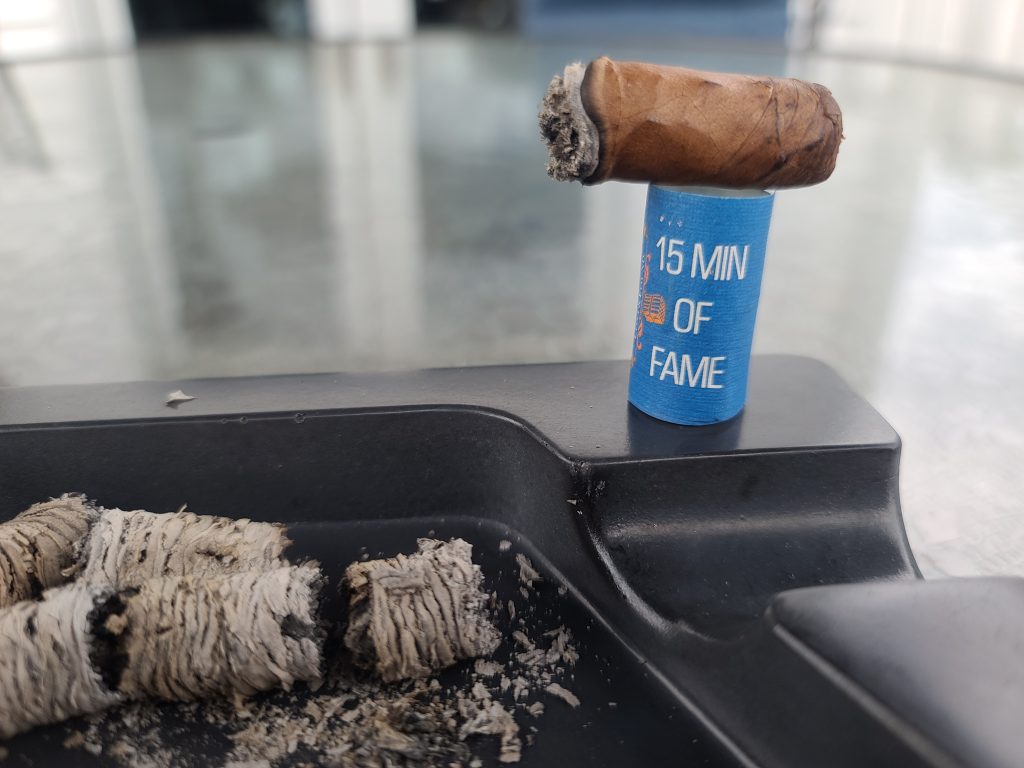 HYPE & CONTROVERSY CAN HURT.
I usually hate reviewing cigars that have a lot of hype surrounding them, and that goes double if there's some sort of controversy. Why? It never lives up to the hype and folks will inevitably say that it was reviewed solely for the clicks. The latter is true for the 15 Minutes of Fame. It just didn't live up to the hype for me. As for the controversy? Well, it just made me curious about the cigar. Don't get me wrong, it's a solid release for Lost & Found. While enjoyed smoking the 15 Minutes of Fame, it was the final third that really blew me away. Had the middle third shown a bit more complexity and nuance, this cigar would easily have scored closer to a 9.0. I found myself not being pulled into the experience during the middle third, and that's just not a good thing. I think the 15 Minutes of Fame is something that should most enthusiasts and aficionados will enjoy, but might be just a bit let down by all the hype it received.
SIMPLY STOGIES RATING:  8.6 / 10.0