Tucked away in a nondescript strip mall on the southeast side of Omaha, the Omaha Cigar Company sits in-between a dry cleaning business and a Korean food restaurant. The small storefront and lack of an eye-catching sign, it's the kind of cigar lounge that you might pass by and not think twice about. But should you?
To the uninitiated it may seem small and out of the way; but for those in the know, Omaha Cigar Company has a 20 year history in the cigar scene in Omaha, Nebraska and offers a unique experience that is highlighted by their wide variety of house blend cigars.
**UPDATE**
The Omaha Cigar Company moved locations in 2022; though they didn't move far, they did make some pretty big changes. They moved down a few spaces in the strip mall, to a much larger space that was completely renovated by the owner, Dennie Arnold.
ADDRESS:   5030 S 108th St, Omaha, Nebraska
PHONE #:   (402) 592-1664
HOURS:   Sunday – Closed
                 Monday – Friday 10AM-7PM
                 Saturday 10AM-5PM
BOOZE AVAILABLE:   N
DRINKS AVAILABLE:   Coffee
FOOD AVAILABLE:   N
SMOKING LOUNGE:   Y
WALK-IN HUMIDOR:   Y
SPONSORED LOUNGE:   N 
OUTDOOR SMOKING AREA:   N
MEMBERSHIPS AVAILABLE:   N
Their walk-in humidor is reserved for only their house blend cigars.
The lounge has gone through several ownership changes in the last 20yrs.
They spray some of their house blends with brandy, cognac, etc…and they are some of their best sellers!
On a Thursday afternoon, in the middle of a work day, they were extremely busy.
Have of their house blends are manufactured for them by Oliva.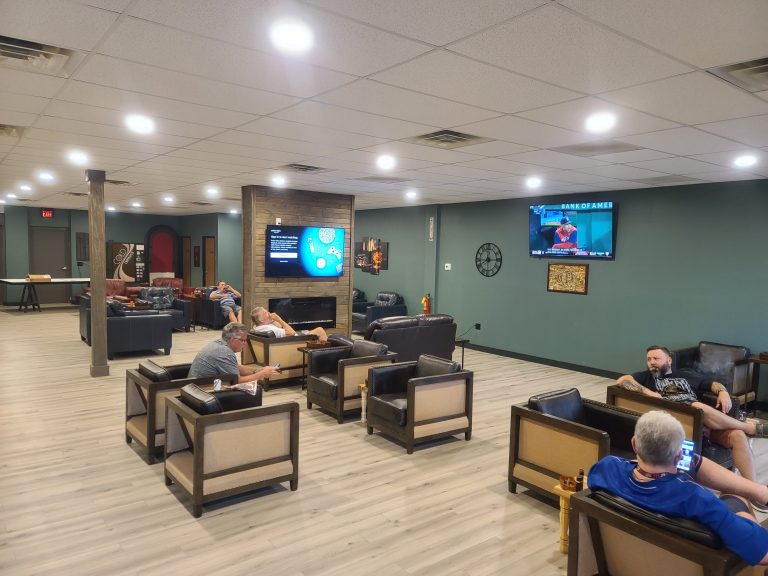 I used Google Maps to find my way to Omaha Cigar Company from my hotel. Without a GPS guiding me, I would have easily passed the location and never known. Being in a small strip mall does not do the business any favors. It seems small and unassuming from the outside. However, it is large enough to accommodate two lounge areas with more than enough seating, several televisions, a cabinet humidor, a large space for accessories, and a walk-in humidor.
**UPDATE**
What a difference a couple of years makes! The new space makes it much easier to see from the outside, as there are several large windows that now give customers a nice view of the large space that they've moved into.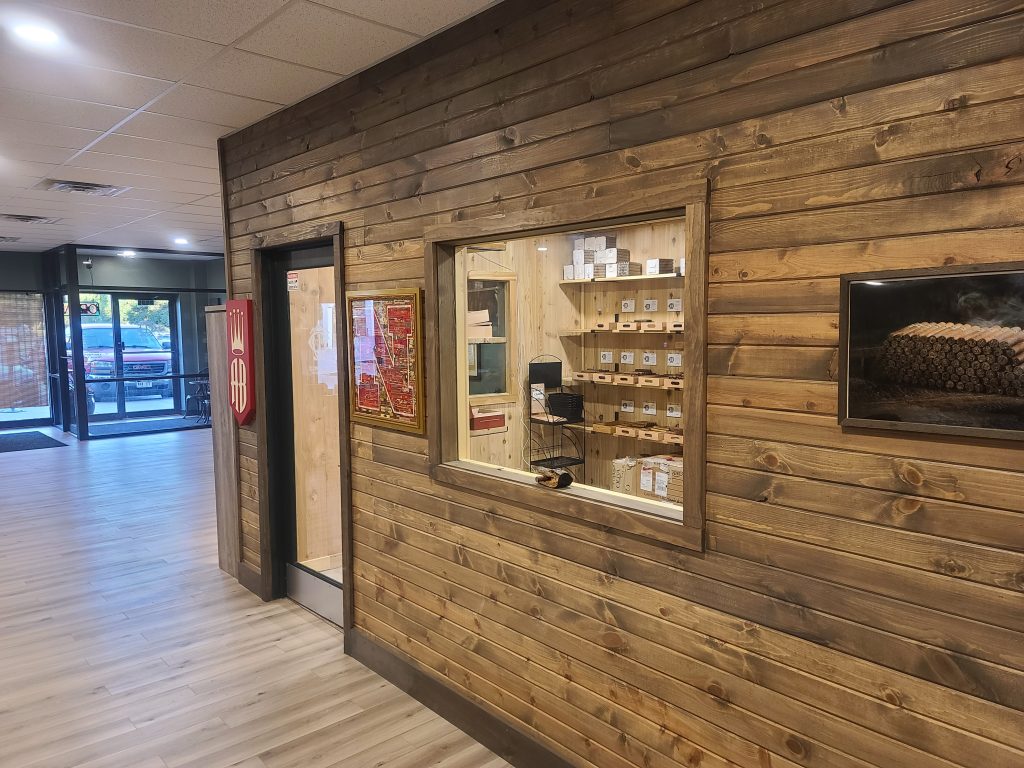 SELECTION/HUMIDOR SIZE
This is a tough area to judge for Omaha Cigar Company. While their selection of mainstream cigars is small by any standard, their selection of house blends is staggering. In fact, this is what they are known for. They have a myriad of different options in their walk-in humidor: connecticuts in almost every vitola imaginable (including the massive Admiral…which was delicious), maduro wrappers, corojo, and cigars that have been sprayed with different liquors. I was surprised, given their unassuming location, just how many house blends they have. Half of their house blends are rolled for them by Oliva. In my personal experience, every house blend I had from them (I bought five) was nothing short of superb. I enjoyed every one and I can not wait to get back to get more.
They have a lone cabinet humidor that holds their mainstream selection. While small, they do have some favorites: Plasencia, Oscar, Oliva, and more. The focus of Omaha Cigar Company is on their house blends and it shows in their humidor selection.
**UPDATE**
The humidor at Omaha Cigar Company got quite the makeover when they moved into the larger space. Two windows allow patrons to peer inside the well-lit space. The humidor itself is much larger than what they had at the old location and it is much easier to navigate and peruse their selection.
They're still known for their selection of house blends, but they've moved all of their "mainstream" collection into the humidor, too. Speaking with Dennie, the owner, he says that the "mainstream" cigars are an ever-rotating list of favorites and boutique blends that allow his customers to try something new. However, their big seller is one of their house blends that uses a proprietary blend of cognac and other ingredients spritzed/sprayed on the cigars.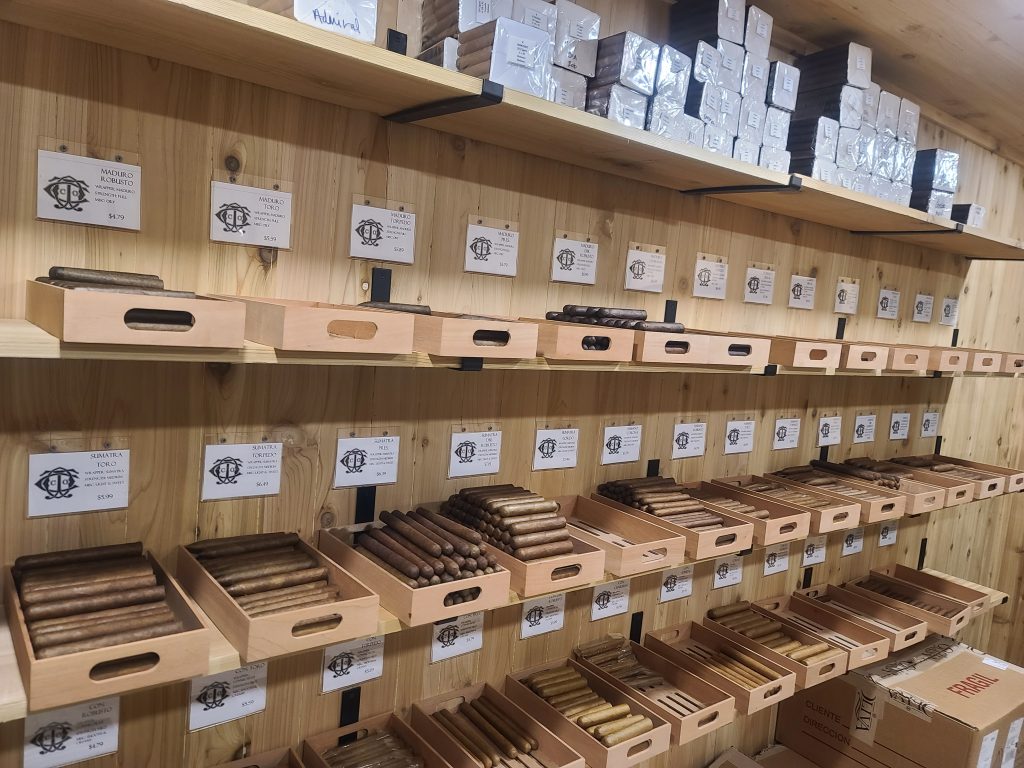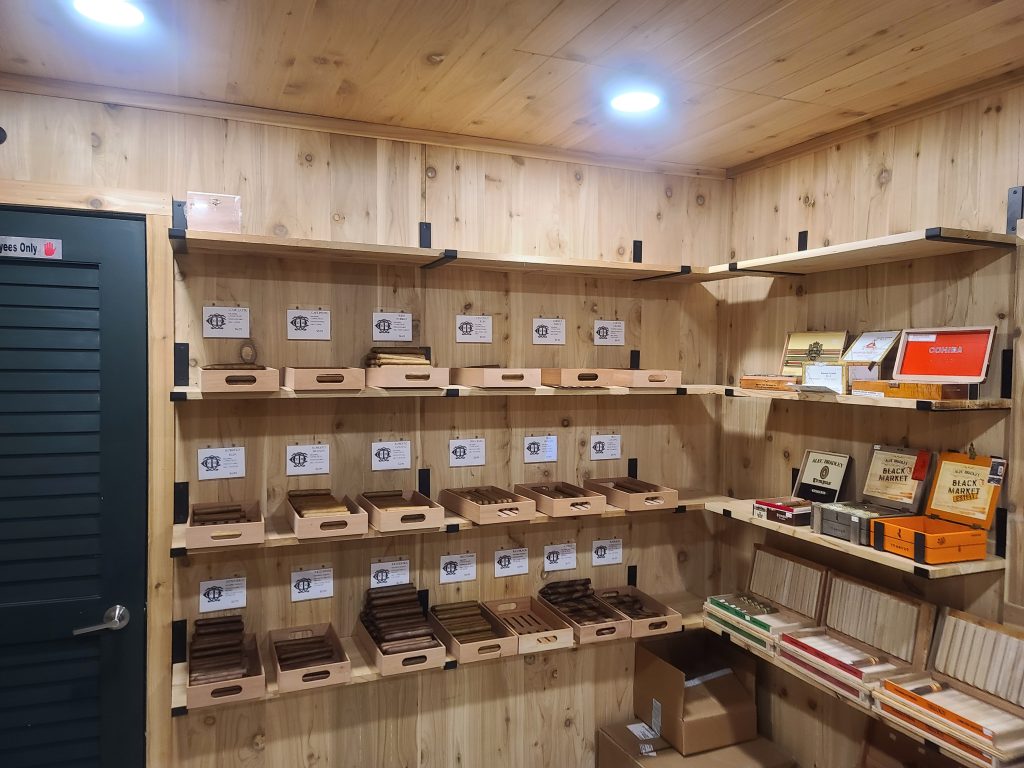 HUMIDOR MAINTENANCE
This can be tricky to score, especially if you find yourself just taking the cigars home with you to smoke later. Fortunately, I was able to smoke one of the house blends during my visit. The cigar I smoked had no issues related being over or under humidified. With so many patrons going in and out of the walk-in humidor, I am pleased that my cigar was not over or under-humidified. With that experience in mind, and my subsequent conversations with the two of the employees, I can say to smoke with confidence at Omaha Cigar Company. 
**UPDATE**
The larger humidor is still as well-maintained as the one from their previous location….and they're still just as busy. I smoked two house blends during my visit, and each one burned like a dream.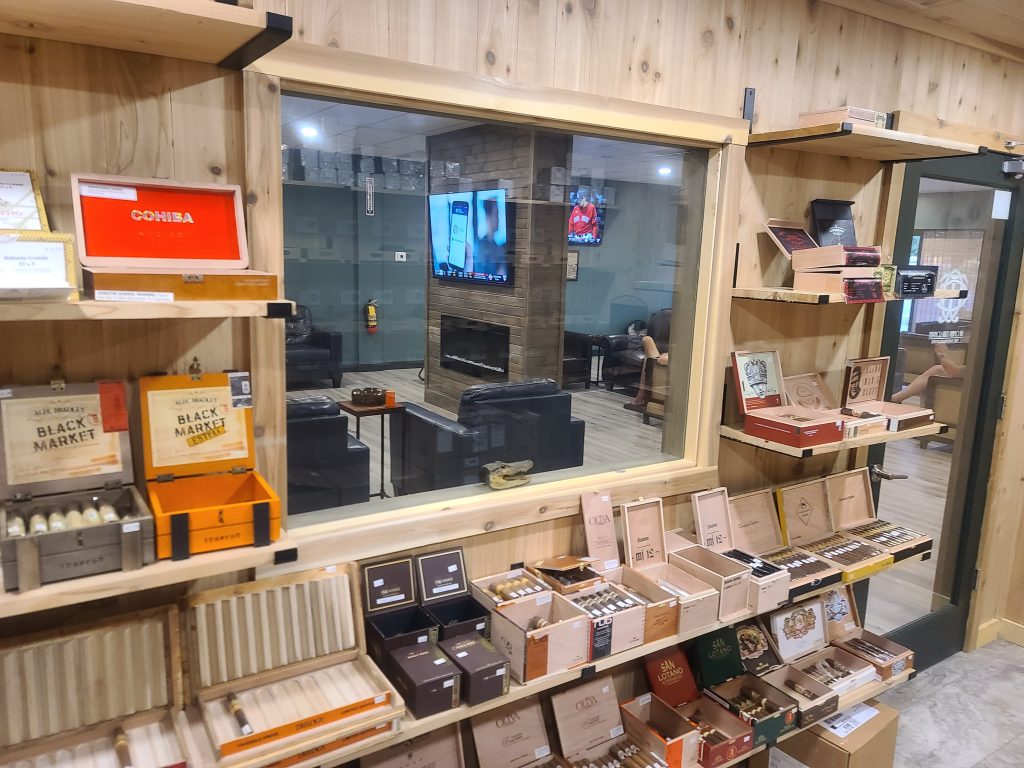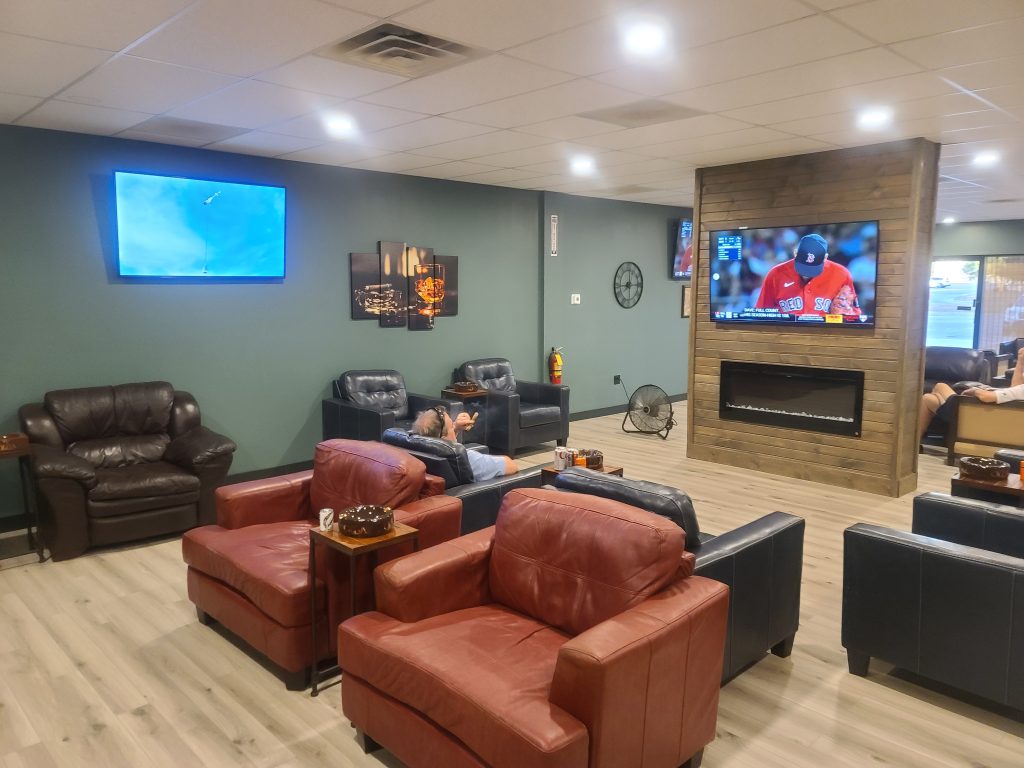 CUSTOMER SERVICE/STAFF KNOWLEDGE
If the location of the lounge deducts any points, the level of customer service and overall staff knowledge more than makes up for it. While I was there, the staff was friendly to everyone! The amount of "regulars" that walked through the door and were greeted by name was impressive. The staff greeted everyone, asked if they knew what they were looking for, and took the time to get to know the new customers. Sure, from a customer service aspect that should be expected, but it also goes to how knowledgeable the staff is. By getting to know each new customer , the staff was able to quickly and easily make recommendations that would ensure the customer would come back. 
The two gentlemen who were working there were more than generous with their time. We started a conversation that lasted the entirety of my visit, and we were joined by a regular who was just as knowledgeable and friendly. As someone who comes from a retail management background, this category is one that I pay special attention to. It is was no accident that this small lounge was so busy in the middle of a weekday.
**UPDATE**
I was lucky enough to stop by this time while the owner, Dennie, was there. He made time for me and was more than welcoming and gracious with his time, knowledge, and experience. Nobody followed me into the humidor, as it's easy for them to watch anyone in the humidor through one of the large windows. The customer service at Omaha Cigar Company is just as great as it was before!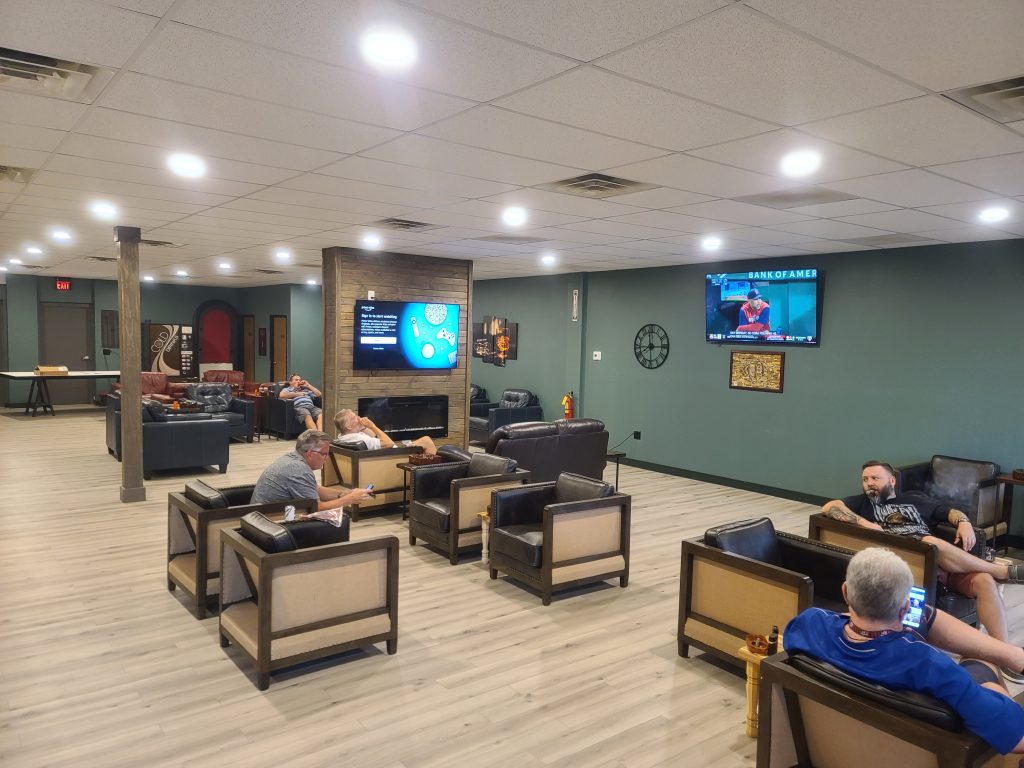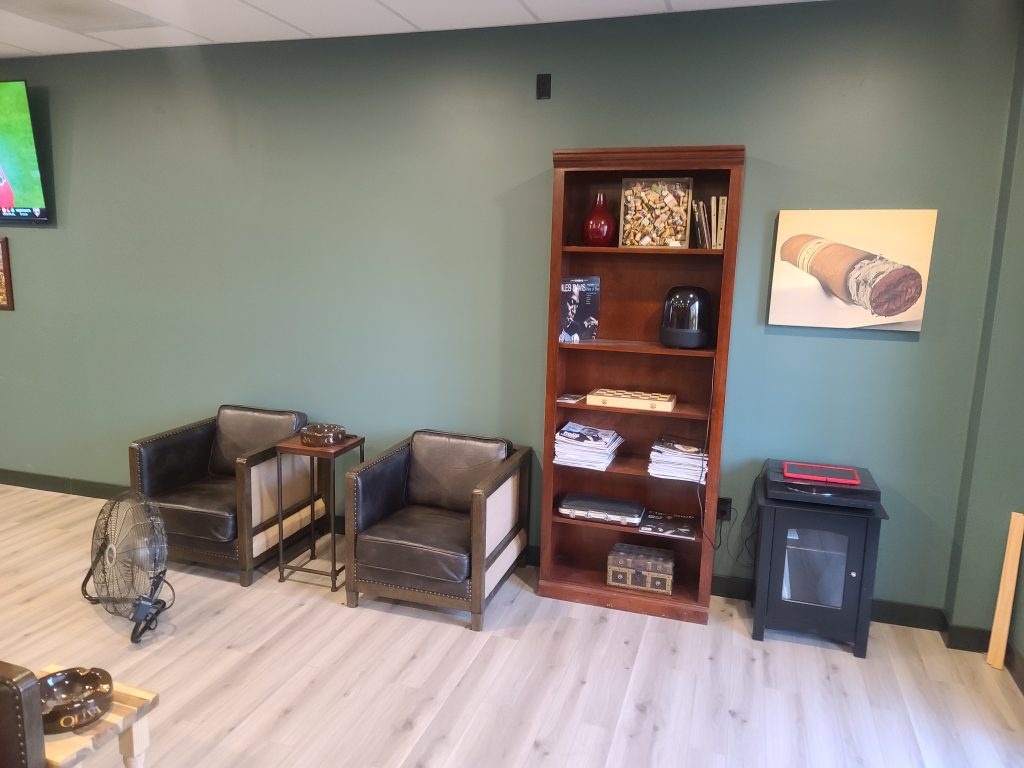 LOUNGE SIZE
This lounge is cozy, but comfortable. Having two separate lounge areas divided by the walk-in humidor, make the lounge seem more open and spacious than it might otherwise be. I have certainly been to smaller lounges, but what Omaha Cigar Company lacks in size, it makes up for in almost every other category. 
**UPDATE**
The lounge is no longer cozy or intimate. Instead, it's set up for large or small groups to come in and enjoy a cigar. The lounge is huge, by any standard. There is more than enough room for bachelor parties or for a group of friends to come in and watch a game. Dennie and staff have made it welcoming for small groups, as well. There are several areas with 2 to 4 seats for more intimate conversations.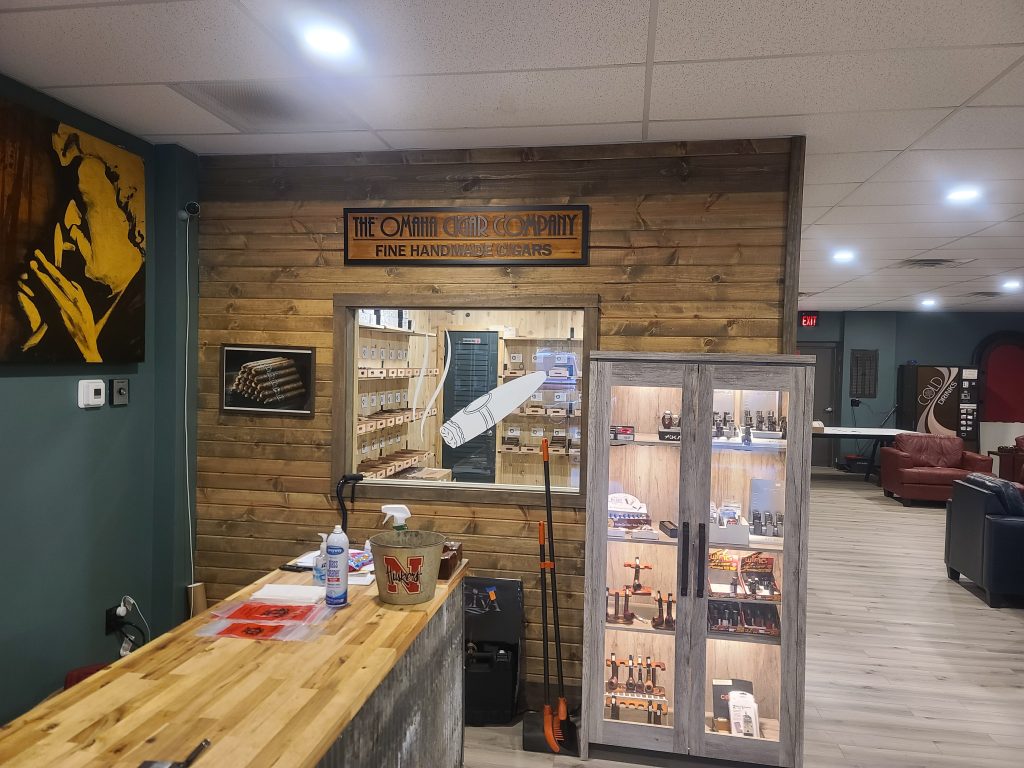 AMBIANCE
The ambiance found at Omaha Cigar Company is unique, cozy, friendly, and casual. A lot of smaller cigar lounge locations suffer from the amount of  regulars and a "why are you here?" attitude directed at newcomers. Not so at Omaha Cigar Company. They want you to come in and learn about the cigar culture. They are happy to initiate newcomers and get into the weeds with aficionados. They welcome the wife looking for a gift for their husband, the bride-to-be looking for cigar recommendations for her upcoming wedding reception, nobody podcasters looking to "talk shop," and everyone in-between. It is a laid back and welcoming place that embraces the cigar as the great equalizer: Everyone from kings to street sweepers should be able to enjoy a cigar together. 
**UPDATE**
The new space does present a few challenges, not the least of which is ambiance. The space is well-lit but does suffer from being a bit spartan as far as decorations go. There are, however, a lot of really great cigar-centric art pieces on the walls. The fresh coat of paint and new floors really give a look of class and sophistication without being unapproachable. There is a feature wall that splits the lounge in half, and has a fireplace that gives character. All-in-all it's a great use of space.
HUMIDOR EXPERIENCE
This is where I find myself a bit torn. While Omaha Cigar Company is known for their house blends, it would be nice to see a few more brands in their humidor. Their selection of house blends is large, but there are a lot of cigar smokers who may be leery of trying something new. That leaves a lot of revenue on the table. That said, Omaha Cigar Company has found a niche within the niche. Their wide selection of house blends include something for every palate. 
LOUNGE EXPERIENCE
My experience was nothing less than superb. Is this what I think of when I think of a cigar lounge? No. Is that a bad thing? Again, no. Omaha Cigar Company does something that not a lot of other lounges I have visited do, and that is make every customer feel welcomed and valued. They listen to the customer and do their best to get to know them. They value each interaction, promote the culture, and do their very best to be a welcoming place to everyone.
RATING BREAKDOWN **UPDATED**
3.00 / 3.00 … Customer Service/Staff Knowledge
2.50 / 3.00 … Selection/Humidor Size/Humidor Maintenance
3.20 / 3.50 … Ambiance
0.49 / 0.50 … Lounge Size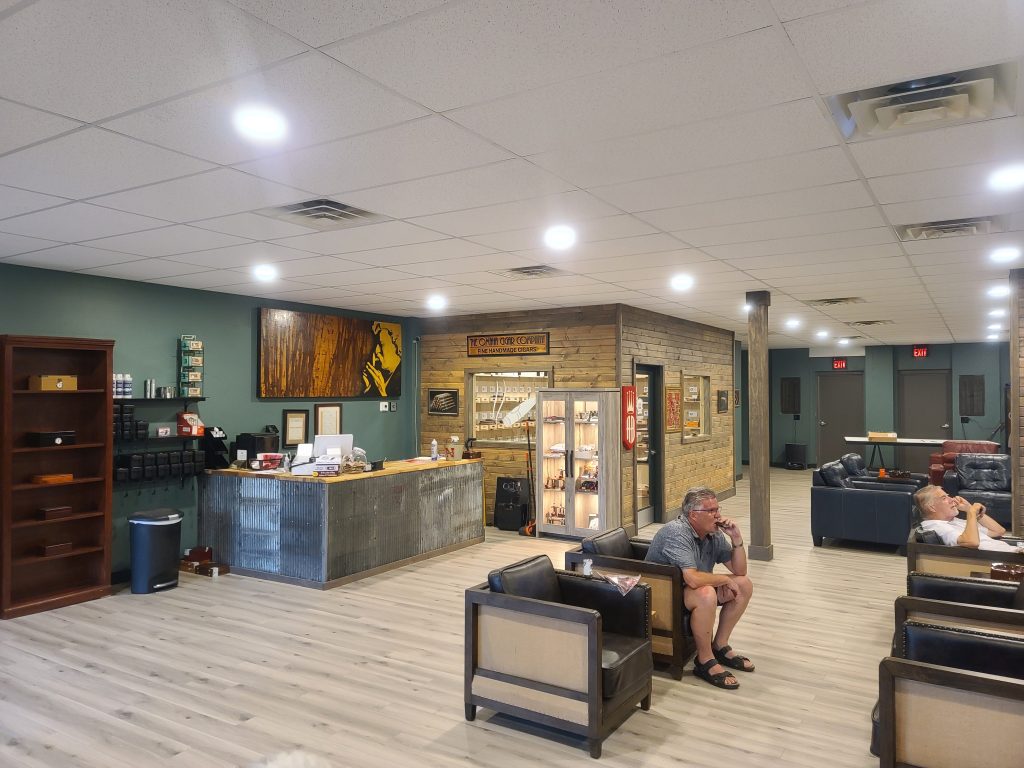 A UNIQUE AND INCLUSIVE LOUNGE.
Omaha Cigar Company is, so far, unmatched in customer service. In all of my travels to date, it may be one of only two other cigar lounges that feel welcoming to everyone. There were more than a few "new" cigar smokers that came in looking to try a cigar for the first time. Both employees took the time to ask great questions, put them at ease, and help them find something that would give them the best chance of staying in the hobby. They were both knowledgeable about the industry, about what goes into making a cigar, and were very friendly and welcoming. Omaha Cigar Company has a level of service and knowledge that has kept them in business for 20 years and will keep them in business for 20 more.
**UPDATE**
The new location is nothing short of stellar. From the size, to the updated furniture, to the fireplace in the middle of the lounge, everything at the Omaha Cigar Company screams "CLASS!" It's a great spot for a night out with the boys, a hangout spot to enjoy a cigar and take in the game, or to just relax and unwind with a small group and some great cigars. Again, the only thing missing is a large selection of "mainstream" cigars. But, that would take away from what makes the Omaha Cigar Company so unique. When you're in Omaha, you have to stop in and see the changes for yourself. You will not be disappointed.
SIMPLY STOGIES UPDATED RATING:  9.19 / 10.0