Orange Virginia is the forgotten middle child of the Virginia pipe tobacco landscape. I mean that quite literally. For a flue-cured Virginia, that is, dried by indirect heat over a handful of days, there will be a gradation of color from the base to the top, which is due to the variation of chemical compounds in the leaves. The bottom leaves will be Flavonol dominate, giving them a yellow appearance, while as you go higher, you'll find a great proportion of beta-carotene, which makes the tobacco redder and redder as you go up the plant. This gives you a good bit of Yellow Virginia, a smaller amount of Red Virginia, and in between Orange Virginia. However when you look start shopping for Virginia tobaccos, you will be somewhat surprised this leaf exists.
There are dozens of offerings of either pure yellow Virginias, which are bright and as lemony as they look, and red Virginias, which are bready, fruity, and tangy. If you look into mixtures of all types there are hundreds which proudly announce they use yellow or red VAs. However, if you go looking for blends that brag about using Orange Virginia, well you are going to need to do some legwork. Even for blends that are primarily or entirely composed of orange Virginia, like C&D's Opening Night, or Astley's 109,  the marketers seem to eschew to the term. You are more likely to read the terms brown, bronze, mahogany, or tawny. I think that is because orange isn't just a color but a known flavor, and while lemony looking Virginias often taste just like that, orange VA is not citrusy unless it has been cased in flavoring. So afraid to confuse the consumer, there are scant options for pipe smokers looking for Virginia leaf which can be much more common that it's more famous Red kin.
However, The Madman of Massachusetts, Ernie Q from Watch City Cigars, does not possess the same fears. Last spring he released a pure Orange leaf pipe tobacco he brazenly called Simply Orange. As a testament to how curious the smoking community was to taste this blending component alone, the short run sold out in 45 minutes. Ernie intends to make this a yearly release, so let's see what the inaugural batch tasted like, to see if its worth setting our timers for next years' drop.
BULK or TIN:   Bulk
SIZE:   1-16 oz
ORIGIN:   USA
BLENDING HOUSE/PRODUCER:   Watch City Cigars
BLENDING COMPONENTS:   Orange Virginia

STRENGTH:   2/7
SOURCE:   Watch City Cigars 
WHERE:   
Nowhere PA
WHEN:   
Summer 2022
DRINKS:   
Water
WEATHER:   
Hot and dry
WHAT'S ON:   
The yelping of neighborhood dogs
RELEASE TYPE  limited run
ORIGINAL RELEASE DATE  May 2022
SPECIAL RELEASE  Y 
AVAILABILITY BREAKDOWN
o  Bulk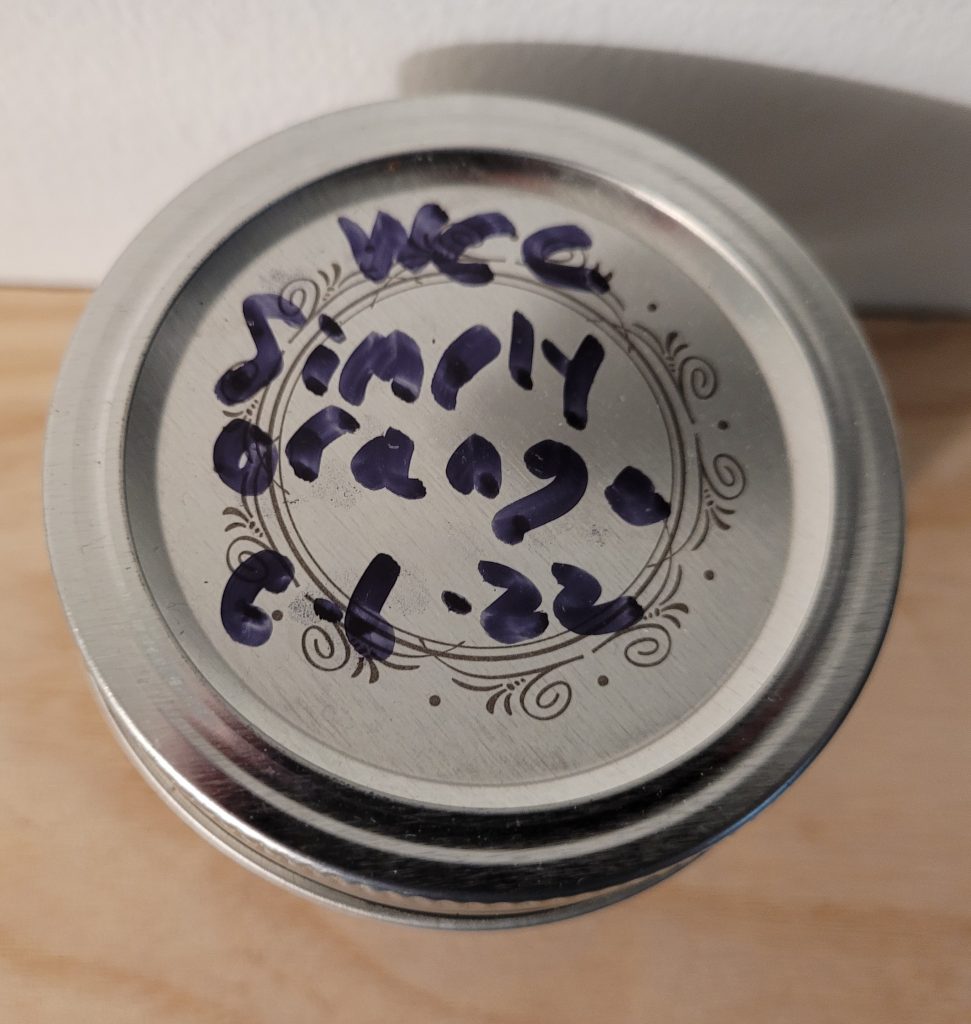 RESEARCH & BACKGROUND INFO
Small batch Orange Virginia Blend
Will be a yearly release
2022 was it's first year
Sister blend of Simply Red and Simply Gold
Unlike many of Watch City Cigar's blends which use blending tobaccos, this is from whole leaf
The orange Virginia is processed by heating at high temperature for a number of weeks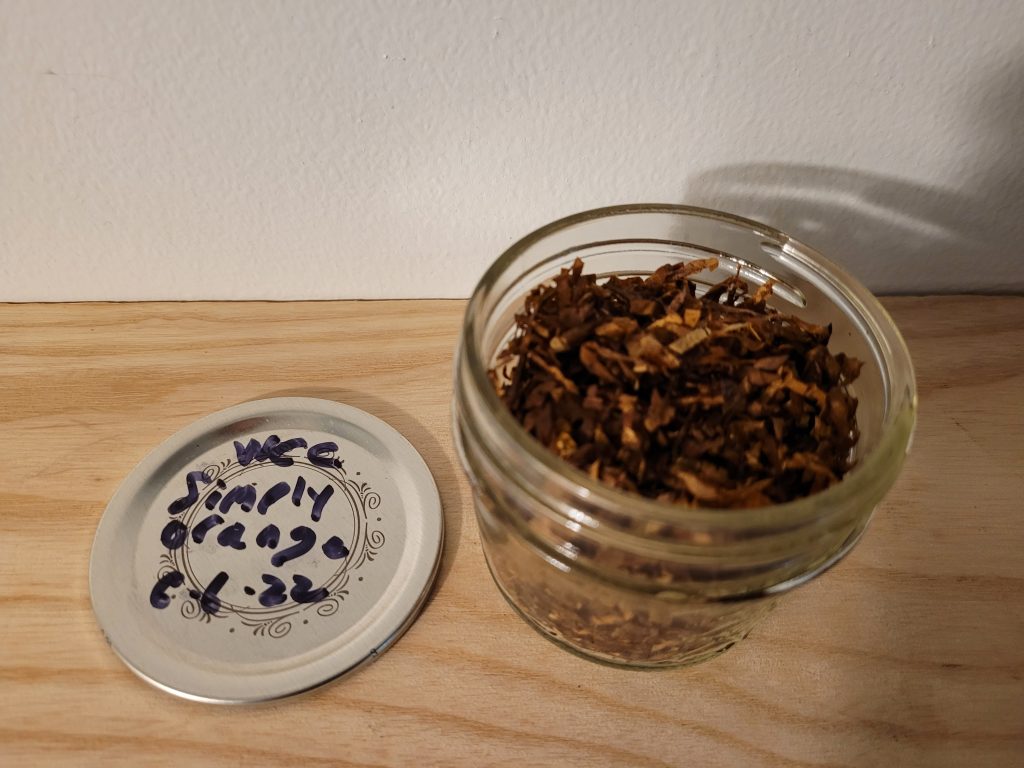 LOOK & FEEL OF THE LEAF
Yep, that's orange. Okay it's sort of a burnt orange, dark carrot, tawny, mahogany and yam color. It's shipped somewhat moist.
TIN AROMA
If you wanted an orange zest treat, you can stop yourself right here. Instead Simply Orange smells heavily of raisins and hay, with hints of clove and chcolate.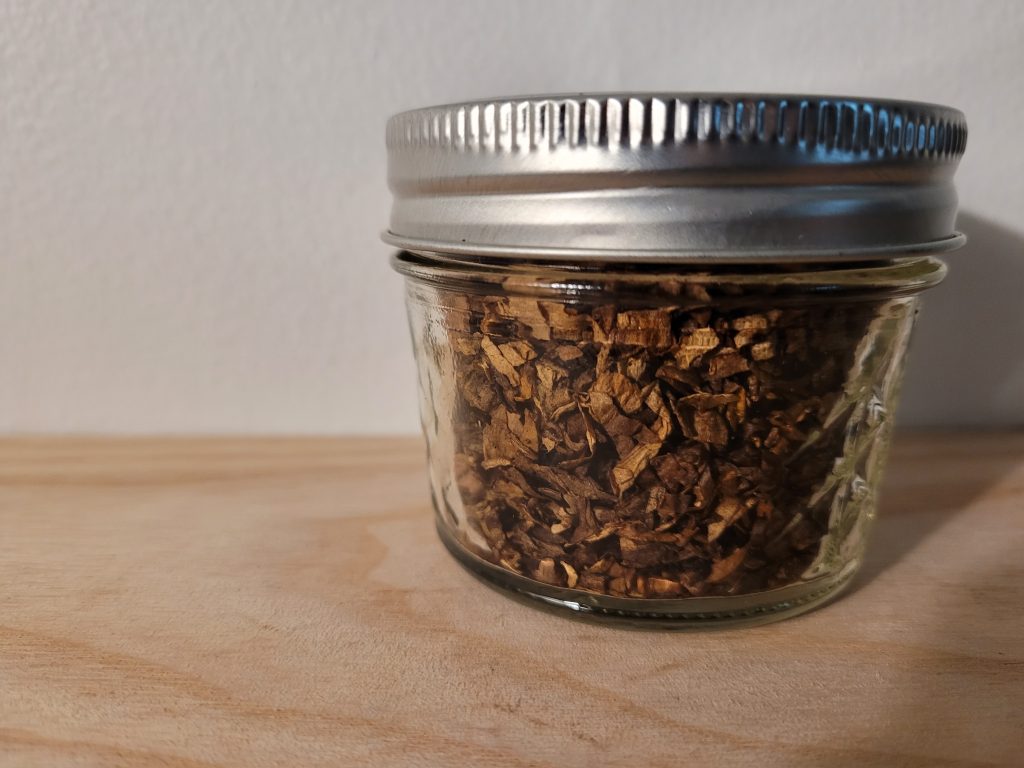 LIGHT & DRAW
Packing Style:  I didn't need to get fancy with this stuff, I just shoved it in my pipe. However as you'll send below I found this needed a heavier packing that typical to burn well.
Fire:  My trusty bic
SMOKE & ROOM NOTE
The smoke is on the wispy side, even for a Virginia.
The Room Note will make you want to smoke outside, it's straight on Marlboro cigarette smoke.
FIRST BOWL
>> No dry, homemade pipe from a Mr. Brog Kit, single pinch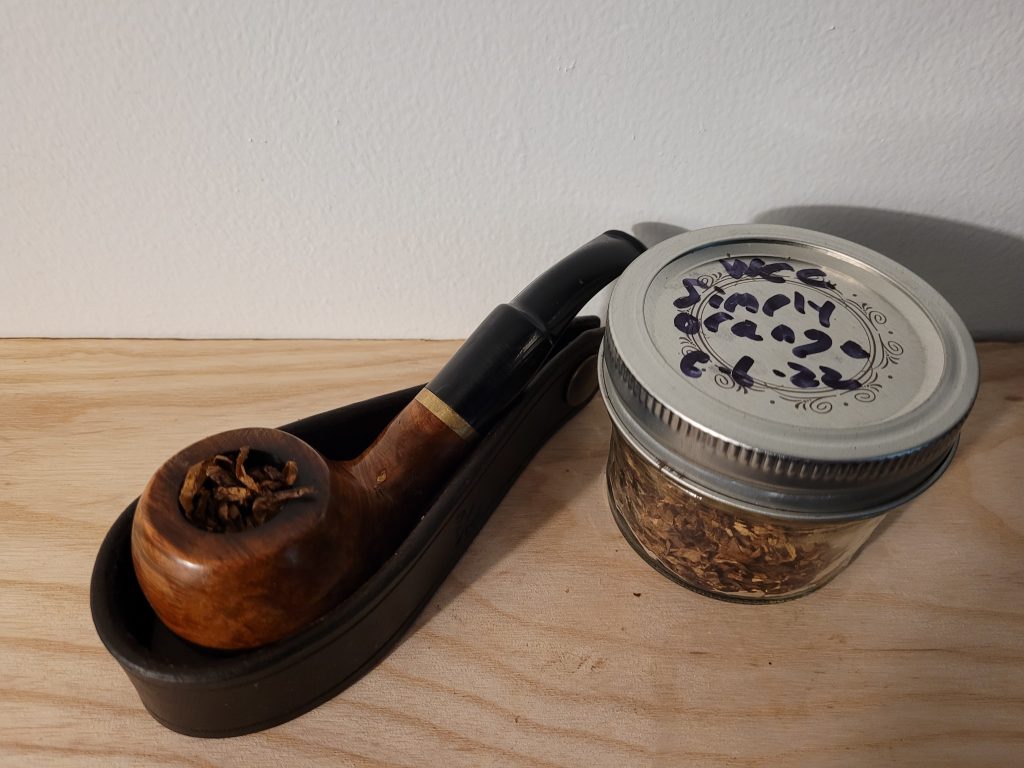 Brown sugar, lightly vinegary, and brown bread. This has a long semi-sweet finish with clove and earth. Sugary with earth and some salt to balance it out. The white vinegar grows, along with notes of lemon and lime zest, earth, cashews and cloves, well melded with loads of sugar. Pepper and sulfur appear halfway through the bowl. Slightly lactic too. The lime has overtaken the lemon and vinegar to be the dominate sour note. Quite peppery now. The smoke is noticeably soft, almost like you would get from a cavendish blend. Brown sugar and clove. A light butterscotch, that's fun. Toast, tea, and butter towards the end. With the lime tang, cream, and earth it reminds me of a lighter style Cuban. 
This was delicious but it was a struggle to get it lit and keep lit all the way through. This needs a firm pack and hard tamping.
SECOND BOWL
>> One hour dry, Brigham 47 Voyageur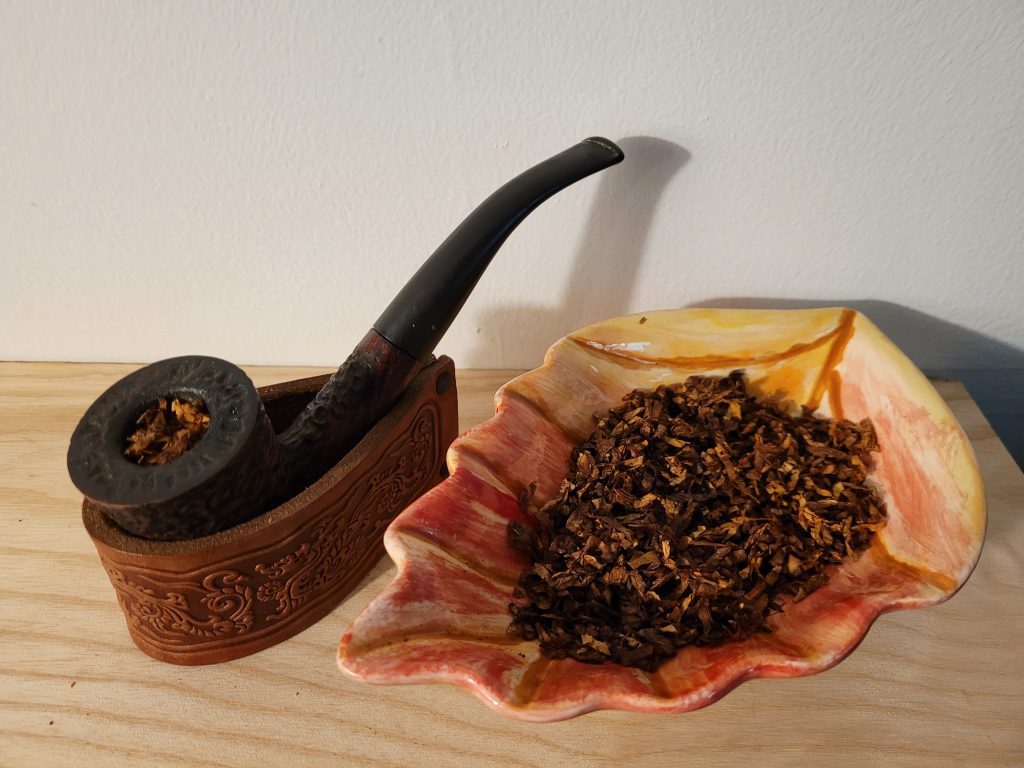 Warm spices, specifically cinnamon and nutmeg. Salt, vinegar, and a yogurt twang. Pepper and kiwi. So far this is just barely sweet. Hay, toast, and tea show up far earlier. Incense. The brown sugar begins to show. Vinegar, pepper, kiwi, graham cracker, salt, with a cayenne finish. Tingles of deep incense here and there. More fruit, namely apple peel, balsamic vinegar. It's sharp as a lego on the bottom of your foot at 3 am. Returns to lime, yogurt, kiwi, toast, and clove oil. Pepper and spinach. About halfway through it settles into a firm profile of brown sugar, light vinegar, pepper, cinnamon, clove, graham cracker, lime and butter.
This burned much better and while it slowed the oncoming of the sweetness, it allowed an even greater range of flavors to present themselves. Interestingly this developed through the first half then hit a steady state in the 2nd, which makes me suspect much of the flavor evolution of the undried bowl came from driving the moisture off as I smoked.
To confirm this is a moisture based issue I'll dry it out and smoke it in the homemade pipe again.
THIRD BOWL
>> Overnight dry, homemade pipe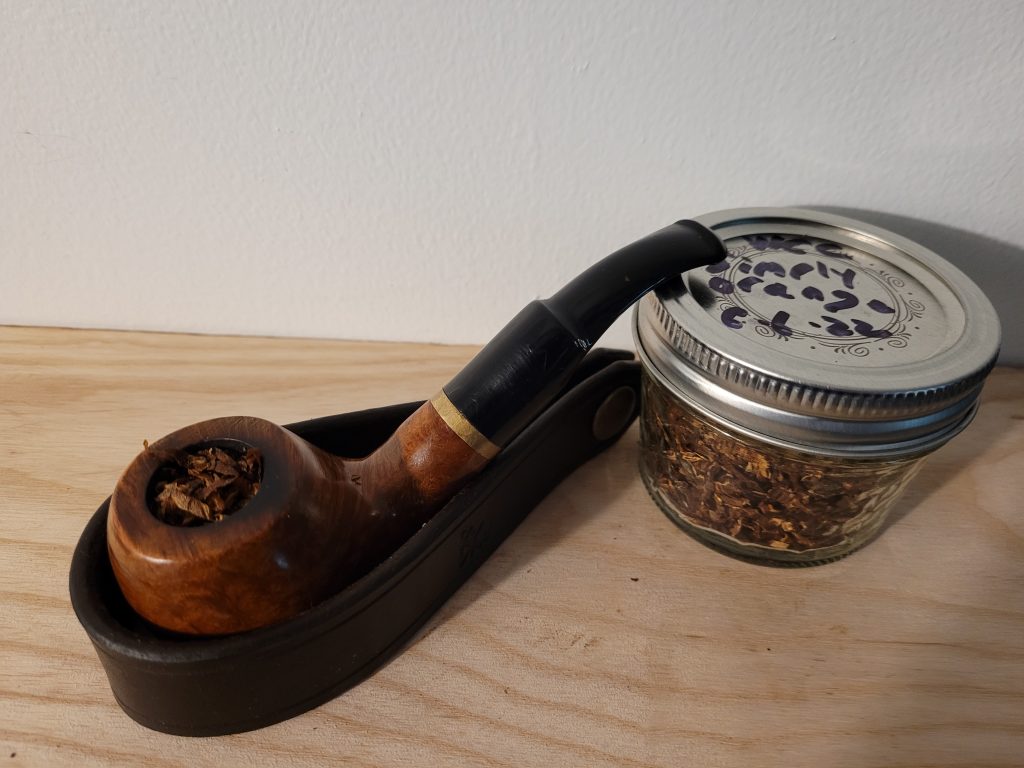 Sweet, sharp, and salty right from liftoff. Tangy in a sour cream way.  Light incense and some pepper. This is extremely vinegary. Brown sugar. Floral and some cocoa-earth. Apple cider vinegar. Cloves. Very peppery. Sugar, salt, huge vinegar and pepper blasts. It's also extremely sweet. Buttery cedar. Herbal. As it enters the last third chocolate, clove, cinnamon, and cedar. Salt cream, incense, apple cider vinegar, with little glimpses of Heinz 57.
I found my heavy pack was still not sufficient. This may need the Frank Method, or even to be formed into cake to burn easily. Or it might just not be a mechanically sound blend.
I found that there was indeed less development than when undried and that the flavors were more readily available and varied. However it didn't hit a flavor plateau like in the Brigham. Usually that's my best pipe for Virginias but I think I'll smoke all of my Simply Orange in the wider handmade pipe.
FLAVOR PROGRESSION
As you dry out Simply Orange you'll bring out more and more flavor. The experience is intense and seems to vary a bit pipe by pipe and bowl by bowl, but the general progression starts with sweet-sour-salt, picks up some pepper and baking spices in the middle, then takes a turn towards toast, earth, wood, or chocolate as it closes towards the end.
BURN EXPERIENCE
Simply Orange is not simple to burn. It comes wet but even drying it to a crisp it doesn't want to burn very well. A heavy packing style is necessary to get it to burn better, but it's still a struggle.
SIMILAR BLENDS
This reminds me quite a bit of the lime forward MacBaren HH Pure Virginia and even more so Erik Stokkebye 4th Generation Evening Flake because of the heavy pepper note. It's also similar to some top notch VaPers like Samuel Gawith Cabbies Mixture and McClelland Blakney's Best Guillotine Sliced Acadian Ribbon.
RATING BREAKDOWN
0.30 / 0.50 … Craft & Aesthetic
0.45 / 0.50 … Tin Aroma
0.05 / 0.50 … Lighting Process
7.75 / 8.00 … Smoking Experience
0.45 / 0.50 … Personal Enjoyment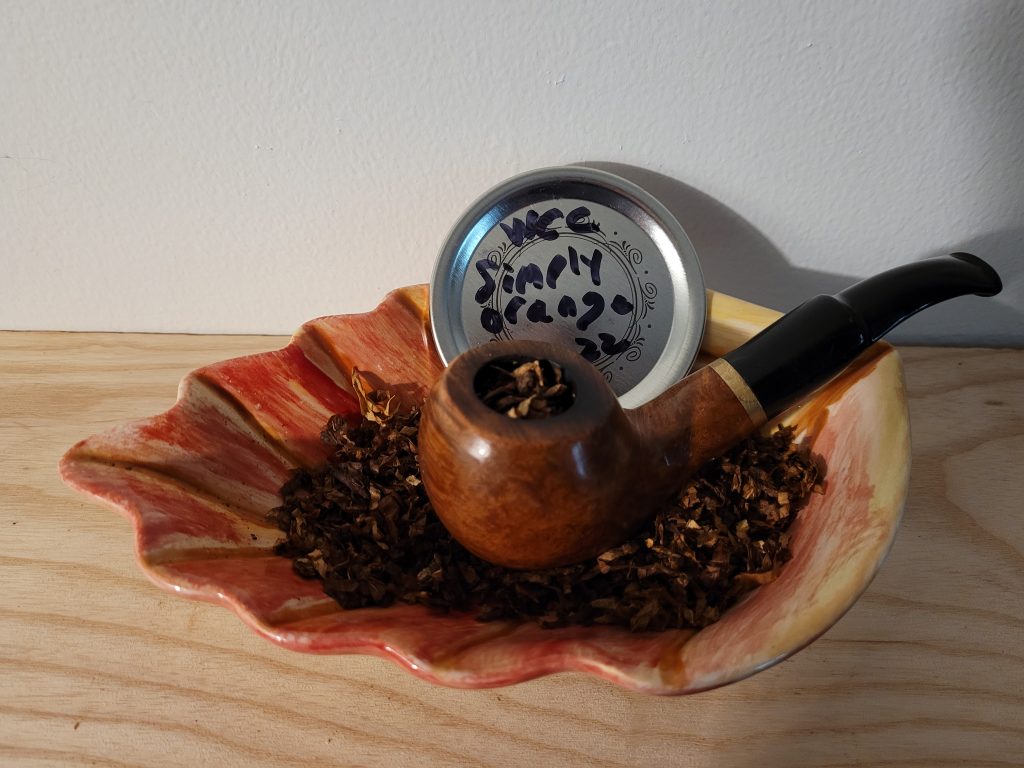 ORANGE YOU GLAD YOU TRIED IT.
Ernie Q of Watch City Cigar took a big swing releasing an Orange Virginia blend. As expected there were no orange notes any of the bowls I smoked. However, there was an intensity, variety, but also nuance of flavor to be found. The blend was difficult to light and pretty nigh impossible to keep burning through the bowl, but I never once regretted packing a bowl of this. I think for a devoted Virginia smoker this is a delicious and edifying experience. I'll make an effort to smoke more orange heavy VAs in the future – and to set a reminder for next year. 
SIMPLY STOGIES RATING:  9.0/ 10.0